Update, March 26, 11.50pm: 
A Grab spokesperson has responded with the following statement: We are fully committed to serving our passengers and drivers, and this means protecting our drivers' livelihood while ensuring our passengers' safety. As such, we take safety and security violations seriously. Uber drivers who are banned on Grab's platform can appeal their suspension, and Grab will review the suspension on a case-by-case basis.
---
Grab has confirmed it will be taking over Uber's operations in Southeast Asia.
Except for one thing, that is.
In response to Mothership queries, Grab said Lion City Rentals (LCR) is not included in the sale of Uber assets to Grab.
Wait, what is Lion City Rentals?
LCR is a car rental service that markets itself as "Uber's preferred rental partner".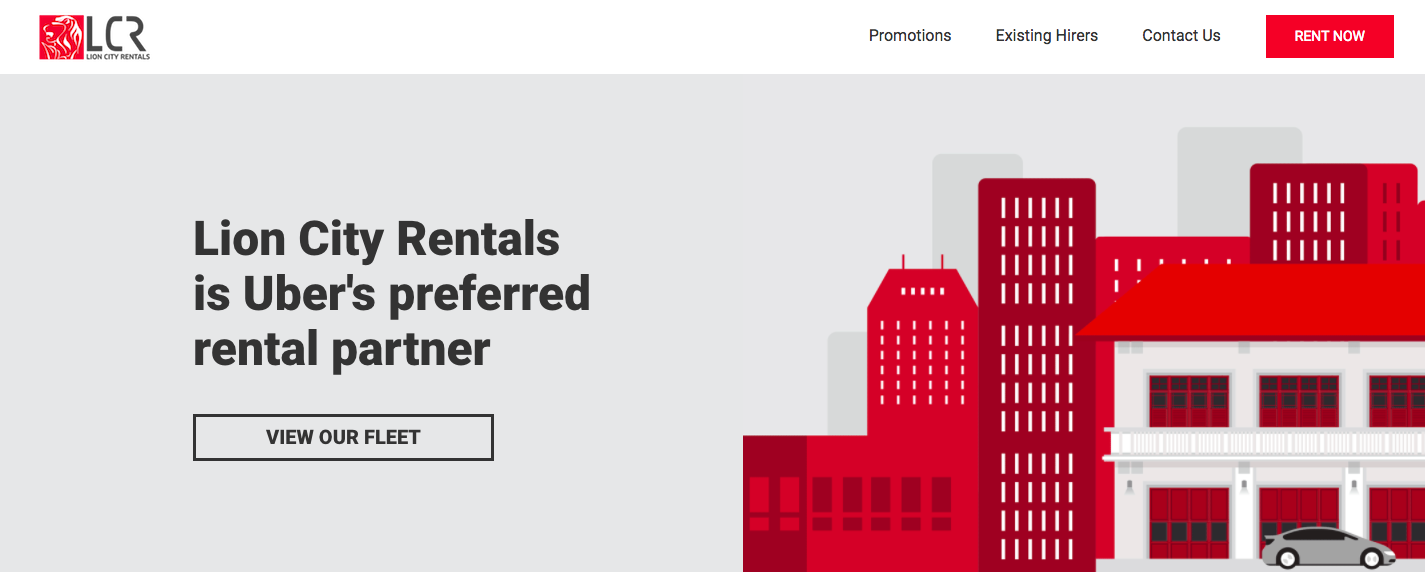 In case you didn't know, LCR is fully-owned by Uber. At least for now.
In December 2017, ComfortDelGro was interested in acquiring a majority stake in LCR. This came three months after the two companies embarked on a tie-up for its UberFlash service.
Promotional contracts
Anyway, since Uber and LCR are affiliated, new and existing Uber drivers who rent a car for a contract period ranging anytime between five weeks to a year are rewarded with incentives, as well as weekly rental rebates.
Here are some of the promotional contracts offered by LCR:
Of course, there are terms and conditions to these promotions and we understand that one of the conditions include that drivers who rent from LCR are only allowed to drive for Uber.
Closed until further notice
A quick check on Facebook revealed that Lion City Rentals' physical outlet is "closed until further notice".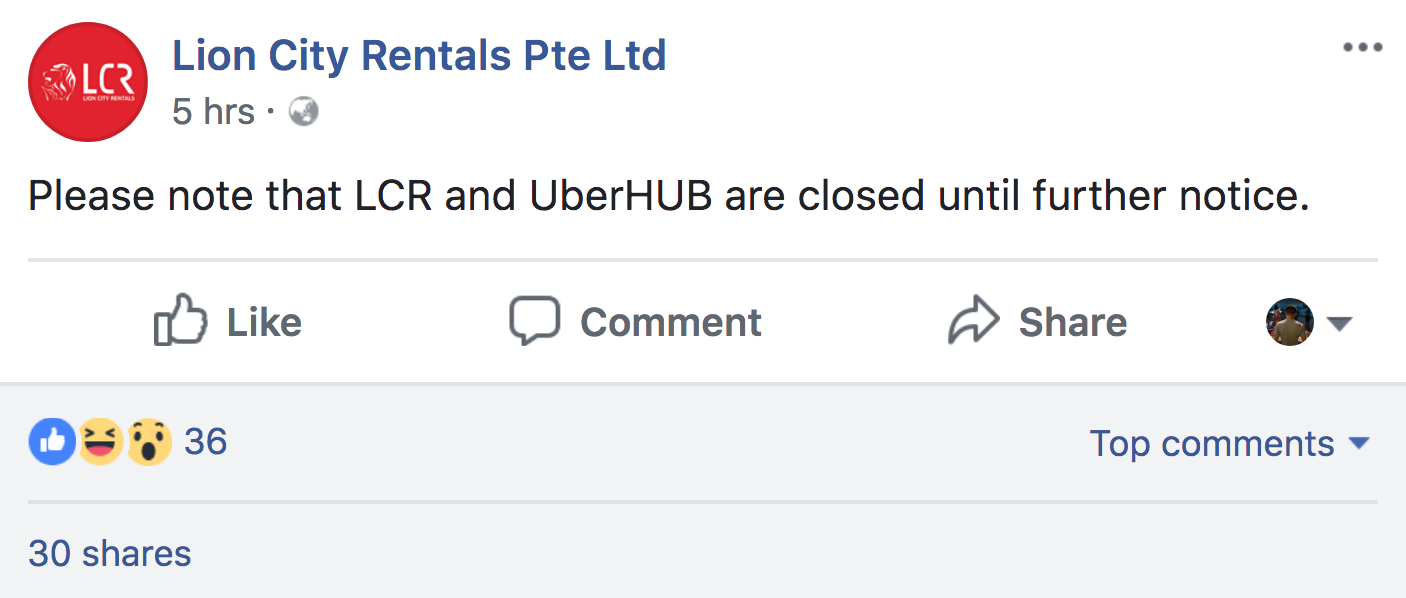 Despite their temporary closure, LCR mentioned that there will be no changes to the weekly payments and rental.
Stuck in the middle
But now that Uber is going to cease operations in Singapore in a couple of weeks, some Uber drivers are left scratching their heads, not knowing what will happen to their existing contracts with LCR.

"Our contract is to drive for Uber platform only and now there's a change in merging and I don't think the contract written anything about that. So can one return the car and take back deposit since the contract might be broke?

No show and never book for 1.35m below will benefit drivers because of time and petrol. Grab doesn't care."

"No choice hav to go grab platform... if don't drive... how to pay rent... i don't care about clause anymore... I just recontract only 2 weeks ago and now this news??!!.. wtf..."
Drivers are also required to make a S$500 deposit before renting a car and are unsure of what to do next.

"I have called both LCR and Uber but was not available. I have placed a deposit and book for a car. Suppose to start driving on 02 April. Now what should I do?"
While the hotline may have been overwhelmed by calls, one driver was told that LCR is not able to advise hirers as they do not have any remedial actions as of yet, but will update hirers once they do.

"Just called the LCR Hotline, they said that they do not have any information yet on what steps to be taken by hirers as of now. Hence, they are not able to advise anything. They mentioned too that once they have acquired any relevant information, they will surely update hirers."
Hirers have also received a message from LCR saying that they will be receiving an update in the coming days.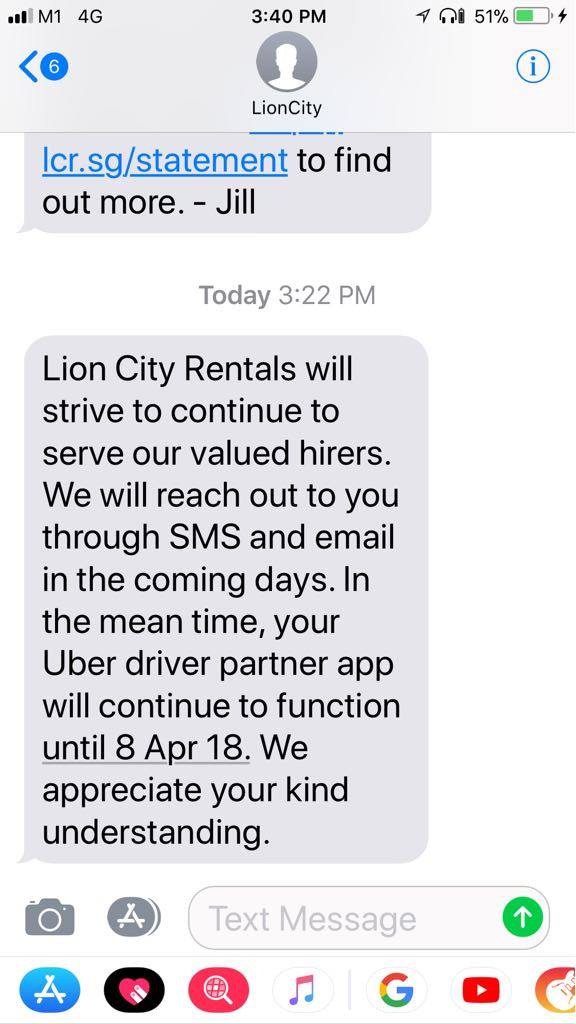 [related_story]
Banned drivers
Grab's acquisition of Uber has also been a cause of concern for private-hire drivers who moved over to Uber after being suspended or banned from Grab.

"How about our contracts? Many are banned from Grab"
"me included.. in banned from Grab"
To sum it up, the following concerns from Uber/ LCR drivers remain unanswered:
Is it reasonable for LCR to close temporarily without any buffer time for drivers?

What will happen to existing/ future contracts with LCR?

Moving forward, what will happen to LCR as a business?

Will the drivers be able to claim their incentives?

Will the drivers who were previously banned from Grab be given a second chance?
Mothership has reached out to LCR and Grab for comment.
Here's a totally unrelated but equally interesting story:
Are you a media freelancer? Were you promised better "exposure" instead of cash payment for your work?
If you like what you read, follow us on Facebook, Instagram, Twitter and Telegram to get the latest updates.