[Update at 9.40pm: A Grab spokesperson clarified that Grab is committed to try to find roles for over 500+ full time Uber employees across Southeast Asia. Additionally, they will find roles for Uber's contract staff. The article has been updated with Grab's statement.]
After news of Uber's sale of its Southeast Asian assets to Grab officially broke on Monday morning, Uber published emails from its CEO Dara Khosrowshahi to its staff on its website: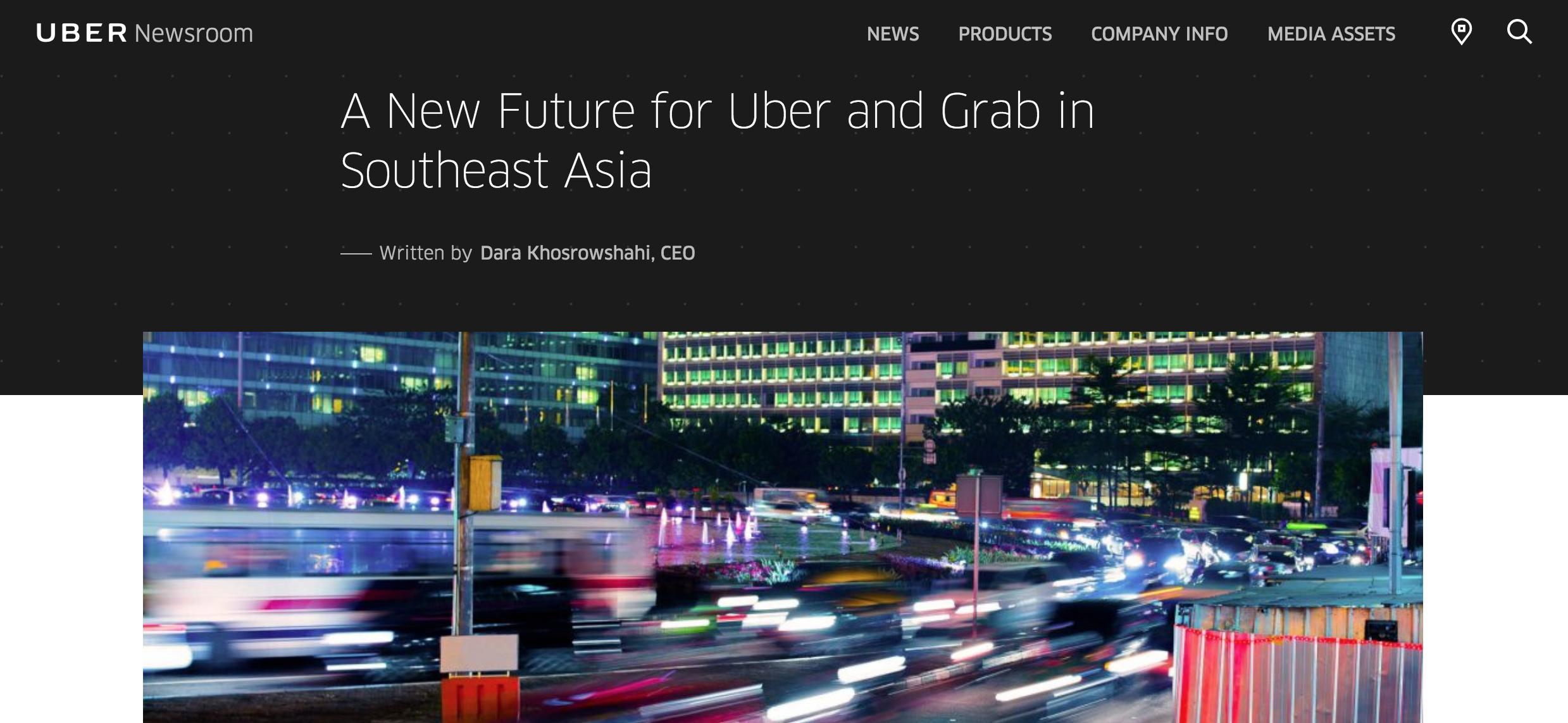 One detail we gained from his emails (titled "A New Future for Uber and Grab in Southeast Asia") was the revelation that 500 employees in the region would be "transition(ed)" to Grab.
Accounts of same-day office departures from Uber employees
Uber has offices in Malaysia, Indonesia, the Philippines, Thailand, Vietnam, Cambodia and Myanmar, but its main regional headquarters, referred to as a "Major International Office" is undoubtedly located here in Singapore.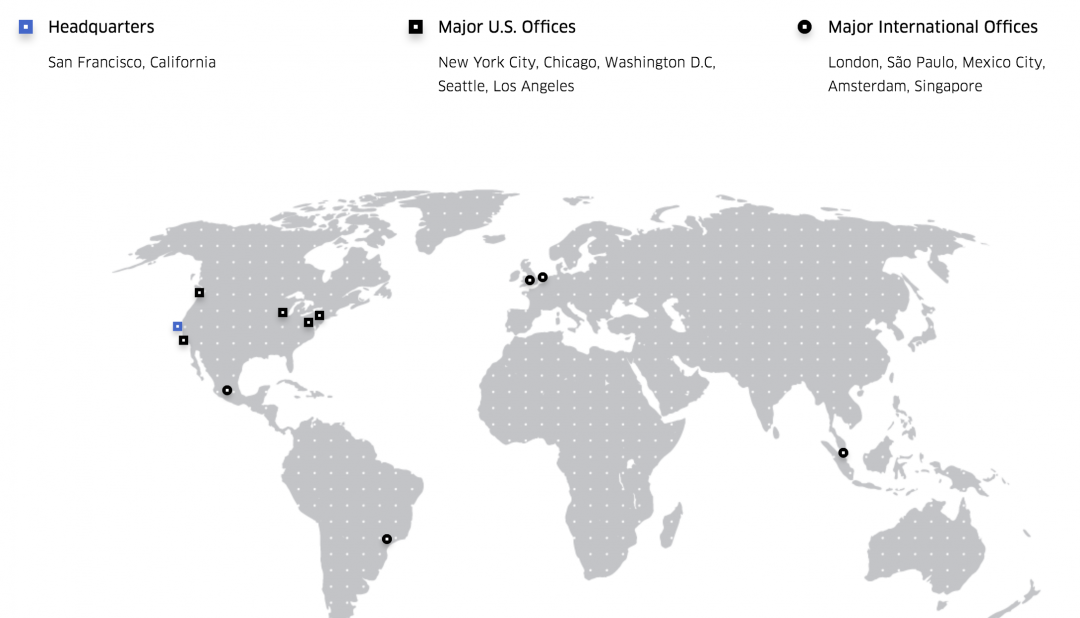 And so when news of this deal became official, hundreds of staff at the Uber office came to work for a decidedly rude shock.
Here's a tweet from one Uber employee: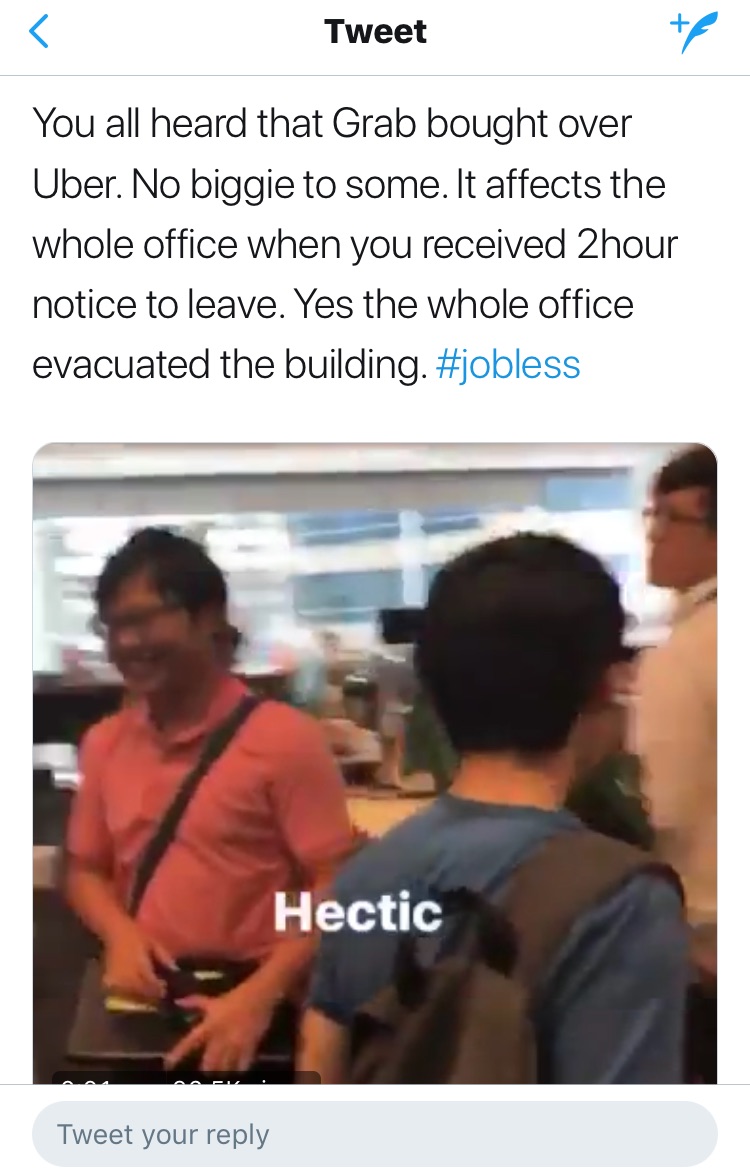 The Twitter user who put up the tweet subsequently told Mothership that he is a telesales specialist on contract with Uber.
His story: after working for Uber for a year, he was called into a meeting on Monday morning at 10, and told he had until 12:30pm to pack up and leave.
He said he was told he would only be paid up till Monday, and knew pretty much nothing beyond that:
"So far we've felt lost, and there's not much help... no news of (any) severance package or whatsoever; we were told we were free to look for other jobs."
[related_story]
But were they actually fired/retrenched/let go?
Another Uber employee, who did not want to be identified, told Mothership that people at the office were asked to pack up and leave at 10am, and were told to clear out of the building by 4pm Monday.
The employee also told Mothership that they were all logged out of their work systems by 10:30am.
However, contrary to a Facebook post claiming that they were all fired (which you can see a screenshot of above), the employee clarified to Mothership that they — perhaps at least the full-timers — had all been placed on gardening leave, i.e. they would still receive their salaries pending contact from Grab, which is slated to offer them job placements at an unspecified time.
Grab: All 500 Uber SEA employees will be offered jobs at Grab
In response to Mothership's queries, a Grab spokesperson said that all 500+ Uber employees in the Southeast Asian (Singapore included of course) region will be transiting to Grab as part of the deal. Grab will also find roles for all Uber contract staff.
Below is Grab statement in full:
"We understand it's been an emotional and trying day for Uber's employees in Southeast Asia. On the part of Grab, we are committed to try and find everyone a home at Grab. We will be having conversations with all 500+ employees on how they would fit into Grab. In the meantime, all Uber employees are on paid leave.

We have faith that many of Uber's employees are as committed to improving the lives of people in Southeast Asia as we are. We look forward to welcoming them to the Grab family."
In a statement posted on LinkedIn, Grab's CEO and co-founder Anthony Tan also welcomed "all" Uber employees into the Grab family, stressing that both HR teams are "working closely" to make the transition as smooth as possible.
According to them, and other inside sources Mothership have spoken to, no one will be leaving the company unless they choose to do so.
Mothership understands further that Uber employees are and will still be employed by Uber, but put on gardening leave until they are offered jobs by Grab or if they choose to resign. This was confirmed by the Uber employee we spoke to.
That said, Grab could not confirm when this deployment will take place or provide any indication of a timeline for when all Uber employees will be able to transit fully to Grab.
In the meantime, guess these Uber employees will be taking a (hopefully) short break from work.
*If you are an Uber employee and wish to share information about your experience from Monday with us anonymously, you may write to us at [email protected] Please rest assured that your identity will be protected.
More stories on Grab's acquisition of Uber:
[Edit: The previous title of this article stated that 500 Uber Singapore employees were cleared out of the office. That is untrue. The number refers to Uber employees across all Southeast Asia offices, not Singapore. We have updated the title to reflect the correct information.]
Top image from Uber.
Here's a totally unrelated but equally interesting story:
Are you a media freelancer? Were you promised better "exposure" instead of cash payment for your work?
If you like what you read, follow us on Facebook, Instagram, Twitter and Telegram to get the latest updates.