From S$14.90 a month for premium content
In case you haven't been reading The Straits Times (ST), Singapore's English broadsheet is now offering premium content from S$14.90 a month.
This is what it looks like if you are not a paying customer but want content access: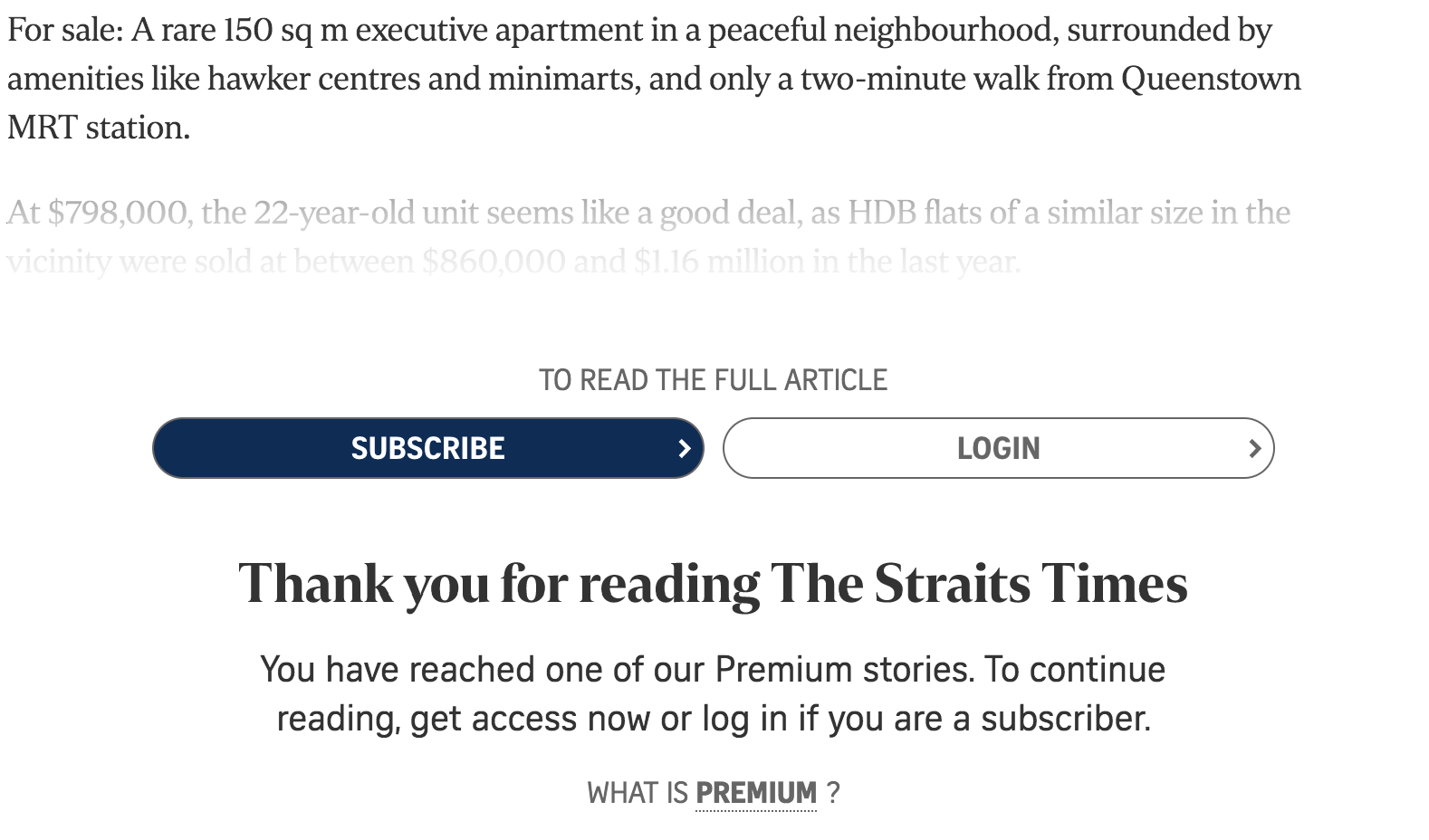 ST has also marketed it as some of their "best content" by "experienced journalists":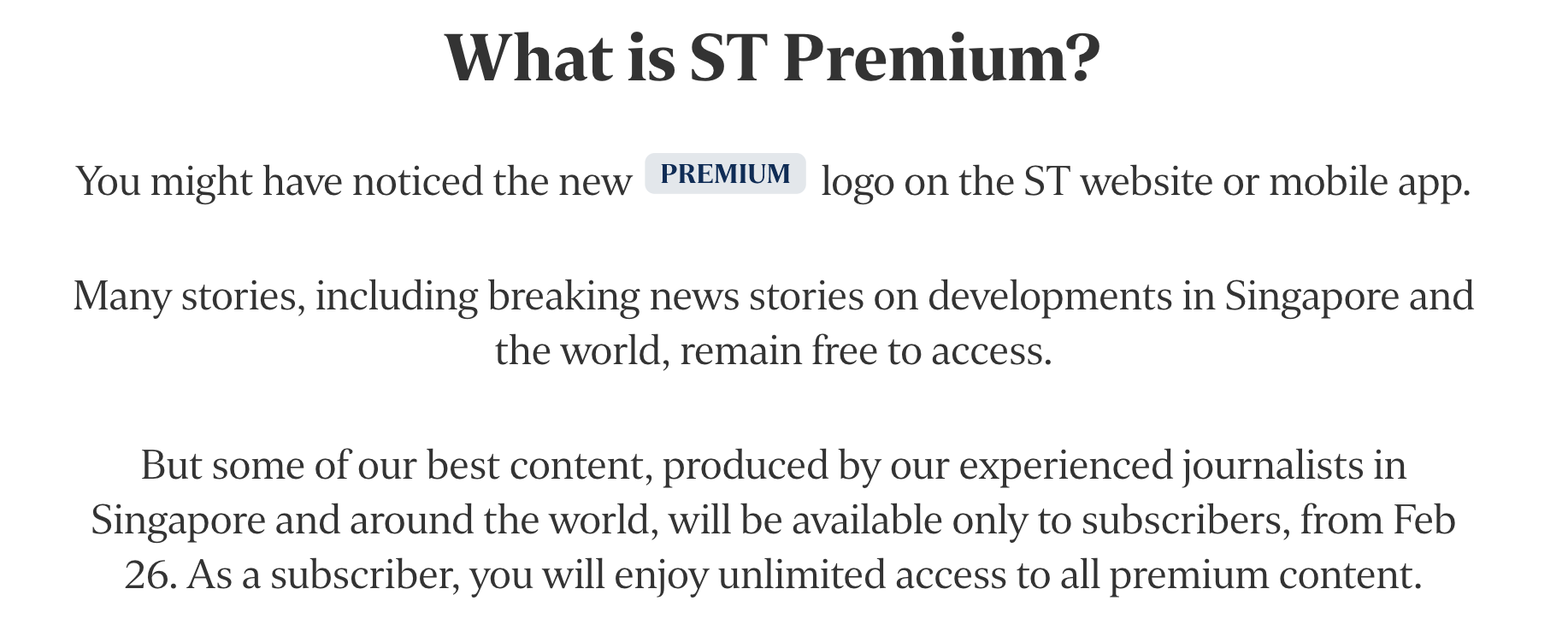 Negative reception
Unfortunately for the publication, a good number of readers were upset with the paywall-protected, subscription model.
They made known their plans to unlike and unfollow ST:


In response to the furore, ST commented in the same Facebook post thread that their journalists had "worked hard" on the premium stories, which is why the content is only available to subscribers:

"Thanks for your feedback on our premium stories. Our journalists worked hard to produce this story, which is why it has been tagged as premium and available to our subscribers.

Please consider subscribing if you'd like to read more stories like these. For those who aren't subscribers, there are also a number of stories available on our site. -ST"
Free stories by less hardworking journalists?
However, a few readers were quick enough to pick up on the implications of ST's comment — namely, that the same newspaper's free content is produced by less hardworking journalists:

"What utter bullsh*t! Did The Straits Times just discredit all the journalists who didn't write non-premium stories?

Are you a news outlet or social media wannabe?"

"Means those journalist whose stories aren't premium didn't worked (sic) hard enough?"
[related_story]
"Better news agencies out there"
Another group of readers also commented that even alternative media has a broader coverage and is, most importantly, free (such as, ahem, Mothership).

"Want me to pay to read? There are other better news agencies out there..."

"Even alternate (sic) media is free, compared to this."

"Actually quite sad. I used ot look forward to reading ST the first thing in the morning but now it takes me a week just to finish reading the Sunday Times. Not sure why but I just lost internet especially when we can find alternative news with broader coverage and not so one sided reporting. I used to enjoy New Paper even when I have to pay for it because it has juicy stories which we can read to pass our time and to relax. Now with the free paper, never bother to read because nothing interesting to relax the mind. It is just a rehash or summary of the main paper."
Money for reporters?
Others felt that it's only fair to pay for content, but only if it goes towards the hardworking journalists:

"It's fair to pay for a product. These journalists have family to feed too. I don't know about u guys, but I would feel damn sian if my boss asked me to work for free. That said, ST subscription at $15 a month is a tough sell, when New York Times online is retailing at only US$1 a week."

"If you tell me that you guys will make sure the journalists get a raise the next day just becos SGreans subscribe to premium, I will do it right away but we all know thats not how it works so cut the crap!"
However, the best comment has to be from this cheeky reader who offered a "premium suggestion service" to ST: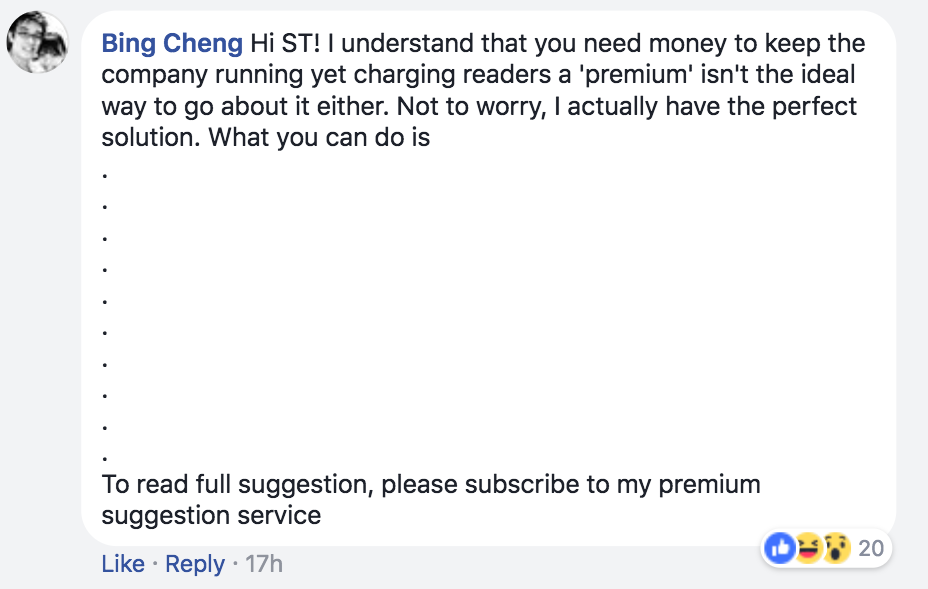 "Hi ST! I understand that you need money to keep the company running yet charging readers a 'premium' isn't the ideal way to go about it either. Not to worry, I actually have the perfect solution. What you can do is

.

.

.

.

.

.

.

.

.

.

To read full suggestion, please subscribe to my premium suggestion service"
New subscription model introduced in February
While this is not the first time ST's content has been paywalled, the premium content model is part of a new subscription plan introduced on Feb. 26, 2018.
Prices can go up to S$29.90 per month, excluding delivery fees: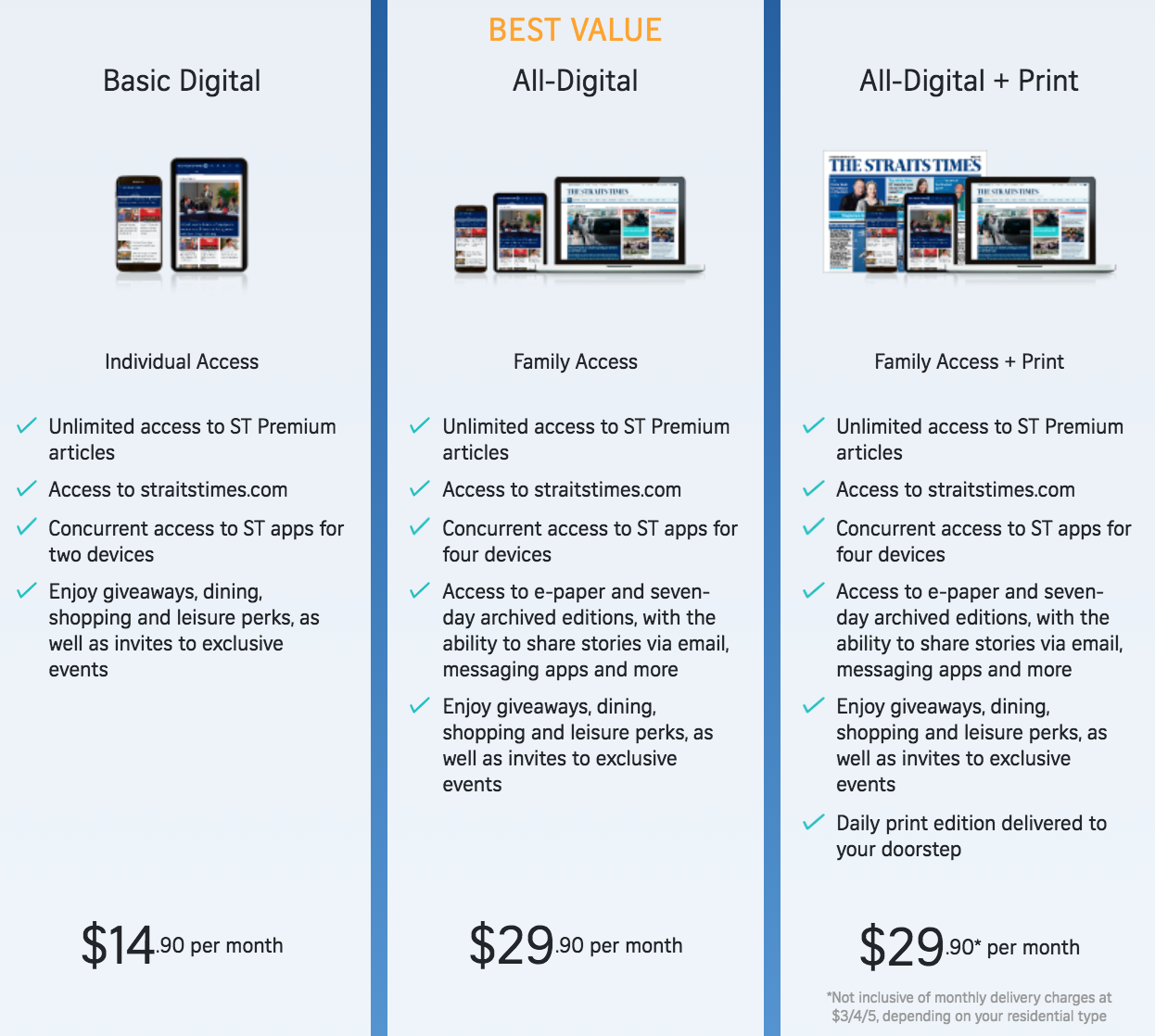 A previous subscription model in 2015 limited non-subscribers to 50 articles per month.
It was subsequently reduced to 15 articles per month in 2017.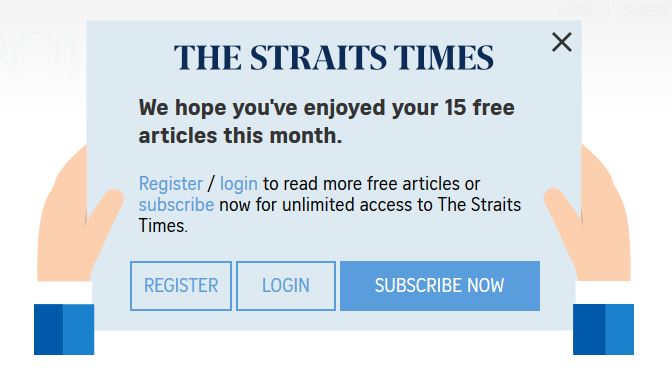 Anyway, the premium content debacle brought out some heroes we never thought we'd need: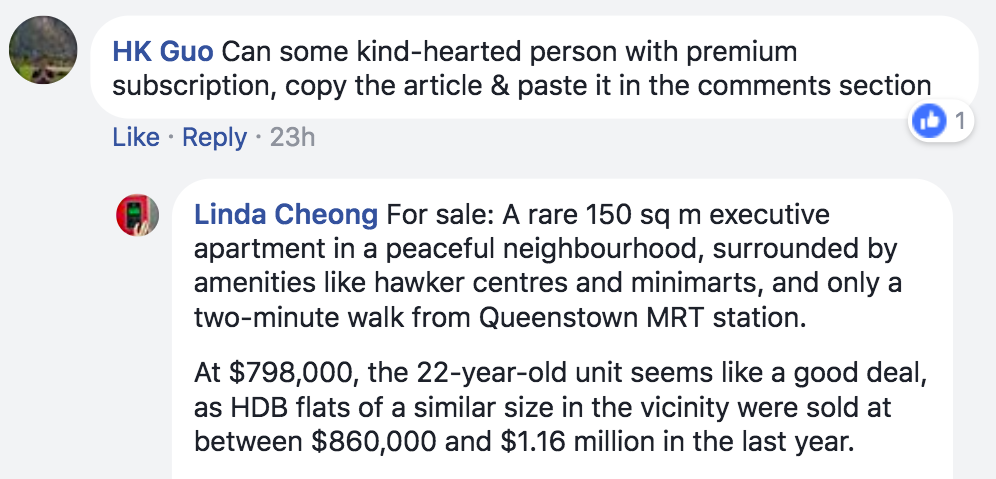 But of course, we won't post the full photo here. Because premium.
By the way, here are some premium but free content written by our diligent writers:
Top image screenshot via Straits Times' Facebook page
Here's a totally unrelated but equally interesting story:
Uzbekistan is such a beautiful country it sounds like Us Back In An Instant
If you like what you read, follow us on Facebook, Instagram, Twitter and Telegram to get the latest updates.