St Patrick's Day was celebrated on Saturday, Mar. 17.
For the Irish community, it's a significant day of celebration of Irish culture with parades, music, food and drink on the traditional death date of the bishop, missionary and venerated patron saint of Ireland.
Pretty much a celebration of all things green and Irish, the local Irish community in Singapore celebrates the occasion with festivities that may also be held across several Irish F&B outlets and pubs in Singapore.
This year, a St Patrick's Day Street Festival was held over the weekend, organised by the Irish community in Singapore, as well as Singapore River One, a nonprofit that works to improve the vibrancy of the Singapore River.
This weekend's celebrations were granted a public entertainment licence, which allowed them to stage performances in the area:
That ran until 10pm:A parade they also organised on Saturday was issued with a procession permit, too:According to a statement from the police,
"The St Patrick's Day Parade is a cultural procession with no restrictions on the playing of musical instruments, similar to the Chingay Parade and Utsav Street Parade".
As per permit conditions, there were to be no foreign national flags or display of religious elements.
[related_story]
Now, in response to an initial report of permits being granted by police on Channel NewsAsia, people had two points of unhappiness with the situation —
one, that there appeared to be double standards between the restrictions placed on the St Patrick's Day celebrations and the Thaipusam procession,
and two, that while CNA's report said there would be "no road or lane closures for the celebrations", Police subsequently said there was a full, two-day closure of Circular Road to vehicles:
Here's that stretch of road, by the way: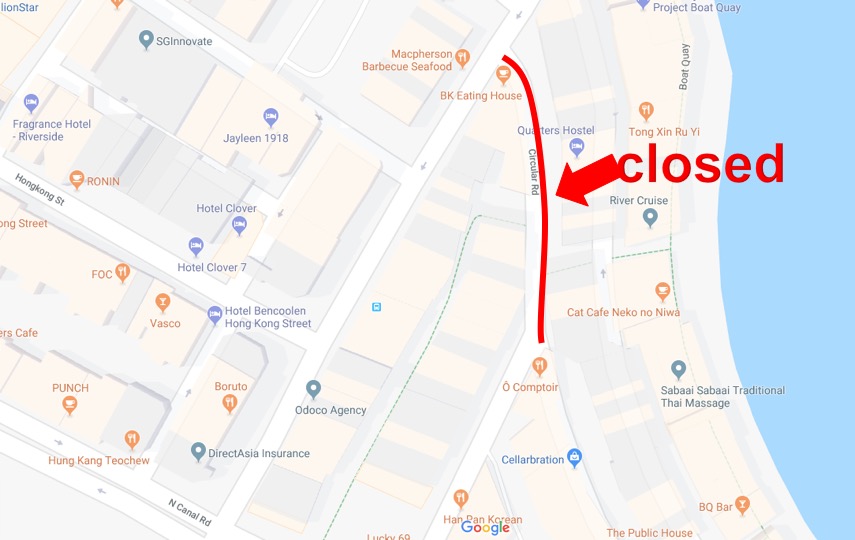 But let's dive into the specifics of these two.
1) Double standards?
Commenters compared the St Patrick's Day parade with the Thaipusam processions, taking the view that there is a significant disparity between the restrictions applied to both, with questions of cultural relevance and accusations of foreigners and their cultures taking precedence over local ones: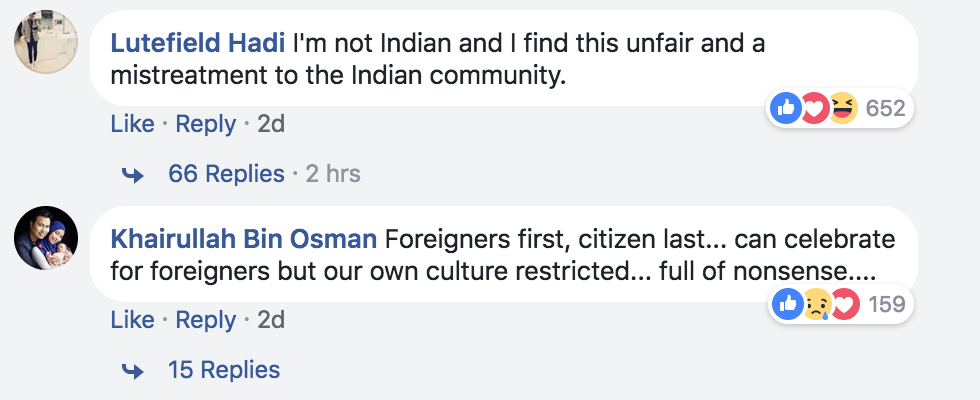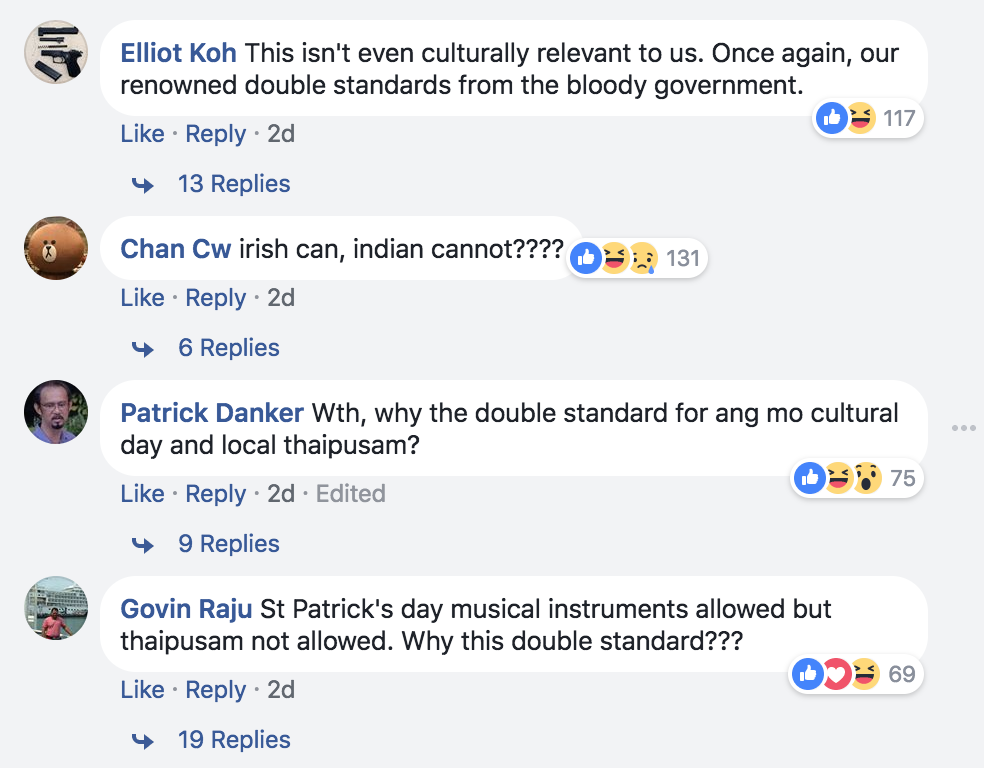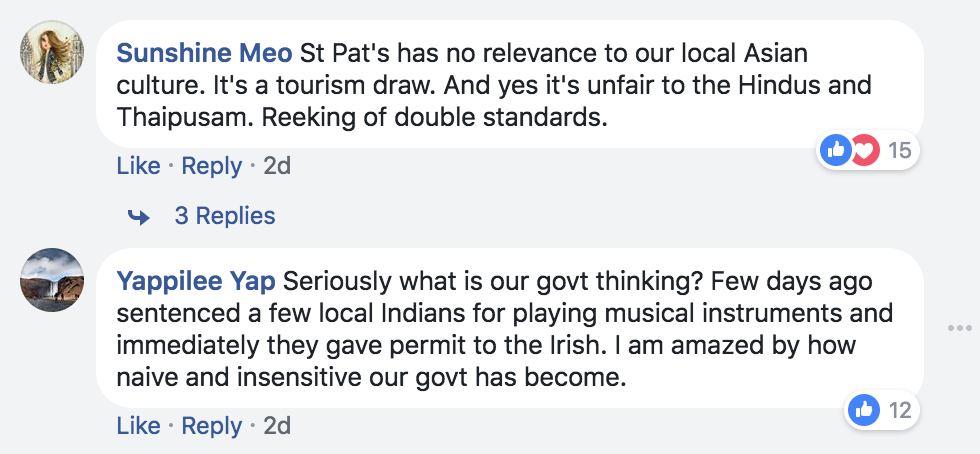 Some also claimed that the St Patrick's Day celebration is a religious event, not merely a cultural event, and therefore should be viewed in the same manner as Thaipusam, questioning the police's decision to classify it as a cultural celebration: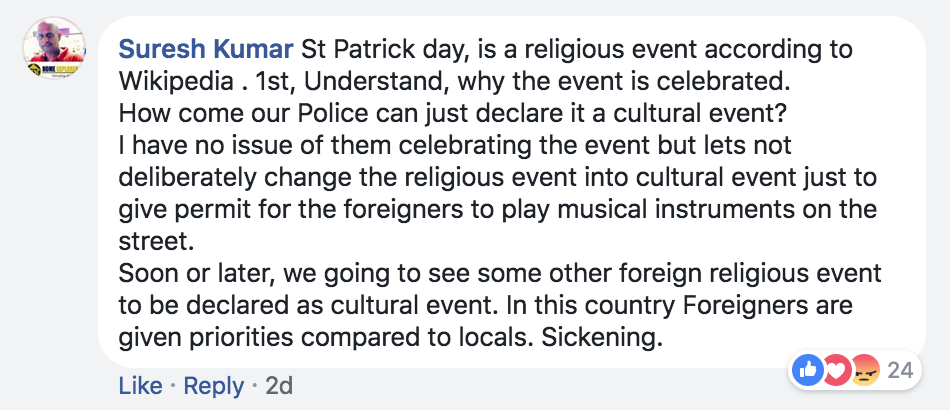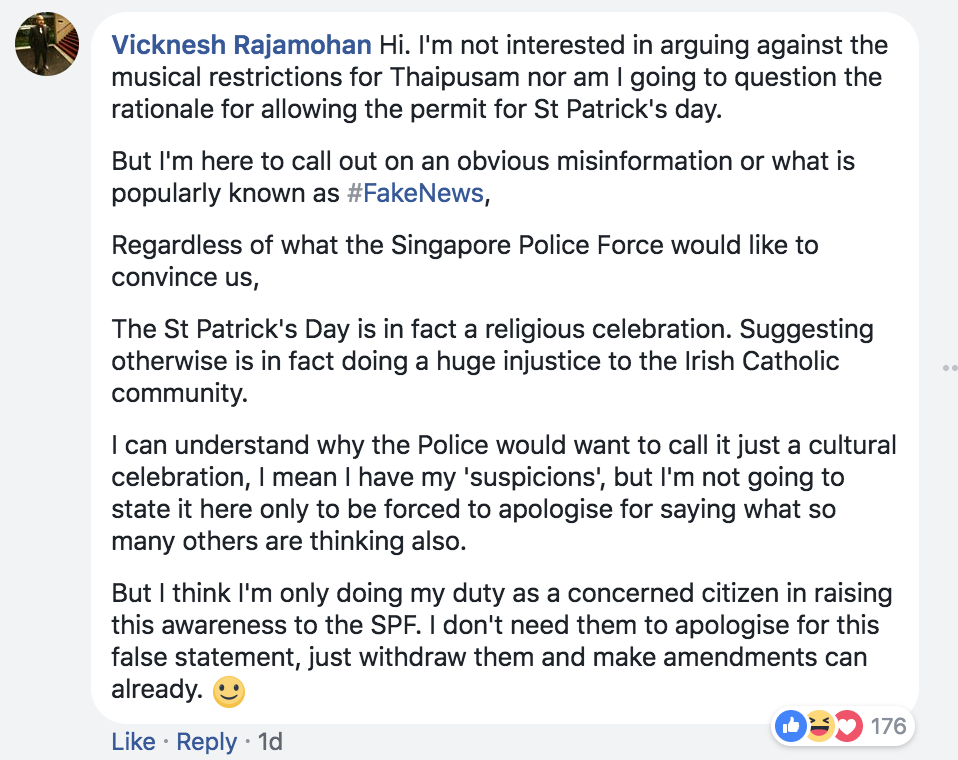 So is it religious or cultural?
It is true that St Patrick's Day is a big religious feast day in Ireland, and may be observed as a holy day of obligation for Catholics there. But it isn't an important religious event — or a holy day of obligation for Catholics — in Singapore, nor is it celebrated as one here, for any Christians.
As we shared with you earlier, the St Patrick's Day celebrations and parade are markedly non-religious events, as they are organised by secular groups — the Irish community in Singapore and Singapore River One — and did not show any religious elements, symbols or insignia.
Here's the Police's statement on this:
"St Patrick's Day is celebrated in Singapore as a secular, cultural event. It is organised by the Irish community in Singapore, and Singapore River One, to increase the vibrancy of the Singapore River precinct. The permit was granted on condition that there should be no religious elements or paraphernalia displayed or used at the event."
2) Road closure, or not?
At least one Facebook user noticed and called out an apparent discrepancy between the CNA report and the police's Facebook post: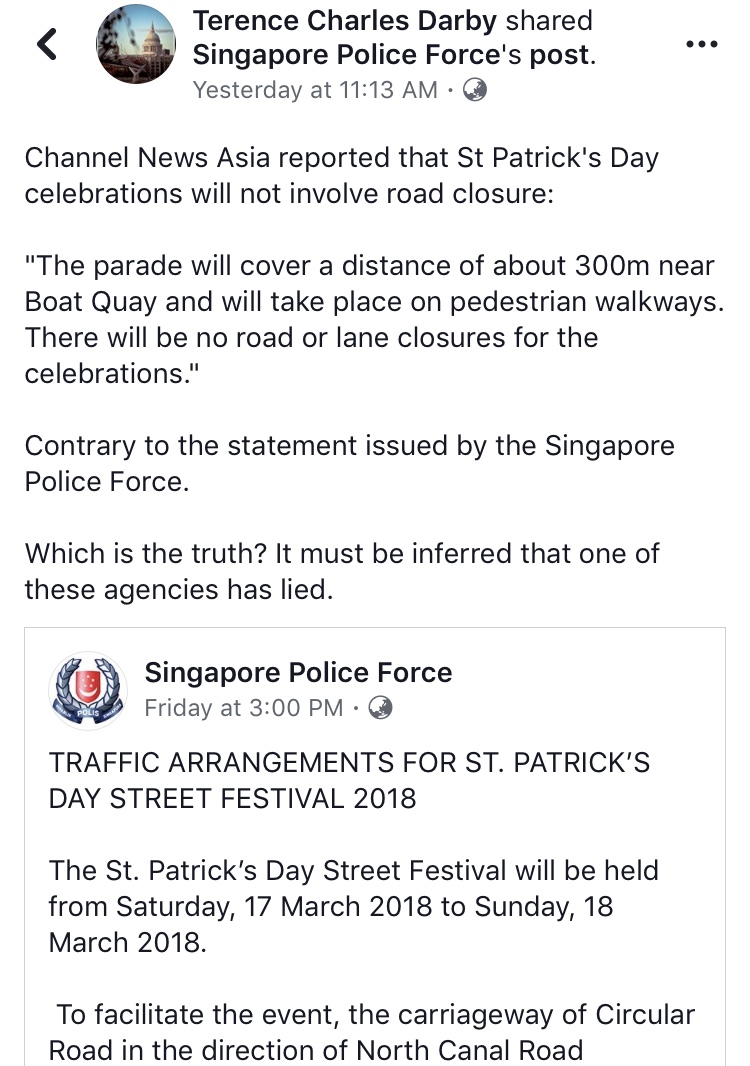 It's possible the CNA report was simply poorly-worded — it is true that no roads or lanes were closed for the parade event, but Circular Road was closed for the celebrations.
Religious events deemed more sensitive
The Singapore Police Force (SPF) has said before that outdoor religious foot processions are not allowed, with an exception for the Hindu community for Thaipusam, in light of the importance and significance of the festival to the community. 
In a previous police statement in response to a Facebook post alleging that the SPF regulates Thaipusam & lion dance differently, the police have said the following:
"Chinese lion and dragon dance performances are cultural performances, as opposed to religious events which are more sensitive from a law and order perspective. They are allowed under the Public Entertainments Act so long as they comply with certain conditions, including the playing of drums and cymbals, similar to kompangs being allowed at Malay cultural events and also the nathaswaram, thavil and melas at Indian cultural events."
The rules governing lion and dragon dance performances would, therefore, also apply to St Patrick's Day, since they are cultural events.
Still excessively strict on Thaipusam?
Over the years after receiving feedback from devotees, the government has since 2012 allowed for static music transmission points that broadcast music for devotees undergoing the Thaipusam procession.
These have increased from two to 23 last year and this year, with an additional three live music points allowed along the procession route since 2016.
Perhaps Singaporeans are cool with regulations governing Thaipusam being further relaxed, and this may happen in the future as it has in recent years.
But that said, it's also important to be clear about whether other events are comparable to it.
Read also:
Top image via St Patrick's Day Street Festival Singapore's Facebook page
If you like what you read, follow us on Facebook, Instagram, Twitter and Telegram to get the latest updates.