Singapore's Cornerstone Community Church has lodged a police report against local startup, Rice Media.
This was after the publication did a write-up on March 25 titled, "Lou Engle: An American Threatens a Christian-Muslim Divide in Singapore", which the church considered to be a "scurrilous attack".
The Straits Times reports that in the police report filed on Sunday, the church said contents of the article contain inflammatory and serious allegations "that seek to, and has the effect of, stirring up religious tensions and promoting feelings of ill-will and hostility between Christians and Muslims".
The church also reportedly added that the article has a "seditious tendency", also claiming the article contained comments that "denigrate the Christian faith".
The police reportedly confirmed investigations are ongoing into the church's report.
Ministry of Home Affairs also investigating
The Ministry of Home Affairs (MHA) also said it is looking into allegations that an American preacher, who was invited to speak at a local Christian event that took place between March 13 and 16 at the Singapore Expo, had made comments against Islam.
The preacher, American Lou Engle, is a "Revivalist, Visionary and Co-Founder of TheCall solemn assemblies", who also leads a church in Pasadena, California.
Preached at Singapore Christian event
Engle was invited to speak at Kingdom Invasion, an annual Christian conference organised by Cornerstone Community Church.
Into its sixth edition this year, this isn't Engle's first time preaching at the event — he previously spoke there in 2016 and last year as well:
Rice Media
reported him as saying the following:
"The Muslims are taking over the south of Spain. But I had a dream, I had a dream... I'm going to raise up the church, all over Spain, to hold back the push of the new modern Muslim movement!"
A spokesperson for Cornerstone said Engle was referring to rising ISIS propaganda in various parts of Europe, including Spain, but it is unclear whether or not he had mentioned the term "ISIS" in his speech — he did not appear to have, based on a one-and-a-half minute audio clip the Rice author had posted.
[related_story]
MHA accused of "lack of transparency & clarity"
In Rice Media's report, the author accused the MHA of a "distressing" lack of transparency and clarity over their decision to allow Engle "a free pass" into Singapore twice, effectively alleging they had allowed him to "slip past the(ir) rigorous vetting processes and land on our shores".
The author had written additionally that the MHA and police failed to respond to his queries on why Engle was allowed to preach at the conference, or clarify what the rules for speaking at religious events were.
(Editor's note: conditions for Miscellaneous Work Passes are detailed here, and pages with information on this are located on the Police website here, and the Ministry of Manpower's website here.)
Rice Media's comments on the MHA include the following two paragraphs at various parts of the article:
"This lack of transparency and clarity is distressing, and gives the impression that double standards are exercised in the treatment of the various religious groups, especially when the authorities have lately been clamping down hard on Islamic extremism...

... MHA's refusal to comment on Lou Engle and Kingdom Invasion also points to the possible existence of a grey area in which religious leaders are allowed to operate."
MHA looking into the matter
Mothership.sg reached out to MHA to find out if they were aware of the report and its allegations against them.
In response, a spokesperson issued the following statement:
"Mr Louis Dean Engle was granted a Miscellaneous Work Pass to speak at the Kingdom Invasion Conference 2018. He had also been told that he should keep clear of controversial subjects and not undermine social, racial and religious harmony in Singapore.

MHA is aware of the allegations that Engle had made certain statements, particularly in respect of Islam, during the Kingdom Invasion Conference 2018.

MHA is looking into the matter.

If there is evidence that Mr Engle had made statements that could undermine religious harmony in Singapore or had mixed religion and politics, we will take firm action.

MHA will not tolerate any person undermining Singapore's social, racial and religious harmony."
Last September, MHA announced that it had denied two foreign Christian preachers entry to Singapore because of their inflammatory comments against Muslims and Buddhists.
Rice Media response
In response to ST, Rice Media editor-in-chief, Mark Tan, said the publication stands by its writing and that the objective of the story was to "simply question why a religious leader with such divisive and radical ideas" was allowed to speak at a conference in Singapore.
"This is inconsistent with the hard line approach taken by the authorities when they banned religious leaders from other faiths, who had also espoused divisive and radical ideas, from speaking in Singapore," said Tan.
Alleged to be anti-gay, anti-Islam in past years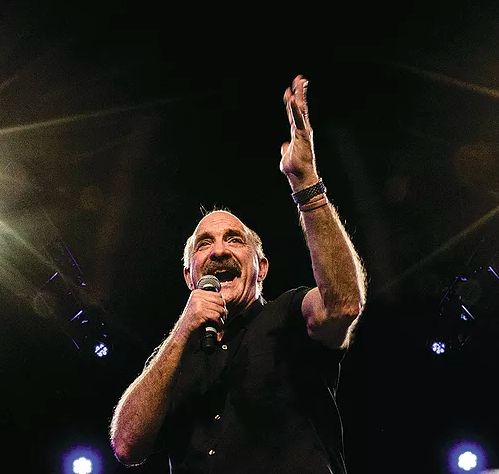 In 2010, Engle was alleged to be an espouser of "Dominionist theology". This is the idea that:
"Christians are called to take "dominion" over every aspect of our culture and use them to create God's kingdom on Earth in order to bring about the return of Jesus Christ." - Right Wing Watch, July 6, 2010
And in 2011, he travelled to Uganda to preach and headline what was described as an "anti-gay" prayer event, soon after which an anti-homosexuality bill was passed into law in Ugandan parliament.
In the same year, he was reported to have organised a prayer rally in Detroit, Michigan, with the aim of converting Muslims to Christianity before they "turn Michigan into an Islamic state".
Top photo via Kingdom Invasion Singapore Facebook page
Content that keeps Mothership.sg going
---
Practical knowledge for young adults:
? Media freelancers in S'pore ought to be paid within 45 days of submitting their invoices
---
If you like what you read, follow us on Facebook, Instagram, Twitter and Telegram to get the latest updates.