Apart from the big news of Uber being sold off to Grab that hit us on Monday morning, the other controversy to be announced was the government's decision to charge teachers for parking at schools here:
As part of the announcement, Singapore's Auditor-General's Office said that allowing teachers to park for free in school was "tantamount to providing hidden subsidies for vehicle parking and are not in line with the requirements laid down in the Government Instruction Manuals."
The Ministry of Education has since worked with the Public Service Division, Ministry of Finance, as well as consulted school leaders to implement season parking charges for teachers.
Comments on the move were mostly against it: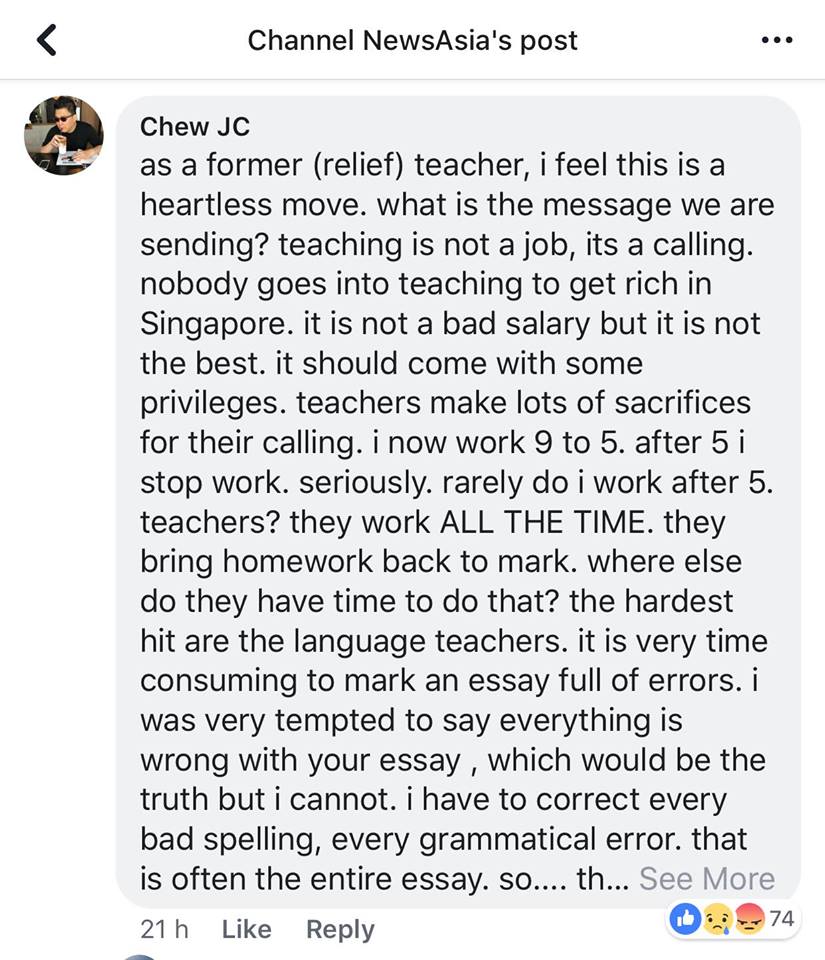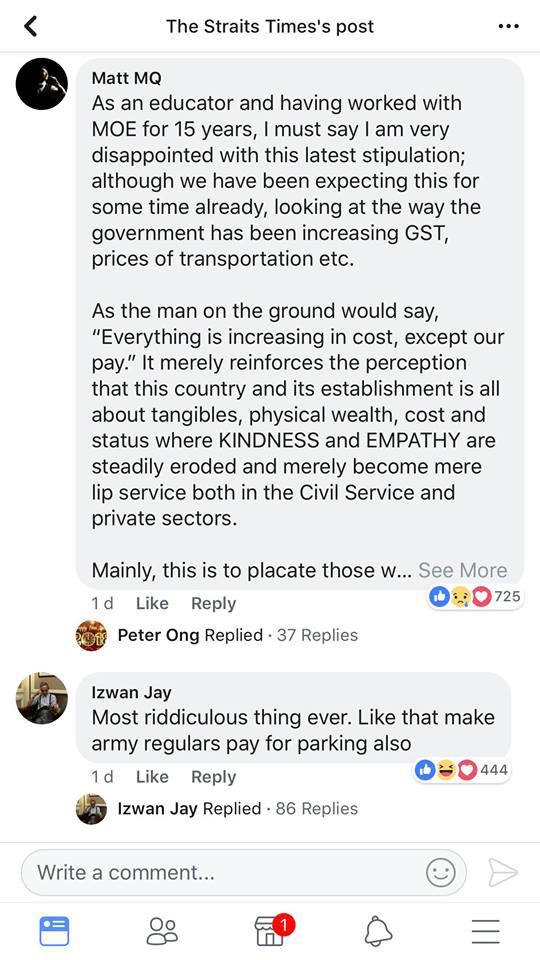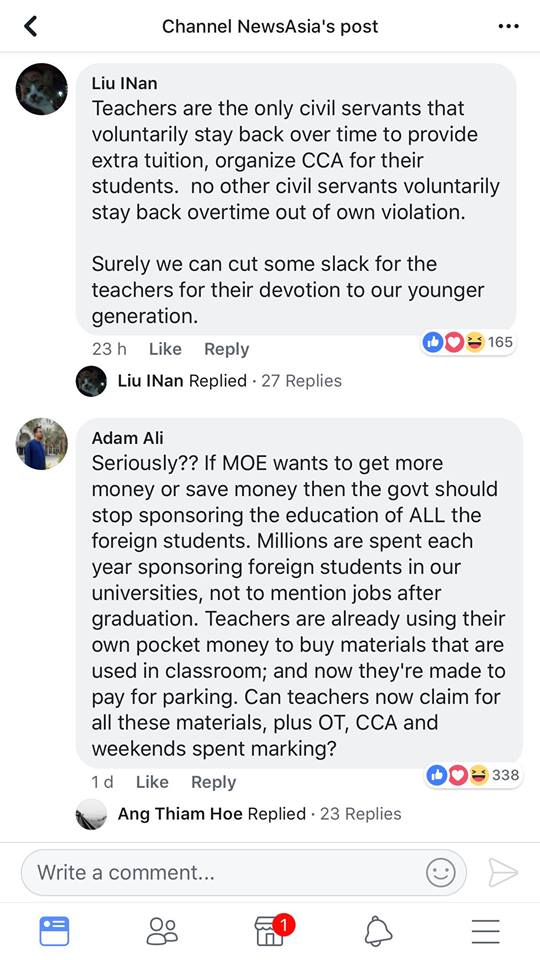 Keeping things "fair"
And then there was one comment made that has gone viral on its own. It described, in the spirit of bean counting, ways in which teachers should stop going the extra mile for students to keep things "fair".
Here's the comment that was reproduced and shared by Facebook user Jonus Jun:
"Coming from a husband of an ex-teacher...Since AG deemed it fair for teachers to pay for their parking at their own expenses, I guess I can advise all my teacher friends to stop the following since it's "fair wages policy":

1. Children's day gifts, class prizes, motivation prizes, class treats, encouragement cards, motivation posters to help the students.

2. Additional study resources, revision notes created out of their own free time in the nights, weekends and holidays. 

3. Class charts, decorations, motivation posters, photos printed out of your own money to make the classroom a more positive learning environment.

4. Marking, lesson planning, research done at night, weekends and your own "protected time" during school holidays. After all, these should be done during your working hours in school right since AG wants to be black and white and you are not paid OT?

5. Answering parents' messages, emails and phonecalls after your slated working hours at 5pm. Oh yes, don't even use your own internet and mobile data to do so since MOE DID NOT PAY A SINGLE CENT OF YOUR UTILITY BILLS. Doesn't matter if your student have any emergencies or life or death matters in the families. It's fair wage policy remember? Must be fair to you. 

6. Additional remedial/supplementary lessons/consultation time done after school to help students who are weaker/taking key exams etc.

7. Giving your students pocket money/buying them food and drinks if they have financial difficulties or going for excursions. After all, it's their own fault if they can't afford to bring snacks for long excursions right?

On top of that, teachers should stop doing the following unless a fee is paid for these non-teaching duties and responsibilities:

1. Bringing students out for overseas trips/SYF/rehearsals/community events which often fall on nights and weekends, sacrificing your own family and free time. 

2. Coming back on weekends to conduct workshops for parents to help them help their own child. Come on, from teaching the child to teaching the parent as well? And for free some more??? Private tuition centres are charging from $50 per hour to $100 per hour for the kind of workshops you conduct!

3. One-to-one meetings with parents to deal with their child's issues. Some more sometimes get scoldings and shouted at for no good reasons. Even counsellors charge a hefty fee in private sector.

4. Planning and fighting for budget, writing proposals, getting quotations, and all the admin stuff of procurement. After all, these are not done during teaching time right?

There are so much more unseen and unheard sacrifices that parents and students will never know, much less some people at HQ who only wants to implement policies and yet never take the ground feedback into account. While the amount is small, it is a signal from the top management that perhaps, the teachers should learn to be more "fair" to themselves and I fear that the ones who will really lose out will be the next generation. In any case, I'm glad that my wife is no longer in the system and doing a less stressful and happier job as a tutor. Pay is not too bad as well."
[related_story]
Here is Jun's post:
In Jun's post, he claimed that
Channel NewsAsia
, whose Facebook post the comment had originally been posted on, had taken it down, other comments on Jun's post pointed out that CNA has since emerged to deny this: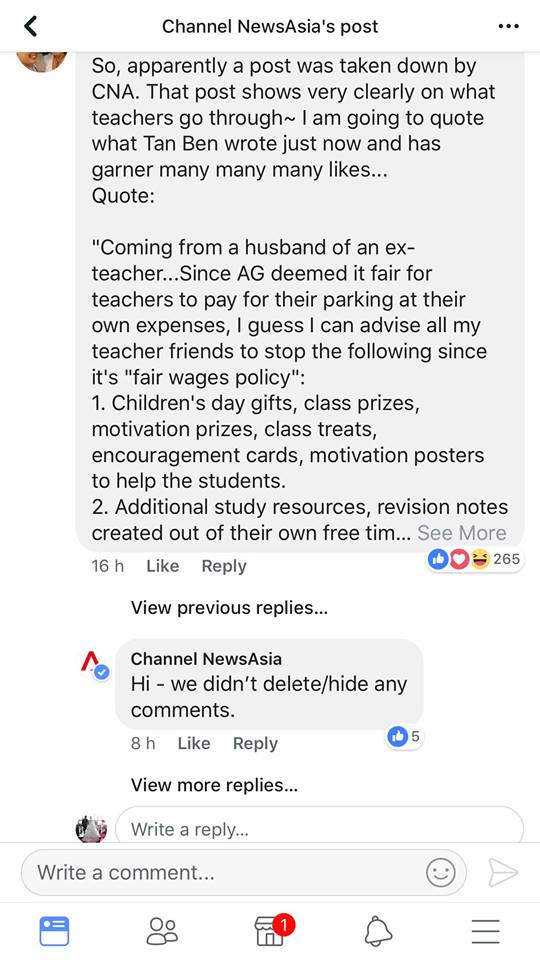 Top image via Jack at Wikipedia
Here's a totally unrelated but equally interesting story:
Are you a media freelancer? Were you promised better "exposure" instead of cash payment for your work?
If you like what you read, follow us on Facebook, Instagram, Twitter and Telegram to get the latest updates.