You may remember Elizabeth Boon.
She previously made headlines for her tongue-in-cheek graduation photo series in 2016:
... and more recently, a satirical video about an "Instagram boyfriend academy":
And on Tuesday, Boon shared a post about the latest dramatic experience in her life: a 20-hour wait for a Grab ride.
Boon's night started out like a regular one: planning her journey home from Chomp Chomp Food Centre, she booked a ride with Grab at around 9.50pm, and waited patiently.
But after 15 minutes of waiting and her Grabcar being nowhere in sight, she realised something was wrong -- the driver, after initially dropping off another passenger nearby, was moving further away from where she was, and was rejecting and ignoring all her calls and texts.
This was at 10.05pm on Monday.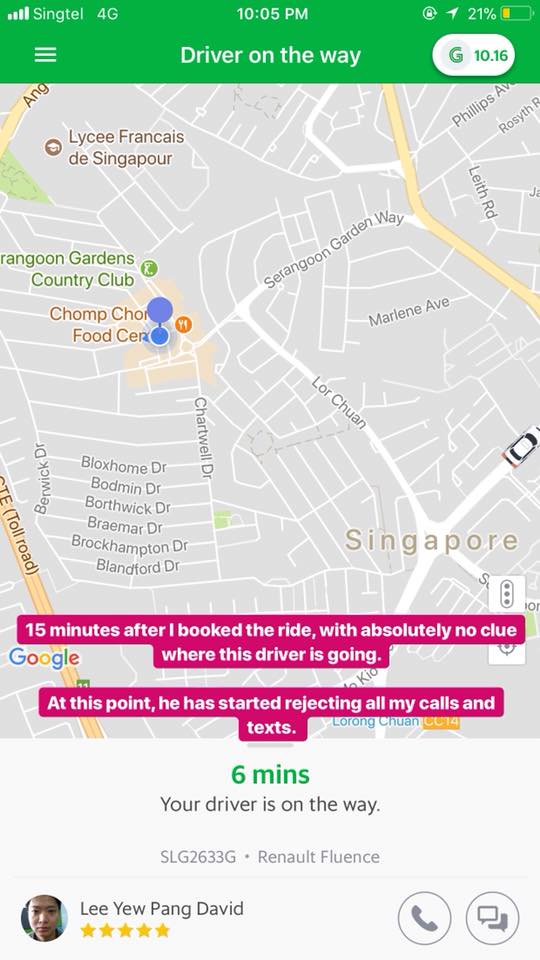 She ended up waiting for a total of 20 hours before her ride was finally cancelled (and by Grab, not even the driver), and took to her Instagram stories to document the entire thing. All her screenshots were also uploaded onto Facebook.
So here's her epic story:
Refused to cancel
By this point, Boon recognised that her driver had no intention of cancelling the ride — since it was clear he was dodging her attempts to contact him.
She then decided to see how far she could take this, by refusing to cancel it as well.
At around 10.20pm, Boon told Mothership she gave up waiting for the driver to show up and used a friend's phone to book another ride home.
She got home by 11pm, but decided not to cancel the ride (which was at this point still pending) to see how long he would hold out.
At 12.25pm the following day, she took and posted another screenshot of her app, saying that the ride was still active and the driver was somewhere in Punggol: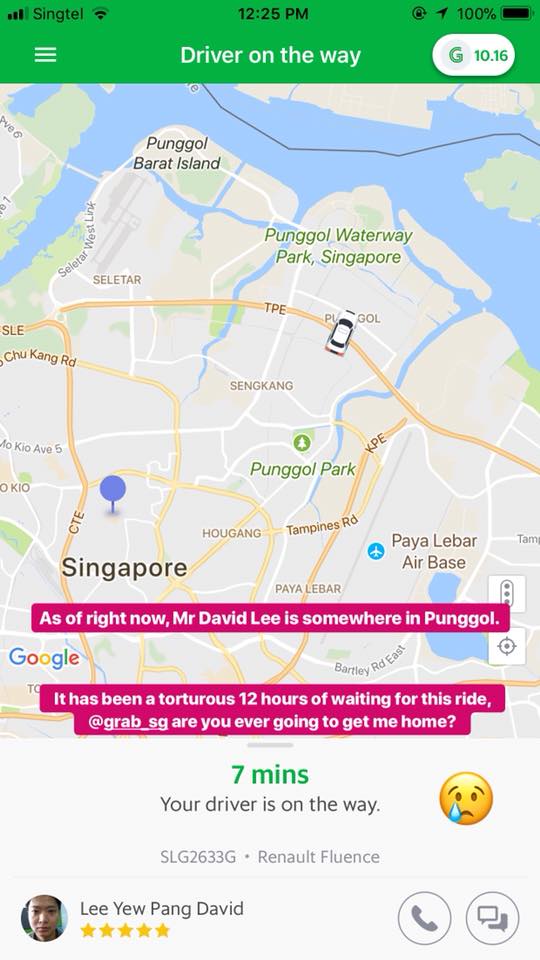 "As of right now, Mr David Lee is somewhere in Punggol. It has been a torturous 12 hours of waiting for this ride. @grab_sg are you ever going to get me home?"
Might as well dramatise the situation
Closer to 1pm, she shared a screenshot from someone who responded to one of her stories, claiming that her parents have started texting her to ask "if [she's] ever going home":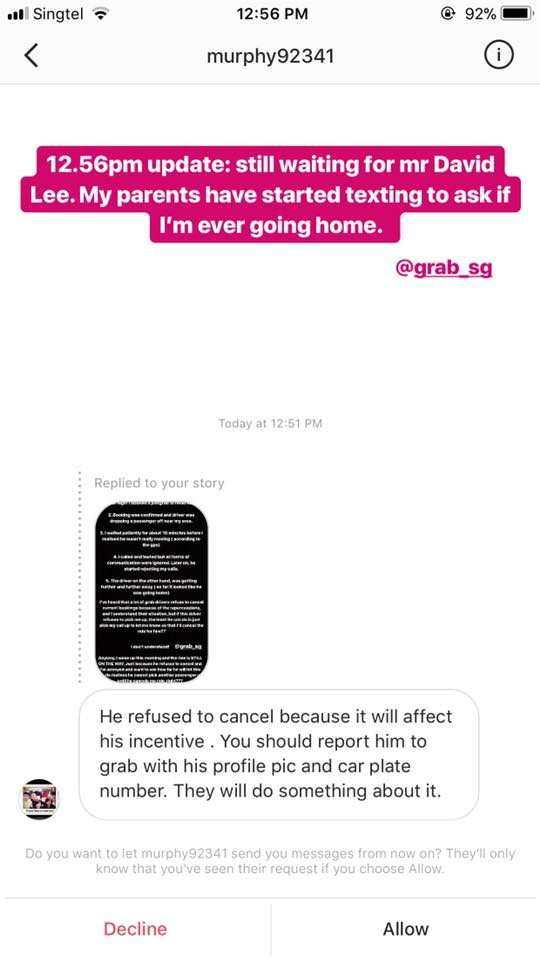 At 1.13pm, she wrote in another story with a screenshot from another follower of hers: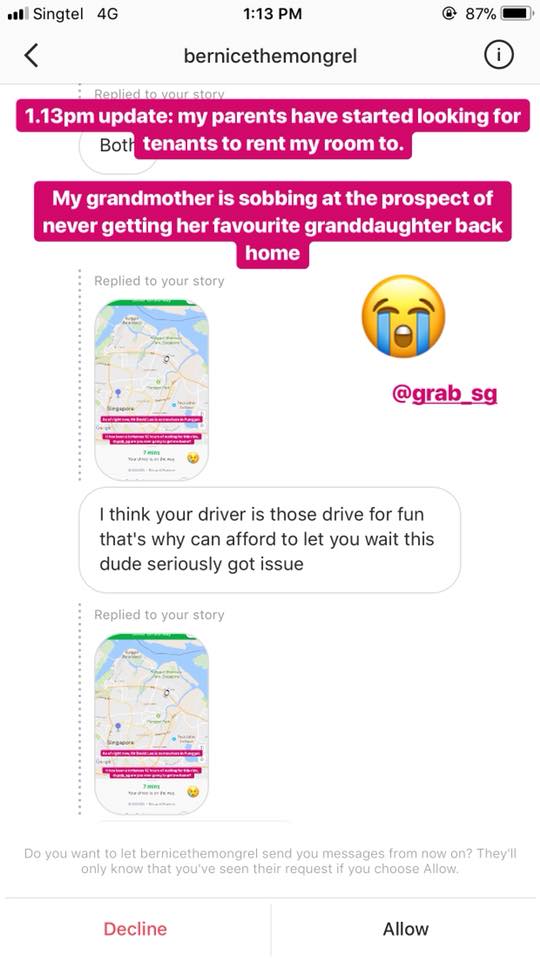 At 1.37pm, she said:
"Mr David Lee are you ok?!

My brothers have started panicking. Are they ever gonna see their sister again?"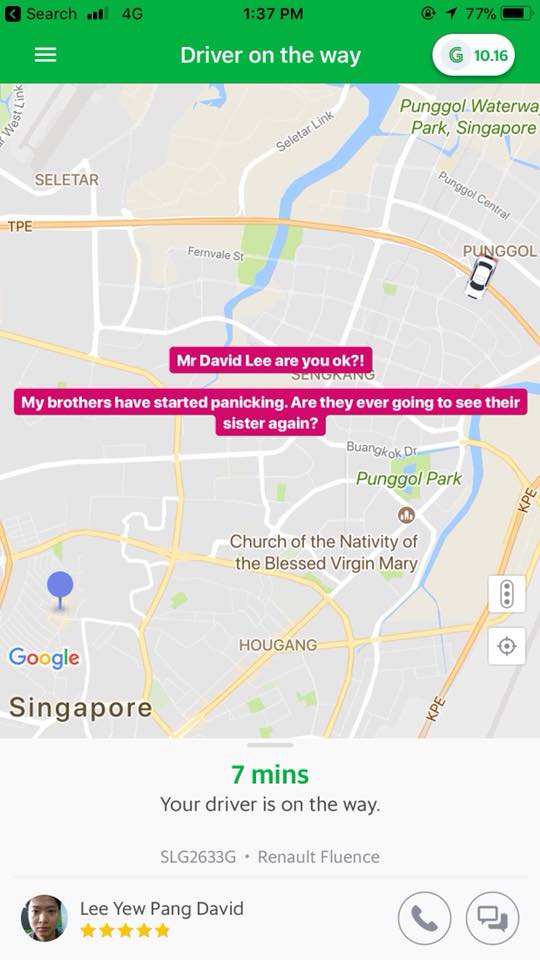 She also shared a screenshot from one of her brothers, who responded to her story saying:
"Truth is we paid the driver to do that. Mum and dad decided that you are too much to handle. Good bye."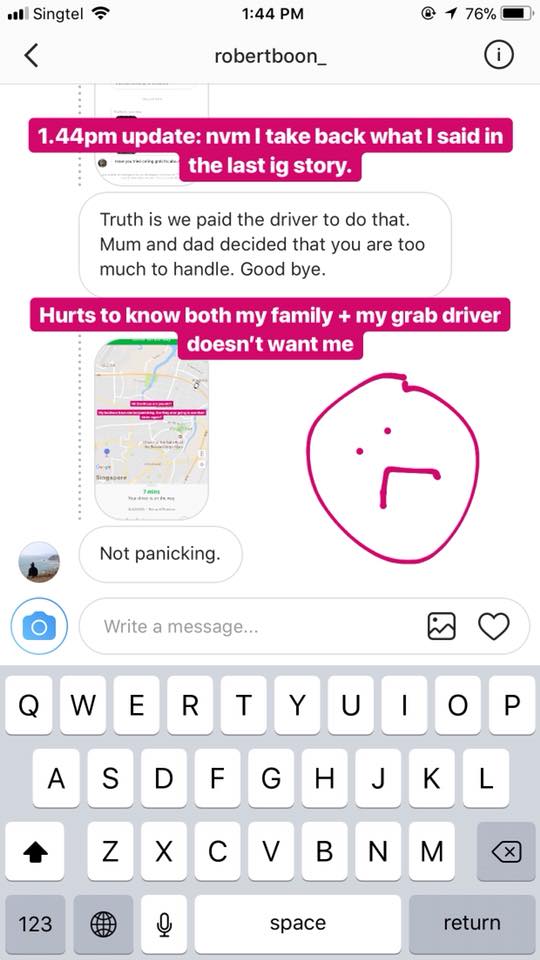 Driver wanted her to cancel
Eventually, at 2.16pm on Tuesday, Boon said the driver finally called her and asked her to cancel the ride.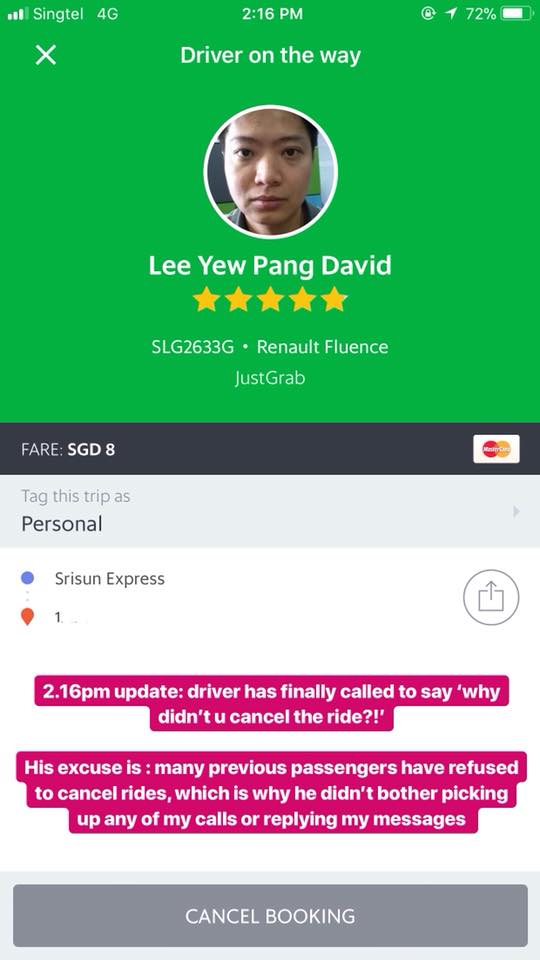 When asked why he did not cancel the ride, he explained that "many previous passengers have refused to cancel rides, which is why he didn't bother picking up any of [her] calls or replying (to) [her] messages."
Couldn't cancel
At this point she gave in, and tried to cancel... but, she said, to her dismay, the app wouldn't let her.
At around 4pm, she messaged the driver once more to inform him that she wasn't able to cancel the ride despite multiple attempts: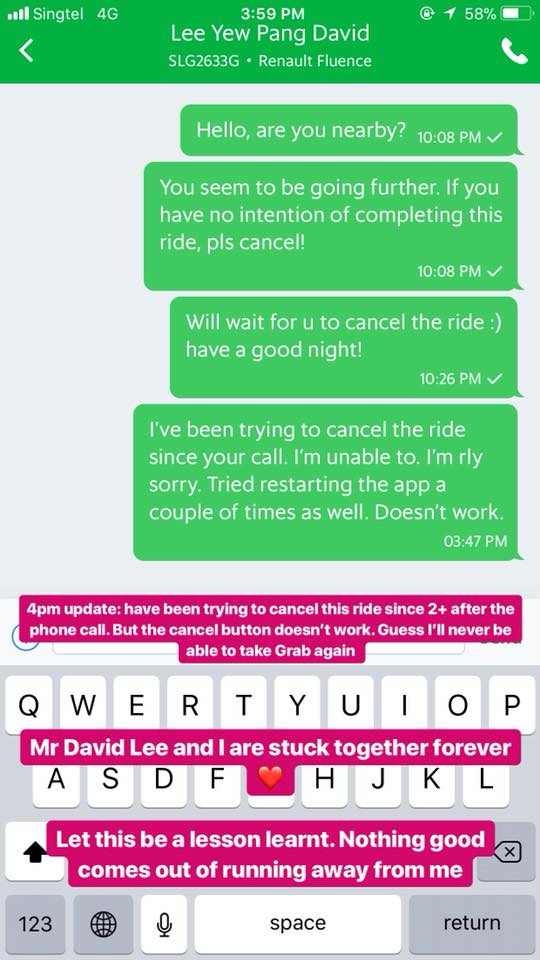 "4pm update: Have been trying to cancel this ride since 2+ after the phone call. But the cancel button doesn't work. Guess i'll never be able to take Grab again.

Mr David Lee and I are stuck together forever.

Let this be a lesson learnt. Nothing good comes out of running away from me."
Ride finally cancelled
In the end, she had to get the help of Grab (through another friend's phone) and her ride was finally cancelled at around 5:45 pm after a whopping 20 hours.
Boon said she completely understands that there is an incentive structure, which penalises drivers who cancel on their riders.
However, in this case, she said the least he could do was inform her about his decision to decline her ride.
"To all Grab drivers, if you decide to reject a booking after accepting, but refuse to cancel as you might lose your incentive or whatsoever, pls just extend the basic courtesy to alert your passenger and request for a cancellation.

Don't make us wait for you, hoping our impatience will drive us to just cancel the ride for your benefit."
Despite everything though, she told Mothership she is not angry, and takes it in her stride.
"Just thought it was a situation a lot of people can relate to."
This is her original Facebook post:
Top photo from Elizabeth Boon's Facebook.
If you like what you read, follow us on Facebook, Instagram, Twitter and Telegram to get the latest updates.