"It is those of middle-income like me who are suffering."
A purportedly middle-income family that is hoping for financial help from this year's national budget has been met with hostility from the masses.
This is the article, published by The New Paper on Feb. 12:
Even though Serene Lee's husband earns a five-figure sum monthly, the family still describes themselves as "suffering".
Lee also holds a part-time job, although its remuneration is unclear.
 Here are some of the reasons listed in the article that contribute to this: 
- Their three children, who are in primary school, secondary school, and polytechnic.

- Polytechnic school fees, about S$1,800 every semester (or half a year).

- Her daughter's sailing co-curricular activity, S$300 - 400 per year.

- Lee's life-long medication, which amounts to S$1,000+ every half a year (it would have cost around S$9,000 if not for a subsidy).

- A domestic worker under their employment.
Her husband's pay, she reportedly says, has therefore been "spread thin".
In addition, Lee also hopes for her primary school daughter to receive private tuition, which will allow her to catch up with her peers.
Wishlist for Budget 2018
For the upcoming Budget 2018, Lee reportedly wishes for the following:  
- Additional Edusave allowance for her children (secondary school students get S$390 a year for Edusave, TNP reports). 

- Subsidies for larger families. 

- A higher income cap for financial assistance.
She also added:
"Specific sports CCAs cost more, and as parents we want to support our kid's interests too, and if the school offers it, then cost should not be a barrier...

There are many middle-income families like us who are suffering despite seeming to make enough."
[related_story]
Hostility from commenters
Regrettably, people didn't appear to offer much sympathy for Lee or her family.
Commenters pointed out that having a domestic worker, spending money on a CCA, and aiming for private tuition are "wants", not "needs":

Just to clarify: Sailing costs S$300 - 400 annually, not monthly.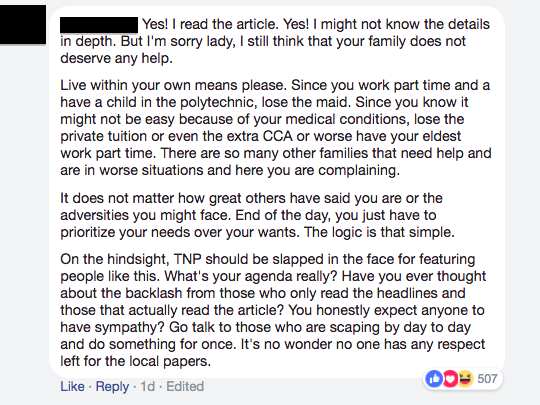 Yes, we see the irony.
There also some who had a beef with the label of "middle-income" being applied to a five-figure salary earner:


While others gave their own examples of "struggling to make ends meet":



Everyone struggles in different ways.
But we also guess there's nothing like the occasional dose of perspective.
Here are a few interesting articles you should check out next:
We got people on the street to talk about songs that hold a special place in their hearts, because kaypoh
Quiz: What kind of Chinese New Year gift are you?
Random trivia about Changi Airport you never needed to know
Top image from The New Paper's Facebook.
If you like what you read, follow us on Facebook, Instagram, Twitter and Telegram to get the latest updates.