Singapore history buffs would have heard of Australian writer Nadia Wright's book, William Farquhar and Singapore: Stepping out from Raffles' Shadow.
It was launched by Professor Tommy Koh, and the British High Commissioner for Singapore in May 2017.
Anyway, news of this unique book about Singapore (a former UK colony) written by a teacher from another ex-colony (Australia) have finally reached the shores of their former colonial masters.
The Spectator, a Conservative weekly news magazine that was published nine years after the modern founding of Singapore (1819, not 1965), published an insightful book review this weekend.
It detailed how Farquhar was "the true founder of Singapore", and observed that his legacy had been "unjustly eclipsed by his bullying, reckless superior" (no points for guessing who this British fellow is) for centuries.
Summary of The Spectator review
If you have 15 minutes of free time on a Sunday, you should just read the full review.
But if you don't, here's a summary of the review:
• Wright's book is a "revisionist dynamite" because Stamford Raffles is "portrayed as a reckless, inept opportunist, a bully and a hypocrite".
• Wright argues that Singapore would never have survived without Farquhar.
• Merchants who traded in Malacca "affectionately knew him as the 'Rajah of Malacca'" -- Farquhar was the Resident and Commandant of Melaka -- and news that Farquhar was going to take over Raffles caused an exodus of more than 5,000 merchants from Malacca to settle in Singapore instead.
• Farquhar's secret? Co-operate closely with the local population, using knowledge of Malay culture and politics developed over 25 years. He was pragmatic, even permitting gambling and opium dens to appeal to traders.
• Fact: Raffles departed Singapore a few months after his arrival in 1819 before leaving for his base in Sumatra. He "left Farquhar understaffed, underfunded and under-stocked, having issued hopelessly impractical orders to be carried out in his absence". For instance, Farquhar was instructed to obtain supplies from Raffles's command post that was six weeks' journey away, rather than from another British port only eight days' distance. Why? Cos Raffles disliked the governor who was staying closer to Singapore.
(National Library Board's Infopedia: Some historians note that Raffles was present in Singapore on only three occasions over five years, from January to February 1819, May to June 1819, and October 1822 to June 1823 – altogether for a total of less than 10 months. By comparison, as Resident, Farquhar played a significant role in the daily administration of the settlement in its critical early years)
• The review concluded that the book and Singapore's existence is a reminder of how a leader, especially one who is foreign, should interact with the local population and appreciate its history.
[related_story]
A diplomat being diplomatic about the roles of Raffles and Farquhar
In his foreword to Wright's book, Ambassador-at-Large Tommy Koh said that while he does not want to "criticise Raffles", he noted that "it was Farquhar who did all the heavy lifting in Singapore".
He added that "if Raffles was the visionary, Farquhar was the pragmatist and man of action".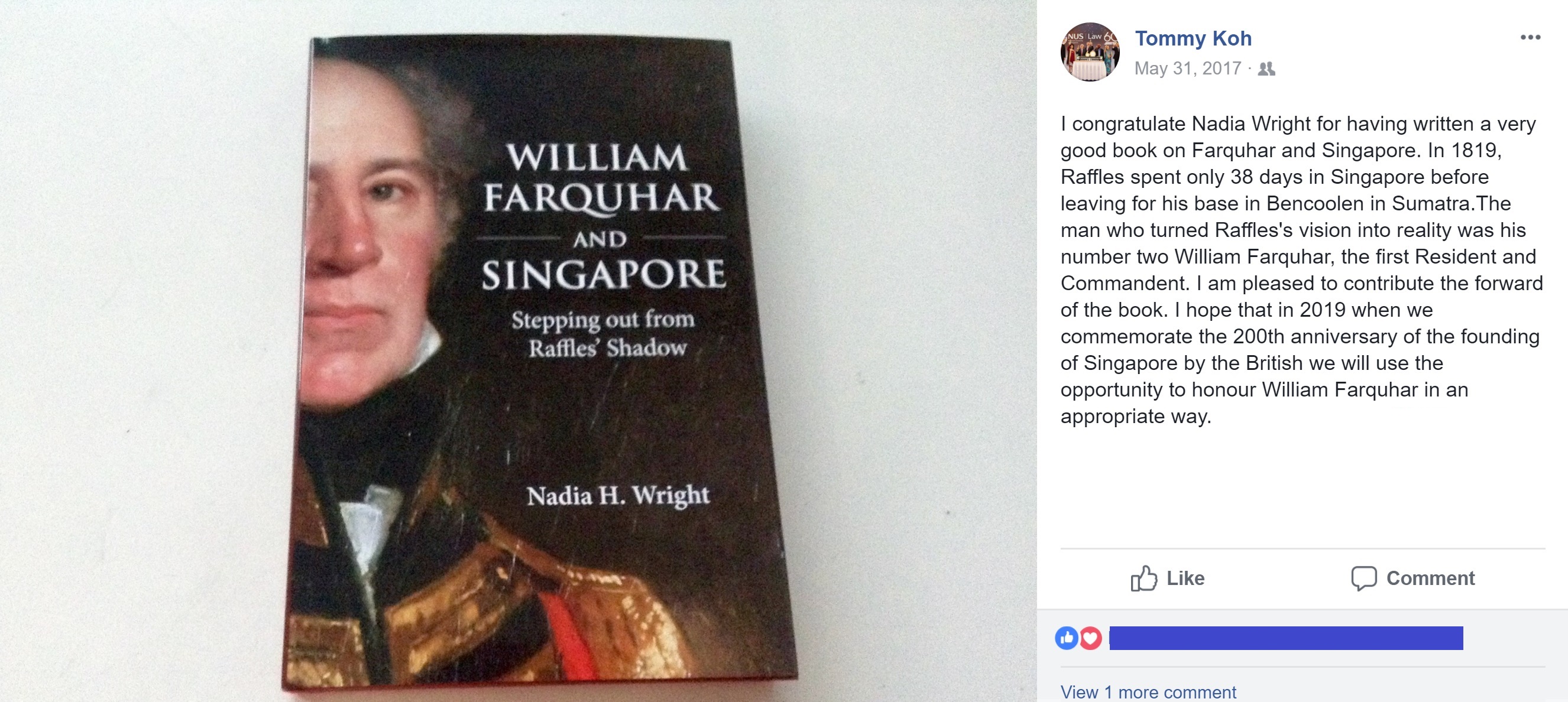 It looks like Singaporeans can do more to remind ourselves of this pragmatic co-founder of Singapore.
A Straits Times forum letter previously suggested naming landmarks after Farquhar too.
And it looks like Singapore Bicentennial commemoration in 2019 will be the best moment to do so.
Top photos from Wikipedia
If you like what you read, follow us on Facebook, Instagram, Twitter and Telegram to get the latest updates.