For those who are aware of the "fake news" issue, you may recall that Law Minister K Shanmugam indicated last June that the government intends to introduce new legislation this year to regulate Singapore's online space, and tackle the spread of fake news.
He also said that consultations with stakeholders such as media professionals on the legal framework will be held in the second half of last year.
Parliamentary Select Committee - first time in more than 20 years to study a major policy issue
Hence to many who had expected a top-down straight forward and hasty efficient process, it should come as somewhat of a surprise that the government is taking a step back in its approach.
The latest news in a Jan 5 press release by Ministry of Law is: The government will be initiating a parliamentary process that has not been used for more than 20 years to study a major policy issue.
The rare process is the appointment of a 10-member Select Committee to look into the the problem of "deliberate online falsehoods" and to recommend how Singapore should respond.
[related_story]
A motion will be moved at the sitting of Parliament on Jan. 10 by Shanmugam to set it up formally.
The notice of motion sent to Parliament by him said that the committee will examine and report on:
The phenomenon of using digital technology to deliberately spread falsehoods online.

The motivations and reasons for the spreading of such falsehoods, and the types of individuals and entities, both local and foreign, which engage in such activity;

The consequences that the spread of online falsehoods can have on Singapore society, including to our institutions and democratic processes; and

How Singapore can prevent and combat online falsehoods.
An elaborate exercise
In a way, this move reflects the start of an elaborate exercise to educate the public and seek wide-ranging views before enacting relevant legislation.
The Ministry of Communications and Information and the Ministry of Law has also jointly issued a Green Paper (a consultative paper for preliminary discussion) setting out the reasons behind the setting up of a Select Committee.
So it's not just about "fake news" but "deliberate online falsehoods", and the focus is on state and non-state actors as described in the Green Paper.
"The digital technologies we have today enable these States and individuals to target and spread falsehoods easily. Such campaigns can affect democratic processes and governance. They can also erode trust and cohesion in a society. It is necessary to seriously consider the nature of these campaigns and consider what steps should be taken to counter them."
Committee of Selection
The Select Committee on Deliberate Online Falsehoods shall comprise of 10 members, led by Deputy Speaker Charles Chong as chairman.
It will also include seven members from the Government benches, one member from the Opposition benches, and one Nominated member (NMP), to be nominated by the Committee of Selections.
Below are members of the house who will select the members forming the Select Committee.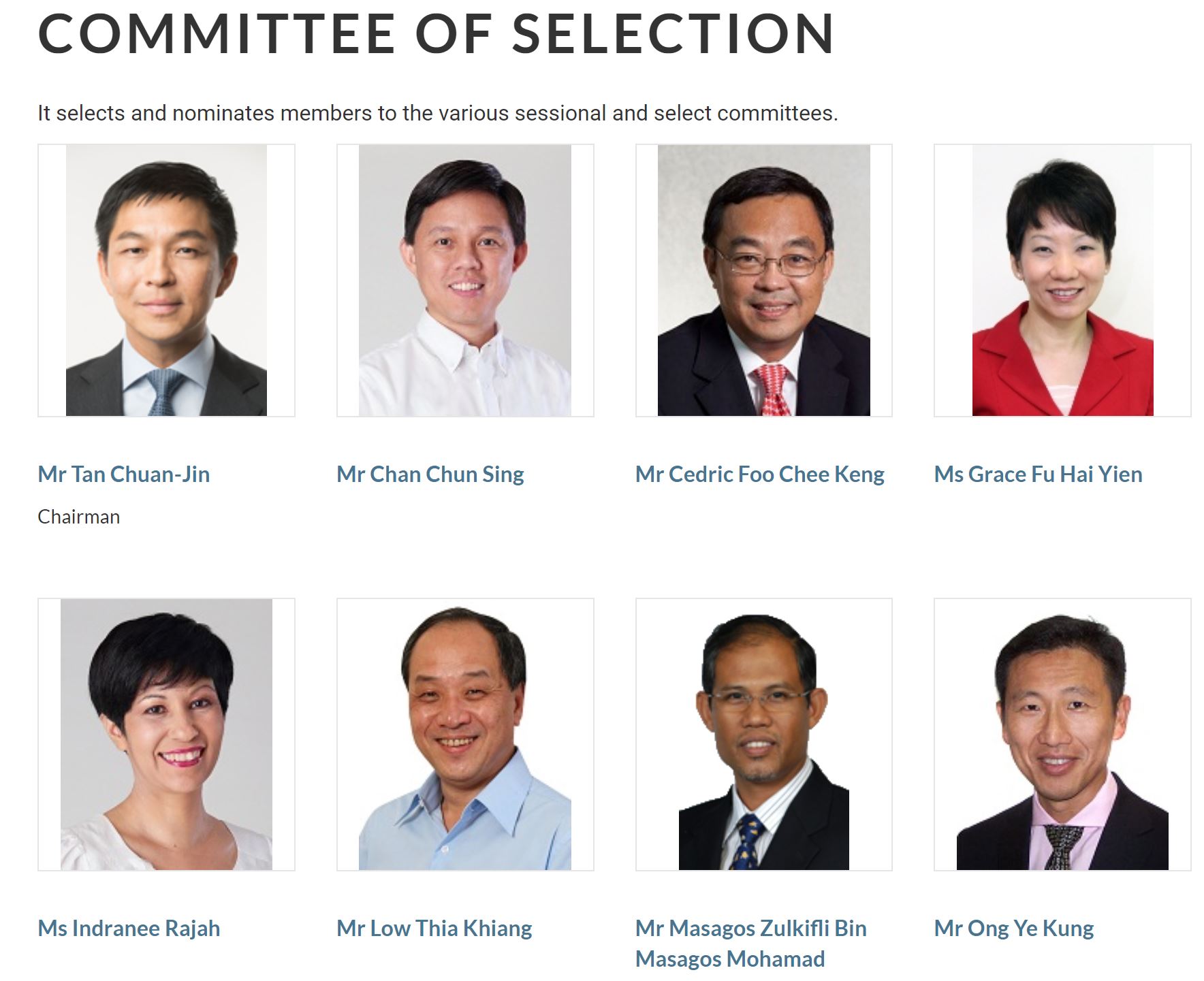 The composition of a Select Committee reflects the balance between the Government and Opposition benches in Parliament. NMPs do not sit on Select Committees unless Parliament specifically provides them to do so.
Top photo by Jeanette Tan.
If you like what you read, follow us on Facebook, Instagram, Twitter and Telegram to get the latest updates.