A Facebook community is urging Singaporeans to donate money to the family of a 33-year-old Indian migrant worker killed in an accident along West Coast Highway recently.
The tragic accident, where the worker was killed instantaneously, was reported in the media.
Sole breadwinner
According to the post, the deceased man's name is Selvam.
He leaves behind a newly-wedded wife, a debt-ridden father and an unmarried sister, who were all counting on him as a sole breadwinner when he came to Singapore to work.
The post also said donations for the family are being collected as it is uncertain how long before the insurance payout can be settled.
The money raised will be passed on to the deceased man's uncle, who is also a migrant worker in Singapore.
This is the post in full:
This is the Indian migrant worker who was killed while repairing a pot hole in Singapore last week. I approached the Indian High Commission to get his family's number in Tamil Nadu so that I could contact them to see if they needed any assistance. This man was reported to be 33 years old and I imagined he had left behind a young family who would be grieving in a remote village in south India, and hardy in a position to pursue any insurance claim in Singapore. Unfortunately the Indian High Commission was of no help. They claimed they hadn't even heard of this case until I emailed them this morning!

Just as I felt I was hitting a wall in my effort to identify this man and his family, the power of social media revealed itself. One of our wonderful volunteers tagged me in a post about this man - we found out his name is Selvam - and within a matter of minutes I had his sister's number in India and was able to speak to her.

She was in tears and said Selvam was her only brother, role model and hero. If they had known he was engaged in life threatening work, they would have never sent him to Singapore but kept him safe back home. He leaves behind a newly wedded wife, a debt-ridden father and an unmarried sister who were all counting on him to be their saviour. What a burden on those young shoulders Selvam must have carried.

I have promised them I will do everything possible to ensure the full extent of the insurance payment due to them reaches them as soon as possible. Usually that process takes months - hopefully his employer will have the heart to pay his wages to the bereaved family until his insurance payment kicks in.

If anyone would like to donate to Selvam's family, I have his uncle's contact details in Singapore (also a migrant worker here). Money can be collected and sent to him - please feel free to pm me.
[related_story]
The Itsrainingraincoats Facebook community is no stranger to helping foreign workers in Singapore.
In June 2016, they launched an initiative to redistribute uneaten Starbucks food to foreign workers:
Subsequently, they were also reported to have been giving out raincoats and fruits to foreign workers: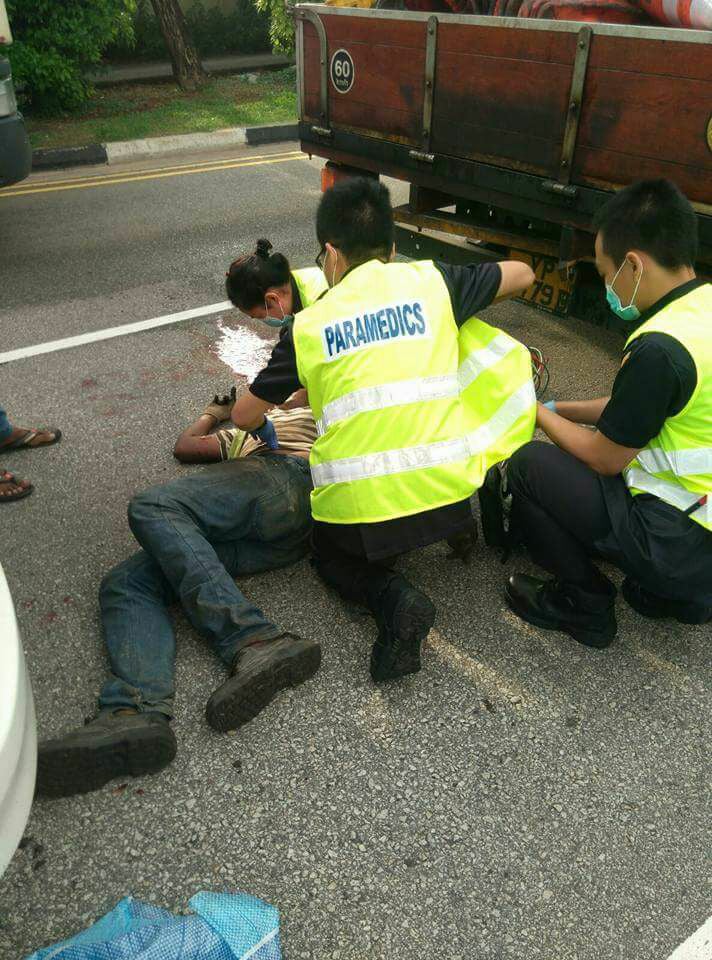 A 33-year-old construction worker was killed in an accident while reportedly repairing a pothole on the West Coast Highway on Friday, Dec. 22.
The accident involved two lorries and a truck along West Coast Highway, towards Jalan Buroh, at 4.49pm.
The Indian national had been repairing a pothole in the road when he was reportedly struck by one of the vehicles.
There were two stationary vehicles on the road at the time -- a lorry and a truck.
The worker was reportedly finishing up his work clearing safety cones and returning to the lorry, when a third vehicle, a lorry, could not stop in time and crashed into the truck, which surged forward and hit the foreign worker.
He was pronounced dead by paramedics at the scene.
Here are some unrelated articles you should check out next:
My Mom went on a day out with a film camera. Here's how she views the world
Why you should reignite that kampong spirit with your neighbours
If you like what you read, follow us on Facebook, Instagram, Twitter and Telegram to get the latest updates.