Jeffrey Kong is a brick artist.
The 38-year-old builds cool structures out of LEGO bricks, like this:
This:
This:and, at the risk of offending Star Wars fans, this:In his five years doing this, he's had many public clients in the form of schools, government agencies and the Ministry of Trade and Industry, too — and even won a 2015 international LEGO competition.
The case of the coincidentally-similar train models
So let's cut to the chase. Kong explains, in a Facebook post, that he had put in a bid for a project collaboration with the Land Transport Authority for merchandise that celebrated the opening of the new Downtown Line.
The item in question: a model DTL train he created from LEGO bricks as part of his pitch to the LTA folks. They liked it, and requested to keep it to aid their decision-making process, and to show their upper management for approval.
Initially, Kong said his policy is to charge a design fee for retaining a model he makes, or decline to release it until the project is confirmed, but he eventually relented over an in-person verbal discussion and let them have it, thinking it would help accelerate their decision.
Unfortunately, he lost the project bid, and that was that. But when the LTA released images of its merchandise on October 10, they bore a really striking, pretty much identical resemblance to what Kong presented: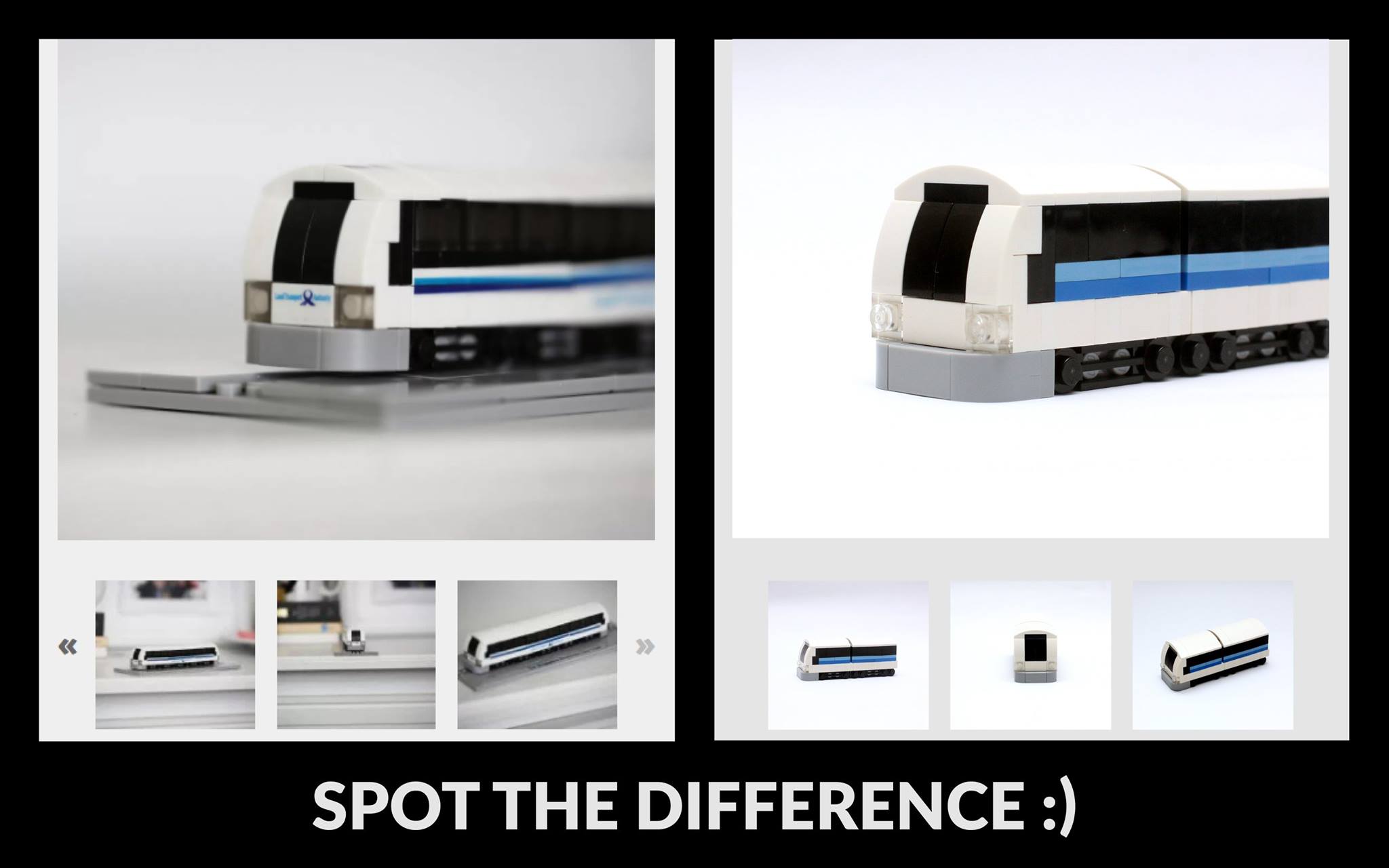 Kong visited the LTA's office when he learned about it three days later to ask them about it, as well as to compare the models. The folks who met him said they did not share the designs he submitted with their eventual appointed vendor, nor did anyone apart from they themselves and their management saw them.
[related_story]
When we approached the LTA, a spokesperson said the following in a statement:
"To commemorate the completion of the Downtown Line (DTL), the Land Transport Authority (LTA) produced the DTL miniature train as a Knackstop merchandise.

LTA called an open quotation in June 2017 for the design and production of public transport collectibles. During the briefing in June 2017, LTA informed potential bidders that the final product has to resemble the actual DTL train, which have been in operations since 2013. Potential bidders were also given the opportunity to view the DTL train close up during the briefing, so as to ensure that they are able to create a product that will look like the actual DTL train. LTA did not disclose individual bidder's submission to the other bidders.

LTA would like to clarify that we did not tell Mr Jeffrey Kong from Artisan Bricks that the similarities were a coincidence. When Mr Kong spoke to LTA staff on Friday (13 October 2017), we mentioned that since the product will need to model after the actual DTL train, it is inevitable that the eventual product will bear close resemblance to the actual DTL train. (emphasis ours)"
According to GeBIZ, where government tenders are displayed, there were two bidders for the project in the end — Kong's Artisan Bricks and one called Hai-Ou Co, which eventually won the bid with a lower price: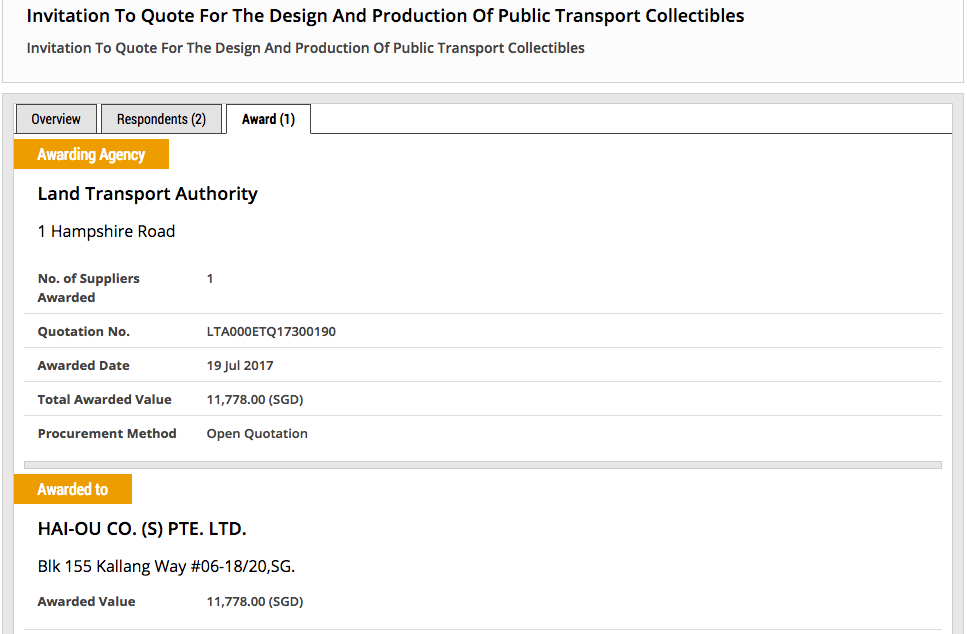 A quick check on Hai-Ou's website shows, however, that it doesn't appear to be involved in brick-building or collectible items at all — it instead advertises itself as a distributor for communication equipment as well as a range of laboratory materials.
We've written to Hai-Ou to ask them for more information about how they carried out the project.
But anyway, here's Kong's post on his Facebook page in full:
In it, he stresses that he is not seeking compensation or any follow-up action, but is merely making public his experience as a reminder both for himself and for fellow artists to 1) get things on black and white, and 2) maybe don't let a potential client have your original designed model before you are given the job.
He also urges people to still buy the train model anyway, because proceeds from its sale will go to needy commuters who can't afford public transport.
Easy for two different makers to come up with the same design?
With the facts laid out, some curious things came to the fore.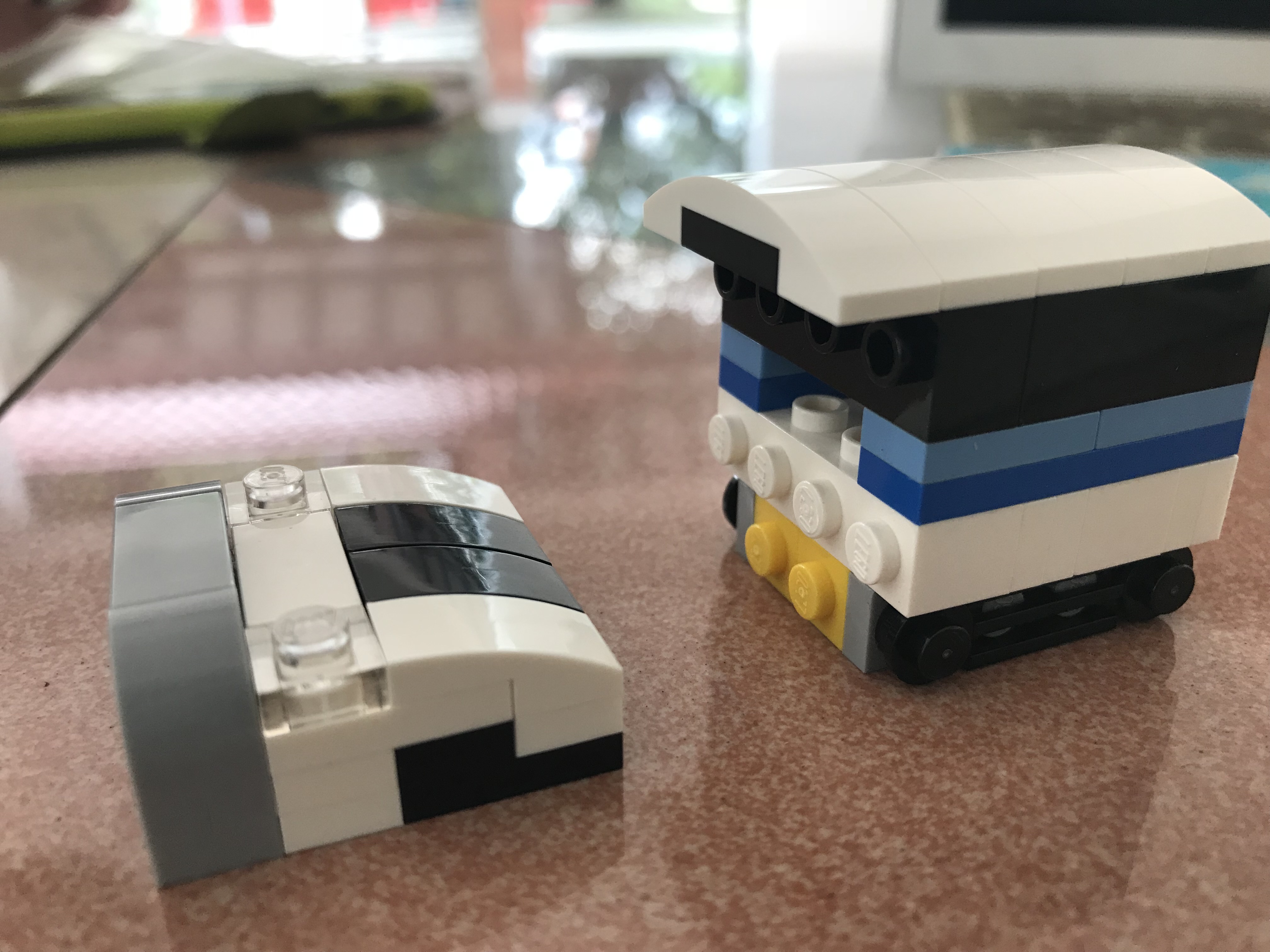 We met up with Kong on Sunday, and he showed us how certain parts of his model were built with pieces stacked sideways — for instance, this front component of the train carriage.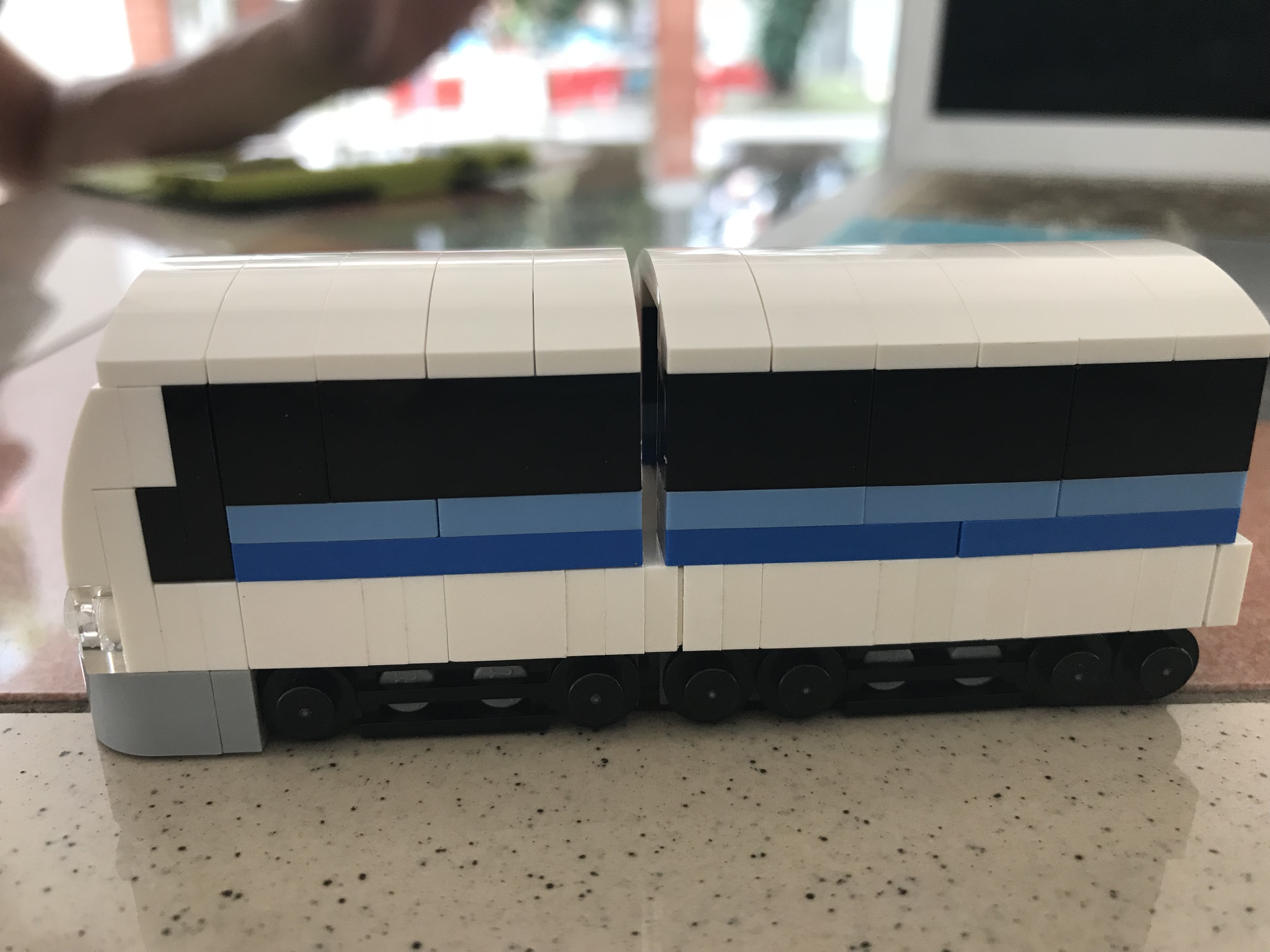 And in this particular photo, you can see that he specifically designed for a gap between the train cars using a half-plate piece. All these, he opines, are methods that only experienced brick model builders would think to use.
He showed us this drawing he initially made of the planned design, which he did in June: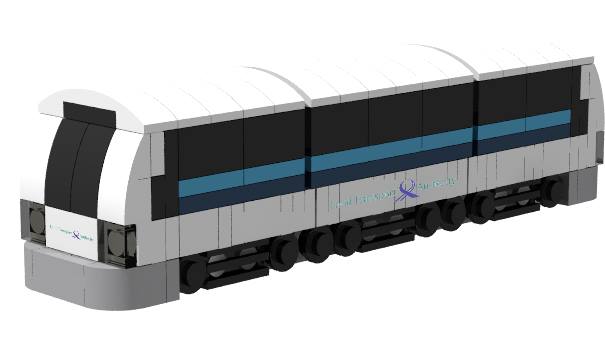 He notes that this also wasn't exactly a quick job for him:
"This took me a few tries; I never get my stuff right the first time. What you see is the result of a few hours of work, a good half a day, and even this, for me, was a draft — I also didn't think it was good enough, and I stressed this to the LTA folks when I showed it to them."
In a follow-up Facebook post, Kong also showed how the same thing can be portrayed differently by different brick builders — even showing how he did it differently on three occasions himself:
But hey, who knows, right?
Top photos via Artisan Bricks's Instagram page, by Jeanette Tan
Here are some totally unrelated but equally interesting stories:
HDB things we are so used to now but will probably not miss in 10 years' time
Which of these cool young Singaporeans would you want your kid to grow up to be?
If you like what you read, follow us on Facebook, Instagram, Twitter and Telegram to get the latest updates.