In Sept. 2017, two Singaporean boys decided to make St. Hilda's Secondary School famous by re-enacting Fight Club in a classroom. Despite the presence of an adult, the boys pushed around, shoved and kicked a third boy.
A video of the incident led to a strong reaction from the public.
During the Parliament session on Oct. 3, Non-Constituency Member of Parliament Daniel Goh asked about the prevalence of bullying in schools. In response, Minister for Education (Schools) Ng Chee Meng said the number of bullying cases has been "relatively stable."
"Generally, our students are well-behaved. Incidents in our schools, in terms of bullying, are very few and have been relatively stable."
To support this, he cited a 2015 study conducted by the international Organisation of Economic Co-operation and Development (OECD) on students' well-being. In Singapore, he said that:
About 10 percent of students experienced some form of "social bullying", where kids feel left out by others.

About 20 percent of students have experienced verbal bullying, where kids were made fun of by others.

About 5 percent experienced physical bullying, like the brawl we witnessed in St. Hilda's.
Ng added that these findings were similar to the MOE's own findings, and other local studies.
[related_story]
Bullying statistics in Singapore higher than OECD average
However, if you look closer at the survey, it reveals that the statistics on bullying in Singapore schools are actually higher than the OECD's average.
The exact percentage of students who experienced verbal bullying (18.3 percent), was significantly higher than the OECD average of 10.9 percent. Even the cases of physical bullying (5.1 percent) was higher than the OECD average of 4.3 percent.
Also, 25.1 percent of the respondents said that they've experienced "any type" of bullying acts at least a few times per month, higher than the OECD's average of 18.7 percent.
Bullying is not a problem to be taken lightly. According to the OECD survey, students who are frequently bullied may feel constantly insecure and on guard. They tend to feel unaccepted and isolated and are often withdrawn as a result.
Students who are bullied frequently also report a lower sense of satisfaction about life, and tend to skip school more often.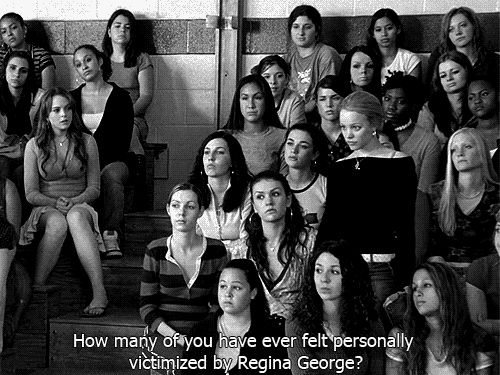 MOE deals with bullies
Despite the relatively high proportion of bullied students, the fact that they are willing to speak up about such incidents they've experienced is a good starting point for the MOE.
Its Character and Citizenship Education classes aim to impart social and emotional skills, including conflict management. Teachers are encouraged to use "teachable moments" such as the St. Hilda brawl, to reinforce the relevant values and educate the students.
According to the MOE, all schools have been equipped with CCTV systems to enhance safety and security within their premises. The cameras are installed to cover critical areas in schools like gates, access routes and blind areas.
[caption id="" align="aligncenter" width="499"]
Gif from Tumblr.[/caption]
While this is mainly used to deter crime and detect unwanted intrusions, it can also serve as a deterrent against physical bullying and violent incidents within school grounds.
Ng said that schools were focused on creating a supportive environment for their students, and equipping them with the relevant skills. Schools have established channels of support where pupils can report cases of bullying for staff members to investigate.
Depending on the severity of the case, the student's parents could be notified to participate in post-incident counselling, look at how the issue has been dealt with, and the follow-up action to be taken, among others. Ng said:
"MOE does not tolerate bullying in any form and every child has a right to feel safe and secure in our schools."
Related story:
S'pore secondary school students brawl in classroom while adult watches
Top image from screenshots of Must See Singapura News' video.
If you like what you read, follow us on Facebook, Instagram, Twitter and Telegram to get the latest updates.