Singapore's school kids may be known for their excellent test scores, but don't be fooled, we have some of the finest wannabe young brawlers as well.
As what a few students from St. Hilda's Secondary School showed us, in a viral video of a fight that was shared on the Must See Singapura News' Facebook page, which you can see below:
[video width="224" height="400" mp4="https://static.mothership.sg/1/2017/09/21739764_123586491715139_1964521700502536192_n.mp4"][/video]
It's not clear when exactly this fight took place, but let's break down the fight choreography, scene by scene:
The video opens with a bang, as one of our heroes shouts a loud Hokkien expletive. They stride down a corridor. The shorter fellow (let's call him George), leads the way. He enters a classroom and shoves a table to one side. "Kena rejected by girl want to come fight with us ah?" shouts George, perhaps a clue as to the origin of their displeasure.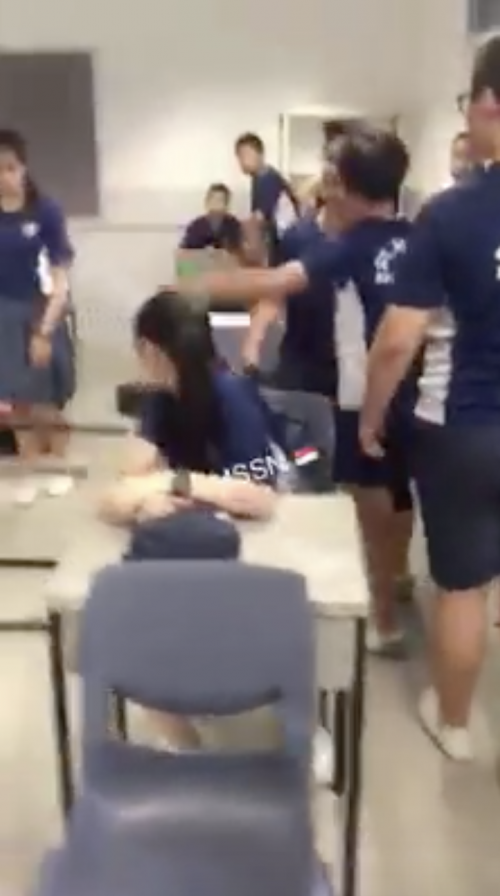 The larger fellow (lets call him Lennie) has the unfortunate victim in a headlock, while George implores him to "Go back to your f***ing USA and go and suck c**k."
[related_story]
The victim (let's call him Slim) breaks out of Lennie's grip and attempts to fight back, but Lennie hits him in the face with a right hook that would make Floyd Mayweather proud.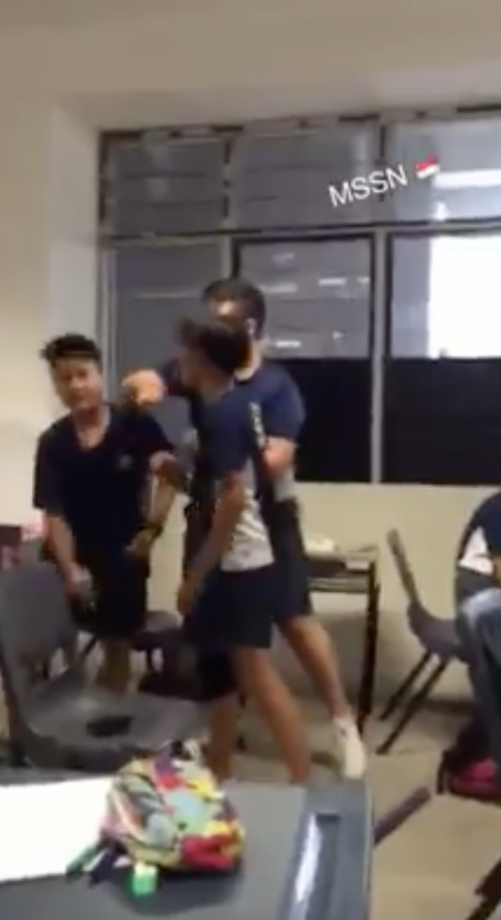 George and Lennie then push Slim around, while a female voice offscreen begs them to stop fighting. They do not comply.
While Lennie restrains Slim and George aims a kick, the video reveals an adult standing in the back doorway, wearing glasses and a lanyard. While more curses and kicks are hurled, this guy does nothing to stop the fight.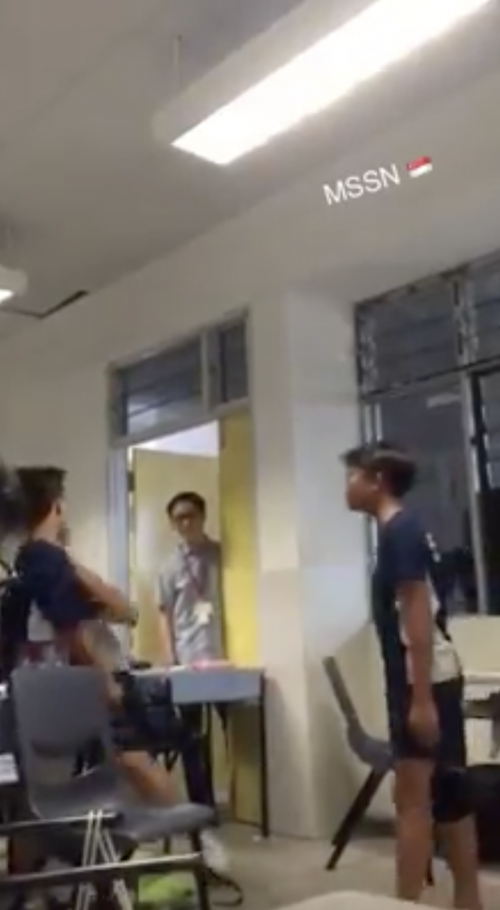 "Come ah! You think you so big you come ah!" screams Lennie, who happens to be bigger and taller than Slim.
At this point, another student walks past the silent adult into the classroom and steps in, moving George and Lennie away from Slim and ending the fight. George gets in the last word, solemnly vowing that "One more time your mother will find your body lying in the longkang lah, f**k you, [Hokkien expletive]."
Mothership has reached out to St. Hilda's Secondary School for comment.
Here are some totally unrelated but equally interesting stories:
iPhone 8 and iPhone X in Singapore: Pre-order details and dates to remember
SDP files lawsuit challenging govt's decision not to hold Marsiling-Yew Tee GRC by-election
Top image via screenshots from Must See Singapura News' video.
If you like what you read, follow us on Facebook, Instagram, Twitter and Telegram to get the latest updates.