Given the popularity of Japanese pop culture, especially that of cosplay and fashion, different events and conventions pop up over the course of the year to cater to growing demand.
The latest such event here is Akiba Town, which markets itself as a Japanese culture event bringing in official anime merchandise along with fan artists and guest cosplayers.
It's on now, by the way, from Friday, Aug. 4 to Sunday, Aug. 6.
We understand the next question on your mind might be where it's happening, but the answer to that involves diving headfirst into a pretty long list of issues the event's organisers seem to have run into – or been discovered to have done:
1. Late-stage change in location
Originally slated to take place at Orchard Central for its debut run, the Akiba Town organisers first advertised the event on June 22:
However, just over a month later, and just a week before the actual event was to take place, organisers announced a change of location to Marina Bay Sands, which according to the organisers, was due to the lack of space:
A venue within a venue
The Facebook page administrators uploaded this photo album, detailing how to get to their event:
And of course, potential event goers realised that the directions pointed to an area within a completely unrelated travel fair called Travel Revolution, organised by the Singapore Outbound Travel Agents Association (SOTAA).
Cosplayers were understandably confused: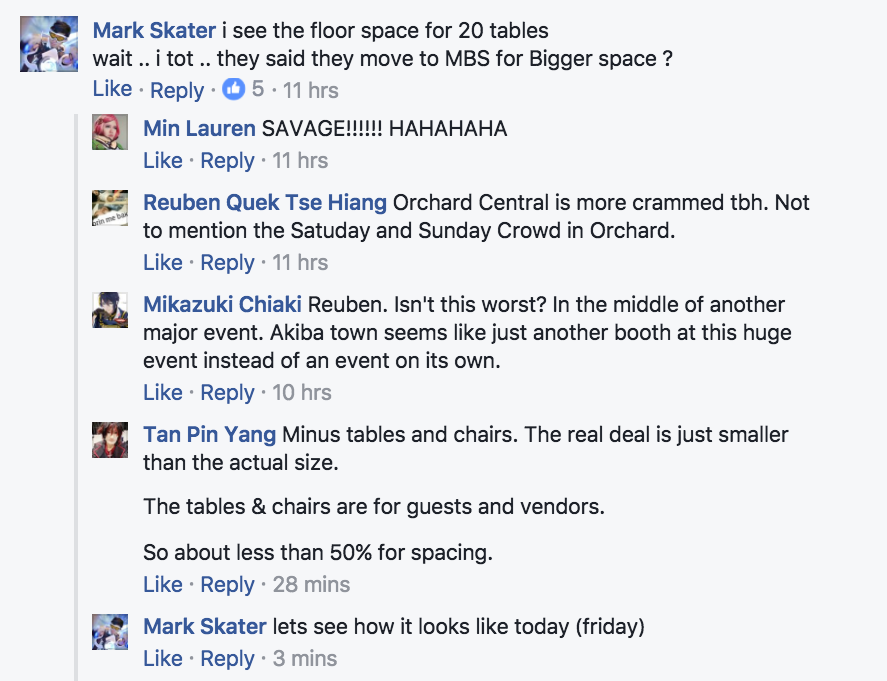 Even local wrestling enthusiast Kurt Tay left a negative review as well:

2. Giving away prizes to members of staff
Some cosplayers also noticed that in a giveaway contest held by the Akiba Town organisers, one of its staff members and cosplay guests, who went by the moniker Qian Yawns, won a prize: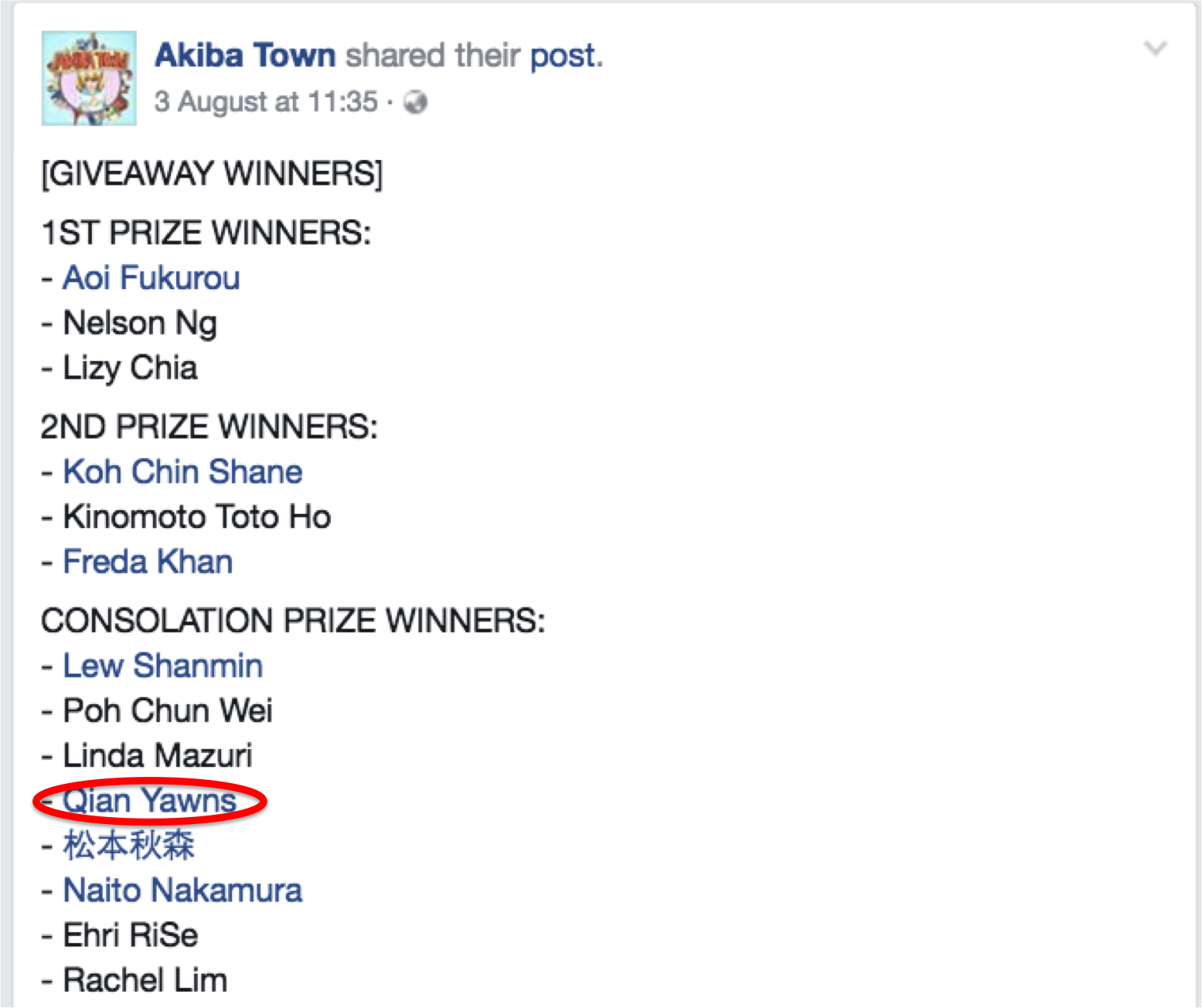 Interestingly, the alleged insider appeared to have no qualms with the fact that she participated and won something, even commenting on the post:
The organisers later responded to a complaint to that effect, and admitted to it happening, saying they "understand that it is inappropriate for (their) staff to participate".
They also said they will give the prize to another participant.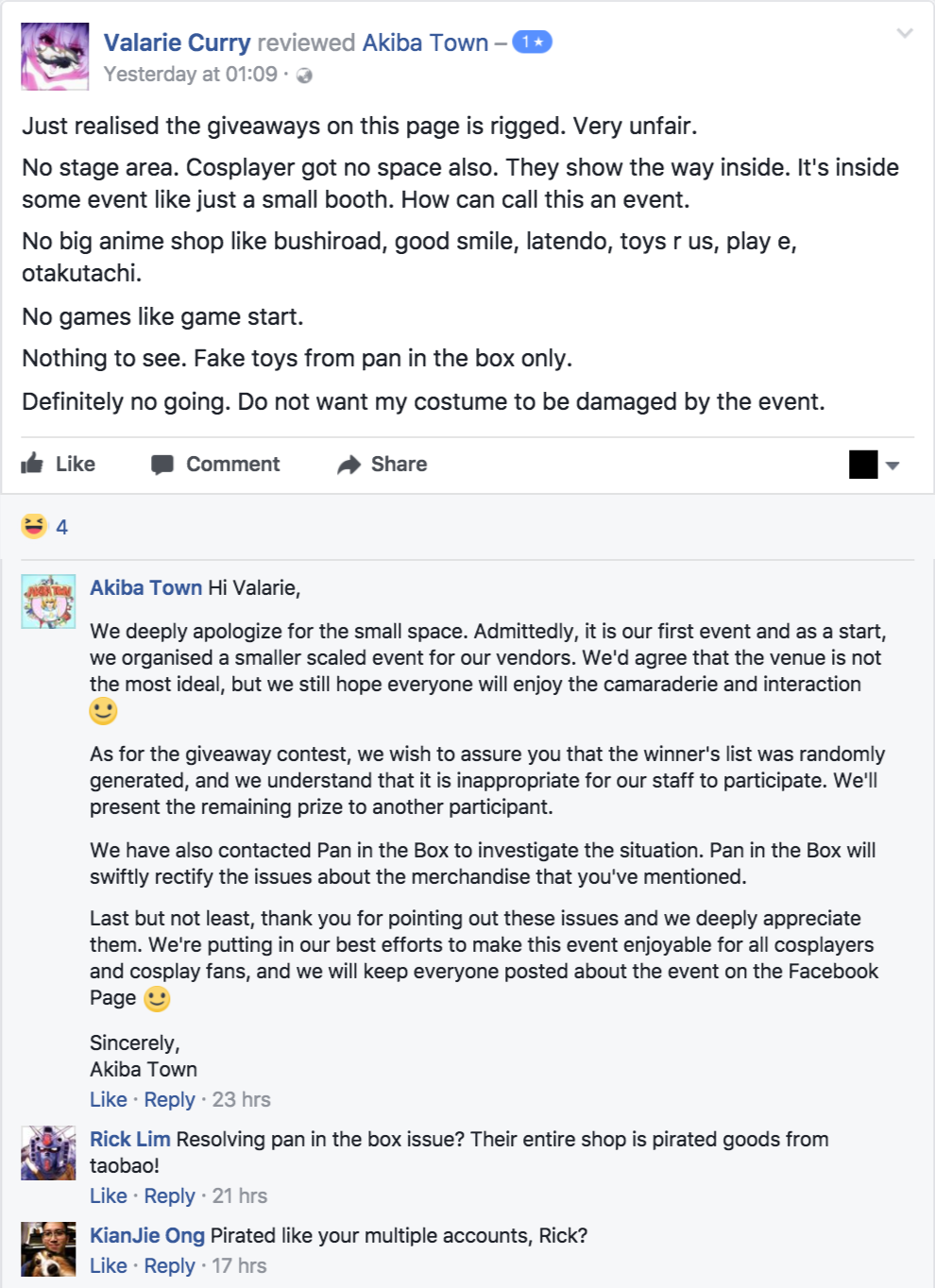 [related_story]
3. Allowing a vendor to carry stolen artwork to be sold as official merchandise
There were also allegations that one of the event's vendors, Pan in the Box, was carrying unlicensed merchandise that was allegedly taken from other artists without due credit or compensation.
Upon being discovered, the organisers also said they spoke to Pan in the Box, which "will swiftly rectify the issues about the merchandise that (the commenter) mentioned":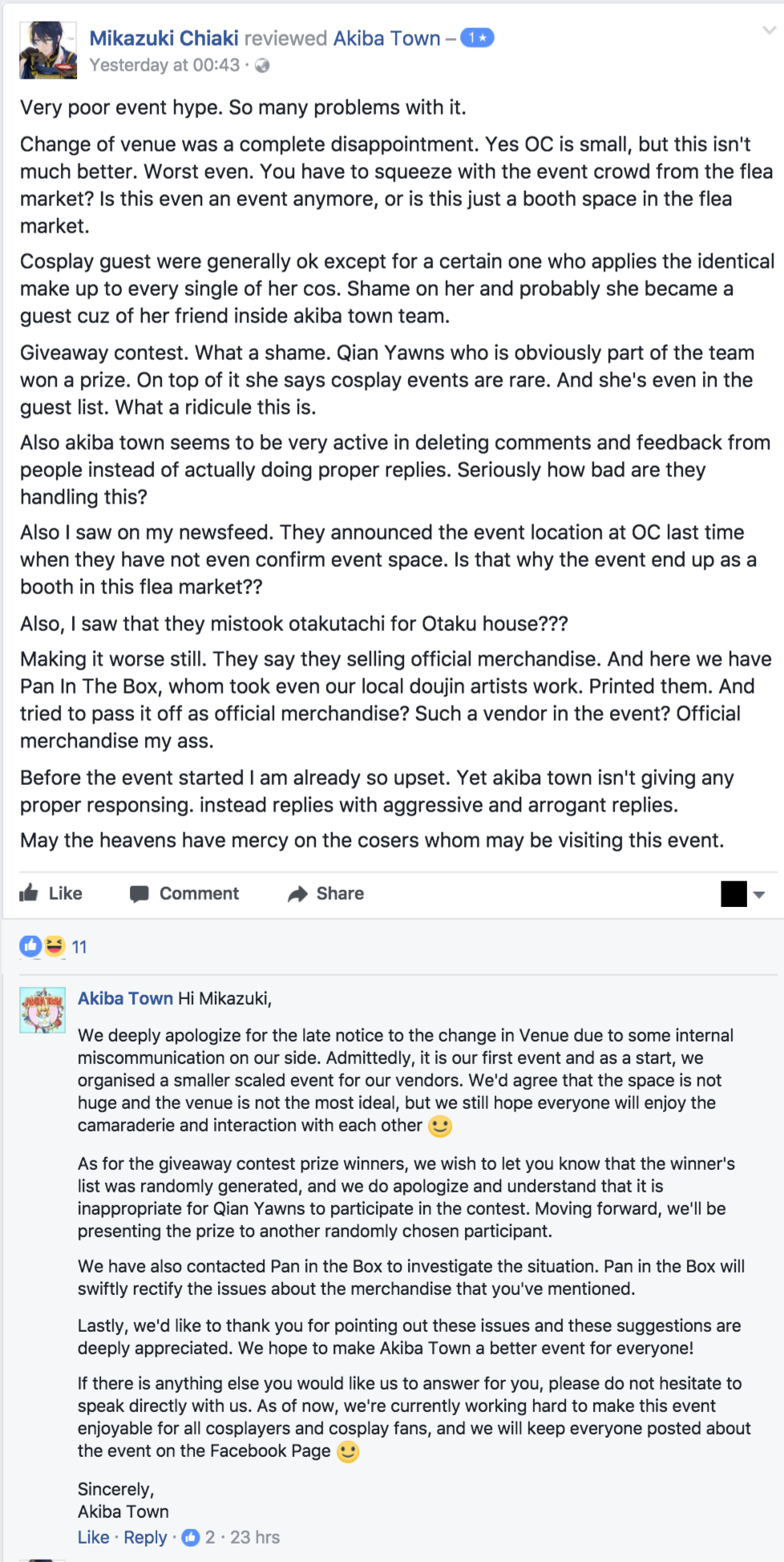 4. Allegedly over-selling event to potential vendors, then telling them there wasn't enough space for them
This appears to have happened to at least one company, an employee of which took to the Facebook page with a scathing review too:

This was then responded to accordingly, by none other than Qian Yawns: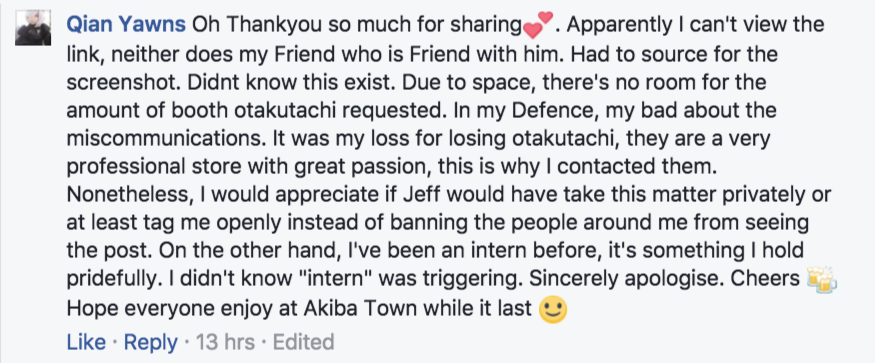 5. Deleting and blocking negative feedback and commenters
Some also realised their negative comments were getting deleted, and their accounts blocked from the page: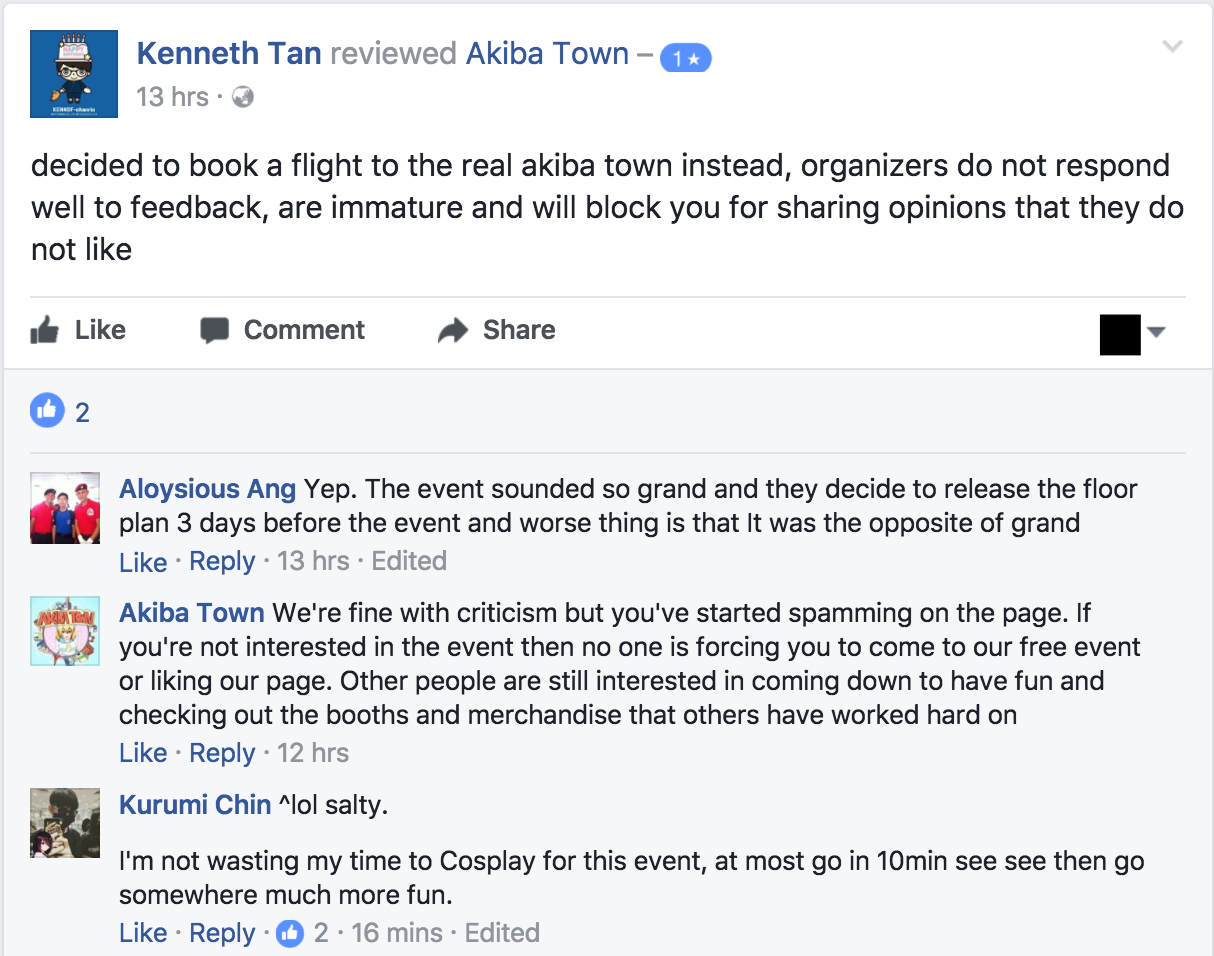 Not all bad?
Some also proposed differing views, defending and praising the event: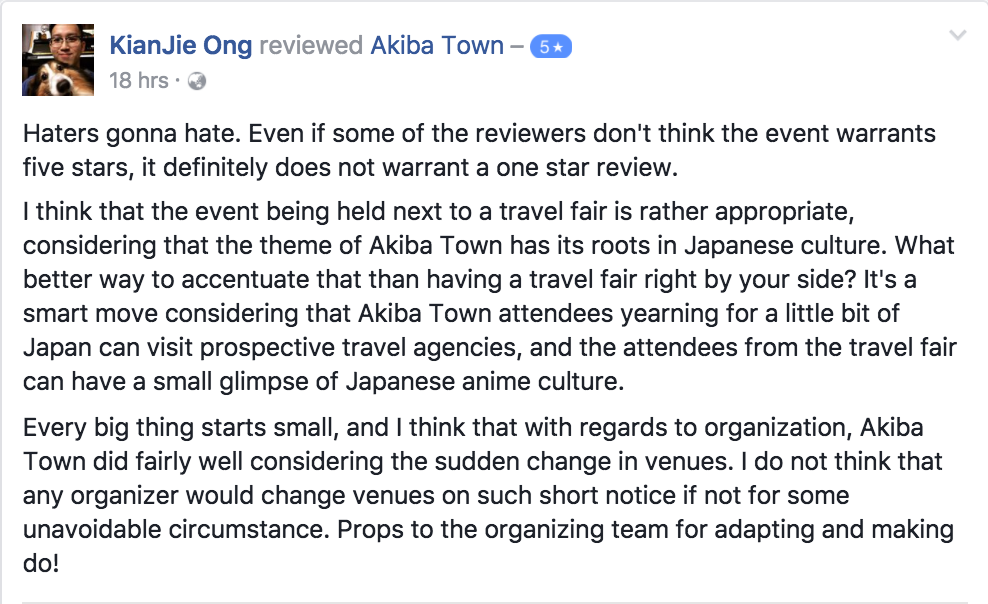 Messed up, or just trying their best? You decide.
Top image adapted via Akiba Town's Facebook page.
Here are totally unrelated but equally interesting articles:
5 types of NDP-goers you'll see on public transport
This is cereals news: BreadTalk to launch new cereal floss bun, available for 8 days only
One of Us: Nothing to see here, it's just a bowling alley supervisor turned kickass club DJ
If you like what you read, follow us on Facebook, Instagram, Twitter and Telegram to get the latest updates.