National Day is coming, and we all know what this means -- fireworks, the colour red, sudden surge of patriotism, and a very crowded Marina Square/Esplanade/City Hall area.
Yes, it's that time of the year when you'll see a bunch of people in red and white surrounding areas near the floating platform on National Day.
So if you happen to be travelling to the city that day, you'll most likely see the following five NDP-goers on the buses and trains.
1. Barang-barang Boris who brings everything but the kitchen sink to NDP
Perhaps another word to describe this profile is kiasu (overly afraid to lose attitude), because it is kiasu-ness that'll make them bring many items like portable fans, vast amounts of food, and 20 bottles of water to the parade. It's also these items that'll make them carry many bags.
Put your bags down graciously like Bag-Down Benny: While it is (somewhat) good to be prepared, do remember to be a Bag-Down Benny and put the barang-barang down, so there's space for your fellow NDP-goers on the train.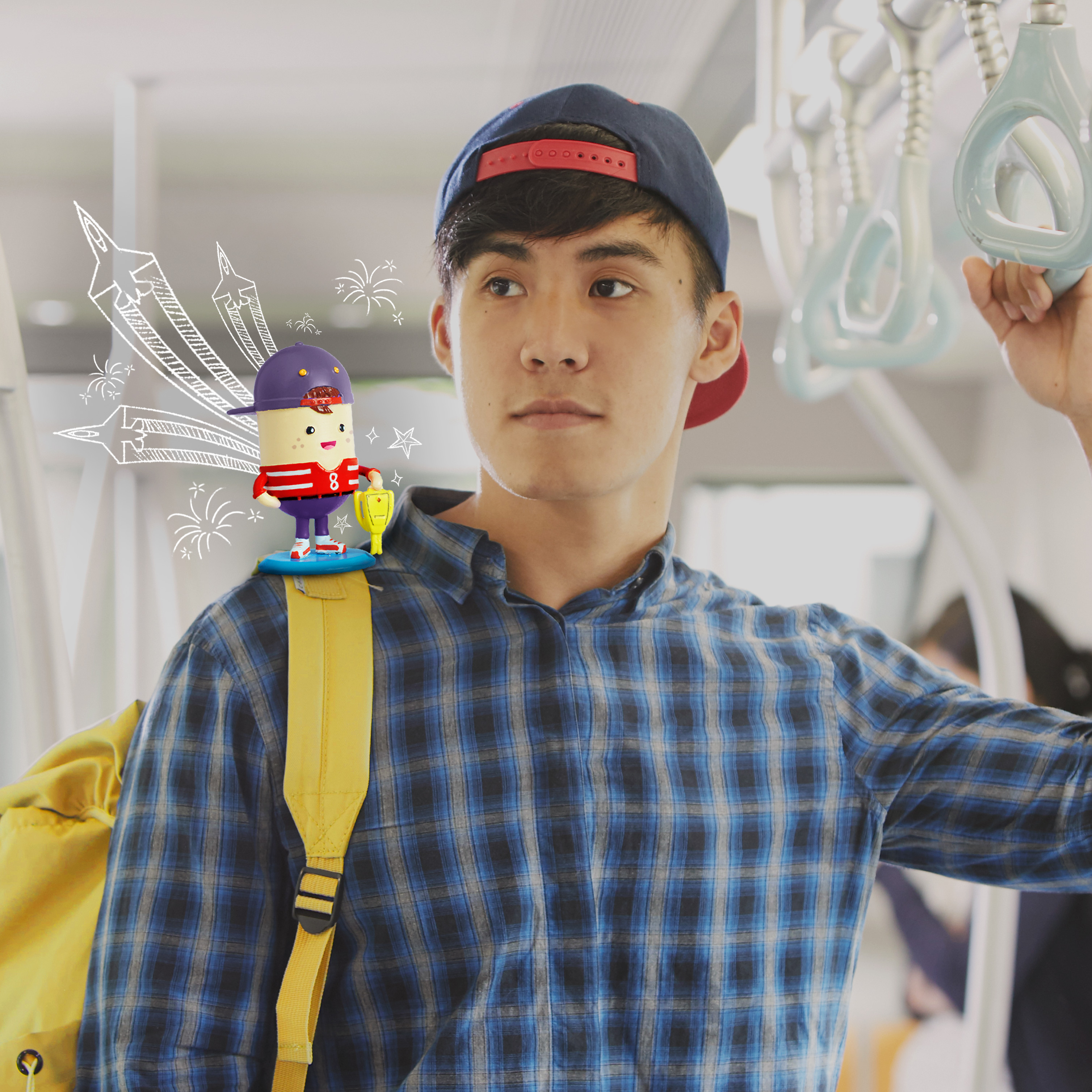 2. Last minute Laura who listens to NDP songs before heading down.
There are bound to be NDP-goers hurriedly trying to get themselves acquainted with all the NDP songs before they reach the venue. Tracks on their playlist will definitely include this year's theme song, Because It's Singapore, and the all-time favourite Home by Kit Chan. They also tend to blast the music as a display of their patriotism.
Listen to your music graciously like Hush-Hush Hannah: Yes, the NDP songs are very nice, but please plug in your headphones or earphones when listening to them -- just like how Hush-Hush Hannah does it -- in order to keep the volume down.
[caption id="attachment_173688" align="alignnone" width="1080"]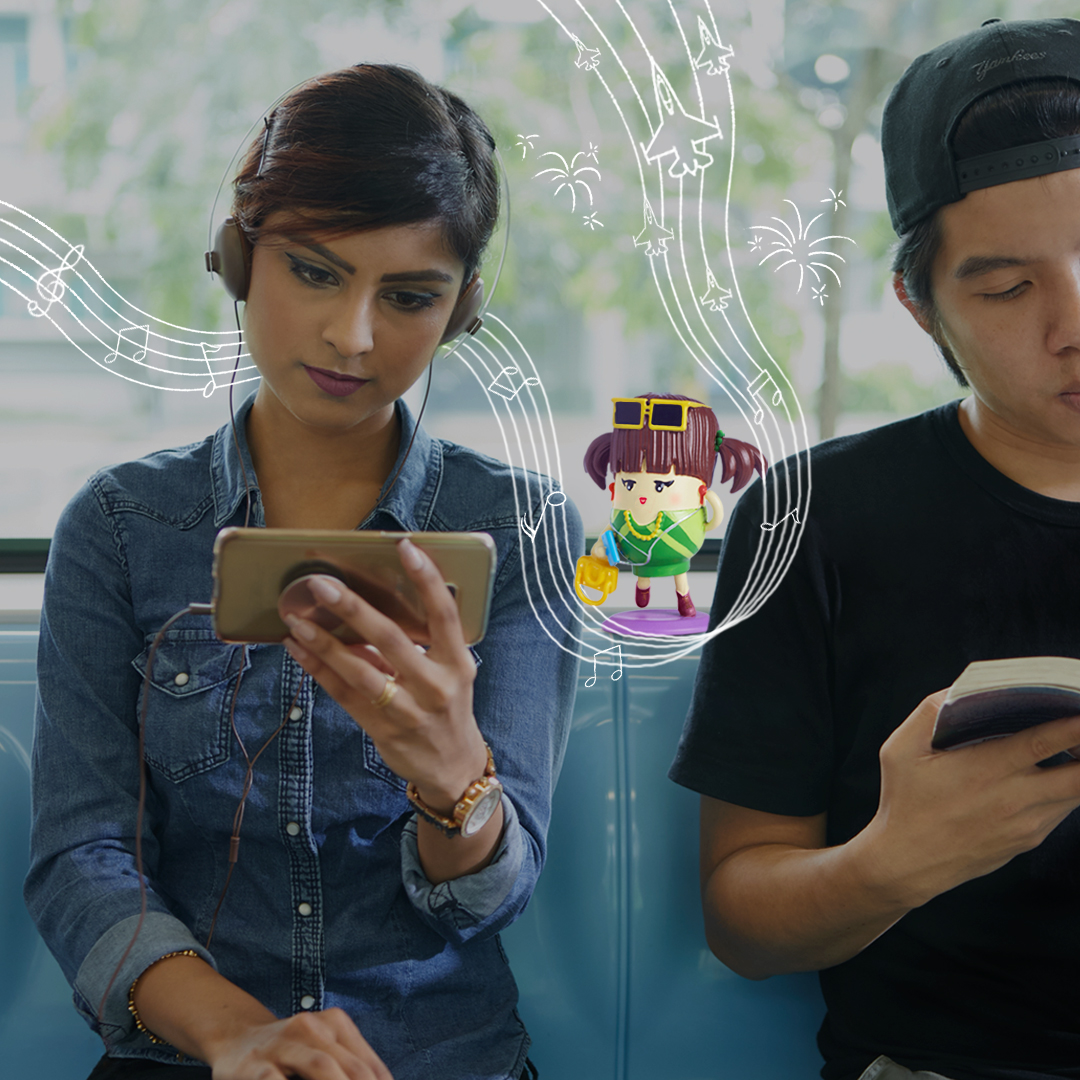 3. Chiongster Celine who rushes out of the train to get to the floating platform early to chope good seats.
Seeing other NDP-goers on the same train will probably cause all the Chiongster Celines to feel anxious about getting good seats at the parade, or even on the train (if they're lucky). So in order to reach the floating platform early and secure the best spot, they'll most likely chiong into the train without giving way to others first.
Give way graciously like Give-Way Glenda: Even the worst seats at the floating platform will come with an excellent view of the fireworks, so be a Give-Way Glenda to others when boarding and alighting.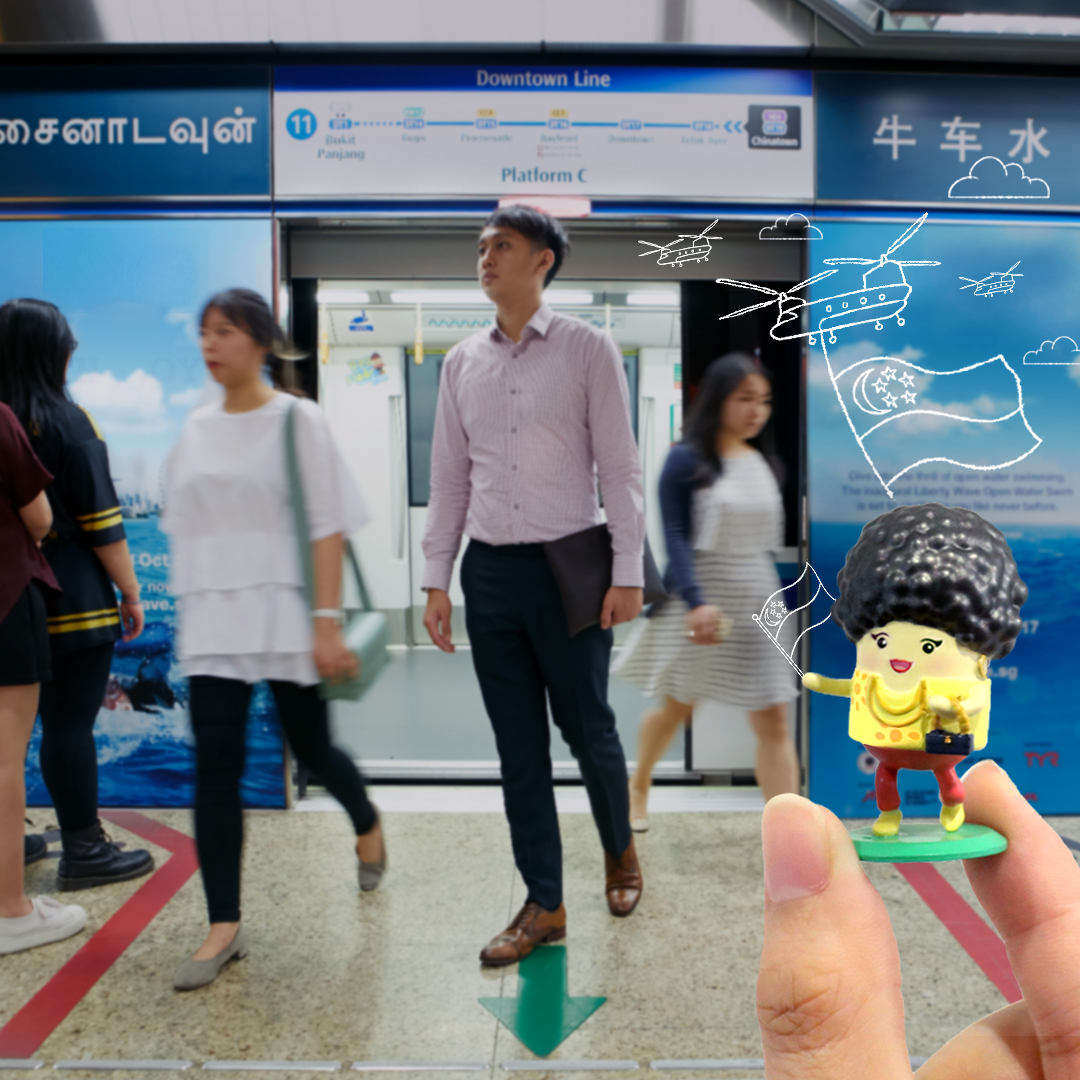 4. Over-the-top Olivia who 'falls asleep' to save energy for the NDP show later on
As a display of their utmost patriotism, you'll likely encounter some over-the-top people who'll do whatever they can to maximise their enjoyment at the parade. So in order to do this, they'll "fall asleep" on the journey there to conserve energy for their legs.
Stand up graciously like Stand-Up Stacey: As much as it's good to conserve energy to give your utmost effort at the NDP, do offer your seat to fellow commuters who might need it more. Besides, you'll be sitting down 95% of the time at the parade anyway… except for when the national anthem comes on.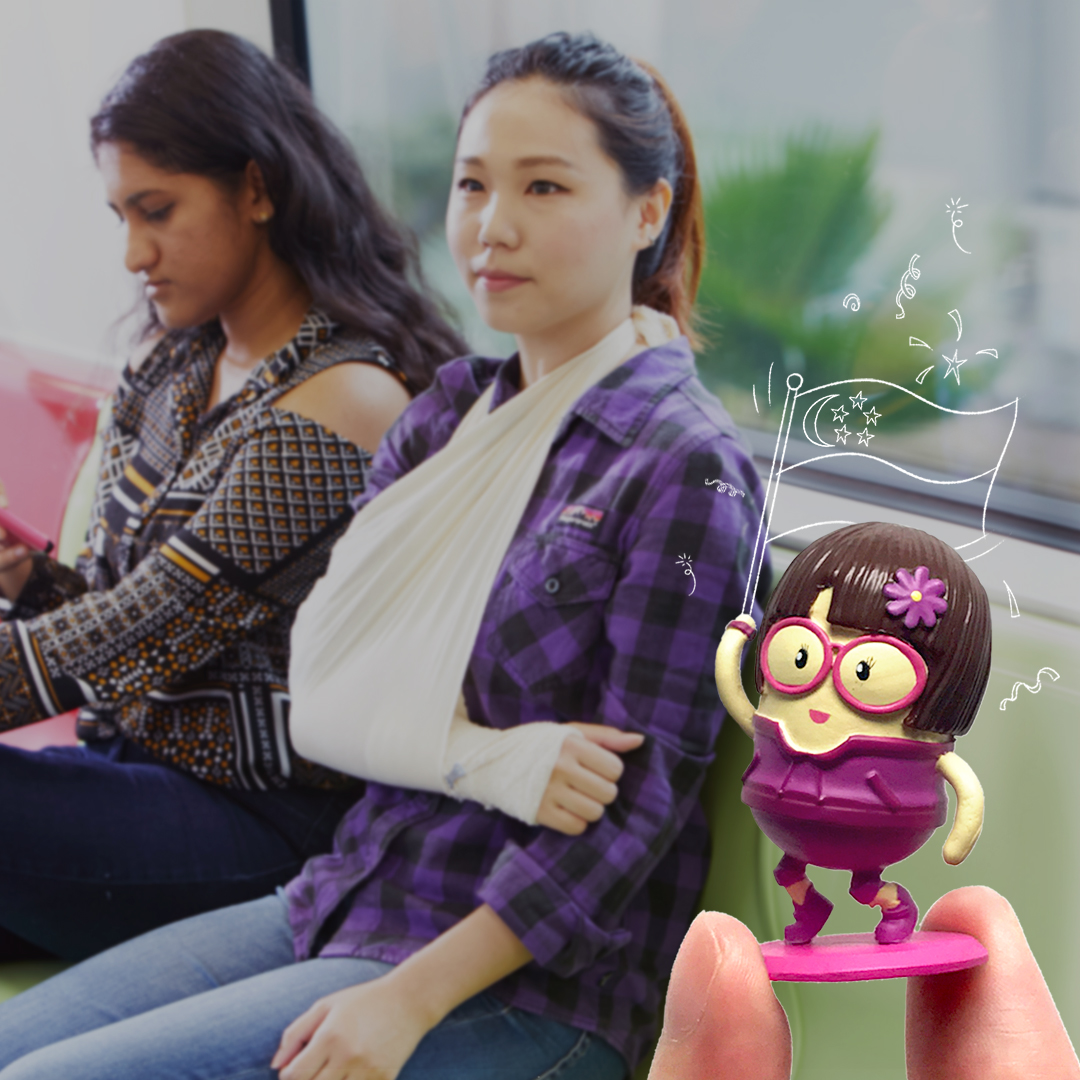 5. Dancing Daniel who practices dance moves to get pumped up for the parade.
This type's the most enthusiastic dancer of the lot -- the one who knows the dance routine to every NDP song there is. In fact, all the Dancing Daniels will probably start dancing on the way to the parade to get themselves in the zone.
Move in graciously like Move-In Martin: It's nice to have a spirited NDP-goer around. But if you're a Dancing Daniel, try not to do it in a crowded area and bump into everyone, okay? And since you're already moving, do move into the centre of the train or to the back of the bus like Move-In Martin.
All images via LTA.
--
If you haven't already noticed, the images used are of the characters from the Graciousness Campaign by the Land Transport Authority (LTA).
Complete the National Day themed captions in your own style for these photos over at the following link and stand a chance to win a set of NETS FlashPay cards (with $50 preload value) and the full limited edition Thoughtful Bunch mini-figurines.
Just look at how cute they are.

This sponsored post reminds Mothership.sg's writers to be thoughtful commuters on public transport, especially during crowded periods like National Day.
If you like what you read, follow us on Facebook, Instagram, Twitter and Telegram to get the latest updates.