Can't stop. Won't stop. And the seemingly never-ending cycle of claims, clarifications and further claims go on.
Singaporeans continue to watch the ongoing Lee family feud play out like the latest Korean drama series, but with no cliffhanger in sight.
Lee Hsien Yang (LHY)'s Facebook post had attacked his sister-in-law and Temasek Holdings CEO Ho Ching for acting improperly by handing over founding Prime Minister Lee Kuan Yew's papers to National Heritage Board (NHB), only to find out later that she was not in the country.
Nevertheless, his claims prompted NHB to step out to clear the air, by admitting to a "clerical error" in recording the date of receipt of the loan items.
This was what LHY had included in his Facebook post -- a picture of a document listing down the items which he said Ho had handed to NHB, which included:
1. Red Ministerial Box and key with key pouch

2. Cambridge University Reporter, 18 June 1949

3. Memo from Director of Posts, Singapore, 11 Feb 1952

4. Letter to Mr Lee Kuan Yew from J. Laycock and Laycock & Ong, 13 April 1953 Envelop

5. Telegram from Lee Kuan Yew, 26 Sept 1958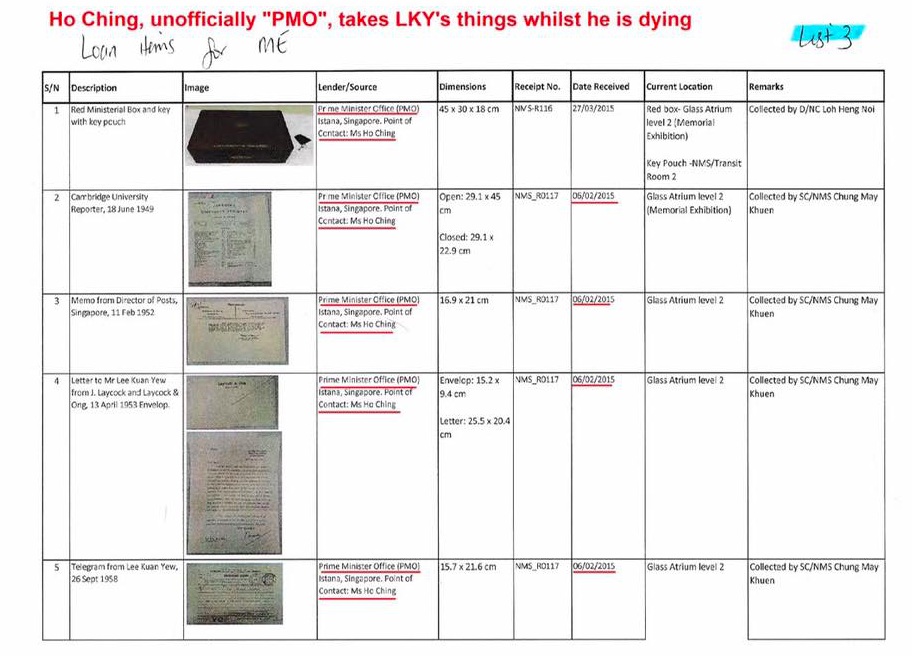 In its response to media queries, NHB said:
The list showed items on loan from PMO to NHB. For items numbered 2 to 5, the items were received on 6 April 2015 instead of 6 February 2015 as indicated. This was a clerical error.

NHB has a receipt for the items on loan from PMO dated 6 April 2015.

All the items were loaned to NHB after the late Mr Lee Kuan Yew passed away, to be displayed at the In Memoriam: Lee Kuan Yew exhibition held at the National Museum of Singapore.
But this prompted LHY to hit out again with this latest update on Facebook, calling the removal of LKY's items "theft" and "intermeddling":
You can read it in full here:
The NHB has just clarified that the items were collected on the 6th of April 2015, after our father passed away, and that the previous date was a "clerical error".

This is even more troubling. By LKY's will, the estate's residual items, such as personal documents, fall under the absolute discretion of the executors Wei Ling and myself. Unapproved removal of these items, even by a beneficiary, constitutes both theft and intermeddling. Ho Ching is not an executor or a beneficiary to our father's estate. We also still do not understand how she is a proper contact representative for the PMO.
The In Memoriam: Lee Kuan Yew exhibition chronicled the life and political career of Singapore's first Prime Minister and was held on March 25 to June 28, 2015, a few days after his passing.
It showcased "a selection of photographic images and audiovisual recordings, as well as artefacts from the National Collection".
And the saga continues.

Top image LHY and NHB Facebook
If you like what you read, follow us on Facebook and Twitter to get the latest updates.
If you like what you read, follow us on Facebook, Instagram, Twitter and Telegram to get the latest updates.