The electrotherapy phenomenon recently made the news.
The Straits Times and Lianhe Wanbao reported the trend among elderly Singaporeans flocking to showrooms providing free unlimited use of electrotherapy devices, resulting in queues.
That's right, one can attend the trial sessions for as many times as one likes without obligation. To buy the products though, it can cost some S$26,000.
What is electrotherapy?
Cosmo Goodness, which originates from Japan, specialises in electrotherapy products. They have been in Singapore since 2007, setting up shop in heartlands for a few months, before moving to another area.
Users of electrotherapy follow the shop around the island.
The products are said to help alleviate headaches, shoulder stiffness, insomnia, and chronic constipation.
Some of the popular products include electrotherapy pads, placed onto chairs to be sat on for 20 minutes at a time.  
There is also a chair that supposedly releases concentrated amounts of oxygen.
So far, the free trial strategy has worked, as the elderly have been flocking to the showrooms.
This is a strategy the company undertook, as they are able to cater to certain segments better, such as those who are wheelchair-bound.
No legitimate cure
Electrotherapy seems to be defined as what it cannot do as much as what it can do.
The efficacy of electrotherapy is not backed by science. Some who are doubtful have even openly questioned the health claims made.
One Mothership.sg reader, Samuel Ling, had previously written to the Health-Sciences Authority in Singapore in 2015 for clarification and received a response: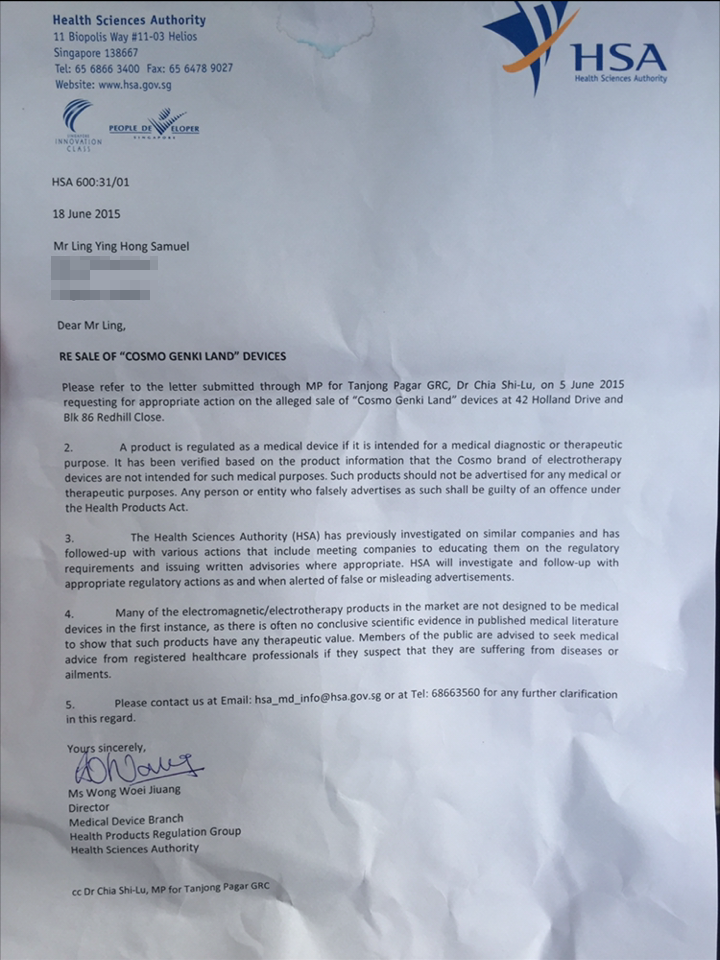 Here's a summary of what the HSA wrote:
- Cosmo Goodness does not carry any official medical equipment, therefore, the products cannot be marketed to be anything to promote an official cure or therapeutic purposes.
- There is no medical evidence or research that these products have any sort of therapeutic value.
- HSA has done some investigation on similar companies and has since educated them on regulatory laws, which suggests that Cosmo Goodness, in their view, hasn't gone out of line.
- They will, however, take further action should companies be discovered to be misleadingly advertise their products to be a cure.
What goes on inside the shop?
According to Ling, who personally went down to the showroom in 2015, Cosmo Goodness demonstrated what seemed like the positive benefits of the product.
Here is a video:
" frameborder="0" allowfullscreen>
In the video, at the 14 min 15 sec mark, the salesperson asked the audience to clap their hands and look at their palms, claiming the redness seen is the effect of toxins being expelled.
Different areas of redness signify the toxins from different organs being removed.
And at the 31 min 15 sec mark of the video, waxed paper was rubbed on the arms of users, with the salesperson saying that the buzzing sensation felt was "evidence" that the "electron therapy" was charging through their bodies.
At one point, the salesperson even mentioned Lee Kuan Yew at the 4 min 15 sec mark of the video, saying he sent his medical staff down to learn more about the machine, and that one well-known medical doctor has endorsed the product.
The Cosmo Goodness website is down at the moment, but when it was last accessed by Mothership.sg, it was seen that some of the products had "medical equipment" registration numbers.
What electrotherapy products cannot do
1) They are not marketed to promote any cure and fall under the same category as wellness products.
HSA has also responded to ST saying that products from Cosmo Goodness are not regulated as medical devices under the Health Products Act.
Such products are meant to promote a person's general well-being and not for disease treatment or diagnosis, similar to brands that carry wellness products, such as massage chairs.
2) Free use is just one form of marketing
Letting users try products for free is a common marketing strategy.
So is telling users that a product has the ability to improve one's immune system or energy levels, for example.
A lot of these statements cannot be faulted because they are broad enough to mean a lot of things or nothing in particular, but do not explicitly make any pointed false claims.
This means that claims that are passable in the eyes of regulators will be left up to discretion of consumers.
What can be done?
To date, the Consumers Association of Singapore (Case) has said there have been three complaints against Cosmo Goodness since 2007.
One complaint was due to a dispute over the refund amount, while two complaints were about misleading claims regarding the effectiveness and suitability of the products.
And it is also possible to have too much of a good thing.
Some products that give off higher than normal doses of oxygen, such as the concentrated oxygen chair, can be damaging to the lungs when overused. Too much concentrated oxygen may cause oxygen toxicity.
The best way to go about this is to educate the elderly and make them more aware.
Here are some general tips:
1) If you know anyone, be it your uncles, aunties or parents attending these trial sessions, educate them on the pros, cons and their consumer rights, before they make any purchases. Is spending money on wellness products worth it?
2) Remind them of the fact that they're not medical products, and there are possible dangerous side-effects, such as oxidative damage when it comes to the oxygen chair.
3) If they, for one reason or another, are determined to purchase the product, make sure there is a warranty and a clear refund process. Remind them about the necessary procedures to take, should the product not meet their satisfaction in any way.
4) If they are prospecting the product during the unlimited trial, encourage them to ask and question the product. If they notice any issues such as dubious advertising which blatantly promotes it as a legitimate cure, report it to the HSA.
Otherwise, the HSA should take the lead and step up enforcement, which is something that has already been done in countries such as the United States.
During the parliamentary debates to pass the Health Products Act in Singapore, it was stated that the proposed Bill was "essential to weed out snake oil merchants making outrageous health claims about their products".
Now seems like one of those times.
Here are totally unrelated but equally interesting articles:
Irrefutable proof why yellow is the new "in" colour right now in Singapore
We love to say "sweet until got diabetes", but that's not actually true.
Top image via Samuel Ling's YouTube video
If you like what you read, follow us on Facebook and Twitter to get the latest updates.
If you like what you read, follow us on Facebook, Instagram, Twitter and Telegram to get the latest updates.