Did you wake up this morning thinking: "You know, life's been pretty good. Been healthy, no drama, basically, everything's been going swimmingly well. Maybe I should look for something to mix things up a little, add a little chaos."
Well, look no further, because Ci Yuan Community Club in Hougang Avenue 9 is organising a 5km Durian Run, where participants get to run with a durian -- the fruity equivalent of running with a pair of scissors.
width="500">
This is how they market the event:
Ever run with a durian before? Here's a chance for you to experience it. Take part in this Run For Good: Durian 5KM Run on 23 July. This is a fun run where all registration fees will be donated to Ang Mo Kio-Hougang Community Development Welfare Fund. Be part of this meaningful event! Click here and register now www.runpilgrim.com/durianrun
Yup, that's right.
According to the Durian Run website, runners are expected to carry the durian throughout the duration of the race:
LUG & HUG: You will get to run with a durian for the entire 5km route.
The payoff is that runners get to eat what they carried.
The event will be held on Sunday, July 23, 2017 at 8am.
The run fee is S$15 and all proceeds will go towards the Ang Mo Kio-Hougang Community Development Welfare Fund.
And there will also be a lucky draw segment for survivors of the race.
LUCKY DRAW SEGMENT: 20 LUCKY Runners get to walk away with 1 Prized MAO SHAN WANG Durian!
Good luck.
Be this family: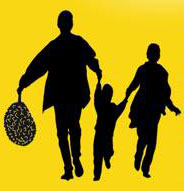 Here are totally unrelated but equally interesting articles:
To-be graduates, these are the jobs MNCs are looking to hire for in 2017
Train services on Downtown Line to open later on Sundays because next stop: good news
If you like what you read, follow us on Facebook and Twitter to get the latest updates.