Ong Ye Kung appears to be a man in a hurry.
Early this month (May 4), Ong was the minister flying the Singapore flag high at the annual high-profile St Gallen Symposium in Switzerland.
At the Symposium, the Minister for Education (Higher Education and Skills) impressed a number of non-Singaporean young leaders with his remarks about the important role politics play in a disrupted world, quipping that "politicians today must have a sense of humour", to laughter and applause in the audience.
" frameborder="0" allowfullscreen>
And by the time he met us, Ong had already been through a whirlwind day of meetings, dialogues and panel sessions that started before 7am (Switzerland time).
His first meeting at St Gallen University, bright and early: with Federal Councillor Johann Schneider-Ammann, one of the seven "Presidents" of Switzerland. For this, Ong made sure he arrived there even earlier than the notoriously-punctual Swiss.
From there, he fronted the Symposium's first hour-long panel session with two ministers from Denmark and Switzerland.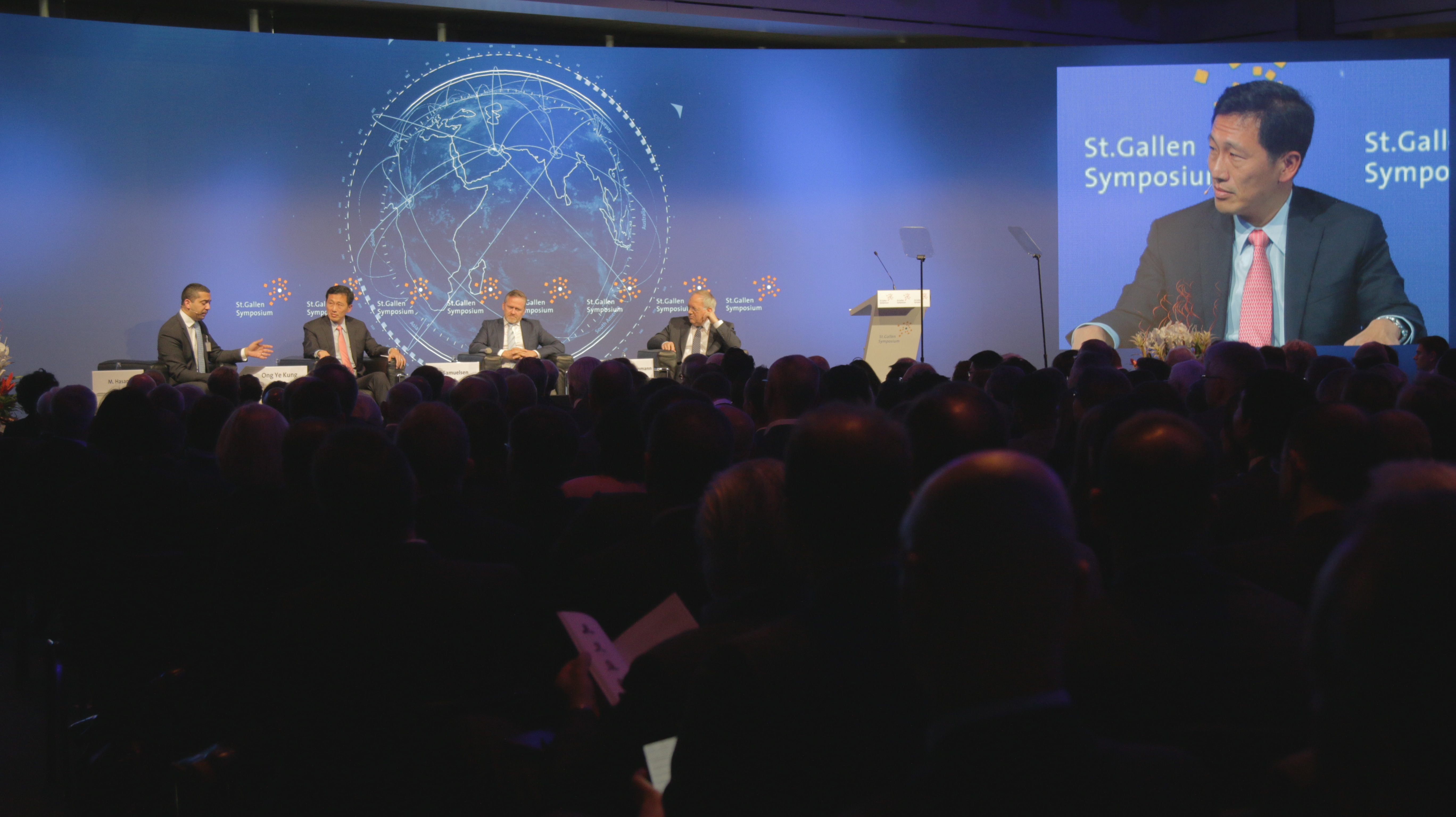 He was the centre of gravity in no less than four other subsequent symposium-related dialogue sessions, followed by a meeting with Singapore exchange students at the university and Swiss exchange students who lived in Singapore.
Even lunch for him that day couldn't be wasted on just eating — and in fairness, he did eat, even though he previously said he doesn't have lunch. He economised that time as well, joining Economic Development Board officials in marketing Singapore to a group of Swiss businessmen.
We know all this because in a rare allowance of access, Ong let us tail him throughout almost all of that rather undoubtedly-draining day.
It was also quite amusing, therefore, on hindsight, how we arrived together and collapsed, kind of exhausted, into chairs at the lobby of Hotel Oberwaid, the hotel Ong was staying at around 6pm for our interview.
But perhaps our stalking physical accompaniment was what helped him relax — Ong looked pretty relieved to be able to loosen his striking pink and red necktie, almost a metaphor for the grip his jam-packed official schedule had on his time.
And the first question in our chat did not come from me.
"Should I take off my suit?" he asked, before agreeing with me that the suit will keep him warm in the cold Swiss summer (which hovers at under 10oC) at St Gallen.
A homecoming of sorts
Switzerland is not an unfamiliar place to Ong.
As a young up-and-coming civil servant, Ong pursued his Masters in Business Administration (MBA) from the Institute of Management Development in Lausanne, the French-speaking part of Switzerland.
It must have been a nice opportunity for Ong to revisit his past, therefore, when he did a stopover in Lausanne to visit educational institutions there before arriving in St Gallen:
"Early in the morning I did take a walk to look at the tiny apartment block where my wife and I used to stay. First time I've been back (in) 18 years. Seems like a lifetime ago."
This choice he made is notably unlike his cabinet colleagues (only three others have MBAs), many of whom did degrees in Public Administration from Ivy league schools. As a civil servant, he was also a strange creature — most typically do Masters degrees in fields like Public Policy.
Earlier that day, he said to a group of Singaporean exchange students at a dialogue session,
"Most people would do a Masters program in public policy, which is a one-year program in the Kennedy School in Boston. I decided I want to do an MBA because I like to know more about business...I decided to pick IMD in Switzerland.

I was also thinking that business shouldn't be about hiring and firing -- very Anglo-Saxon, value-add kind of approach. I wanted to be exposed to the European approach. In Switzerland, it's quite a unique model, where Mittelstand (small and medium-sized enterprises in German-speaking countries like Germany and Switzerland) — they don't call it Mittelstand here, they call it KMU — SMEs are the bedrock of the society and the economy. Innovation, family businesses, employment, all happen within the KMUs. It is a philosophy of management that is quite different — that everyone is family, everyone is in it together to share the fruits."
That tricky question of Singapore's 4th PM
But of course, this interview can't possibly centre on Ong's educational path. It also isn't about his discussed-to-death comments on universities and SkillsFuture, which he received online flak for recently, especially regarding his comments on university places.
It's here that we address the elephant in the room whenever Ong's name comes up, an idea that's — quite awkwardly for him — existed for a few years now.
Because "this man in a hurry" is not only one of the fastest-rising ministers in recent history (it took him just 13 months to be promoted to full Minister), he is also among the most prominent (read: front-runners) among the fourth-generation (4G) leaders — the other two being slightly-more-senior-in-cabinet Ministers Chan Chun Sing and Heng Swee Keat.
Certainly, Ong is one of the 4G leaders who will not feel awkward at the Istana, having worked as Principal Private Secretary (PPS) to PM Lee from 2003-2005.
In a previous interview with The Straits Times in January, he stayed pretty vague on the selection of the next PM, saying only that "when the time comes for the team to select a leader, I will support the person who emerges".
We weren't happy with this, and so I gave it another shot — does Ong think the time to select the next PM is approaching soon?
According to PAP folklore (see Men in White, Chapter 24, page 420), a meeting was held by current President Tony Tan to get the 2G leaders in his Cabinet to select the second-generation PM.
It was worth the follow-up — if asked, will he be organising something similar to help in the selection of the next PM?
"Of course every day that passes is a day closer but I don't think we are at that stage yet.

We are at the stage of working together and we already know each other but really to get to know each other much better by working together and sometimes even clashing a little bit, argue a bit, I think it's a natural process.

It is really through such a process of working closely together that I think in our individual minds, we have a sense of who can be our leader.

It's a new generation — we will find our own format, not necessarily at a lunch or a dinner, to select our leader."
He also hopes we will all try to hold off on speculation, which we reckon he nonetheless has all but come to accept will remain rife until a clear candidate has emerged:
"With Swee Keat, Lawrence, Chun Sing, Iswaran, we work in the CFE together so that was quite an intense experience, exercise working together. With Chee Meng, we are constantly in deliberation. So I hope probably in the next coming months, years, we can deepen that working relationship.

That is an important step, there is no shortcut to that. Without that, we can't move on to the next stage."
Education, Passion and Gordon Ramsay
It will be nearly two years since Ong was elected as an MP, and then straightaway brought into cabinet, in 2015.
As the Minister for Higher Education and Skills during this period, we asked if he is proud of any one policy he has introduced thus far.
"I wouldn't say it's one policy per se, but it's championing the whole idea that educational journey must be driven by what we feel to be meaningful — what interests us and what we are good at — our passions and aptitudes," Ong says.
But maybe, just maybe, there is one that is the "teacher's pet"?
"The one policy I am rather pleased with is that ITE will soon run its own ITE Technical Diploma courses", he says.
He added that the new ITE diploma and its selection criteria will be based on one's portfolios, or the employers' recommendation based on his/her work performance during industry attachment and "aspects that go beyond academics, and plays to the strength of what an ITE education should be".
Of "all the higher education institutions", he adds, Ong visits "ITE most regularly, to speak to students, and mostly on education and career guidance."
And he will always show them a video of celebrity chef Gordon Ramsay: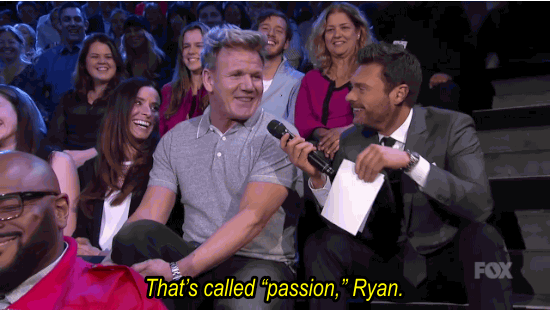 Yup, the Gordon Ramsay.
Speaking of him, Ong also shared this story of Ramsay's with us — if we didn't know better, we'd call him out as a fan:
"Gordon Ramsay, apparently, started off as a footballer. He was passionate about football, but he broke his leg and decided to channel all that passion into cooking, and he's equally passionate about that now.

Gordon Ramsay, my guess, is passionate about some form of public performance. So whether you engage with the audience by football or by being a celebrity chef, it answers to a calling to be a performer. So I think we should give a certain career or a particular course of study a chance.

Sometimes we channel our passion into a job, rather than the other way round."
Who are Ong's mentors?
We then moved on to seeking a better understanding of how Ong might confront Singapore's challenges in future, and reckon one way to do this is to trace the 47-year old's mentors along the way to get a glimpse of his influences.
Ong offered a pitch-perfect dodge in his interview on Channel 8 when he claimed his late father — Barisan Sosialis MP Ong Lian Teng — to be his inspiration; a respectful nod to leftist friends of his dad: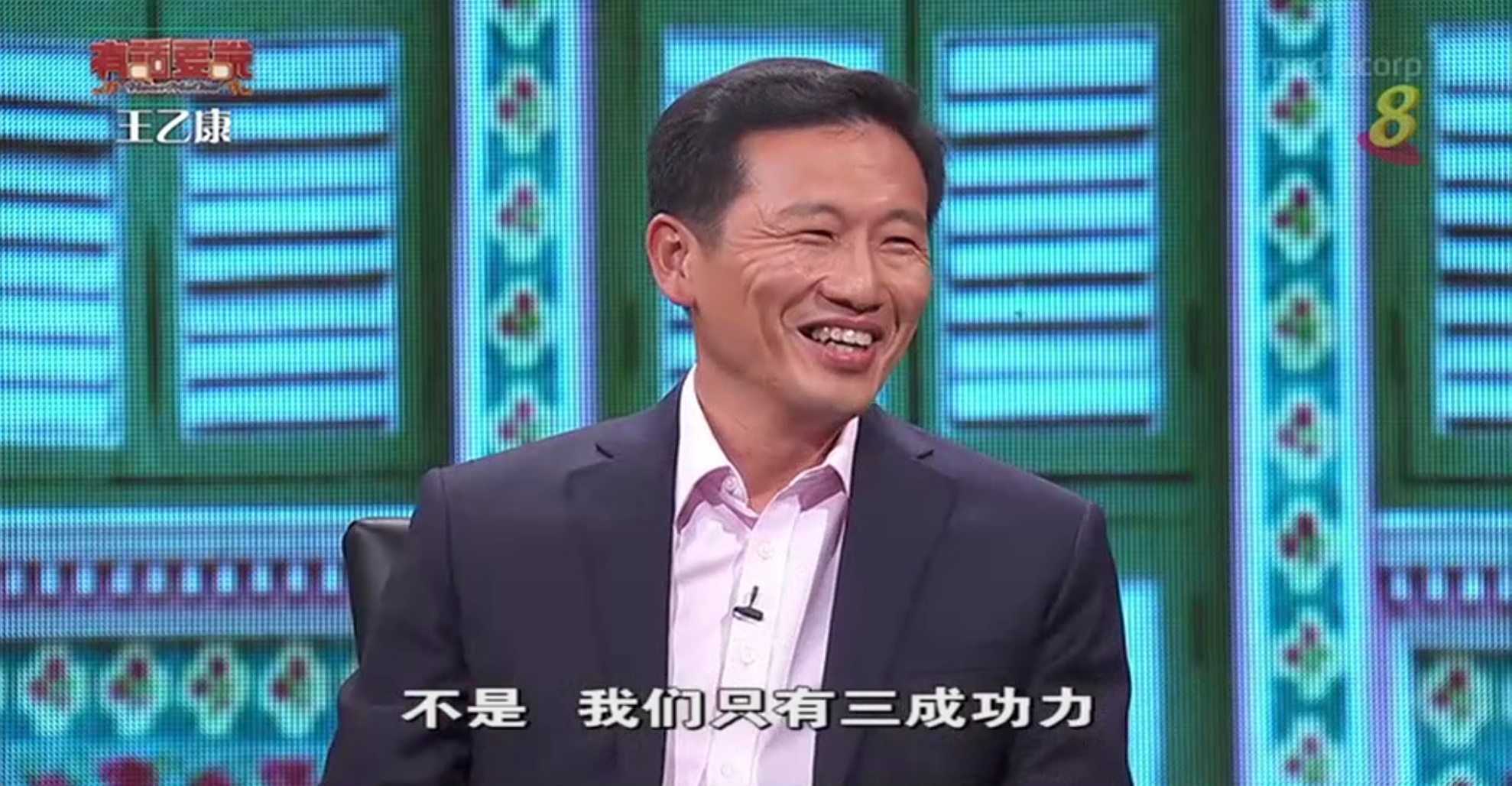 With this in mind, we decided to find out if he would mention his dad in his list of political mentors or people he looks up to.
In response, Ong took time to compliment five Ministers present and past — Khaw Boon Wan, Ng Eng Hen, Lim Swee Say, George Yeo and Mah Bow Tan — and concluded that all were "my mentors", because he learnt something from "every one of them":
"First ministry I was posted to was Ministry of Transport with Mr Mah Bow Tan. That was my first exposure to what a minister does. So I learnt about what the job of a minister is like through Mr Mah Bow Tan.

The next minister I worked for was Mr George Yeo, at MTI. What I learnt from him was the importance of having a sense of history. He has a splendidly elastic, ever expanding, and expansive mind, and an ability to understand and draw linkages from different things happening in the world.

Thereafter, I went to Ministry of Manpower and worked with Dr Ng Eng Hen. He was decisive and clear. I suspect this was because of his training as a surgeon. That was when I also understood that skills from seemingly unrelated fields could be portable.

Then I went to NTUC. And there, I worked for Mr Lim Swee Say. He could make complicated policies understandable, and is a master communicator.

Minister Khaw Boon Wan is now my GRC lead. There is a calming zen about him, which in turn gives him a certain clarity and incisiveness of thought to solve tough problems, in healthcare, housing and transport."
Of course, we couldn't help but notice that he left out mentioning the time he spent with Prime Minister Lee Hsien Loong, where he spent six years as Press Secretary (1997-2003) and two, as mentioned earlier, as Principal Private Secretary (2003-2005).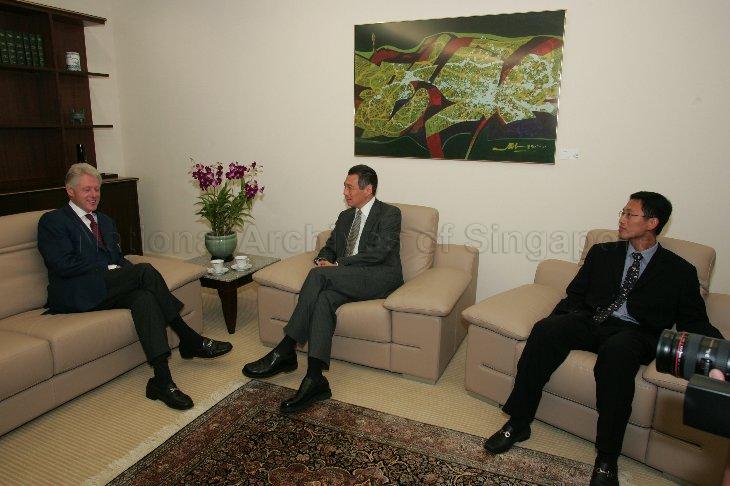 His vision hopes for Singapore
And since Ong seemed to prefer not to talk about his time with PM Lee, the natural next step would be to throw him a PM Lee-related question: since PM's vision for his first National Day Rally speech in 2004 was an open and inclusive Singapore, what's his vision for Singapore's 4G leaders?
Rephrasing "vision" to "hopes", here's what Ong said:
"I hope we are a people that's distinct, that has our own strong character and our own strong identity. That as Singaporeans, we are proud of who we are...And I think we must, in a globalized world, that strong sense of self, it's important for us to stay confident as a small island in the big globalised sea.

Second is, of course, to be economically vibrant and I think that is important so that people have jobs, people have craft, people have mastery, something to look forward to that life can be better, able to provide for their family, able to take Singapore ideas and enterprise overseas, make our economic footprint much bigger than what it is today...

Third is, of course, in terms of our social cohesiveness. We are what we are because somehow we can manage to create a commonality of being Singaporean amongst different races. We've come quite far but I think a lot more work needs to be done to create that common space while at the same time maintaining our racial and ethnic identity. That balance is also very critical, and keeping that racial harmony will continue to be a lifelong endeavour for all politicians."
The "Tharman question"
And what's an interview about Prime Ministership without any mention of DPM Tharman, right?
Since we were at the St Gallen Symposium, an event that was made popular by DPM Tharman Shanmugaratnam's famous dialogue session two years ago, I posed one last question inspired by his remarks in an interview he gave in 2013.
Does Ong see the weight of thinking of the 4G cabinet remaining the same at left-of-centre, shifting leftwards on social policies, or moving to a new balance?
Long pause. But we were glad he took the time, because he rattled off a wish list, which perhaps sheds some light on his personal priorities — possibly, who knows, the things that would be closest to his heart as a future Prime Minister:
- for society to be more inclusive and open, celebrating all kinds of talents and not restricting its definition of meritocracy and success
- for society to respect and celebrate any profession or occupation a person chooses to pursue
- for husbands and the State to help relieve the burden of raising children that currently exists on mothers
- for Singaporeans to become better at working with different cultures, especially when they are working overseas
Turning to left-or-right, Ong said we "probably (have to move) both (ways) at the same time".
"With businesses, we want to be as attractive to them as possible. In the U.S, maybe that's called right.

On the left, we want to better help the lower income, the disadvantaged. And in this world where there's so much disruption, and where there are global forces causing wider income disparity, we must find new ways to forge a social compact. Our government has redistributed wealth more aggressively - Is this left? If so, then yes, we are moving left.

So, if you define like that, I think we need to move right and left at the same time.

That's very much in keeping with our early generations of ministers – ideologically messy but very focussed in tackling challenges of the day."
Moving left and right at the same time. What a pragmatic, and yet contradictory, concept.
But maybe Ong is right. Perhaps the challenge in the future is not this division between "left and right", but the contest between "open and closed", what with the presidency of Donald Trump and the actually-happening Brexit.
So that's Ong, a man of both ends — second son of a Barisan MP; the Chief of Staff of a PAP Prime Minister. A "winner" of Singapore's meritocracy and a "loser" in Singapore's democracy. A rock band fanatic and an admirer of pop star Ed Sheeran.
Could this be the man to navigate the uncertain waters our Singapore ship faces ahead?
Photos by Zheng Zhangxin.
If you like what you read, follow us on Facebook and Twitter to get the latest updates.
If you like what you read, follow us on Facebook, Instagram, Twitter and Telegram to get the latest updates.