The late Lee Kuan Yew (LKY) is probably the best orator in Singapore's history. No other Singaporean is as quoted as him. Love him or hate him, you can't deny that when the man spoke, people sat up and listened.
LKY passed away on March 23 two years ago and this year will be the 94th anniversary of LKY's birth (September 16, 1923).
Here, we pay tribute to our founding Prime Minister with 94 of his memorable quotes.
Newly discovered quotes after his passing
1. "To the young and to the not so old, I say, look at that horizon, follow that rainbow, go ride it".
It is a quote that received much attention again after it was shown in a tribute programme Lee Kuan Yew In His Own Words: Meritocracy. The line about rainbows was delivered by Lee in a speech at the Singapore Press Club in 1996. The title of the speech was "Picking up the gauntlet: Will Singapore Survive Lee Kuan Yew?"
2. LKY on SG100: "Of course there will be (Singapore 50 years from now)… even better!", PM Lee's National Day Rally Speech 2015
3. Still thinking about work, on the eve of the funeral of his wife, Kwa Geok Choo.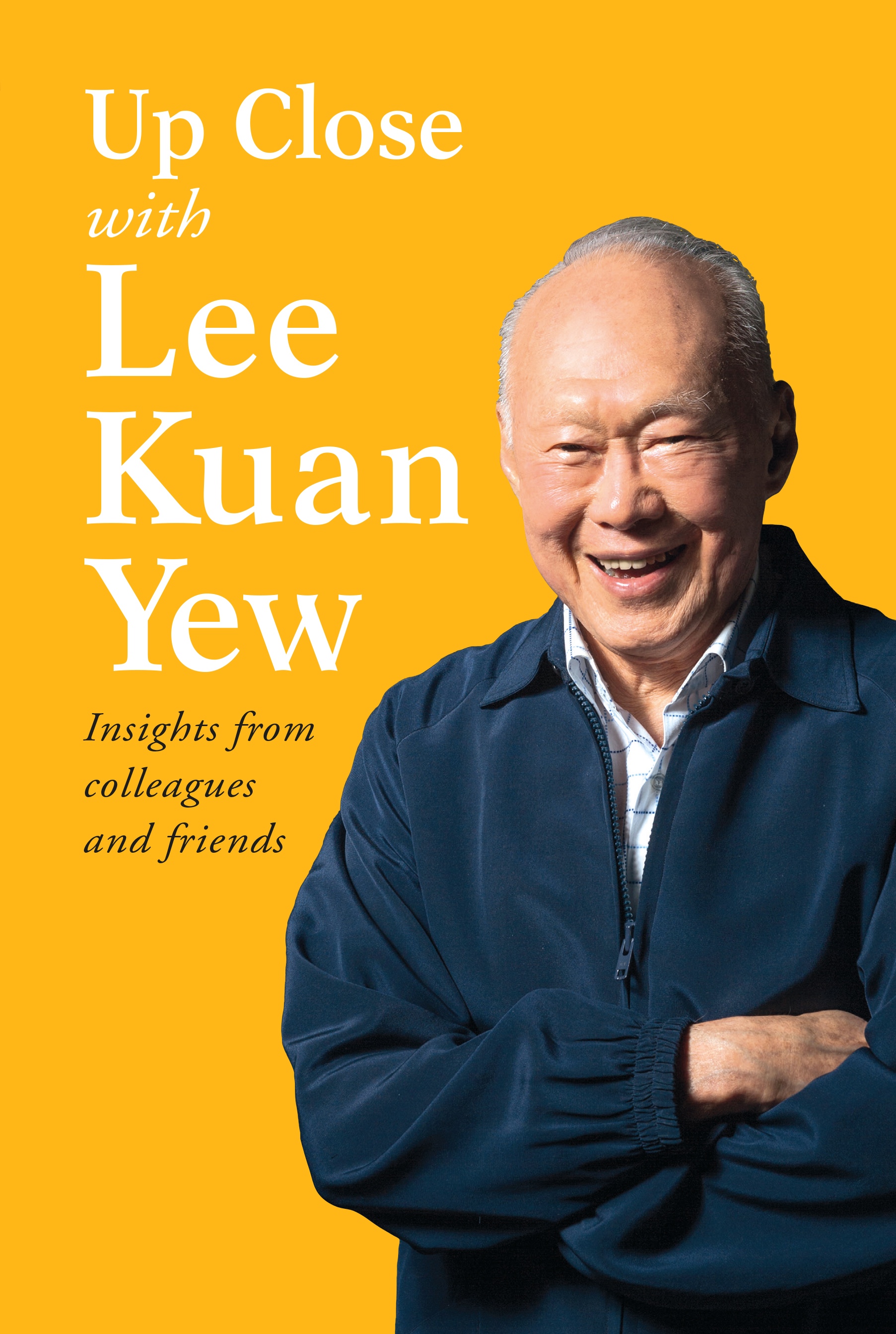 "I have asked for photos to be taken of the flotsam and of my position against the UOB backdrop so you know where it (the trash) was". Finance Minister Heng Swee Keat recalled in 2016, Up Close with Lee Kuan Yew
4. LKY interviewing potential candidates to be his Principal Private Secretary (PPS).
"What language do you speak at home with your children?"
"What language do you use with your parents, and what language do your children use with your parents?"
Minister of State Chee Hong Tat Heng recalled in 2016, Up Close with Lee Kuan Yew,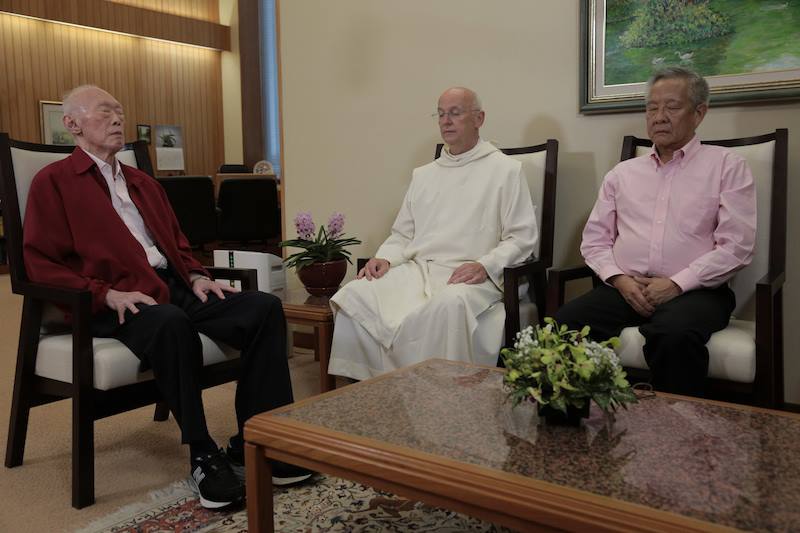 "Well, my own experience is, when I'm stressed to make a decision, I stop and meditate. And at the end of the meditation, if I'm still of the view that I should proceed, then I proceed. In other words, I still the mind for 20 minutes, in so far as I can still the mind, but the question is still going around in my own mind."
After the meditation, after I get out of it, I make up my mind."
6. On his house at 38 Oxley Road
The house will "be demolished immediately after my death or if my daughter, Wei Ling, would prefer to continue living in the original house, immediately after she moves out of the House".
"I would ask each of my children to ensure our wishes with respect to the demolition of the House be carried out...My view on this has been made public before and remains unchanged." The Straits Times, April 12, 2015
Jibes at politicians
7. On the opposition: "What we are preventing is duds getting into Parliament and government. Any person of quality, we welcome him but we don't want duds. We don't want Chee Soon Juan, or J.B. Jeyaretnam. They're not going to build the country." Hard Truths to Keep Singapore Going
8. On ESM Goh Chok Tong: "So, I had a successor in Goh Chok Tong and a team with him. I stayed behind to show him how he can change things...Within six months, three ministers left because they didn't like his style. I talked them out of it. I said, give him time, he needs to settle in. They stayed on and he carried on for 14 years." Tom Plate's Conversations with Lee Kuan Yew 
9. On Republican presidents (George W. Bush, George Bush Snr, Ronald Reagan, Richard Nixon): "Probably because they are more foreign policy-oriented. Not because they were Republicans, but because they were more alive to what is required of a big power – to play their role in foreign policy." One Man's View of the World.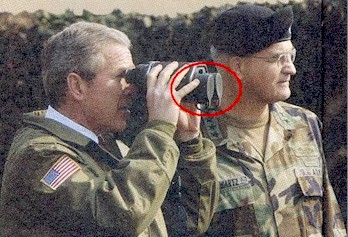 10. On the greatest US President that he've seen: "But for the misfortune of Watergate, I would say Richard Nixon. He had a realistic view of the world. He was a great analyst, realistic, but also a tactician to get things done. But this need with wanting to know everything and to make sure he got re-elected became obsessive." Tom Plate's Conversations with Lee Kuan Yew 
11. On the worst American President he saw up close: "my name is Jimmy Carter, I'm a peanut farmer, I'm running for president. The next thing you know, he was the president!" Tom Plate's Conversations with Lee Kuan Yew 
12. On Jimmy Carter's book Why Not The Best?: "He (Carter) recounted how, as a boy, the father gave him a penny or whatever to put into the pew box, and instead of putting one in, he took a penny out. So, the father then thrashed him. I said, why does the man do that? Having done it, how does telling the world that he was a petty thief help?" Tom Plate's Conversations with Lee Kuan Yew 
13. On George W.Bush: "I would not put him (George W Bush) the second worst. I would say Bush Jr. had melancholy advisers...Bush Jr. knew he didn't have much experience. It is virtue to know yourself". Tom Plate's Conversations with Lee Kuan Yew 
14. On Bill Clinton: "Very clever man, very political, likeable fellow because he's got that outgoing personality... When he talks to you, you are the most important person in the world. But I think, it's generally true, he breaks the rules... Well, in his case, it's partly his character. I don't know. I mean, he had a difficult childhood and so on, so forth". Tom Plate's Conversations with Lee Kuan Yew 
15. On the great men he met: "I would say the greatest was Deng Xiaoping. At his age, to admit that he was wrong, that all these ideas, Marxism, Leninism, Maoism, they are just not working and have to be abandoned, you need a great man to do that..." Tom Plate's Conversations with Lee Kuan Yew 
16. On Deng Xiaoping (again): "Deng Xiao Ping is a great man because he changed China from a broken-backed state, which would have imploded like the Soviet Union, into what it is today, on the way to becoming the world's largest economy." Hard Truths to Keep Singapore Going
17. On British politicians: "In Britain, if you look at the First Class Honours list of Oxford or Cambridge and trace their careers, you will find that these people end up not in politics, but in banking, finance and the professions."
"The frontbenchers in Parliament are often not from the top tier. They are not drawn from the best lawyers or surgeons."
18. On Lee Hsien Loong: "I mean, he has a very comprehensive mind... what is the latest hard computer disk around? What can it hold? Whatever, he's got that kind of a hard disk [in his head]." Tom Plate's Conversations with Lee Kuan Yew 
19. On LHL (2): "If I were not the Prime Minister, he [Lee Hsien Loong] could have become Prime Minister several years earlier. It is against my interest to allow any family member, who's incapable, to be holding an important job because that would be a disaster for Singapore and my legacy. That cannot be allowed. 2005 The Wit & Wisdom of Lee Kuan Yew
The Holy Trinity (Source: Lee Hsien Loong Facebook)
20. On whether he was proud of his son being the PM: "Yeah, but at the same time, I must be very careful that he is not going to smudge the record.. Well, he has got a tough time, but he has got more resources than I had when I started."  Tom Plate's Conversations with Lee Kuan Yew 
21. On ESM Goh being the UN Sec-Gen: "He's got to please irreconcilable masters, Americans, Chinese, Russians...it is too much for him and he is not going to do it. What good does it do Singapore, whereas he can do much in Singapore and for Singapore". Tom Plate's Conversations with Lee Kuan Yew 
22. On Chinese President Xi Jinping: "I would put him in Nelson Mandela's class of persons. A person with enormous emotional stability who does not allow his personal misfortunes or sufferings to affect his judgement. In other words, he is impressive." TIME Nov 19, 2007
23. On late DPM Goh Keng Swee: "Of all my Cabinet colleagues, it was Goh Keng Swee who made the greatest difference to the outcome for Singapore...When he held a contrary view, he would challenge my decisions and make me reexamine the premises on which they were made. As a result, we reached better decisions for Singapore." Eulogy at the State Funeral service for Goh Keng Swee, May 23, 2010.
24. On late DPM Goh Keng Swee (2): "Goh Keng Swee is a different sort of man. I think he's going to cause a lot of trouble for the Communists, but not to non-Communists. Democrats, investors, all will be well". Interview by Foreign Correspondents held at TV Singapura, 30 August 1965, Lee Kuan Yew in his own words, 1959-1970
25. On unions: "I started my political life fighting for the unions as their legal adviser and negotiator. By the mid-1950s the communists had gained control of most of them, and both communists and non-communist unions had turned combative. To attract investments, we had to free unions from communist control and educate union leaders and workers on the need to create new jobs by getting investments". From Third World to First: The S'pore Story: 1965-2000.
Lee Kuan Yew's hard truths of life
26. On being complacent: "What I fear is complacency. When things always become better, people tend to want more for less work." Speech at the 10th Anniversary Celebrations of the Jalan Tenteram Community Centre, 27th June 1970 Lee Kuan Yew in his own words, 1959-1970
27. On being pro-life: "Every person, genius or moron, has a right to reproduce himself." Speech on the Abortion Bill, 29 December 1969, Lee Kuan Yew in his own words, 1959-1970
28. On saying no: "You lose nothing by being polite. The answer is 'No', but please say it politely and give the reasons... Explain to me why 'No'. Don't change 'No' to 'Yes'. Don't be a fool. If there was a good reason why it is 'No', it must remain 'No', but the man must be told politely." to Civil Servants at the Victoria Theatre, 30 Sep 1965, Lee Kuan Yew in his own words, 1959-1970
29. On life: "Life is not just eating, drinking, television and cinema...The human mind must be creative, must be self-generating; it cannot depend on just gadgets to amuse itself." Speech at Chinese New Year and Hari Raya Haji Celebrations held at Joo Seng Community Centre, 28th Feb 1970, Lee Kuan Yew in his own words, 1959-1970
30. On importance of men in NS: "I have read several books written by generals about wars fought by other generals. The thing I am constantly reminded of is that from the moment the commander has pressed the button, control of the events goes over to the local commanders until the battle was over. During the heat of battle it is the captain, the lieutenant, the sergeant, the corporal, who makes the decisions." Speech at the Opening Ceremony of Outram Park Complex, 8th May 1970, Lee Kuan Yew in his own words, 1959-1970
31. On interfering in S'poreans' private lives: "I am often accused of interfering in the private lives of citizens. Yes, if I did not, had I not done that, we wouldn't be here today. And I say without the slightest remorse, that we wouldn't be here, we would not have made economic progress, if we had not intervened on very personal matters – who your neighbour is, how you live, the noise you make, how you spit, or what language you use. We decide what is right. Never mind what the people think." The Straits Times, 20 April 1987
32. On eugenics: "There are many sons of doctors who have married doctors. Those who married spouses who are not as bright are tearing their hair out because their children can't make it. I have lived long enough to see all this play out."
"So when the graduate man does not want to marry a graduate woman, I tell him he's a fool, stupid. You marry a non-graduate, you're going to have problems, some children bright, some not bright. You'll be tearing your hair out. you can't miss. It's like two dice. One is Jack, Queen, King, Ace, other also Jack, Queen, King, Ace. You throw a Jack, Queen, King, Ace against dice two, three, four, five, six, what do you get? You can't get high pairs, let alone a full flush." Hard Truths to Keep Singapore Going
33. On Muslims in Singapore (1): "No, I'm not saying that. I think the Muslims socially do not cause any trouble, but they are distinct and separate.The generation that worked with me – Othman Wok, Rahim Ishak – that was before the wave came sweeping back, sweeping them; that generation integrated well. We drank beer, we went canvassing, we went electioneering, we ate together. Now they say, "Are the plates clean?" I said, "You know, same washing machine." Halal, non-halal and so on, I mean, they are all divisive. They are distinguishing me from you: "I'm a believer, you are not." That's that. Nobody doubts the hygiene. It's got nothing to do with hygiene, it's got to do with the religious conviction that this is not something you do."
"In those days, you didn't have a school tuckshop, so you bought two cents of nasi lemak and you ate it. And there was a kway teow man and so on. But now, you go to schools with Malay and Chinese, there's a halal and non-halal segment and so too, the universities. And they tend to sit separately, not to be contaminated. All that becomes a social divide. Now I'm not saying right or wrong, I'm saying that's the demands of the religion but the consequences are a veil across and I think it was designed to be so. Islam is exclusive." Hard Truths to Keep Singapore Going
LKY later concedes that this view of his was outdated, see quote #91.
34. On Muslims in Singapore (2): "We could not have held the society together if we had not made adjustments to the system that gives the Malays, although they are not as hardworking and capable as the other races, a fair share of the cake". Tom Plate's Conversations with Lee Kuan Yew 
35. On S'pore youth today: "No (it is not possible to influence young people), you can influence the basic attitudes from the day they are born to about 16 or 17. [..] They have a mind of their own and they are influenced by what they see around them and by their peers." One Man's View of the World.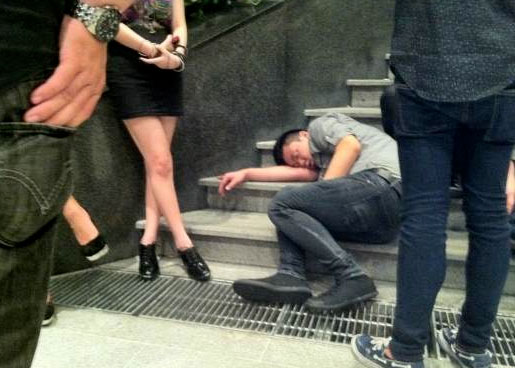 That's about right.
36. On why Heaven does not need a Population White Paper: "I wish I can meet my wife in the hereafter, but I don't think I will. I just cease to exist just as she has ceased to exist – otherwise the other world would be overpopulated." One Man's View of the World.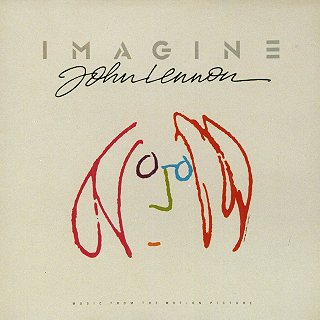 Because there is no Heaven. So John Lennon.
37. On why fiction sucks: "Usually, I read biographies of interesting people. I am not attracted to novels – make-believe, or recreations of what people think life should be. " One Man's View of the World.
38. He prefers Frederick Hayek's The Road to Serfdom: "I believe Hayek was a very clear thinker and that he hit upon the eternal truth, explaning that the free market is necessary to get the economy right". Tom Plate's Conversations with Lee Kuan Yew 
39. On his regular routine: "Now, I walk on the treadmill three times a day – 12 minutes in the morning, 15 minutes after lunch and 15 minutes after dinner." One Man's View of the World.
40. On golfing: I used to play golf, but found it did not give me vitality because it's a slothful game… Nine holes of golf will take you one and a half, two hours. I run in 20 minutes, I feel better off. So the cost benefit made me drop golf. Hard Truths to Keep Singapore Going
41. On love: I don't believe in love at first sight. I think it's a grave mistake. You're attracted by physical characteristics and you will regret it. Hard Truths to Keep Singapore Going
42. On corporal punishment: "I have never understood why Western educationists are so much against corporal punishment. It did my fellow students and me no harm." 1998, The Wit & Wisdom of Lee Kuan Yew
43. On Israelis: "The Israelis are very smart... the rabbi in any Jewish society was often the most intelligent and well-read, most learned of all...the rabbi's children are much sought-after by successful Jews to bring good genes into the family. That's how they multiply, the bright ones multiply. That sums it up." Tom Plate's Conversations with Lee Kuan Yew 
44. On meditation: I used to meditate. I started meditation about 1992 when my friend, who was speaker of Parliament, retired, and was dying of lung cancer...I found my breathing slows down and I think my heartbeat goes down and my blood pressure goes down. So, I use that as a kind of escape from stress." Tom Plate's Conversations with Lee Kuan Yew 
45. On why he writes his books: "Well, my purpose in writing my books is to get the average 'O' level graduates, which is Grade 10 graduates, to read it and understand it."  Tom Plate's Conversations with Lee Kuan Yew 
46. On homosexuality: "No it's not a lifestyle. You can read the books you want, all the articles. You know that there's a genetic difference. They are born that way and that's that. So if two men or two women are that way, just leave them alone." Hard Truths to Keep Singapore Going
47. On homosexuality (2): If in fact it is true, and I have asked doctors this, that you are genetically born a homosexual - because that's the nature of the genetic random transmission of genes - you can't help it. So why should we criminalise it?" 2007, The Wit & Wisdom of Lee Kuan Yew
48. On the media: "Freedom of the press, freedom of the news media, must be subordinated to the overriding needs of the integrity of Singapore, and to the primacy of purpose of an elected government", Address To The General Assembly Of The International Press Institute At Helsinki, 9th June, 1971
49. On why he chose Tanjong Pagar: "Tanjong Pagar is a working class area. No other division has such a high proportion of workers, wage-earners, small traders and such a low proportion of wealthy merchants and landlords living in it. I wanted to represent workers, wage earners and small traders, not wealthy merchants or landlords. So I chose Tanjong Pagar not Tanglin," Election Speech - Why I Chose Tanjong Pagar, 17th March, 1955
Undefeated heavyweight champion, never lost an election.
50. Role of an MP: "An MP must now not only be good at speaking but also at getting things done. When an estate is dirty, out of order, and rubbish not regularly and properly collected, that is when residents realise that without regular maintenance, the value of their flats will drop." 1992, The Wit & Wisdom of Lee Kuan Yew
51. On Americans: "The Americans are great missionaries. They have an irrepressible urge to convert others.", 1992, The Wit & Wisdom of Lee Kuan Yew
52. On fashion: "I'm not interested in changing either my suit or my car or whatver with every change in fashion. That's irrelevant. I don't judge myself or my friends by their fashions. Of course, I don't approve of people who are sloppy and unnecessarily shabby or dishevelled... But I'm not impressed by a $5,000 or $10,000 Armani suit." 1995,  The Wit & Wisdom of Lee Kuan Yew
53. On democracy: "But we either believe in democracy or we not. If we do, then, we must say categorically, without qualification, that no restraint from the any democratic processes, other than by the ordinary law of the land, should be allowed… If you believe in democracy, you must believe in it unconditionally. If you believe that men should be free, then, they should have the right of free association, of free speech, of free publication. Then, no law should permit those democratic processes to be set at nought." - as an opposition leader, April 27, 1955
54. On political opposition: "If we had considered them serious political figures, we would not have kept them politically alive for so long. We could have bankrupt them earlier." - Straits Times, Sept 14 2003
55. On political opposition (2): "And I don't think it's the numbers in the opposition which counts. It's the quality of the alternative which you put before the people". Transcript of ABC "Four Corners" Segment No.855, For Assembly in Sydney, recorded in Melbourne, Australia. Lee Kuan Yew in his own words, 1959-1970
56. On repression: "Repression, Sir is a habit that grows. I am told it is like making love-it is always easier the second time! The first time there may be pangs of conscience, a sense of guilt. But once embarked on this course with constant repetition you get more and more brazen in the attack. All you have to do is to dissolve organizations and societies and banish and detain the key political workers in these societies. Then miraculously everything is tranquil on the surface. Then an intimidated press and the government-controlled radio together can regularly sing your praises, and slowly and steadily the people are made to forget the evil things that have already been done, or if these things are referred to again they're conveniently distorted and distorted with impunity, because there will be no opposition to contradict." - as an opposition PAP member speaking to David Marshall, Singapore Legislative Assembly, Debates, 4 October, 1956
57. On the art of governance: "Whoever governs Singapore must have that iron in him. Or give it up. This is not a game of cards. This is your life and mine. I've spent a whole lifetime building this and as long as I'm in charge, nobody is going to knock it down." Rally speech at Raffles Place, 1980
"> " width="640" height="360" frameborder="0" allowfullscreen="allowfullscreen">
Fast forward to 0:40. We've not had a politician who can deliver such a line with so much feels since.
58. On the art of governance: "I have no headline material to offer you tonight. In fact, I believe that the art of Government is, in part, the art of not creating headlines in the world press." Speech at Foreign Correspondents Association, 16th Sep, 1959, Lee Kuan Yew in his own words, 1959-1970
59. On the art of governance (2): "[i]f I were in authority in Singapore indefinitely, without having to ask those who are governing whether they like what is being done, then I have not the slightest doubt that I could govern much more effectively in their own interests." May, 1962, at the Royal Society of International Affairs, London, Lee Kuan Yew in his own words, 1959-1970
60. On waking up late: "Today, I was a bit late because I took some time in getting up; slept late last night; some work to be done; two functions in the evening. But that is important. I like to tell you this because I think this is what we all must do: 'sleep well of nights'. You know Shakespeare, 'Give me men that sleep well of nights'. That is what he said. I think it right. Men who worry, you know, read all this, and they start shouting all this they get worried themselves, night time comes, they can't sleep. Next morning they wake up, mind befuddled, wrong decisions, more trouble!" Tanjong Katong School, during tour of Mountbatten Constituency, 13th June, 1965 Lee Kuan Yew in his own words, 1959-1970
Lee Kuan Yew trying to be funny
61. On himself not being 'light-hearted": "I would not call myself 'fun-loving' or 'light-hearted'. But I am not serious all the time. Everyone needs to have a good laugh now and then, to see the funny side of things, and to laugh at himself". Tom Plate's Conversations with Lee Kuan Yew 
62. In a 2000 BBC article about how Singapore's ban on chewing gum will take a toll on creativity, this was LKY's retort.
63. On a typical S'porean: "You know the Singaporean. He is a hard-working, industrious, rugged individual. Or we would not have made the grade. But let us also recognise that he is a champion grumbler. 1977 The Wit & Wisdom of Lee Kuan Yew
64. On being a local talent: "Often, I tell my Ministers in the Cabinet that perhaps they are kind to me and allowed me to become the Prime Minister because I was born in Singapore - for majority of them, 60% are born in Malaysia", To representatives of leading organisations of German Industry and Commerce at Hotel Konigshof, Germany, 28th September 1970, Lee Kuan Yew in his own words, 1959-1970
65. On Americans' view of Singapore: "They don't know where Singapore is, they are not interested. They think of only Michael Fay, then maybe caning, chewing gum... strange odd place this Singapore". Tom Plate's Conversations with Lee Kuan Yew 
66. On anyone who made the most interesting case that he felt he had to listen to: "A few Harvard professors, I can't remember".  Tom Plate's Conversations with Lee Kuan Yew 
67. On being PM today again, hypothetically speaking..."If I were in charge of Singapore today, I would introduce a baby bonus equal to two years' worth of the average Singaporean's salary." One Man's View of the World.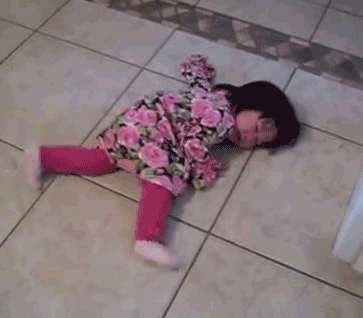 His point? To prove that money alone will not compel Singaporeans to have more of these.
68. Madame Tussaud: "When I visited Madame Tussaud's as a student in the 1940s...there were two groups of figures: the famous and the notorious, either British kings and famous leaders, or notorious murderers. I hope Madame Tussaud's will not put my likeness too close to the notorious." 1998 The Wit & Wisdom of Lee Kuan Yew
Source: Madame Tussauds Hong Kong
69. On losing his temper: "I have never, I never try to lose my temper. Maybe I have occasionally, but I try to control it...If I am really angry, my body language will show that I am most dissatisfied" Tom Plate's Conversations with Lee Kuan Yew 
70. JBJ's birthday present: "Jeyaretnam says he has drawn Cheng San out of a hat and that an election win will be a birthday present for him. It will be a very expensive birthday present for the people of Cheng San." 1996, The Wit & Wisdom of Lee Kuan Yew
71. On leadership: "I do not yet know of a man who became a leader as a result of having undergone a leadership course." 1957, The Wit & Wisdom of Lee Kuan Yew
72. On leadership (2): "Amazingly, throughout most of the contemporary Western world leaders in government require no special training or qualification. Many get elected because they sound and look good on television. The results have been unhappy for their voters." 1996, The Wit & Wisdom of Lee Kuan Yew
73. On his critics: "Not all who oppose the PAP are communists; some are communists, some reactionaries, some opportunists and some merely confused." 1961, The Wit & Wisdom of Lee Kuan Yew
74. On governing: "You've got to do one of two things when you've got to keep people happy: either, give them something that will satisfy them, better food, better clothes, better homes; or if you can't do that, then give them the vision of greatness to come". Luncheon held by the Australian Institue of Management at the Australia Hotel, Sydney, Australia, 22 March, 1965, Lee Kuan Yew in his own words, 1959-1970
Lee Kuan Yew and his analogies
75. On how Singapore cannot afford the luxury of multiparty politics: "If all the 300 (top civil servants and political elite) were to crash in one jumbo jet, then Singapore will disintegrate". 1975
76. No news is good news: "I have always thought it strange that a country figures prominently in the world press mainly when it is in trouble...Nobody in the rest of the world heard much about Singapore until it was captured by the Japanese in 1942 or again until there were riots in 1955 and 1956 in the course of one of which two members of your fraternity were killed. I have come to believe that, so far as the foreign press is concerned, no news is good news." Speech at Foreign Correspondents Association, 16th Sep, 1959, Lee Kuan Yew in his own words, 1959-1970
77. "Rest on laurels? I wish I could do that. No, you rest when you're dead". 1978, The Wit & Wisdom of Lee Kuan Yew
78. "I always tried to be correct, not politically correct." 2000 The Wit & Wisdom of Lee Kuan Yew
79. S'pore as a nanny state: If Singapore is a nanny state, then I am proud to have fostered one. (From Third World to First, The Singapore Story: 1965-2000)
80. On Machiavelli's The Prince: "I have never been over concerned or obsessed with opinion polls or popularity polls. I think a leader who is, is a weak leader. Between being loved and being feared, I have always believed Machiavelli was right. If nobody is afraid of me, I'm meaningless. (The Singapore story: memoirs of Lee Kuan Yew)
81. Of S'poreans and Dogs: "If you can select a population and they're educated and they're properly brought up, then you don't have to use too much of the stick because they would already have been trained. It's like with dogs. You train it in a proper way from small. It will know that it's got to leave, go outside to pee and to defecate. No, we are not that kind of society. We had to train adult dogs who even today deliberately urinate in the lifts." (The Man and His Ideas)
82. Car Analogy: "The theory of the democratic state is that there is a good motor car in good mechanical condition, with mechanics, fitters and so on to keep it sound. And there is a driver there to take the minister where he wants to go. It is for the minister, having been elected by the people, to decide where the driver is to go and how and by what route. It is the business of the civil service - the driver, the fitters and the rest - to keep that car in sound mechanical condition." The Wit & Wisdom of Lee Kuan Yew
83. Manna and Heaven: "The poor know that you don't get manna falling from heaven, not in Singapore anyway", 1976, The Wit & Wisdom of Lee Kuan Yew
84. Nobody's stooge: "I am nobody's stooge. I am not here to play somebody else's game. I have a few million people's lives to account for. And Singapore will survive will trade with the whole world and will remain non Communist", Press Conference at City Hall, 26th August 1965, Lee Kuan Yew in his own words, 1959-1970
Comments only LKY can make
85. "What are our priorities? First, the welfare, the survival of the people. Then, democratic norms and processes which from time to time we have to suspend."
- 1986 National Day Rally
86. I make no apologies that the PAP is the Government and the Government is the PAP. Petir, 1982
87. Even from my sick bed, even if you are going to lower me into the grave and I feel something is going wrong, I will get up. (1988 National Day Rally)
88. If Aljunied decides to go that way, well Aljunied has five years to live and repent, General Elections 2011
WP Chief Low Thia Khiang begs to differ.
89. "At the end of the day, if you are in Aljunied, ask yourself: Do you want one MP, one Non-Constituency MP, one celebrity who has been away 30 years, and two unknowns to look after you? Or would you prefer me and my hand-picked colleagues?" General Elections 2011
I'm a celebrity?
90. "My colleagues are not intimidated by me. Far from it. They speak their minds. Nothing has happened to them. But if we allow vicious, evil attacks to pass unchallenged - then the whole system must be undermined." 1988 The Wit & Wisdom of Lee Kuan Yew
91. "I have been accused of many things in my life, but not even my worst enemy has ever accused me of being afraid to speak my mind." 1955, The Wit & Wisdom of Lee Kuan Yew
92. "One-man-one-vote is a most difficult form of government.. Results can be erratic." -  Dec 19 1984
93. "Hard Truths was a book based on 32 hours of interviews over a period of two years. I made this one comment on the Muslims integrating with other communities probably two or three years ago. Ministers and MPs, both Malay and non-Malay, have since told me that Singapore Malays have indeed made special efforts to integrate with the other communities, especially since 9/11, and that my call is out of date. I stand corrected, but only just this instance! I hope that this trend will continue in the future."
And lastly,
94. Lee Kuan Yew reading the Proclamation of Independence when he was 89 years old.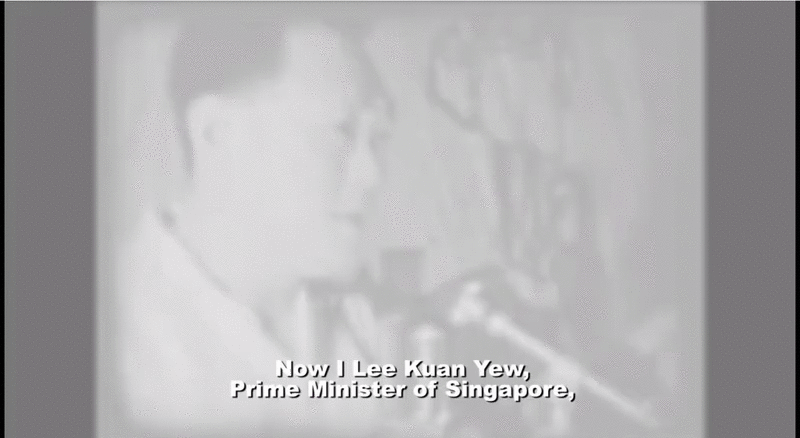 "Now I LEE KUAN YEW Prime Minister of Singapore, DO HEREBY PROCLAIM AND DECLARE on behalf of the people and the Government of Singapore that as from today the ninth day of August in the year one thousand nine hundred and sixty-five Singapore shall be forever a sovereign democratic and independent nation, founded upon the principles of liberty and justice and ever seeking the welfare and happiness of her people in a more just and equal society".
You can watch the full video here.
If you like what you read, follow us on Facebook and Twitter to get the latest updates.
If you like what you read, follow us on Facebook, Instagram, Twitter and Telegram to get the latest updates.