Pussy is an energy drink, but as the more intuitive of our readers might know, it has another meaning.
It also means cat.
That's why this cardboard standee of a man holding a can of Pussy, and saying "I've tasted pussy, have you?" is not in the least incredibly hilarious.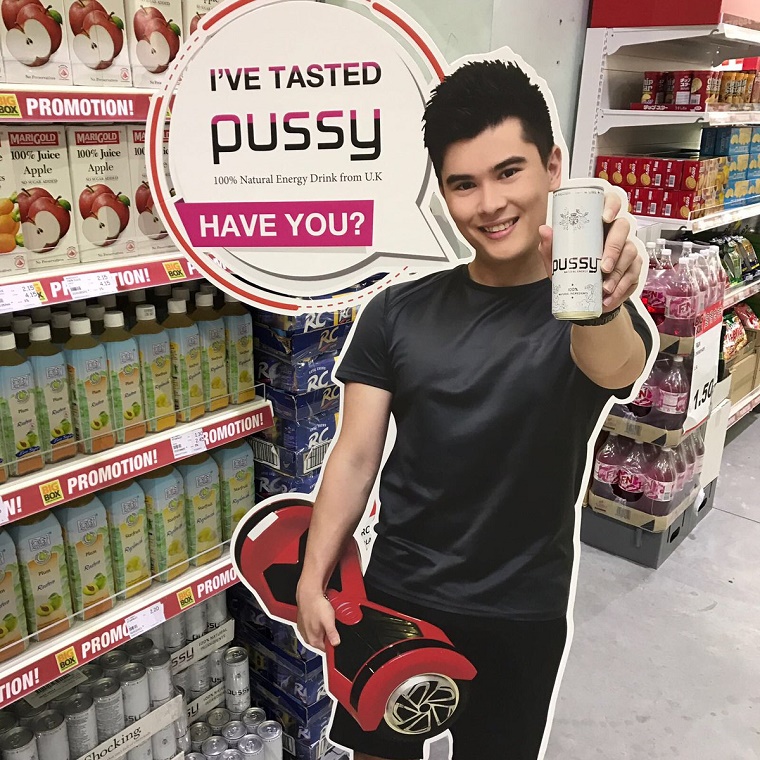 Have you?
Pussy is an energy drink first started in the UK by one Jonnie Shearer, now a millionaire from its success.
It is currently banned in the UK by their Advertising Standards Authority for being too sexually explicit, though we aren't sure why.
As for the aforementioned standee at Big Box hypermart in Jurong East, it isn't the only one.
The standees are part of a marketing campaign by the Singapore branch to spread awareness about the drink:
It's kind of a treasure hunt for eagle-eyed Singaporeans.
"If you can locate these standees, take a selfie with them and message us with your photos with the location and can you stand to win a 24-can carton of Pussy 100% Natural Energy Drinks worth S$72, t-shirts, caps, and other souvenirs. Contest runs from 7 February to 28 February 2017."
Whoa, free Pussy!
Articles you should also check out since you're here:
Not an art person? Here's how you can still enjoy the Singapore Biennale.
6 times S'pore toyed with food and made a global impact
Top image from Twitter
If you like what you read, follow us on Facebook and Twitter to get the latest updates.
If you like what you read, follow us on Facebook, Instagram, Twitter and Telegram to get the latest updates.