With Michelin-starred meals going upwards of $500, you'd think that probably is the upper limit to how much one can spend on a meal.
You thought wrong.
A receipt from Feng Shui Inn, a fine-dining Cantonese restaurant in Resorts World Sentosa, has been making rounds online. The bill comes to a whopping $239,326.47 for 20 diners.
Here's the receipt: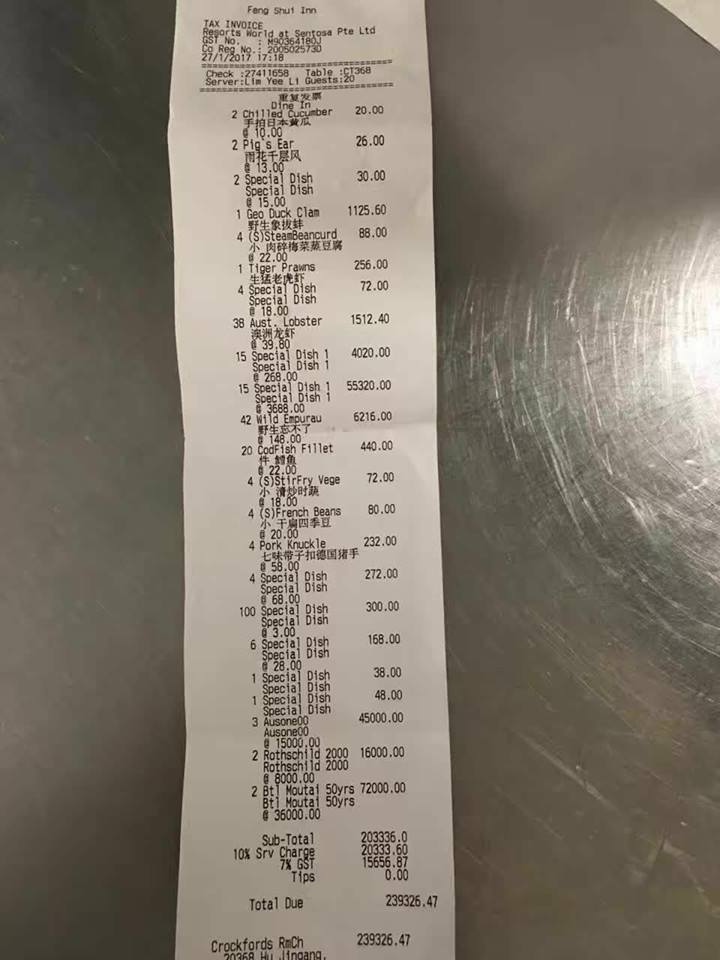 The date on the bill shows Jan 27, which happens to be the day most Chinese have their reunion dinners before the Chinese New Year.
This receipt also has an incredible 23 line items
Of note are the various unnamed 'Special Dish' items. One such variant of the special dish costs $3,688 and was ordered 15 times amounting to $55,320. Another one that costs $3 was ordered 100 times.
Other big ticket items on the receipt were the bottles of alcohol - "Moutai 50yrs" ($36,000 per bottle, two bottles ordered); "Rothschild 2000" ($8,000 per bottle, two bottles ordered); and "Ausone00" ($15,000 per bottle, three bottles ordered).
An online search shows that a bottle of 50 year-old Moutai can be bought for just under US$6,000. A bottle of Chateau Mouton Rothschild of the 2000 vintage costs around S$1,500. Chateau Ausone on the other hand ranges from $150 to $1,500 depending on vintage.
Sin Chew News, reporting on this receipt, interviewed celebrity Chef Eric Teo for his views on this bill. Teo said that the amount spent was breathtaking. He believed that the diners must be from overseas. He added that for the $3,688 special dish, the ingredients must have been extremely rare and expensive and he did not rule out the possibility that the ingredients were specially air-flown to Singapore. Commenting on the alcohol, Teo said there were indeed such prices for alcoholic drinks in Singapore.
Sin Chew News said that Feng Shui Inn declined to comment.
Eat full can go walk walk:
This free trail lets you jalan jalan through 20th century Serangoon in 40 minutes
If you like what you read, follow us on Facebook and Twitter to get the latest updates.
If you like what you read, follow us on Facebook, Instagram, Twitter and Telegram to get the latest updates.