It's Total Defence Day today -- a day when some students eat pieces of plain crackers with water during recess and where the Singapore Civil Defence Force (SCDF) will sound the sirens islandwide in the evening.
February 15 is the day when the British surrender to the invading Japanese forces in Singapore, and this year marks the 75th anniversary of one of the darkest period in our island nation's history -- the Japanese Occupation (1942 to 1945).
Many of S'pore's past leaders, such as Lee Kuan Yew and David Marshall, were young men during that period. They experienced the hardships, felt the hunger brought on during that period, and lived through the uncertainties with some narrow escapes.
Following our previous story on what these founding fathers did at the outbreak of war,  let's now take a look at some of their experiences during the Occupation.
1. Lee Kuan Yew, Singapore's first prime minister (1959 to 1990): He had a lucky break as he escaped theSook Ching massacre.
Lee was 18 years old when the Japanese Occupation of Singapore began.
[caption id="" align="aligncenter" width="455"]
Source: NAS[/caption]
Recording his Japanese Occupation experience in his memoirs, The Singapore Story: Memoirs of Lee Kuan Yew, Lee wrote that a few days into the Occupation, the Japanese carried out the Sook Ching operation to cleanse the local Chinese population of anti-Japanese elements. He reported to Jalan Besar stadium together with his family friend and helper, Koh Teong Koo, for registration and screening. He narrowly escaped being one of the many Chinese rounded to be massacred in the operation.
"Soon after the Japanese soldiers left my house, word went around that all Chinese had to go to a registration centre at the Jalan Besar stadium for examination. I saw my neighbour and his family leave and decided it would be wiser for me to go also, for if I were later caught at home the Japanese military police, the Kempeitai, would punish me. So I headed for Jalan Besar with Teong Koo.

As it turned out, his cubicle in his coolie-keng, the dormitory he shared with other rickshaw pullers, was within the perimeter enclosed by barbed wire. Tens of thousands of Chinese families were packed into this small area. All exit points were manned by the Kempeitai. There were several civilians with them, locals or Taiwanese. I was told later that many of them were hooded, though I do not remember noticing any.

"After spending a night in Teong Koo's cubicle, I decided to check out through the exit point, but instead of allowing me to pass, the soldier on duty signalled me to join a group of young Chinese. I felt instinctively that this was ominous, so I asked for permission to return to the cubicle to collect my belongings.

He gave it. I went back and lay low in Teong Koo's cubicle for another day and a half. Then I tried the same exit again. This time, for some inexplicable reason, I got through the checkpoint. I was given a "chop" on my left upper arm and on the front of my shirt with a rubber stamp. The kanji or Chinese character jian, meaning "examined", printed on me in indelible ink, was proof that I was cleared. I walked home with Teong Koo, greatly relieved."
[caption id="" align="aligncenter" width="1000"]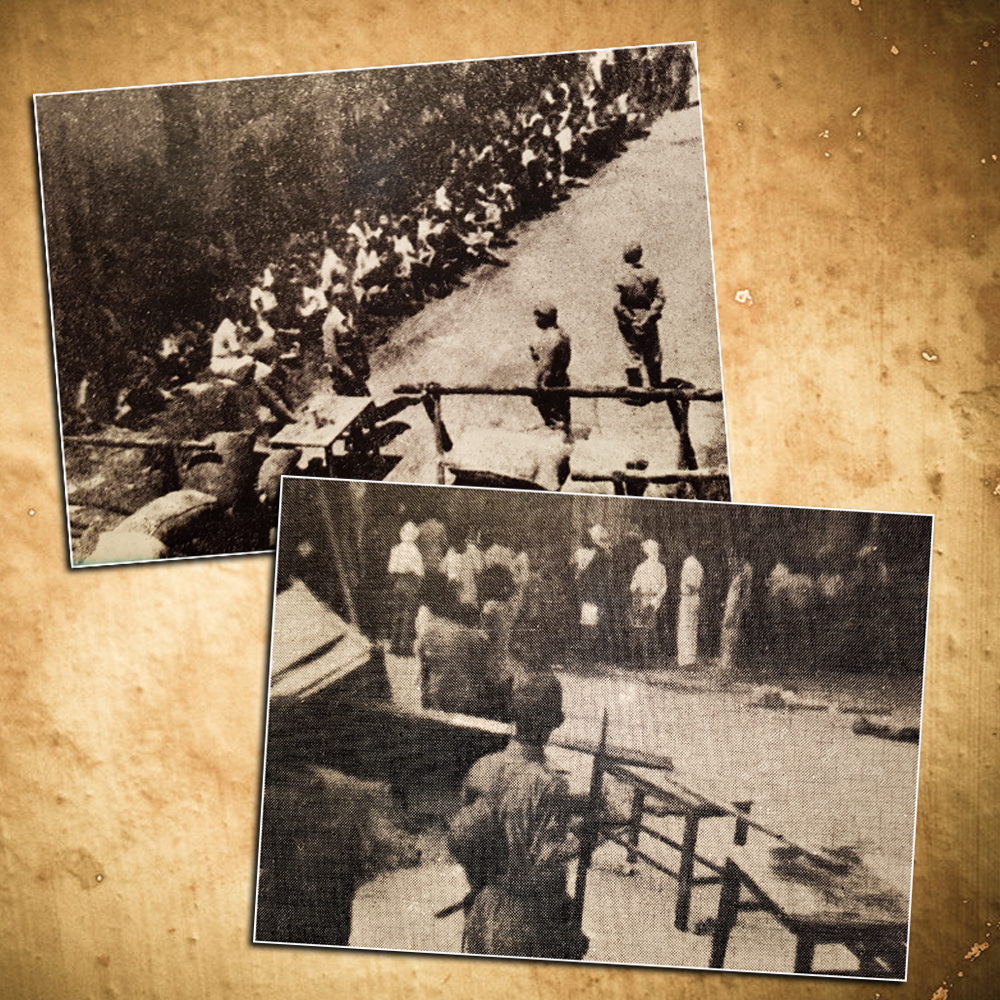 Images of Sook Ching screening centres, taken at the Syonan Gallery.[/caption]
2. Goh Keng Swee, former Deputy Prime Minister (1973 to 1984): Got married but was sent to a confinement camp.
23-year-old Goh Keng Swee had joined the Straits Settlements Volunteer Force (SSVF) when the war broke out in 1942. He was stationed at the Battle Box at Fort Canning as a signaller.
[caption id="" align="aligncenter" width="342"]
Source: Jurong GRC[/caption]
In Goh Keng Swee: A Portrait by Tan Siok Sun, Tan notes that when the British surrendered, Goh and all surviving members of SSVF were captured by the Japanese. However, he was released and allowed to go home, along with the other non-Europeans.
Goh escaped the Sook Ching massacre, but was sent to a Japanese confinement camp for a while, before he went to work in the Tax Department of the Japanese Military Administration.
During the Occupation, Goh married his first wife, Alice Woon on October 6, 1942.
"... [Goh] proceeded to inform his family that he and Alice would be married on 6 October, his birthday. Alice then spent the following months planning her wedding, and so it was that on the afternoon of 6 October 1942 at Kampong Kapor Methodist Church, Alice and [Goh], then 17 and 24 years old respectively, were married."
Amidst speculation that the war was not going well for the Japanese, Goh and his family relocated to Malacca for the rest of the Occupation.
"In late 1944 or early 1945, [Goh] began to sense that conditions were rapidly deteriorating in Singapore. There was speculation that the Allies would retake Malaya by force, and [Goh] concluded that if the Japanese were to hold out, Singapore would be their last stand. He felt that his family would be safer away from Singapore; and with the money he had made from his tobacco business, he made plans to relocate his immediate family to Melaka."
3. Edmund William Barker, Singapore's first and longest-serving law minister (1964 to 1988): He worked on the infamous Death Railway linking Thailand to Burma (present day Myanmar).
Barker was a 21-year-old volunteer with the SSVF when Singapore fell to the Japanese. As a Eurasian, he escaped the atrocities of the Sook Ching operations.
[caption id="" align="aligncenter" width="220"]
Source: Serangoon Sec[/caption]
In E W Barker: The People's Minister by Susan Sim, Sim records that Barker was "volunteered" to work on the infamous Death Railway linking Bangkok in Thailand to Moulmein in Burma (present day Myanmar). He had done so to save his newly married brothers from having to go.
Barker was assigned to an anti-malaria unit and spent the rest of the war at the Railway.
In June 1944, Barker, along with other members of his anti-malaria unit, made the slow trek up north into Thailand, in a crowded train wagon and on foot. He was deployed to work with a medical unit 160 kilometres behind the Japanese frontline, in camps along the Siam-Burma Railway. It became better known as the Death Railway because at least 16,000 POWs died building it. Less well-known is that more than 80,000 of the Asian forced labourers, perhaps more than a third of all romusha, also perished. Most people working the railway did not die from starvation as they had plenty of rice, Barker recounted on an official visit to Burma 42 years later. 'They died from disease, cholera, malaria, dysentery. Half of them had malaria. Even I had (it).' At one point he was in a camp near the Three Pagoda Pass, which marks the Thai-Burma border. 'It was 15 kilometres away, so I walked from my camp to the pass and I walked back. And it took all day,' he said."
[caption id="" align="aligncenter" width="640"]
Australian POWs working on the Death Railway. Source[/caption]
4. David Marshall, the first Chief Minister (1955 to 1956) of a self-governing Singapore under the British and founder of the Workers' Party: He worked in the coal mine with other POWs.
Marshall was a 38-year-old SSVF volunteer who had experienced battle action against the Japanese in Singapore.
[caption id="" align="aligncenter" width="384"]
Source: NAS[/caption]
When the British surrendered, Marshall was captured by the Japanese and became a prisoner-of-war (POW).
According to the book, Marshall of Singapore: A Biography by Kevin Tan, Marshall's SSVF B Company was marched to Changi a few days after the British surrender. After a period of time spent as a POW in Singapore, Marshall was sent to Hokkaido, Japan.
[caption id="" align="aligncenter" width="900"]
POWs in Changi Prison. Source[/caption]
In Hokkaido, Marshall was forced to carry out manual labour.
"Landing on the island of Honshu, David and his fellow POWs were processed and transported by train to Hokkaido, Japan's northernmost island. Not all the men who arrived on the Kyokku Maru were destined for Hokkaido. Each POW camp in Japan was attached to some industry, such as shipbuilding, steel manufacturing, coal mining or even the wharf of a large port. David's camp, known as Hakkodate Camp 1B, was attached to a company known as Mitsui Kozzan or Asano Coal... When David arrived, he would have been taken from the port city of Hakkodate to Nakajima... David's group, which comprised 349 British, 155 Dutch and 5 American POWs, were moved to another seaside town called Yakumo (Yagumo), where conditions were better."
Life was difficult in Hokkaido for Marshall.
"David and the other POWs were originally made to work in the coal mine. However, David, who by time had been reduced to 118 lbs, became too weak to work as a miner and was assigned to move earth with a pick and shovel for the construction of an airfiled. Later, he was detailed to smash iron ore that came in huge blocks from Manchuria with a 40-lb hammer and an anvil. These blocks had been sluiced from the mountain and were frozen solid. Although their food quotas were the same as that of Japanese manual labourers, they were still underfed. However, it was the bitter cold - with the mercury dipping below -15°F (-26°C) in winter - that made life miserable for the POWs. After the war, David often told friends and relatives that he was sure he would not have survived another winter at Nisi-Ashibetsu, had the war not ended when it did."
Marshall spent the rest of his time as a POW in Hokkaido.
Top image from here, here, here, and here.
Here are more articles you can read on World War 2 and the Japanese Occupation:
Here's what LKY and other founding fathers did when WW2 hit S'pore 75 years ago
The Syonan Gallery, Empire Ball, and the Singaporean identity
On the road to Syonan-to: How Singapore got swept into WW2
Becoming Syonan-to: The brutality of the Japanese Occupation from 1942 to 1945
Here's how S'pore's Japanese Occupation survivors endured 3 years of hunger: Part 1
Here's how S'pore's Japanese Occupation survivors endured 3 years of hunger: Part 2
Food people ate during Japanese Occupation gets yummy 21st century makeover
If you like what you read, follow us on Facebook and Twitter to get the latest updates.
If you like what you read, follow us on Facebook, Instagram, Twitter and Telegram to get the latest updates.