He graduated from the Anglo-Chinese School (Independent)'s International Baccalaureate programme in 2015 with an impressive 43 points out of a maximum possible 45.
But Singapore's next bright hope for another Olympic swimming medal, Quah Zheng Wen, is putting on hold a coveted place in the notoriously-tough-to-get-into National University of Singapore's medicine course to chase the dream he shares with our entire nation, and, hopefully, fulfil his peak potential.
The way there: by swimming and studying in the United States, toward the Tokyo 2020 Olympics.
Quah, Singapore's first Olympic male semi-finalist swimmer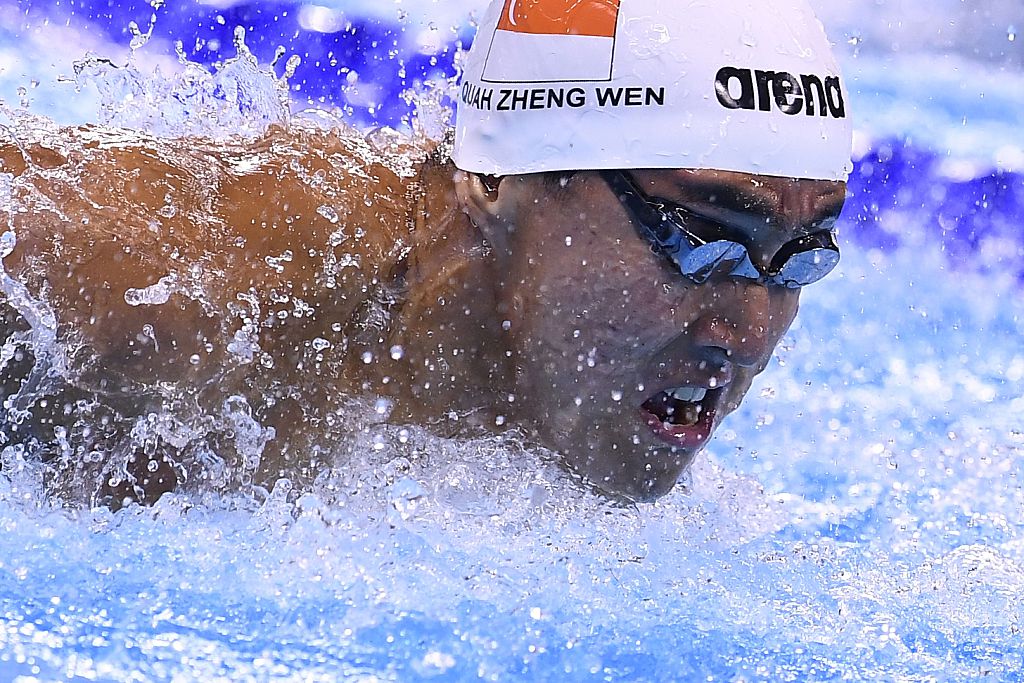 We've all been rooting for his success since we saw his historic swims in the Olympic semifinals in the 100m and 200m butterfly events, where he narrowly missed the final by 0.08 seconds.
Yes, historic, in case you might have forgotten in the heady weeks of our Olympic champion Joseph Schooling's victory -- Quah is the first male Singaporean, not Schooling, to qualify and compete in an Olympic swimming semi-final race.
He swam 0.1 seconds faster (1:56:01) in the first afternoon 200m butterfly heat than in the race that mattered most, and Quah said later on that he wasn't trying his hardest even during that afternoon swim.
So as his alma mater's motto goes, the best is yet to be for him.
And he must know that better than anyone -- National Service deferment in hand, he's ready to go full steam ahead to 2020.
Onward to UC Berkeley, NCAA
We suppose the news of him shipping off promptly to the U.S. to start intensive training alongside a course in chemistry and biology at the University of California, Berkeley, shouldn't come as too much of a surprise then -- judging from fellow swim star Schooling's journey, it looks clear Quah needs to swim among the best in order to be the best.
In a 30-minute press conference on Jan. 11, he told reporters he is looking forward to picking up good habits from the world-class American Olympic swimmers who train with the CalBears, a Division 1 college team that came in second only to the University of Texas Longhorns, Schooling's team.
"There's been a couple swimmers from Singapore who have gone overseas to train with the NCAA (National Collegiate Athletic Association), and I've been hearing a lot of things about the competition -- just about the energy at each meet, and the level of competitiveness at it.

I don't know, I'm not really thinking too much about it; I guess I'm just looking forward to competing at a really high level with a bunch of fast guys, and I think it'll be a really amazing experience, and not to mention (swimming with) a lot of my old friends again."
He has not yet heard back from the NCAA, though, about whether he can compete under its banner -- throwing a spanner into the works is the fact that he had been training full-time between several international and world swimming meets since graduating in end-2014.
But in the meantime, he'll be starting a new term at UC Berkeley on Monday, and just flew off on Thursday afternoon to get ready for the new semester:
And here's a nice photo of him with his national swim sisters Ting Wen and Jing Wen:
Watch this space, folks. We're looking forward to what this 20-year-old ace will achieve in the coming years.
Related articles:
Quah Zheng Wen granted NS deferment till 2020 Olympics
S'pore Olympian Quah Ting Wen writes heartfelt note defending brother, shares joy & pain of competition
S'pore's best swimmers Schooling & Quah don't owe our media any soundbites
Top photo: Action Images via Reuters
If you like what you read, follow us on Facebook and Twitter to get the latest updates.
If you like what you read, follow us on Facebook, Instagram, Twitter and Telegram to get the latest updates.