There's an old saying that victory has 100 fathers and defeat is an orphan.
Over the past few days, two of the Republic's very best swimmers -- Joseph Schooling and Quah Zheng Wen -- competed with the world's best, acquitted themselves well (both qualified for the semi-finals) but came up short.
Below are two quick interviews the swimmers did with Channel NewsAsia:
1. Quah Zheng Wen (ZW)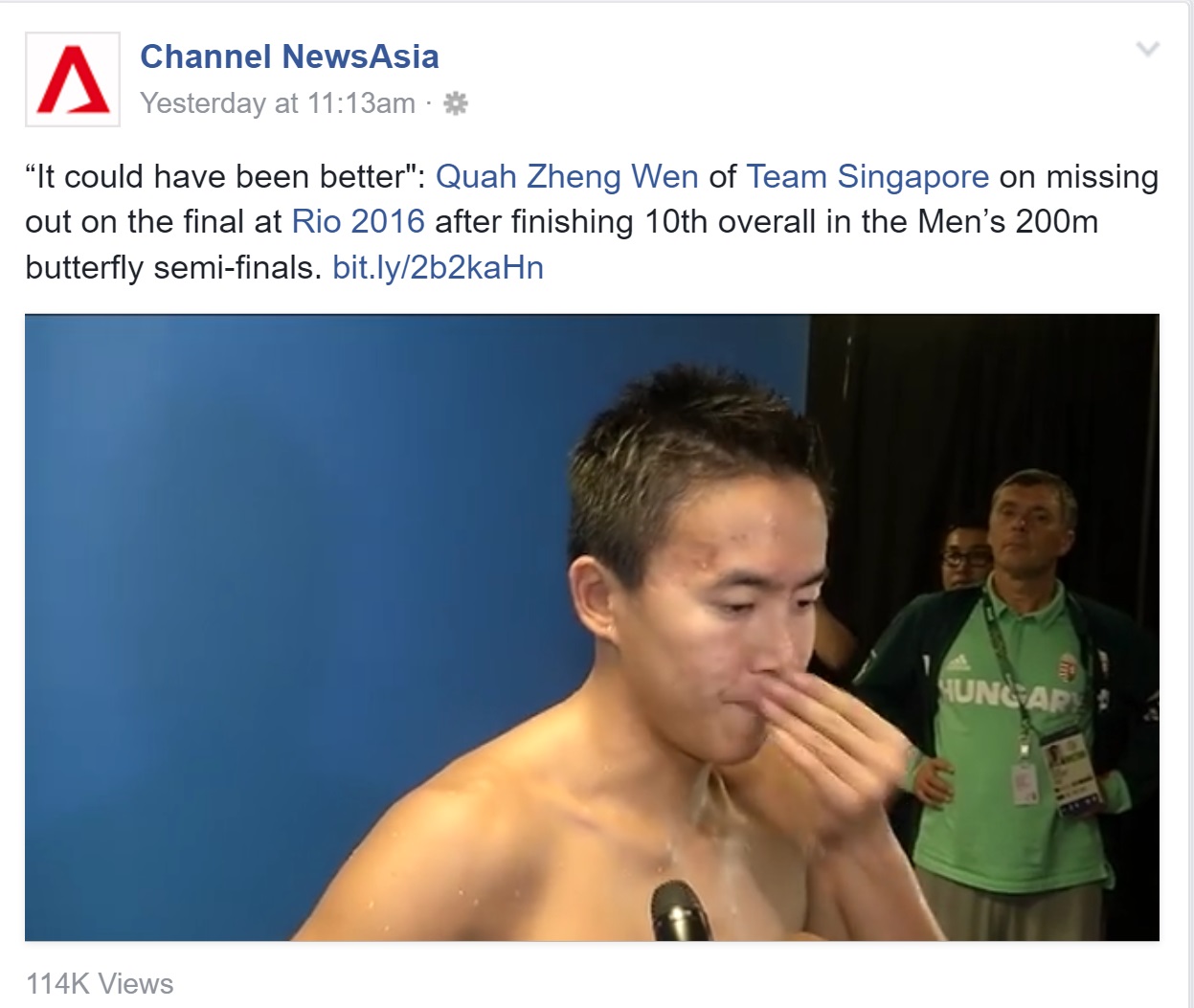 Interviewer: Hey Zheng Wen, well done. Can I have a very very quick word on how you think you did?

ZW: It could have been better. I mean...I don't know. It's just (shrugged his shoulders)...kind of tired (sigh) I don't know. I don't know (sigh) what to say man. I think (sigh) I should better get back and talk to Sergio (Lopez), see how I did and break down the race.

Interviewer: Two of your best swims ever.

ZW: Yah, I guess. But..

Interviewer: You've got to be really proud of it.

ZW: Yah, it could have been better.

Interviewer: Well done indeed.

ZW: Thank you.

Interviewer: Okay, all the best.
Our take:
ZW was visibly disappointed that he did not qualify for the finals -- his body language said it all. He kept sighing and saying that he "could have done better". In fact, the journalist had to comfort him and praise him for his performance twice.
However, The New Paper's Leonard Thomas was rather harsh when he criticised Quah for disappointing people with his attitude towards the Singapore media. After his poor performance in the men's 100m backstroke heats, Quah walked past the media without taking any questions.
In fact, Thomas upped the ante by saying that Quah's attitude towards the media was a "test of his character" (or lack of).
A former journalist -- Ian De Cotta -- also supported Thomas' commentary, asking Quah to "man up", "face up to his failures and talk about them".
Could Quah be friendlier towards the media?
Perhaps, but let's show some empathy towards this 19-year-old boy -- he had just lost two races (his pet events) and would need to wait four more years to aim for a medal again.
2. Joseph Schooling (JS) (Video here)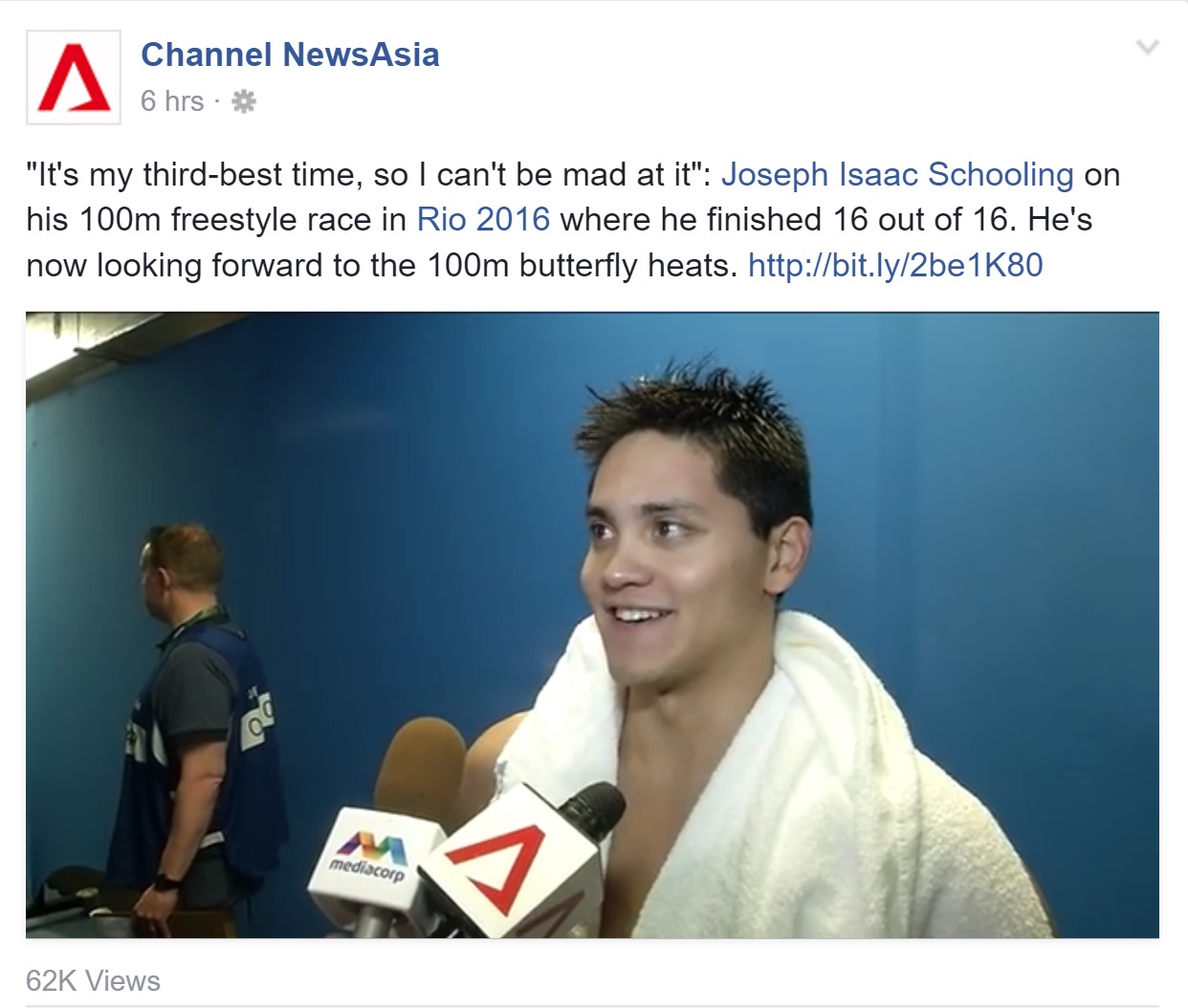 JS: "It was alright, you know. Thought I was going a lot faster but I just couldn't get into the race. Erm, I mean, this is my third best time, I think so. I can't be mad at it.

It's just a warm-up for the 100 fly, that's what I am focusing on. I feel fine. Erm, it's hard. I never raced like 10 o'clock at night. That's not an excuse but you know, I think this is a good learning curve to set me up for Thursday, hopefully, Friday. I'm happy about it. It's fine."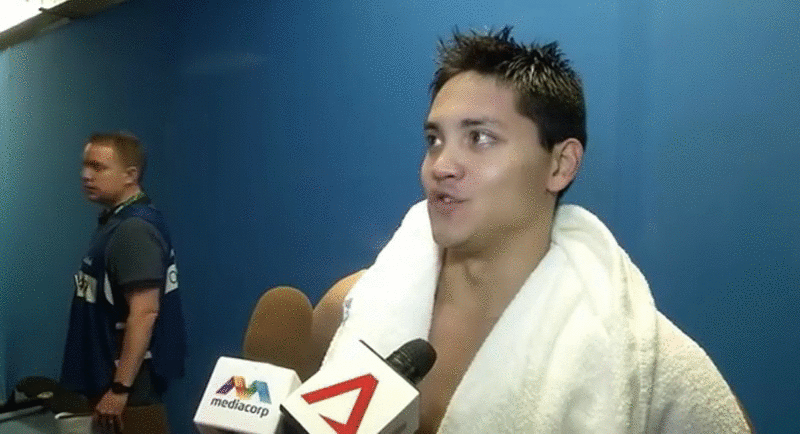 Our take:
Schooling's body language was obviously a lot more positive than Quah.
After all, Schooling still has his pet event (100m butterfly) on Thursday and he adopted the "getting into the 100m freestyle finals would be a bonus" type of attitude.
As a more experienced swimmer, Schooling is clearly more comfortable with the media and did not need the journalists to comfort him.
In fact, he was able to provide some context to his performance by saying that his swim was not that bad -- it was his third best time.
Putting our swimmers' performances in perspective
Let's get this negative perception out of the way -- our top swim guys did not "bottle it".
Nope, they did not suffer from stage-fright on the world stage -- it's just that they did not improve astoundingly enough.
Here are a few facts that will put things in perspective:
Both Quah and Schooling became the first two male Singapore swimmers to book their spots in the Olympics semis -- these performances are better than any of the past local swimming legends.
Quah swam 1:56.01 in the afternoon heats for 200m butterfly, which was a personal best for him.
Schooling of course did a personal best in the 100m freestyle (48.27) and broke the national record.
And you know what shows character, Mr Sports Reporters?
Qualifying for the Olympics.
Schooling and Quah are Olympians.
So, give them a break and not distract them, the armchair critics of Singapore.
This is much time for reflection, review and navel-gazing (if we can see beyond our tummies -- including mine) after they have completed all their swims.
Unrelated but good stuff must share:
McDonald's is one step to bringing everyone closer to Atas-ness with these 3 premium burgers
Top photo from Singapore SEA Games Organising Committee/ Action Images via Reuters
If you like what you read, follow us on Facebook and Twitter to get the latest updates.
If you like what you read, follow us on Facebook, Instagram, Twitter and Telegram to get the latest updates.