Youtiao666 is neither breakfast food. Nor Satanism. Or lesbians.
In this brave new world where narrowcasting is the new broadcasting, good on you if you have an inkling who they are. If you don't, you are not their target audience.
But now that you've unwittingly crossed paths with them -- partly because you are shallow enough to click on an article featuring two well made-up girls -- and if we had to explain the who, the what, the why and the how?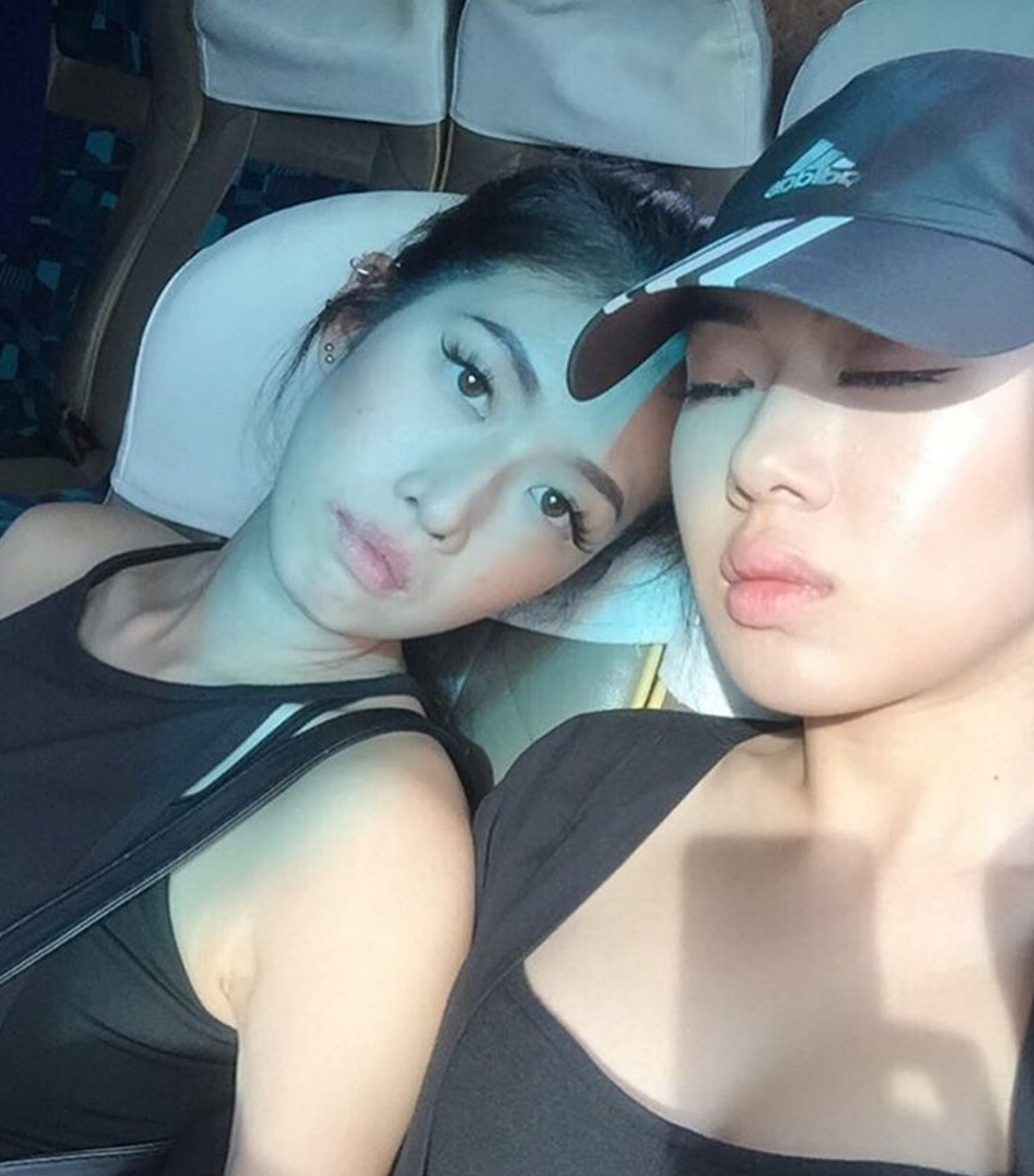 The duo consists of Charlotte (left), 23, and Michelle (right), 22. They are a pair of Singaporean girls with advertiser-friendly countenances.
Both are former course mates and alumni of Lasalle College of the Arts, their claim to fame is their innate ability to lip sync very well. If you remember, Grammy Award winners Milli Vanilli fell from grace because they were caught lip syncing?
How times have changed indeed.
Youtiao666 unofficially exploded into the social media consciousness in November 2015.
And because times have changed, lip syncing is now known as dubsmashing and a dubsmash video of them mimicking car sirens received international coverage and raked up hundreds of millions of views.
Why? In this day and age, just because. This is a talent.
But the harsh reality is that views cannot be eaten. And what cannot be eaten cannot be cashed in at the bank. They, therefore, didn't make a single cent off that video and plenty of others, despite being completely bankable.
Which means, they had to come up with a plan. And the plan involves banking in on their unique capabilities. Fast.
The Youtiao666 appeal
Existing way before our current post-fact, Trumpian world, where the truth don't matter and social etiquette are mere suggestions, Youtiao666 has built a following of over 57,000 Instagram followers based on make-up videos and antics that neither verify nor falsify your take on reality or the state of existence.
Part of their undeniable appeal is that they are attractive to males and females, but not in a seductive way. In a mediascape dominated by self-proclaimed influencers and queens, they are more apart from than a part of this scene.
If you like, they are peerless in this regard.
They are somewhat rough around the edges. Somewhat more irrational. Self-deprecating enough. Borderline nihilistic, if you may. But fabulous, nonetheless.
They can showcase their polished veneer in all its over-the-top RuPaul's Drag Race glory, as much as having no qualms putting their worst faces forward.
They are the sort of people who would appreciate the following riddle:
"What is black and white and has red all over?"
"A dalmatian chewing a razor blade."
The punchline is worthy enough for the set-up, and vice versa.
Rest assured, they will be the ones that leave you questioning what does this all mean.
For example, they would blithely denounce a short-lived social media challenge by informing you your life is a joke:
And proceed to do the Mannequin Challenge by themselves:
Not as if they will even bother with any form of animadversion.
Because in a world where real and fake are for chumps and the points no longer matter, Youtiao666 is what you would recognise as "authentic".
To try to figure out how the sausage gets made, Mothership.sg sat down with the girls one afternoon to suss them out.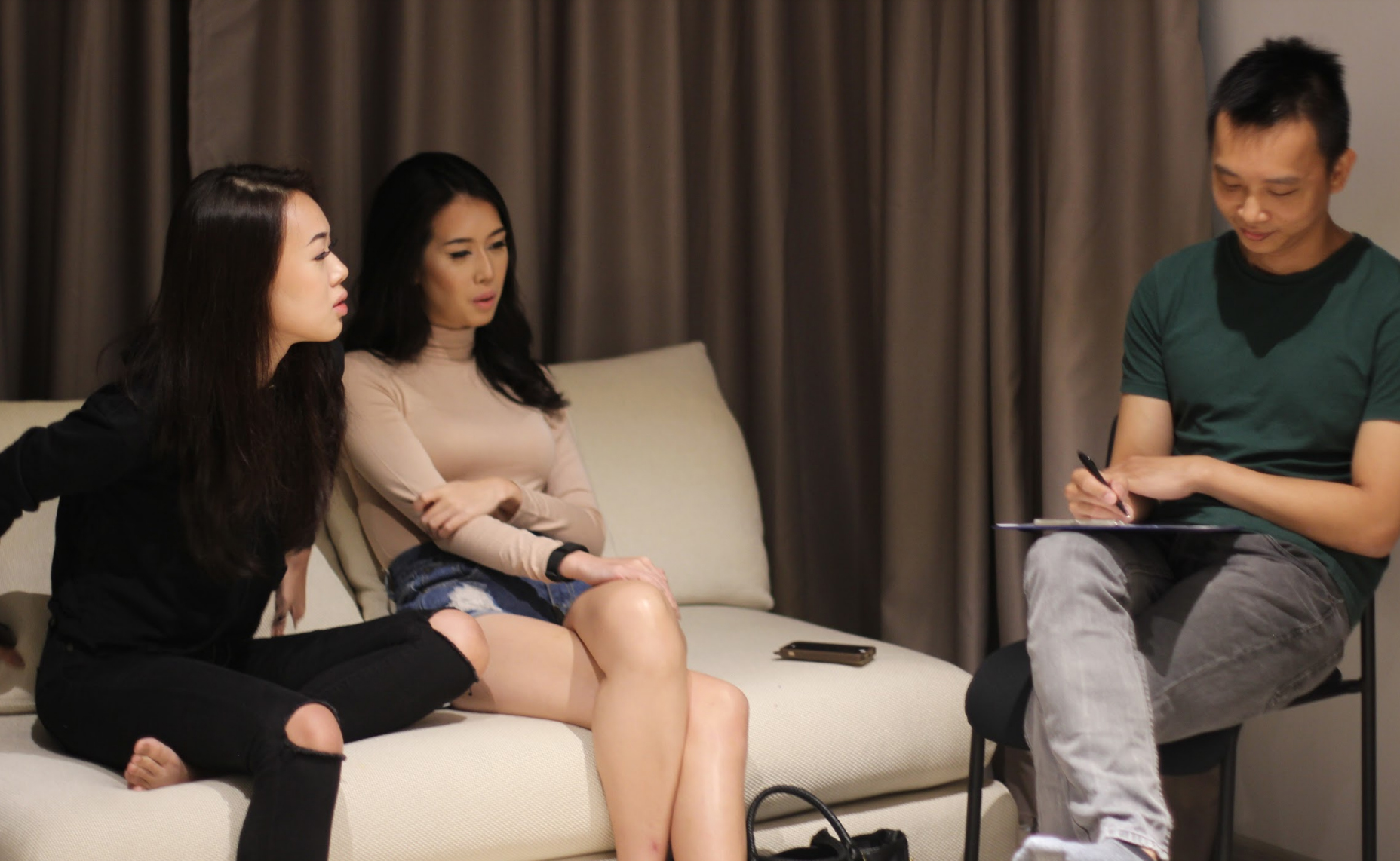 The first thing that would hit anyone who views the girls up close is their intense make-up.
Next, is the lively conversations they would have between themselves. Going off-tangent is completely normal. Being painfully ironic and completely self-aware is part of the deal.
But making complete sense is still a pre-requisite.
Look, they are the only ones in this land capable of taking Nathan Hartono, the first runner-up in one of the biggest singing competitions of all time, and brazenly emblazon the number of the Beast on his forehead.
Does that make any sense to you? Okay good.
The following are 26 questions and answers that would try to figure out who they are, where they intend to take their craft, and generally, what kind of sorcery is all this?
1. To break the ice and to answer a question on the minds of a lot of our readers: Are you both lesbian?
Charlotte: No, we're brothers.
Michelle: Ya, we're brothers.
2. Then how did you both know each other?
Charlotte: We were course mates in Lasalle College of the Arts for three years and we just graduated.
Michelle: Charlotte specialised in graphics and I did illustration, which is completely useless.
3. When did you decide you were close enough to start something together?
Charlotte: We always hung out in the same clique. No one else patronised our weirdness and nonsense, so we found each other and we became each other's enabler until we both go mad. And we started doing nonsense videos. Then we created an account so we have an outlet and we forced our friends to follow and like.
Michelle: Initially we were sending our videos to all our friends on WhatsApp, and they would tell us to shut up. And then we gained traction from there.
4. So, what do your parents think about what you're doing now?
Michelle: We didn't tell them at first, as it is obviously embarrassing. But the moment you make money, they're proud.
Charlotte: At first, my parents were like, "Are you sure?" After a while you make money they are like, "Okay, okay."
They are very supportive now. Every single video they comment.
5. So does that make you embarrassed that your parents are watching your every move on social media?
Charlotte: No, not at all. Or anymore. But last time, yes.
6. You believe you can continue doing this making of videos line of work?
Charlotte: No, of course not. We know this phase won't last. This superficial phase won't have longevity. We are looking more at producing, directing and scripting.
Michelle: And I'm actually very bad at acting.
7. Do you have haters?
Charlotte: No, not at all. I hope this doesn't start, "Eh, they don't get hate. Faster send some."
Michelle: Ya, we get lots of haters.
8. What kind of humour turns you on?
Charlotte: Satire, irony. How do you describe it? Like you are very, very informed, and when you are very, very informed, you are a meme-maker.
You present your level of intellect in the most basic form.
10. You consider what you're doing intellectual?
Michelle: Extremely. We share things we feel other people should know. But just because I know and other people don't know, it doesn't mean I'm very intellectual. It just means you're uninformed.
11. Who are your heroes?
Charlotte: Kurt Tay. Steven Lim.
Michelle: Foyce Le Xuan.
12. What do you think is your appeal then?
Charlotte: Because we're girls. Then after that we got brain and people are like, "Oh shit, they got opinions? They are actually funny?"
13. So, do you think you are exploiting your audience in a way?
Charlotte: No, I think they are exploiting us. Do you know people get angry with us. When we first started doing advertisements, people got angry with us. Like, what, you want me to entertain you for free? For the rest of my life? They are like, "Selling out is real."
I just want to eat. I'm just good at what I do.
14. Do you then explain to the audience you need to eat?
Charlotte: No. Who are they? Why do we need to explain ourselves? We keep putting ads. And we don't mask it. We just put it in caps and make it very obvious.
We have managed to do it very tastefully.
Delusion is the key to success.
15. Based on what you see on Snapchat or Instagram, who do you consider your peers? Who would you want to be associated with?
Charlotte: I only want to be associated with her. [Holds Michelle]
16. So you think you're peerless?
Michelle: We try not to get involved in the local scene because I don't think we share the same kind of ideas.
We're just different. We've met the different people before, and they're nice. But we're not trying to appeal to children.
If you appeal to the lowest common denominator, you make the most money. So, I think they are the smartest.
17. How do you judge the humour scene in Singapore then?
Michelle: There's no humour scene. [Silence]
Charlotte: We cringe-watch a lot of Toggle.
18. What inspires you?
Michelle: All the famous people in Singapore. Like Aaron Tan, Kurt Tay, Foyce Le Xuan. When Jack Neo had an affair, she came out and said she is very moral. She had a New Paper front page. I cut her face out and paste on my wall.
We love this kind of things. So inspiring.
19. What do you hope to see in today's media scene in Singapore?
Charlotte: More informed. I love how Toggle keeps messing up. The recent black face faux pas is almost like they did it on purpose. They just want to get a reaction out of everybody.
There's no way someone would say, "African Americans and Indians are the same". There's no way that was not intended. Who would say this kind of things? Why would anyone keep letting these things happen?
I'm quite interested to find out who is the enabler behind these things.
20. Do you consider yourselves angry people?
Charlotte: No, we're not angry at all. We laugh at everything. We very chill one. If things mess up, we just laugh. If you get angry, you're just wasting your time.
Michelle: And when you hate, you become ugly.
21. Do you consider yourselves sex symbols?
Charlotte: No, not at all.
22. What if people perceived you that way?
Charlotte: Good for them. Thanks.
23. Are you representative of your age group?
Michelle: A lot of our friends are like that.
24. Can you act?
Michelle: No.
25. Tell us more about Preetipls?
Michelle: Someone had to say something. We couldn't do it because we're normal-looking. We took two hours to script, two hours to shoot and two hours to edit. It was a six-hour job and it was up. Everything on iPhone.
We followed the format Toggle did.
26. So can I paraphrase your approach to life? If you become mainstream, then so be it? If you become niche, you don't care?
Michelle: If you put us on a rice package in Sheng Siong, we don't care. If you put us on 7-Eleven ad slurping a slurpee, it's okay.
Charlotte: Like we don't see anything wrong with that. People always say, "Sell-out, sell-out", but we don't see anything wrong with that. There is no such thing as sell-out. There's only rich.
Read more Almost Famous interviews:
Bilahari Kausikan never finished his PhD, reads mystery novels and explains why he shares lots of FB posts
The man who hunted down books for Lee Kuan Yew
GIC Group President Lim Siong Guan: a workaholic 69-year-old who takes the MRT
Rather Famous: Joseph Schooling goes one-on-one with Mothership.sg
20 years of living in the U.S. later, S'pore's first Googler still speaks fluent Singlish
If you like what you read, follow us on Facebook and Twitter to get the latest updates.
If you like what you read, follow us on Facebook, Instagram, Twitter and Telegram to get the latest updates.