Last Friday, Kiasu Parents co-founder and mother Soon Lee Young was vilified online after TODAY ran a story on her and her son.
In case you aren't aware of the story, here is the gist of TODAY's article:
- TODAY reported that Soon's son, a 2016 PSLE student, was targeting a T-score of 250 for his exams, while Soon herself had a more conservative expectation of 230.
- The article mentioned that Soon had agreed to buy her son a Nintendo DS if he had scored 250, but he had only managed to get 229, despite getting straight As.
- TODAY quoted Soon telling him "you can forget about your Nintendo DS" in response to his SMS asking if she was angry with him over his PSLE performance.
Like many others who read TODAY's story, we felt sad for Soon's son, and felt that such emphases shouldn't be placed on one's numerical score — a direction and sentiment echoed and shared by the Ministry of Education, which as we know will scrap PSLE scores by 2021.
We also understood from the story that it meant he wouldn't be getting his reward of a DS, as did this Carousell user who offered to buy him — or anyone who performed similarly — a DS: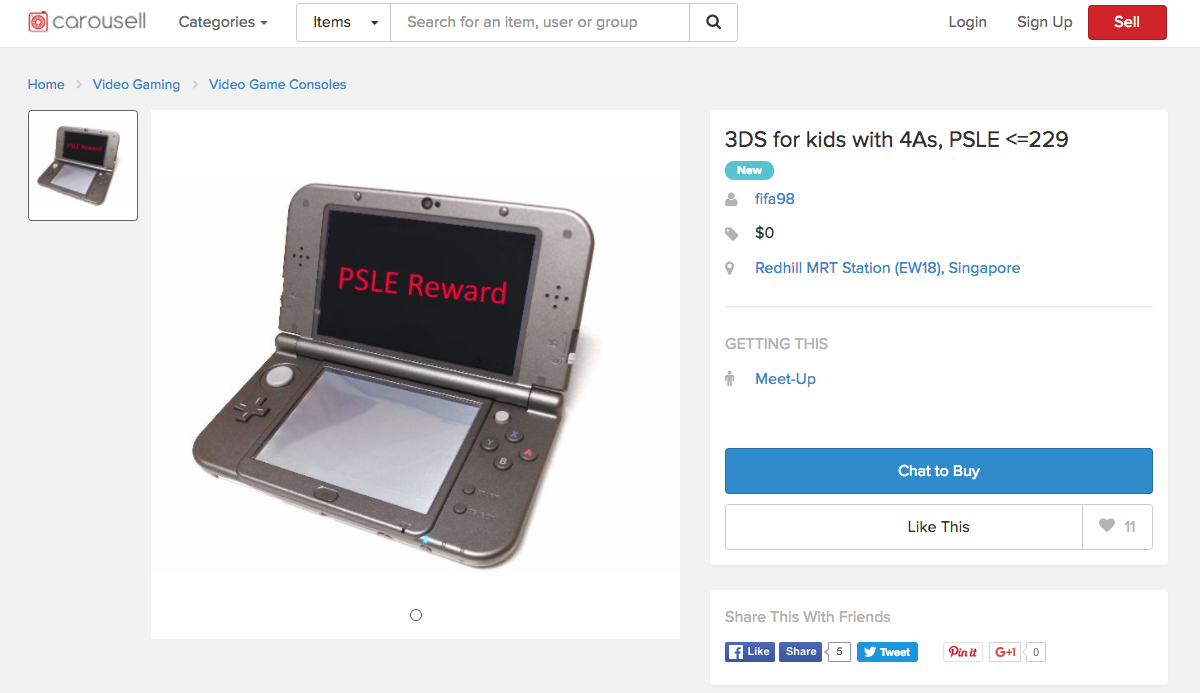 It now seems that TODAY's story on Soon and her son had not given the full picture of what had actually happened between mother and son.
Soon took to the website she started and penned an open letter in response, which we summarise here:
1) The "You can forget about your Nintendo DS" comment by Soon, which was perceived by many to be overly harsh, had a context.
- Soon's son was disobeying her 30-minutes-per-playing-session rule on the DS console he had (yes, he already has one, and she confiscated it because he was breaking the rules governing its use.).
- She had offered to return it to him if he was able to improve his score, in the hopes of motivating him to work harder.
- The comment was not made via a text message. Instead, it was made during a private conversation she had with her son, with the TODAY reporter standing by the side — the latter probably overheard it.
2) The article came from her allowing the reporter to follow her around on results day, but has since affected her son even more than his actual results, or DS deprivation.
- Soon said she treated her son to a good meal afterward, with her key message being "What is done is done, the hard part is over".
- They are also going on a family holiday, but not as a reward to her son because "I don't believe in tying such experiences to grades — we travel for enjoyment and exposure."
3) She said she felt betrayed by the fact that her request to keep her son's score private was not honoured.
"For those who question why I wasn't more media savvy and cautious in my dealings with the reporter, I did request that she not reveal personal information such as my son's score, but that request was not honoured. I have wondered if there was more I could have done to protect my son's privacy. I never thought we would be thrust in the spotlight and I admit I feel betrayed. I'm a private person by nature too."
4) She said something pretty sagely about academic results, actually:
"Results are never the end goal; they only provide a form of feedback as to whether your efforts are working, and they are not always accurate. What you must strive for is a good attitude and a willingness to reflect and consider your next course of action. Never wallow. This will ensure that you're ready to handle anything that life throws at you, even when I am no longer around."
You can read the whole thing here.
Some background on this story:
Carousell user offers Nintendo 3DS for kids who scored 4 As and 229 or below for PSLE
If your child is able to get 4 As for their PSLE, they should not be worrying about you getting angry
More on the latest round of PSLE results:
On the other hand, kids need to be disciplined & told PSLE matters
ITE lecturer retook PSLE, made it to JC, failed to complete A-level but pressed on
S'porean guy reflects on losing his mom 2 days before he took PSLE
Adults reveal PSLE scores & what they're doing now as encouragement for primary school leavers
Top photo adapted from here and here
If you like what you read, follow us on Facebook and Twitter to get the latest updates.
If you like what you read, follow us on Facebook, Instagram, Twitter and Telegram to get the latest updates.