It has been more than a year since a fight broke out between a king cobra and a python at the Nanyang Technological University.
Here is the video:
" frameborder="0" allowfullscreen>
While there was no fight this time round, a solitary two-metre long snake was spotted wandering about NTU at around 2.20am on Oct. 12.
Student Koh Xiu Ming was returning back to his dorm room after going to the toilet when he spotted the snake just outside his room.
Which, understandably, led to the calling of hall security, who in turn notified campus security, who finally alerted a pest company.
The snake was cornered in one of the dormitory's toilet cubicles.
Here is the little bugger.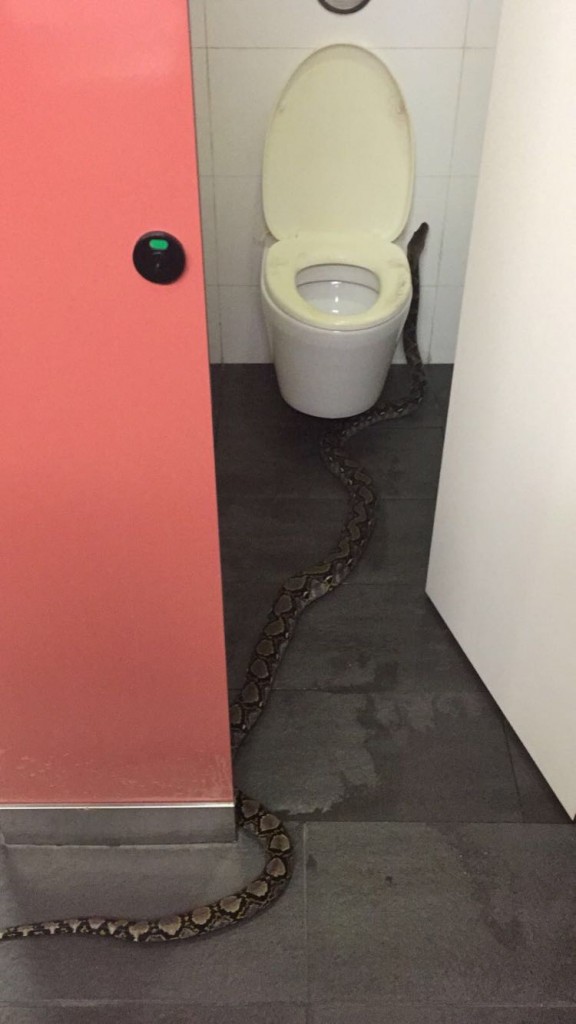 According to some students, the snake was eventually taken away in a sack.
A NTU student told Mothership.sg he was concerned about the cat community currently residing in NTU.
Third-party contractors often may not understand the university's stance on animal welfare, and may opt to utilise their own protocol, which may include putting animals to sleep.
Other students found humour in the situation, even wondering what the snake might be named. One suggestion include, "Snakey McSnakeface".
Hilarious.
Related article:
Python vs cobra fight in NTU broken up by pest control
Top image from Nanyang Chronicle
If you like what you read, follow us on Facebook and Twitter to get the latest updates.
If you like what you read, follow us on Facebook, Instagram, Twitter and Telegram to get the latest updates.