19-year old national swimmer Quah Zheng Wen was in the spotlight recently for his failure to engage the media after his two swims.
A journalist from The New Paper took the slight as a sign of weakness in the swimmer's character, publishing not one but two commentaries on the matter.
Joseph Schooling however gave a rather lengthy interview after his 100m Freestyle race, so all good right?
Nope.
Men's Health
Men's Health, which is also an SPH publication, published a piece criticising Schooling's post race interview.
Calling his reply "douchey-sounding", Men's Health said that "Schooling should really apologise for his comments".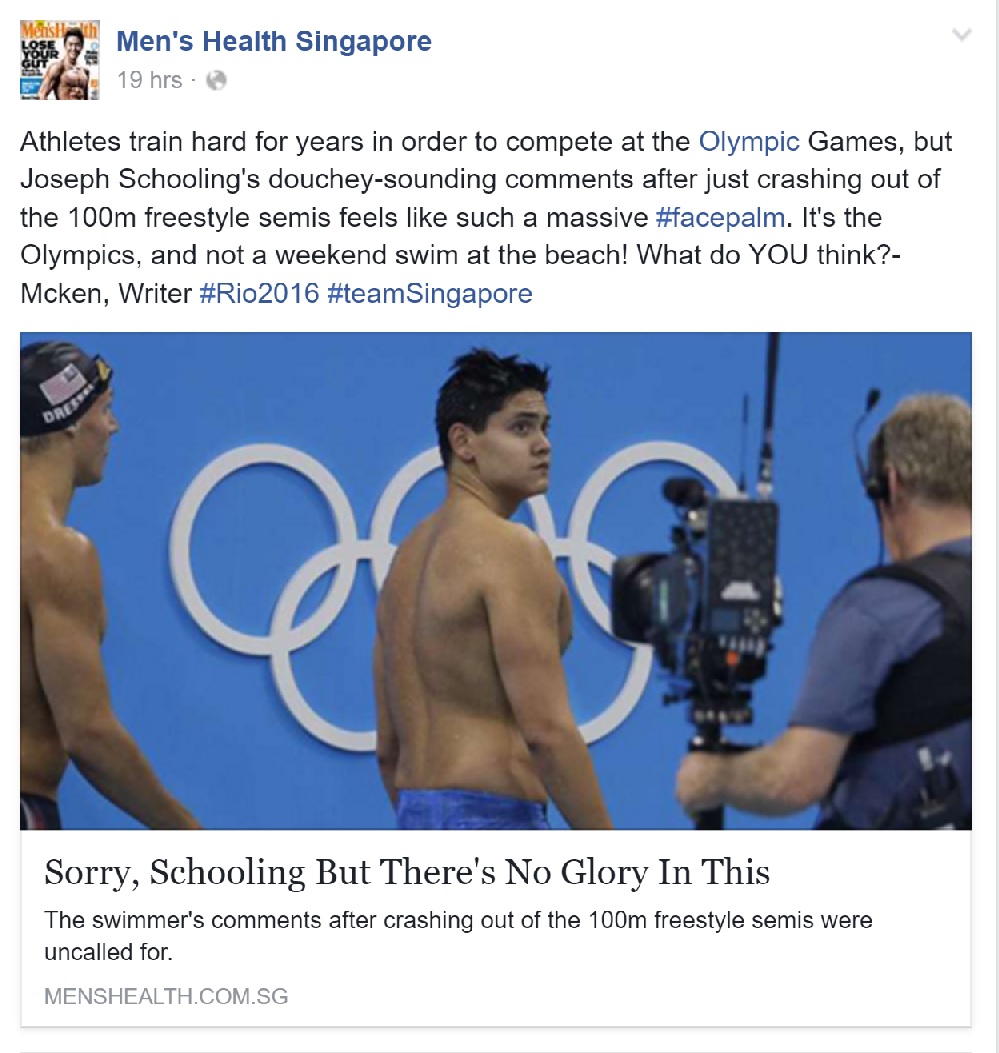 Before we move on to the criticism itself, here is what Schooling said in a CNA interview.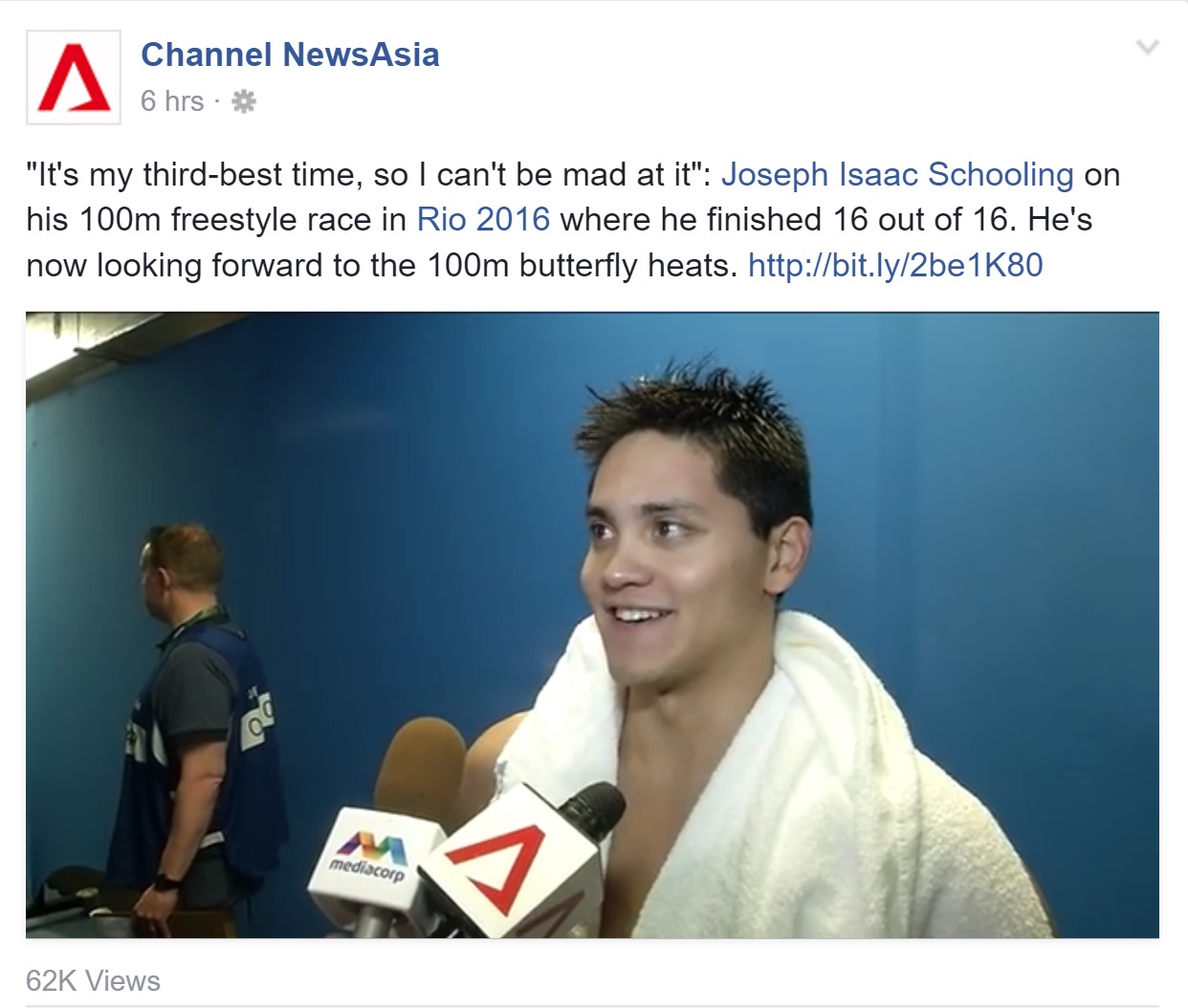 "It was alright, you know. Thought I was going a lot faster but I just couldn't get into the race. Erm, I mean, this is my third best time, I think so. I can't be mad at it.

It's just a warm-up for the 100 fly, that's what I am focusing on. I feel fine. Erm, it's hard. I never raced like 10 o'clock at night. That's not an excuse but you know, I think this is a good learning curve to set me up for Thursday, hopefully, Friday. I'm happy about it. It's fine."
And here is what he said to another media publication
"You just need to get the nerves out, that's the biggest thing having swum a night swim," said the swimmer after the semi-final. "I know how I need to feel, how to adjust my body.

It (the 100m freestyle semi-final) was all right, I mean I actually warmed up for my 100m fly. I don't train for this event, so it was nice to be top 16. I'm pleased with it, it's nice to get out and race these guys. I'm happy, I rest tomorrow, get ready for the 100m fly and then Thursday and Friday it'll be better."
Mcken Wong, a writer for Men's Health, took issue with Schooling's answer.
Lack of effort
Wong claimed Schooling was not taking the race seriously.
Most of us do understand that it's not about the medals, and we tamper our expectations accordingly.

If the best effort is spent, then that's all we supporters ask for. Unless, of course, you blatantly admit to putting in a half-hearted shift.

Apparently, that's what Joseph Schooling, one of our Republic's top athletes, did.
Lack of training
Another issue Wong had with Schooling was that he had not trained for the event.
A race is a race. Athletes train for years to attain a level just so they can gun for the very best.

The Olympic medal is the highest accolade that professional athletes can ever dream to attain and Joseph has just disrespected the other competitors in the field by saying he doesn't even train for it. This isn't a fun Sunday swim in the Bahamas. This is the real deal.
Olympics
Now, once again, we would like to highlight the fact that this is the Olympics.
This is not, as the writer so eloquently put it, "a fun Sunday swim in the Bahamas".
The fact that someone made the semi-finals among the literal best of the best is not something you can do without an obscene amount of training.
Schooling was probably talking in relation to his pet event, the 100m butterfly, the race which he has the best chance of getting a medal.
Was that point perfectly put across in the interviews Schooling did? Probably not.
Should we expect a perfectly rehearsed answer after swimming in an Olympic event? Of course not.
Criticism
Criticising and analysing the performance of athletes is fine, it is what sports reporters are supposed to do.
However, as we have shown in our earlier article, the swimmers have been doing pretty well.
What some sports reporters seem to be doing is ignoring the performances, and instead, making judgement calls on the athlete's character or attitude (in this example) based on selected snippets of interviews they did, or worse, didn't do.
So, we'll put this out once again, our swimmers do not owe the media any soundbites, especially if this is what they do with those soundbites.
Related Articles
S'pore's best swimmers Schooling & Quah don't owe our media any soundbites
Top photo from Action Images via Reuters
If you like what you read, follow us on Facebook and Twitter to get the latest updates.
If you like what you read, follow us on Facebook, Instagram, Twitter and Telegram to get the latest updates.