Singapore Press Holdings has removed articles reporting that Mediacorp Hype Records artiste Rui En was involved in a drink-driving accident on Tuesday, April 12, 2016.
References of drink-driving have been removed from SPH stories, such as those on The Straits Times and this one: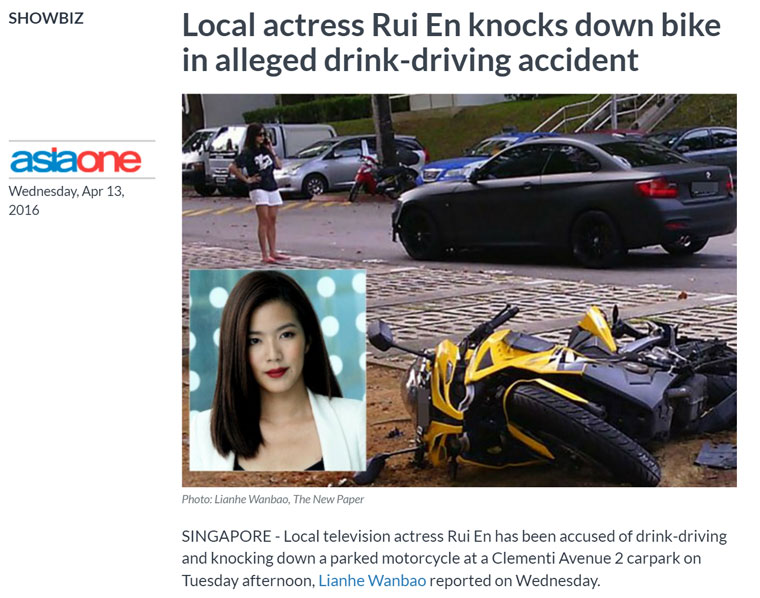 The URL for the above Asiaone page no longer goes to the article titled "Local actress Rui En knocks down bike in alleged drink-driving accident". Instead, it gets directed to their Showbiz section showing the headlines for other stories.
Asiaone appears not to have informed readers of its article deletion.
For the ST article, it initially had a headline that included the words "drink-driving", but was later changed to "Channel 8 star Rui En involved in accident: Manager says it was a case of misjudgment". However, the URL of the article reflects the original headline:

A quick search of the updated article revealed that the report made no mentions of drink-driving, save for the URL.
SPH, which is Mediacorp's fiercest rival (since there are only two behemoth media companies in Singapore), have been having a field day with their stories on Rui En, with Lianhe Zaobao breaking the news.
Today newspaper, a Mediacorp entity, can be read as doing more to protect their own talent and interests, as well as debunking the drink-driving allegations.
From their neutral, non-judgy Today article:
Local television actress Rui En is assisting the police with investigations, after a car she was driving hit a stationary motorcycle at a carpark in Clementi on Tuesday afternoon (April 12).

In a statement, the actress' management company Hype Records said she was "involved in an unfortunate incident...due to some misjudgement".

The statement did not address allegations of drink-driving that were reported by multiple media outlets on Wednesday.
Related:
Rui En's fan club president pens long letter asking for 'prudence and empathy with your pen and keyboards'
If you like what you read, follow us on Facebook and Twitter to get the latest updates.
If you like what you read, follow us on Facebook, Instagram, Twitter and Telegram to get the latest updates.