Follow us on Telegram for the latest updates: https://t.me/mothershipsg
Netflix's series "The Glory" has become one of the most popular Korean dramas as of late.
However, not all the attention has been positive.
Among the controversies is school bullying allegations against its director, Ahn Gil Ho.
This has become an even bigger topic as "The Glory" revolves around its protagonist, played by Song Hye Kyo, seeking revenge on those who bullied her when she was still in school.
What apparently happened
On Mar. 10, an anonymous user on an online community claimed that Ahn had physically assaulted him and a classmate.
The incident apparently happened at an international school in the Philippines in 1996.
According to the user, the bullying started after he and his friend teased Ahn's then-girlfriend.
He alleges that Ahn asked students at the international school to attack him and his friend.
The user then claimed that about 10 older students, including Ahn, beat them when they did not answer their questions.
He wrote: "I just find it absurd and unforgivable that a perpetrator of school bullying would direct a television show about bringing school bullies to justice. So, I decided to make this public."
Ahn's response
While Ahn initially denied these allegations, his legal representative later issued an apology on Mar. 12.
His lawyer said in the statement that Ahn "became momentarily emotional" after hearing about his then-girlfriend being teased, and inflicted an "unforgettable wound" on the victim.
He expressed Ahn's wish to meet the victim to convey his apologies.
Ahn's lawyer added that it took some time for him to respond as the incident happened 27 years ago.
More controversy
Apart from the school bullying accusations, "The Glory" has also received mixed reactions for the depiction of nudity in one of its episodes.
In one scene, actresses Cha Joo Young and Lim Ji Yeon were having an argument.
During the confrontation, Cha's character removed her shirt, exposing the entire upper half of her body.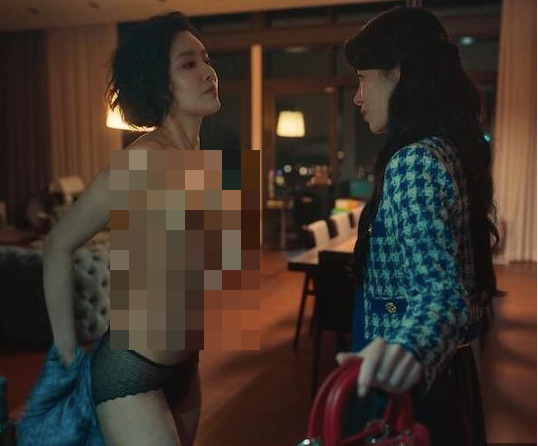 Some were taken aback by the scene, with some calling it "unnecessary" and "gratuitous".
However, others argued that the scene was aligned with the characters' personalities and the context of the fight.
Congratulations! You have made it to the end of the article (whether by speed-scrolling or otherwise). This alone qualifies you to apply for the role of a Lifestyle & Entertainment writer at Mothership. Click here to find out more.
Top photos by Xportsnews & Netflix
If you like what you read, follow us on Facebook, Instagram, Twitter and Telegram to get the latest updates.