Follow us on Telegram for the latest updates: https://t.me/mothershipsg
The Full Subject-Based Banding (Full SBB) will affect the 2023 cohort of primary school leavers entering secondary school in 2024.
In case you need a recap, here's a very quick summary of what SBB is about:
For students entering secondary schools from 2024 onwards, they will be sorted into three groups as they get posted to their secondary schools, according to the Ministry of Education (MOE) in a press release.
Posting Groups to achieve greater diversity in schools and classes
In 2024, based on their Primary School Leaving Examination (PSLE) scores, this group of students will be posted to a secondary school through three Posting Groups – Posting Groups 1, 2 and 3 – which have been mapped from the existing Normal (T), Normal (A) and Express streams respectively.
Students can also use the Posting Groups as an initial guide for their subject levels (General (G1), G2, G3) at the start of Secondary 1.
Unlike the streaming exercise, which is typically tagged to a student's entire four- or five-year secondary school journey, these posting groups will only apply from a student's point of admission from Primary 6 to Secondary 1.
Today, students are arranged to different schools and classes by academic results e.g. Class X is for Normal (Technical) students, Class Y is for Normal (Academic) students and Class Z is for Express stream students.
From 2024, schools and classes will comprise a better mix students of different Posting Groups.
This gives students more opportunities to interact with peers of different backgrounds, strengths, and interests, MOE said.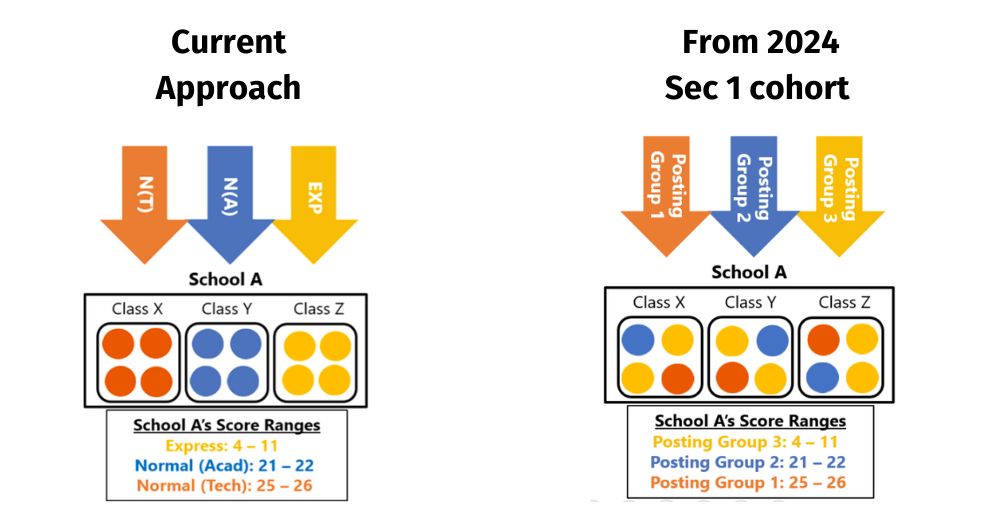 Students can take different subjects at different levels
Additionally, Full SBB will allow students greater flexibility to take different subjects at different subject levels – more or less demanding – as they move through secondary school.
Currently, students who have excelled at English, Mathematics, Science, and Mother Tongue Language during their PSLE can choose to take these subjects at a more demanding level when entering Secondary 1.
Additionally, students will be able to take Humanities subjects at a more demanding level at Secondary 2 under Full SBB.
From 2024, students entering Secondary 1 who face exceptional difficulties coping with Mother Tongue Language learning will have the option to take Mother Tongue Language at the less demanding G1 or G2 levels.
Additionally, students who took English, Mathematics and/ or Science at the Foundation level at PSLE, but are otherwise eligible to take most of their subjects at G3 when entering secondary school, may choose to take their English, Mathematics and/ or Science at the less demanding G2 level, in consultation with their secondary schools.
From 2026, students will also have the flexibility to customise their learning when they reach upper secondary levels, where they can choose to take elective subjects, such as Additional Mathematics, Art, and Design & Technology, at more or less demanding levels.
CPA to be discontinued and replaced by G1 Computing
At present, Computer Applications (CPA) is only offered to students in the Normal (Technical) stream as a standalone subject at the lower secondary level.
MOE stated that CPA will be discontinued from 2024, and it will be replaced by G1 Computing come 2026.
By then, schools will offer G1 Computing as an elective for the Secondary 3 cohort.
Schools will also introduce G2 Computing to upper secondary students as a new elective subject, while schools currently offering O-Level Computing will continue to offer G3 Computing.
Social studies to be discontinued
Social Studies for the N(T) stream will also be discontinued starting from the 2024 Secondary 1 cohort onwards, MOE announced.
G1 Humanities
It will be replaced by G1 Humanities, a subject which is also non-examinable.
At the lower secondary level, G1 Humanities will comprise Social Studies and the Humanities Exposure Modules of Geography, History, and Literature in English.
MOE said this will allow students to enjoy learning, and they can benefit from a broad understanding of the various humanities disciplines.
On the other hand, G1 Humanities at the upper secondary level will comprise Social Studies and one out of the three exposure modules that is of the student's choice.
... and G2 and G3 Humanities
Lower secondary students who have been offered G2 and G3 Humanities will continue with existing subjects of Geography, History, and Literature in English.
At upper secondary, students will continue with Social Studies and a Humanities Elective – Geography, History or Literature in English – of their choice.
They can also opt for an additional G2 or G3 Humanities subject – full Geography, full History, full Literature in English.
Singapore-Cambridge Secondary Education Certificate (SEC) examination
From the 2027 graduating cohort, students will sit for the new Singapore-Cambridge Secondary Education Certificate (SEC) examination.
The SEC will reflect the subjects and subject levels that students offer.
Students who wish to take subjects at a more demanding level will also have to option to spend a fifth year in secondary school.
Related stories
Congratulations on making it to the end of this article. That makes you different. The sort who likes to consume such content. And possibly create your own. For us. The type of content to get more of our readers to stick till the end. Want to write for us? Check this out.
Top image from Chan Chun Sing/Facebook.
If you like what you read, follow us on Facebook, Instagram, Twitter and Telegram to get the latest updates.