Follow us on Telegram for the latest updates: https://t.me/mothershipsg
2022 was a rough year for Kate's (not her real name) family, one that was fraught with illnesses, broken hearts and uncertainty for the future.
Her two loving daughters, even though still young students, wanted to give their mother something special this year for her birthday to cheer her up.
They had never bought expensive gifts for her, and they decided on an iPhone so that it would be easier to share photos if they were all using the same brand.
Money earned selling old textbooks and working part-time
The sisters dug up their savings, hard-earned money they had saved over the years by selling old textbooks and working part-time during the holidays, to make the purchase.
After deciding on the gift, the young sisters browsed the internet and compared prices between retail shops and various online sellers.
Finally, they decided to buy on Carousell to save some money, considering their family's financial circumstances.
They are aware of the dangers of scams. Hence, they made sure to check seller information.
Seller had "good reviews"
After much deliberation, they decided to buy from unclemobile888, a seller with at least 10 "good reviews" and a two-year-old account.
He offered to sell a brand new iPhone 14 Plus 256GB for S$1,250, which was at least S$150 cheaper than the market price.
For some, S$150 might be a pittance, but for the siblings, it meant selling 30 old textbooks or working 20 hours part-time.
Told them he could help them "save money"
The elder daughter went on to make the order, and the seller, who calls himself "Richard Yang", promptly contacted her through WhatsApp.
He wanted her to PayNow the amount instead of using the platform's Caroupay, as he claimed that doing so would save some money for them by avoiding the "platform fee".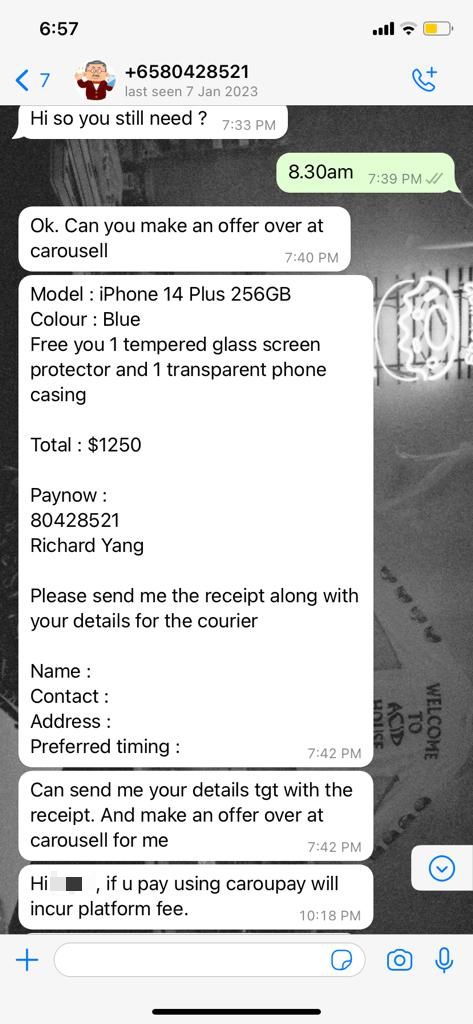 She disagreed and offered to do a face-to-face transaction instead.
Seller disappeared with no phone delivered
"Richard" knew she wanted the phone in a rush, so he told her that if she made the transfer immediately, he would ensure the phone reached her doorstep the following day.
She was convinced, albeit still wary, and made the transfer believing there should still be some trust between people.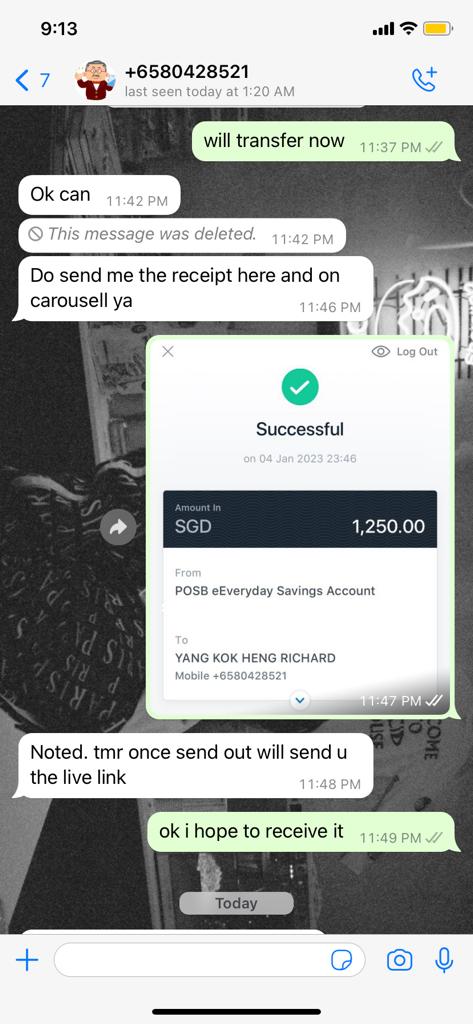 The phone didn't come the following day.
She asked him for a refund, and he disappeared from the face of the earth.
The young siblings only told Kate about it a few days after her birthday after they felt it was too unbearable to keep it as a secret.
A caution to other teens
Kate shared her story with Mothership as a cautionary tale.
She was heartbroken that her kind, young daughters had to endure such an ordeal and hoped other teenagers would be more careful dealing with people on the Internet.
They went to the police twice but were told it was almost impossible to track the scammer down.
She then tried to do something about it and found another "Melvin" trying to scam people with the same modus operandi using the account trademobile888.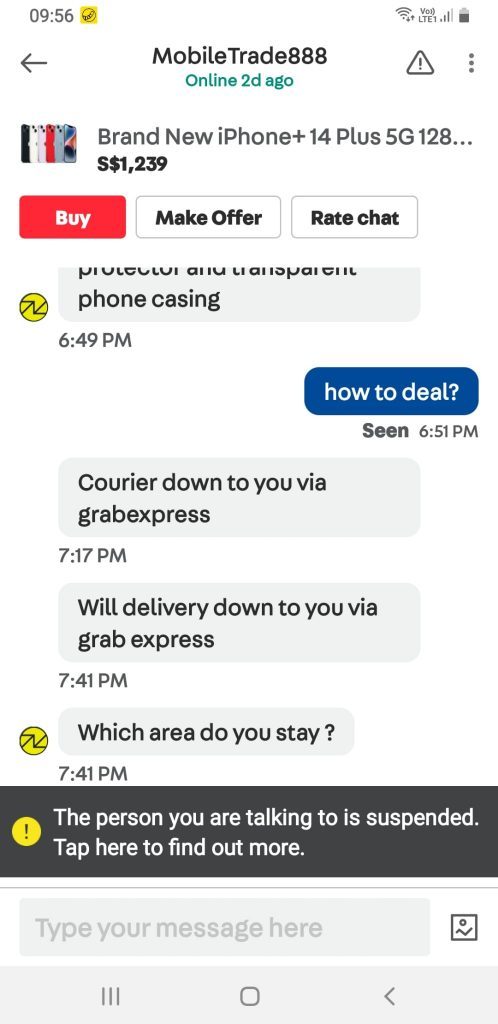 Trademobile888 was banned by the platform shortly after.
Carousell tops 2022 e-commerce scam ranking
According to statistics released by Singapore Police Force on Feb. 8, Carousell is the most common platform on which e-commerce scam victims encounter scammers at 1,834 cases, making up 38.5 per cent of the total 4,762 cases reported in 2022.
S$21.3 million had been lost to scammers through e-commerce scams in 2022, compared to S$5.9 million in 2021, a 261.0 per cent increase.
Youths aged 10 to 19 made up only 6.7 per cent of the total number of scam victims across all scams, and they fell prey equally to e-commerce, phishing and social media impersonation scams.
Kate laments, "It might be difficult to stop them, but I hope Carousell can do something more about it."
Top images via Unsplash and provided by Mothership reader.
If you like what you read, follow us on Facebook, Instagram, Twitter and Telegram to get the latest updates.