Scam victims in Singapore lost a total of S$660.7 million in 2022, according to the 2022 Annual Scams and Cybercrime Brief released by the police on Feb. 8.
This was compared to S$632 million lost in 2021.
The number of scam and cybercrime cases increased by 25.2 per cent to 33,669 in 2022, compared to 26,886 cases in 2021.
The total number of scam cases increased by 32.6 per cent to 31,728 in 2022, from 23,933 cases in 2021.
Breakdown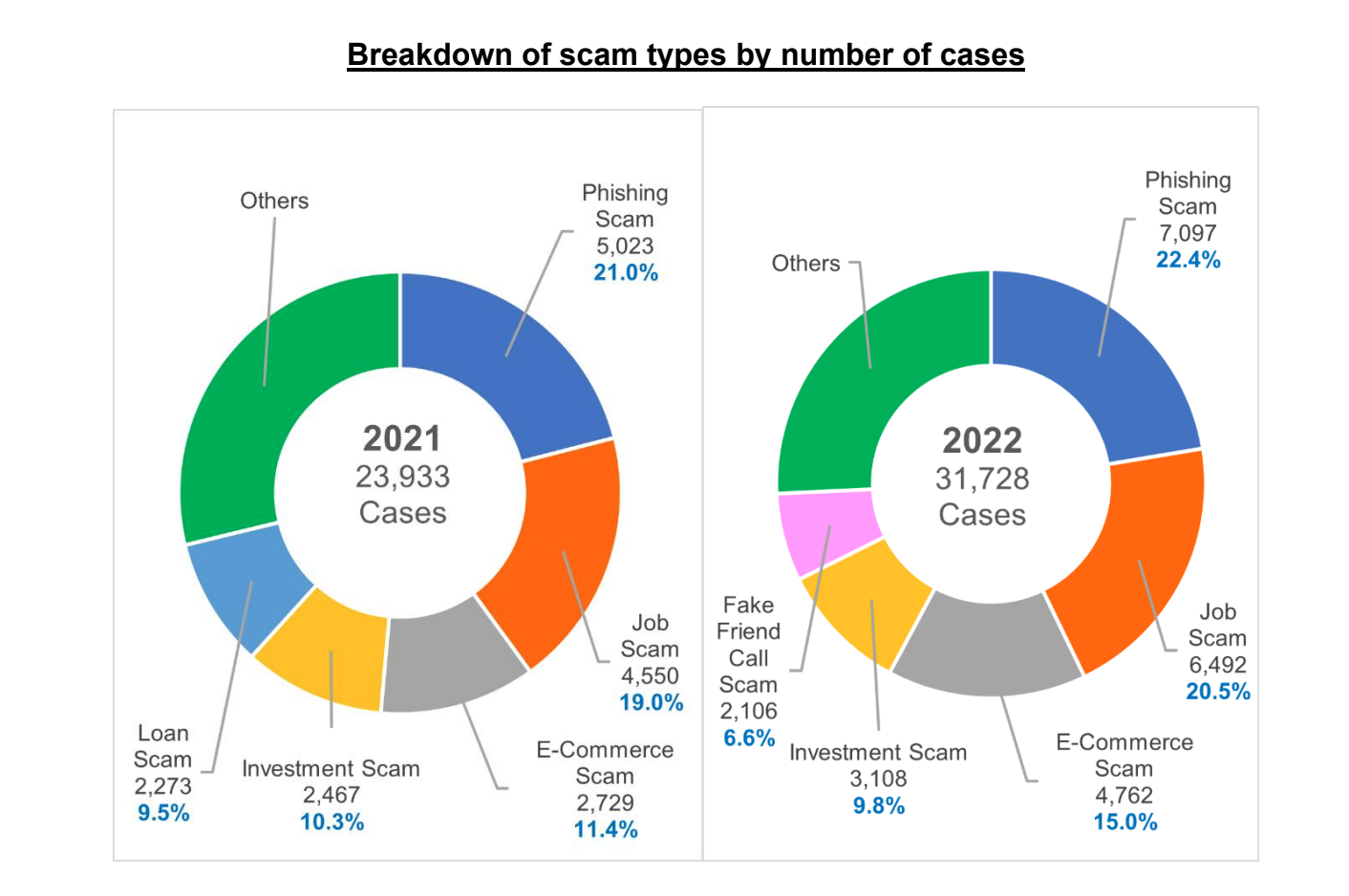 Phishing scams
Phishing scams were the most common type of scam in 2022, consisting of 22.4 per cent of the total number of scam cases.
Phishing scams generally involve emails, text messages or calls from scammers impersonating officials or trusted entities, to trick victims into revealing details, including their credit card or bank account information.
Thereafter, scammers would perform unauthorised transactions on victims' credit card or bank accounts.
Job, e-commerce scams
Job scams and e-commerce scams made up 20.5 per cent and 15 per cent of the total number of scam cases in 2022.
In general, around half of the victims of phishing scams were aged between 30 and 49.
Mostly younger people fell for job scams and e-commerce scams, with more than 60 per cent of people falling for both types of scams being in their 20s and 30s.
Not just the elderly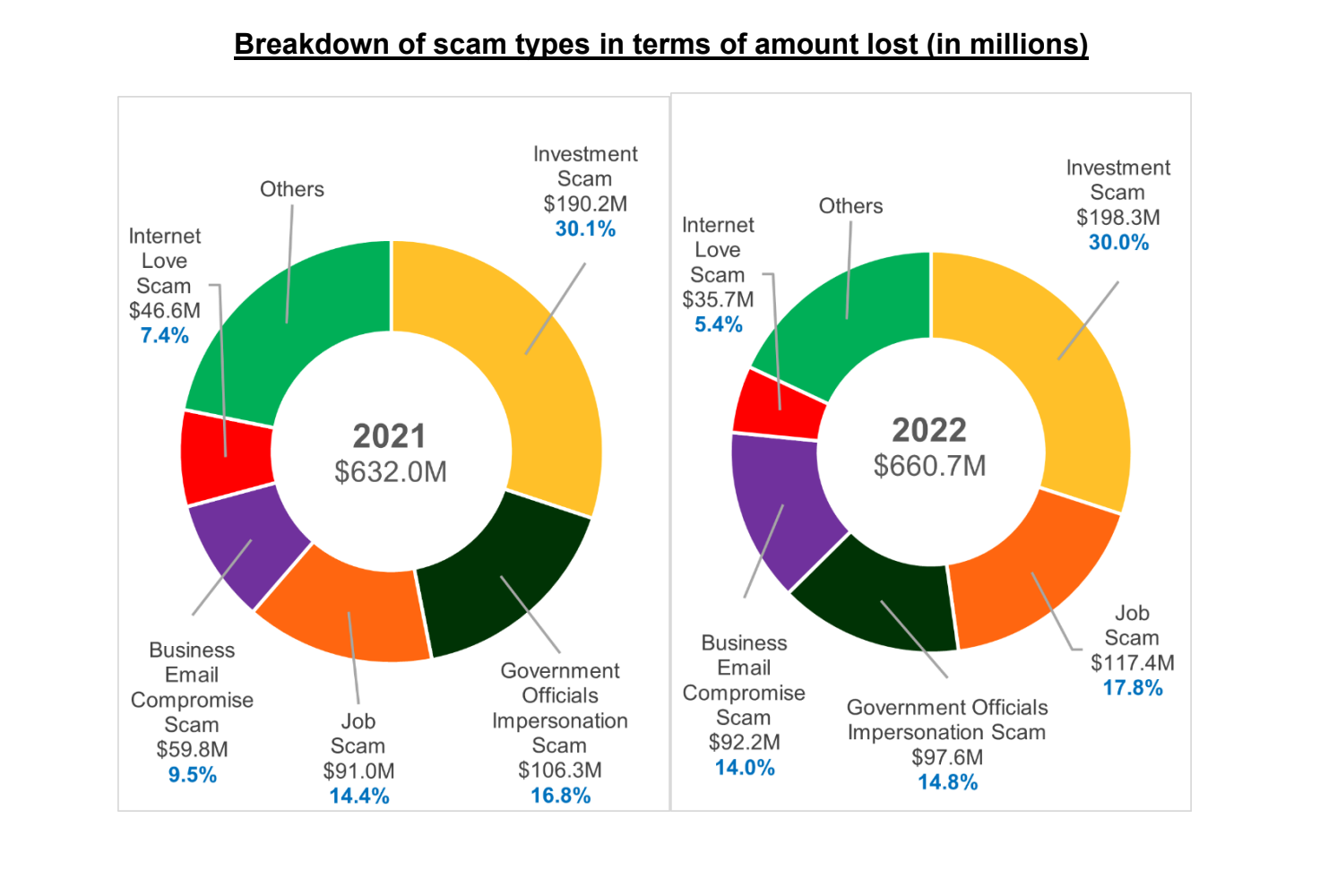 The most common platforms which victims encountered scammers included Carousell, Facebook, and Shopee, while the common items involved in the transactions were electronic goods, residential units and gaming-related items.
Investment scams proved to be most costly in 2022, as people have lost a total of S$198.3 million to such scams.
In general, the statistics disprove the belief that it is generally the elderly who fall for online scams, as most of the victims to such scams were people in their 20s to 30s.
Some 53.5 per cent of scam victims were people between the aged of 20 to 39.
Messaging platforms used to contact victims
This is largely dude to the fact that Singapore has a high digital penetration amongst youth and adults.
Messaging platforms and social media are the two most popular methods that scammers use to contact victims.
Some 56 per cent of scammers contacted victims through WhatsApp, while 36.1 per cent of victims were contacted through Telegram.
Amongst all social media platforms, Facebook was the platform most commonly used by scammers. 59.6 per cent of scammers used Facebook to contact victims.
Another contact method of concern is online shopping platforms.
There was an increase in the number of scam cases to 4,818 in 2022 from 1,570 in 2021, with 89 per cent of the cases involving victims who encountered scammers on Carousell.
Some 6.6 per cent of the cases involved victims who encountered scammers on Shopee.
Police effort to stop cybercrime
Measures that the Singapore Police Force (SPF) have taken to stop cybercrimes include a stronger public-private partnership to cripple scam operations.
On Mar. 22, 2022, the Commercial Affairs Department (CAD) operationalised the Anti-Scam Command (ASCom) for greater synergy among various scam-fighting units, by bringing scam investigation, incident response, intervention, enforcement and sense-making under a single command.
The ASCom comprises the Anti-Scam Centre (ASC), and three Anti-Scam Investigative Branches, and oversees the Scam Strike Teams situated within each of the seven Police Land Divisions.
The ASCom also works closely with local telecommunication companies to terminate mobile lines that are found to have been used for scams.
In 2022, more than 6,500 such mobile lines were terminated, and more than 3,100 online monikers and advertisements involved in suspected scams were removed.
The ASCom also works closely with social media platforms and online marketplaces to remove suspicious accounts and advertisements.
The ASCom also engaged WhatsApp on more than 22,800 WhatsApp lines that were believed to be used in scams in 2022.
In 2022, the close collaboration between SPF and overseas law enforcement agencies led to the successful take-down of 13 scam syndicates.
The Singapore police also maintains a close cooperation with overseas law enforcement.
More than 70 scammers who were based overseas, and were responsible for more than 280 cases, were arrested.
The Infocomm Media Development Authority (IMDA) has also implemented two new measures in their effort to fight scams.
The first is the mandatory registration of all organisations that use SMS Sender IDs.
This means only bona fide sender IDs belonging to registered organisations will be allowed.
All other sender IDs will be blocked.
As some organisations may need more time to prepare and register for sender IDs, their SMS cannot be clearly differentiated from other SMS that come from unknown sources and may be scam messages.
Therefore, as a transition measure, all non-registered SMS sender IDs will be channelled to a sender ID with the header "Likely-SCAM".
Second, telecom operators will implement SMS anti-scam filtering solutions within their mobile networks, to automatically filter potential scam messages before they reach consumers.
Automated machine-scanning and pattern recognition technology will be able to detect malicious links within SMSes sent via telecom networks.
Strengthening Singpass
As part of the government's continuous effort in tackling cybercrime, new measures such as additional security verifications for higher risk transactions have been added to Singpass.
Government agencies will only send links ending with "gov.sg", so that members of the public can easily identify trusted links.
Additional security verifications have also been added into Singpass.
Users may be required to perform an additional security verification using Singpass Face Verification for higher risk Singpass transactions.
Top photo via Istock
If you like what you read, follow us on Facebook, Instagram, Twitter and Telegram to get the latest updates.