Follow us on Telegram for the latest updates: https://t.me/mothershipsg
A woman in Singapore found a live worm in her raw fish rice bowl bought from Don Don Donki's 100 AM outlet, raising concerns about ingesting it.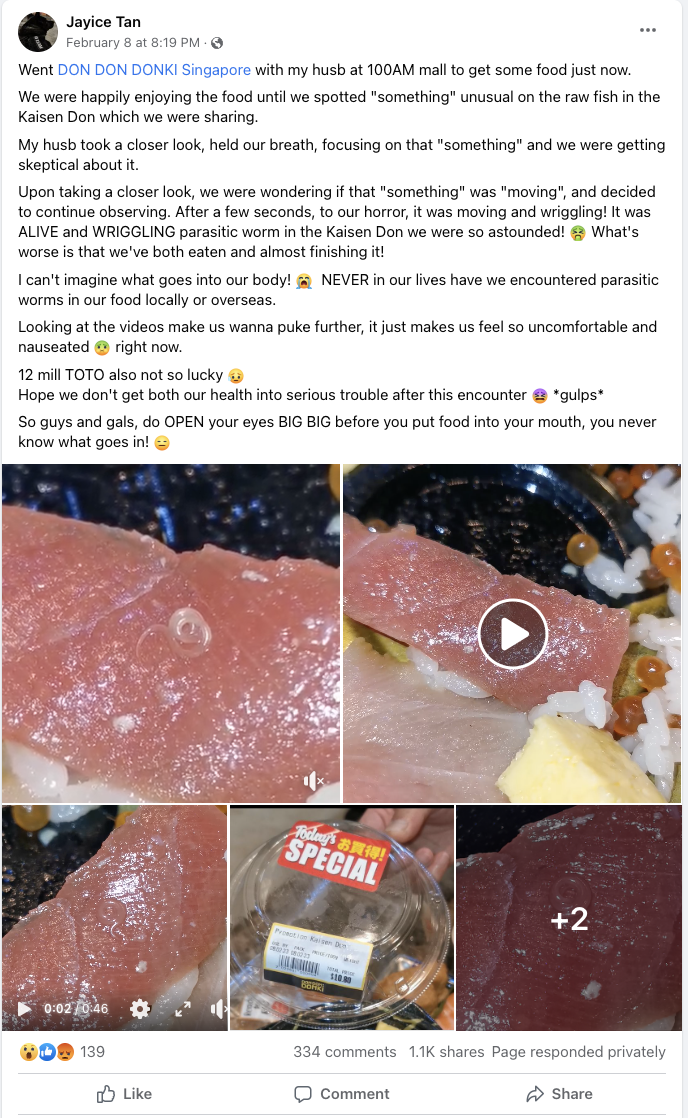 In response to Mothership's queries, SFA said it adopts a "science-based risk assessment and management approach" that is "consistent with international standards".
SFA explained that food more susceptible to food-borne diseases is subjected to more stringent checks.
Food, including raw fish, is tested for a wide range of food-borne hazards, including microbial pathogens and parasites.
However, SFA stated that the industry must also practice proper cold chain management and hygienic handling of raw fish.
SFA warned that consumers who choose to eat ready-to-eat raw fish should be aware of the risks involved and that vulnerable people with lower immunity systems, such as pregnant women, children and the elderly, or people with chronic diseases such as diabetes, should not consume raw fish.
Worm called "Anisakis"
SFA did not comment on the nature of the translucent worm.
However, members of the public have stepped in to fill in the information void.
A Mothership reader, who claimed to have studied parasitology, said via Facebook comments that "those parasites won't harm you".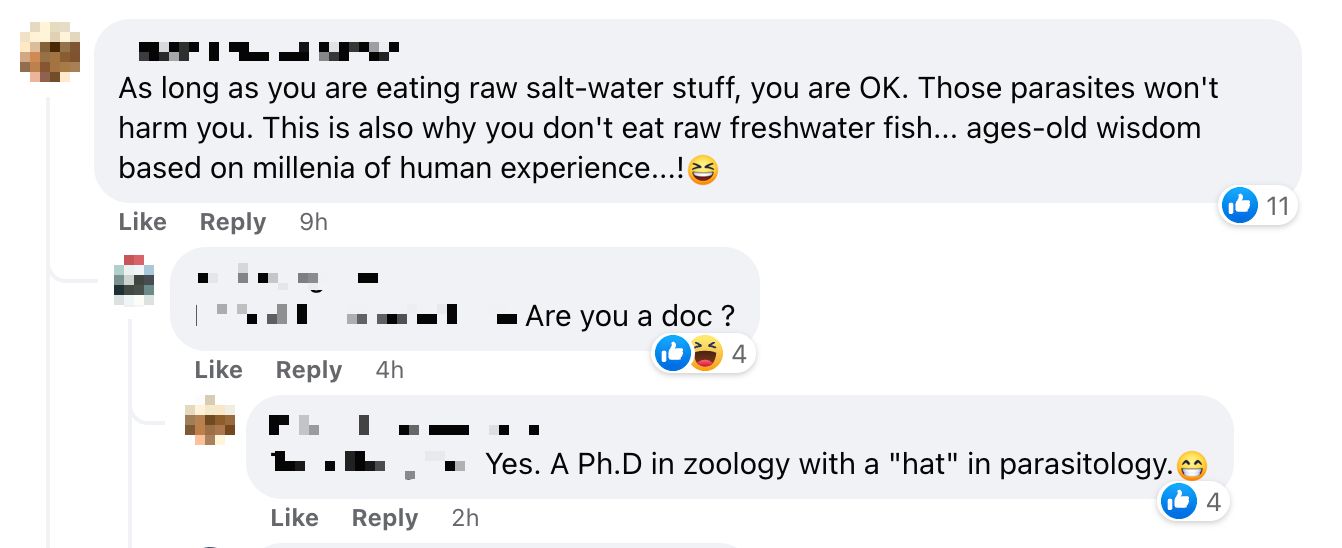 This was debunked by an expert, as well as official information by the United States Centers for Disease Control and Prevention (CDC).
In response to Mothership's queries, parasitologist Mackenzie Kwak, previously a scientist at the National University of Singapore, who is now based in Japan's Hokkaido university, said there could be issues for people who consume the worm.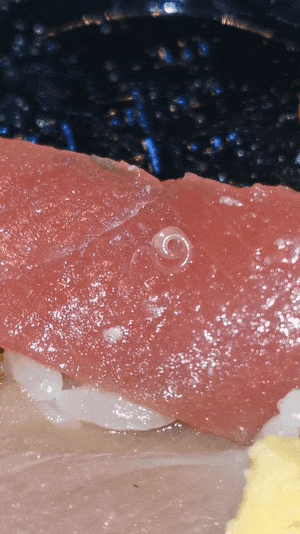 He identified the worm as Anisakis, a marine roundworm occasionally found in raw marine fish.
Kwak said its final hosts are often fish eaters like dolphins or seals, in which the worm will mature into an adult.
Harmless? Not really.
On whether it is "harmless", Kwak said if a person consumes an anisakis-infected piece of raw fish, the worm might mistake the human for its final host and cause a disease known as anisakiasis.
Anisakiasis is not deadly, but as Kwak explained, it can be pretty painful: "The worm burrows into the wall of your digestive system."
Kwak quipped that having a live worm found in their sashimi highlights how fresh Don Don Donki's sashimi is: "Good butchering practices ensure that worms rarely make it into sashimi, but mistakes occasionally occur."
The CDC said anisakiasis is a parasitic disease caused by anisakid nematodes that can invade the stomach wall or intestine of humans.
The transmission of this disease occurs when infective larvae are ingested from fish or squid that humans eat raw or undercooked.
In some cases, this infection is treated by removal of the larvae via endoscopy or surgery.
Don Don Donki setting up signs for awareness
In response to Mothership's queries, Don Don Donki Singapore said it maintains proper cold chain management and conduct visual checks throughout the handling process of raw seafood.
The company claimed to have made its best attempts to remove the parasites, but may not be able to remove them entirely if they are deeply embedded in the flesh.
Don Don Donki Singapore also said it hopes to raise awareness that parasites naturally thrive in aquatic environments, and it is not uncommon to find them in wild-caught fresh fishes and seafood.
As an added precautionary measure, Don Don Donki Singapore is also placing advisories near the product displays to raise awareness of such occurrences among shoppers.
Don Don Donki Singapore has also reached out to the customer who had made the complaint on Facebook.
Myth: Wasabi helps with parasites
Kwak also debunked the myth that consumers can protect themselves from parasites by spreading wasabi on raw fish before eating.
Unfortunately, Kwak says it's a myth, and wasabi does nothing to reduce the chances of a parasitic infection.
What consumers can all do, probably, is what the unfortunate diner warned about.

Top image via Facebook Jayice Tan & CDC
If you like what you read, follow us on Facebook, Instagram, Twitter and Telegram to get the latest updates.