Follow us on Telegram for the latest updates: https://t.me/mothershipsg
The Housing Development Board will launch up to 23,000 Build-to-Order (BTO) flats in 2023, it said in a Jan. 3 statement.
This is in line with what it said in a Dec. 2021 announcement, to meet "strong housing demand" from Singaporeans.
This year's offerings will include two previously-announced launches in February and May this year.
In the February launch, HDB will offer 4,400 flats in estates including Jurong West, Kallang Whampoa, Queenstown, and Tengah.
In the May launch, HDB will offer 3,800 to 4,800 flats in estates including Bedok, Kallang Whampoa, Queenstown, Serangoon, and Tengah.
More details will be firmed up closer to the launch dates. HDB added that it will continue to monitor housing demand and make adjustments where necessary.
It also reiterated that it is prepared to launch up to 100,000 flats between 2021 and 2025 if needed.
Property prices still on the rise, but more slowly
Meanwhile, resale prices increased for the 11th consecutive quarter in late-2022.
In total, resale flat prices rose by 10.3 per cent over the past year — slower than the steep 12.7 per cent increase in 2021, the highest since 2010.
But this was still significantly more than pre-Covid figures. In 2020, resale prices climbed just five per cent.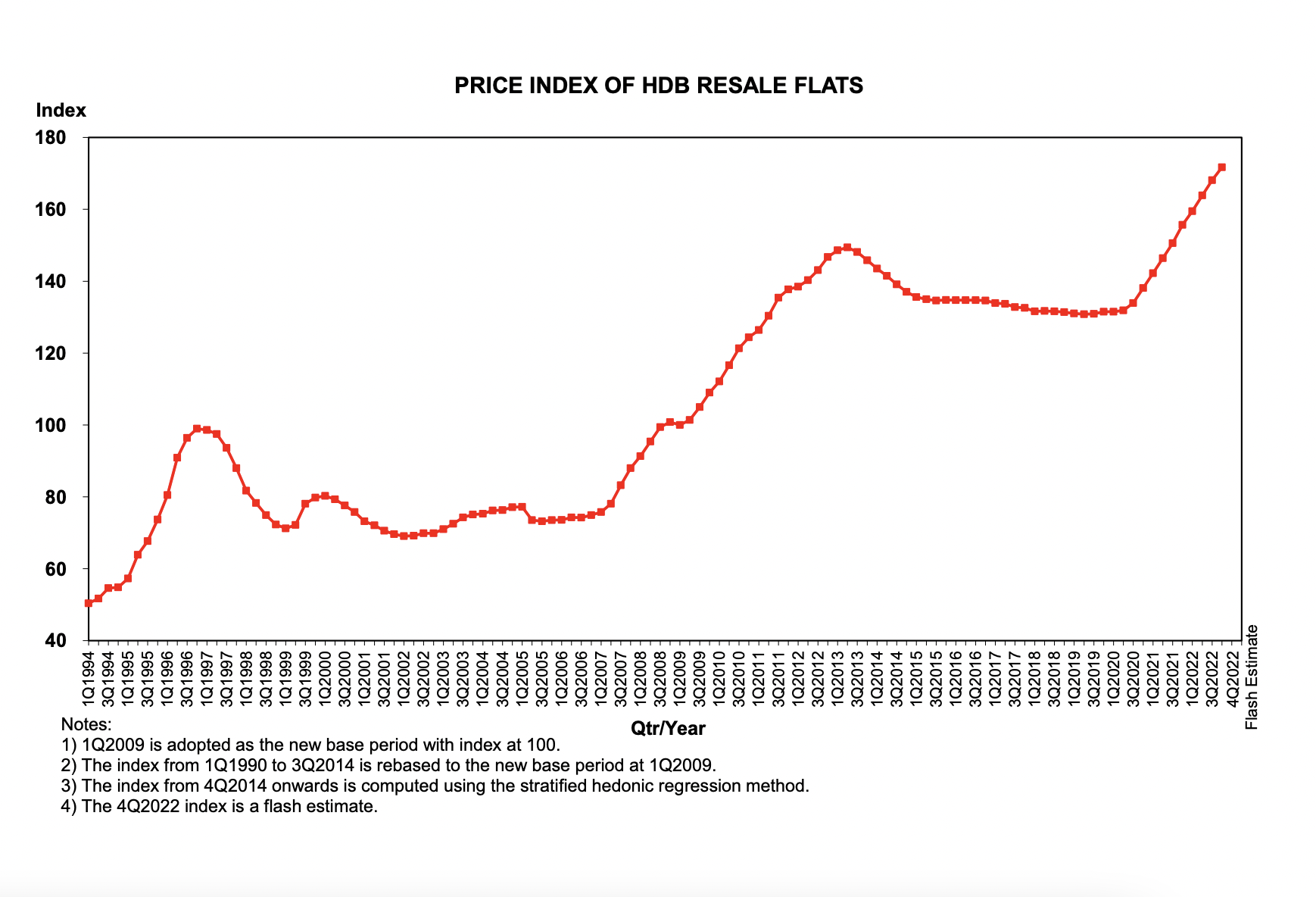 In addition, resale transactions fell in the last quarter of 2022, with just 6,474 flats sold as of Dec. 29.
Year-on-year figures also revealed a decline. Over the course of 2022, 27,773 resale flats were sold, HDB said.
This is nearly 10 per cent lower than the previous year, when over 30,000 flats were sold — again the highest since 2010.
In a similar pattern, the private property market grew 8.4 per cent in 2022, a marked reduction compared to the 10.6 per cent increase the year prior.
This came on the back of a decline in private housing sales, the Urban Redevelopment Authority said in a separate Jan. 3 statement.
It added that sale transaction volume fell by about 36 per cent as compared to 2021.
Impact of cooling measures
The slower growth follows a slew of cooling measures announced in Sep. 2022, which sought to deter private-property downgraders amid a red-hot HDB resale market.
According to experts interviewed by The Straits Times, sales of million-dollar HDB flats also appear to have slowed after the measures kicked in.
Demand for resale flats may also have been tempered by a mega-launch of almost 10,000 BTO units in November, an analyst from Global Group said.
But more time is needed for the prices to fully reflect the impact of the cooling measures, said Christine Sun of property agency OrangeTee & Tie.
She added that housing supply in the resale market is expected to remain tight as fewer flats will complete their Minimum Occupancy Period in 2023.
However, "although supply will fall in 2023, prices are not expected to rise extensively, given the cooling measures," she told ST.
Top image from Jojo Tung and Laveesh Hasija/Unsplash.
If you like what you read, follow us on Facebook, Instagram, Twitter and Telegram to get the latest updates.