Follow us on Telegram for the latest updates: https://t.me/mothershipsg
One woman in Singapore recently had the misfortune of being propositioned by a driver who offered to let her hitch a ride in exchange for a lewd favour.
The trip is understood to have been privately arranged between the driver and passenger for a fee.
Details of the negotiation between the driver and passenger were made public via a photo of their text conversation, which likely took place on Telegram.
A screenshot of the exchange, which took place just before 9pm, was posted to a Facebook group dedicated to private hire car drivers and riders in Singapore.
Accompanying the photo was a caption warning members of the public not to compromise safety for "cheap illegal hitch rides".
Inappropriate proposition
The text conversation showed the passenger informing the driver, who goes by the name Desmond Yap, the details of her pick-up location and destination.
The woman wanted to travel from Singapore General Hospital to Wisteria Mall in Yishun.
The driver agreed and provided further details, such as his estimated time of arrival and his car's licence plate number.
However, the conversation took a turn after that — he quickly followed up with a request: "By the way I quite barely clothed".
"U ok?" he asked the passenger.
The driver then confessed that this was a proposition he had made to previous passengers hitching a ride:
"If they allow me to get fully naked and touch myself while sending them to the location. No touching of you or whatsoever. And I'll give a free ride just like that."
The passenger responded that she was a Muslim woman, and that the driver's statements were "disrespectful" and "disgusting".
The driver then apologised to her, and then countered that he would "pass this ride".
You can read the full text conversation here: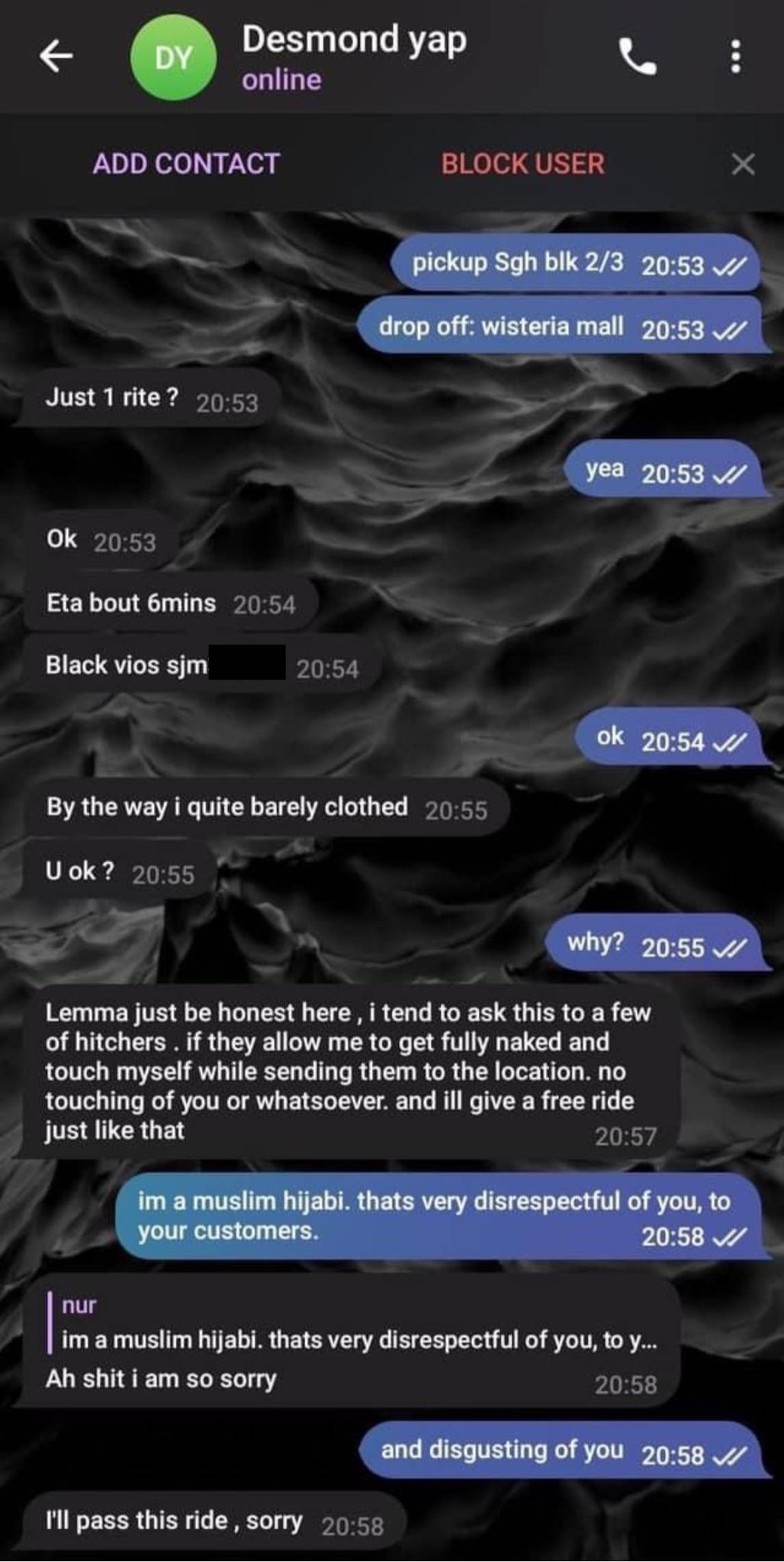 Such rides previously illegal
In 2022, one woman in Singapore shared on TikTok her experience of a privately arranged carpooling service after a driver asked if she wanted to "hook up secretly".
Privately arranged rides not made via ride-hailing applications, such as Grab and Gojek, were previously illegal during the circuit breaker period as part of measures to reduce the spread of Covid-19.
As these trips are typically arranged on social media platforms or messaging applications, such as Telegram, the government had cited concerns over contact tracing and the lack of safe distancing, reported The New Paper (TNP).
Carpooling services on ride-hailing applications were also suspended.
In 2021, TNP reported that such services were still in demand despite the ban.
A check on Telegram showed that hitching privately arranged rides are still popular.
Chat groups with thousands of members can be seen actively requesting for rides during the day.
Related stories
Top photo from Singapore Private Hire Car Drivers & Riders Community / FB and Carousell (image of car for illustrative purposes)
If you like what you read, follow us on Facebook, Instagram, Twitter and Telegram to get the latest updates.