Follow us on Telegram for the latest updates: https://t.me/mothershipsg
21,000 seats at the Bukit Jalil National Stadium have been purposefully left vacant ahead of the semi-finals of the ASEAN Football Federation (AFF) Cup between Malaysia and Thailand.
The match is set for Jan. 7, but the seats had to remain empty due to the installation of an international-scale concert stage, explained Malaysia's Youth and Sports Minister Hannah Yeoh.
Specifically, the stage for Jay Chou's Carnival World Tour 2023 concert.
Ongoing installation of the concert stage
In an interview with Bernama, Yeoh clarified that the venue had been booked by the organisers of Chou's tour since Mar. 2019, reported the Malay Mail.
The concert had been delayed for three years due to the Covid-19 pandemic and is now scheduled for Jan. 15.
Yeoh added that the stage installation is unlike a normal stage tent as it involves a large crew, stated CNA.
"The installation work involves 14 days involving 500 crew members, as well as 185 international crew members entering Malaysia just for the setup. 45 heavy machinery, 200 speakers and 800 lights (are also involved)."
The Football Association of Malaysia (FAM) said on Jan. 4 that the installation of the stage is still ongoing, so those 21,000 seats at the national stadium can not be utilised, Malay Mail reported.
Both events have a solid fan base in Malaysia, said Yeoh, and she hoped football fans could accept that it was impossible to change the situation at the stadium.
"We want to give all the support to Harimau Malaya (Malaysian national football team), as well as the concert that has been booked earlier," stated Yeoh.
Yeoh also tweeted that the installation was already delayed by two and a half days.
Makluman
1)Booking stadium konsert Jay Chou World Tour dibuat 13 Mac 2019 manakala AFF 2022 oleh FAM dibuat 18 Ogos 2022.

2)Konsert perlu 14 hari pasang pentas oleh 500 krew+185 krew antarabangsa, 45 jentera berat, 200 speaker & 800 lampu. Mereka dah delay 2.5hari bagi ruang AFF pic.twitter.com/45lV5dZLu5

— Hannah Yeoh (@hannahyeoh) January 5, 2023
According to CNA, during the match between Singapore and Malaysia on Jan. 3, those 21,000 seats were also left vacant.
Malaysia beat Singapore 4-1 to advance in that match.
First come, first serve
Netizens have expressed their unhappiness with their situation on social media as football fans criticised this arrangement.
Chou's fans defended the singer, saying it was not his fault and that Chou's concert booked the venue first.
Sebab konsert yang tempah dulu, FAM pulak boleh tak cek jadual booking stadium, so macam mana penting pun bola, first come first serve. Bola pun dah berzaman cenggitu je. Stadium pun tak masyuk melainkan buat konsert.

— Aqbar (@mohdaqbar) January 5, 2023
Others have stated that the stadium should prioritise the football match over the concert and put the national team first.
Hallo sis, Dahulukan our National Team dulu, Jay chou tu you pegi cari la mana2 tapak, pasar seni ke, padang merdeka ke, chowkit ke, dorai ke, bagi dia nyanyi2 lepas nyanyi nanti dia balik la,dia bukan on competition kann, tarak hal, cincai2 .. Halitu cakap DEMI MALAYSIA KANNNN?.

— Bigbossjoe 🏴‍☠️ (@Cikguboss) January 5, 2023
Arrangement will be the same if Malaysia qualifies for the finals
According to Malay Mail, Yeoh said the situation would not change if Malaysia qualifies for the finals.
The AFF cup final is scheduled to take place on Jan. 16.
"The corporation (Perbadanan Stadium Malaysia) has made an effort to plan on how to cater for everyone... so that (final) will continue, but in the current situation, where the areas will be blocked off."
Yeoh shared that the Bukit Jalil National Stadium was the "most suitable location for FAM" due to the access to public transportation and the large number of seats that now cannot be used.
"This is an unavoidable situation because the booking was made earlier," she said.
Jay Chou speaks out
The singer himself responded to the situation in two Instagram stories.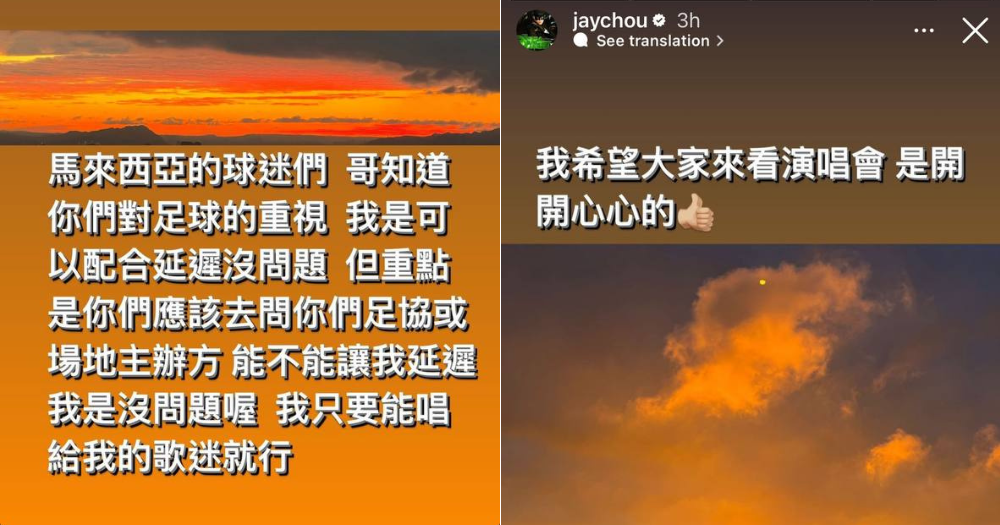 Chou's message translates to:
"Malaysian football fans, I know how much importance you place on football. I don't have any issues with pushing my concert to a later time. More importantly, ask the organiser or the venue [management] if they can allow me to start and end the concert late. It's not a problem for me, I'm fine as long as I can sing for my fans. I hope that those who come to watch my concert can do so with a happy [heart]."
Top photos from Google Maps and Facebook.
If you like what you read, follow us on Facebook, Instagram, Twitter and Telegram to get the latest updates.