Follow us on Telegram for the latest updates: https://t.me/mothershipsg
Newly appointed Chinese Foreign Minister Qin Gang expressed an optimistic view between the U.S. and China's relations, as he reflected on his 17 months of experience in his previous role as China's ambassador to the United States.
"I have been deeply impressed by so many hard-working, friendly and talented American people that I met," Qin said in a tweet on Tuesday (Jan. 3). 
I have been deeply impressed by so many hard-working, friendly and talented American people that I met.

— Qin Gang 秦刚 (@AmbQinGang) January 3, 2023
Qin was appointed foreign minister in Dec. 2022.
Current China-US relations now
The relationship between China and U.S. has often been tense, but Speaker of the House Nancy Pelosi's visit to Taiwan last August, despite China's threats and warnings further aggravated the relationship between the two countries.
However, the meeting between U.S. President Joe Biden and Chinese President Xi Jinping at the G20 summit in November 2022 apparently rekindled ties between the two countries, with the two leaders clearly stating that they were not looking for conflict, reported CNN.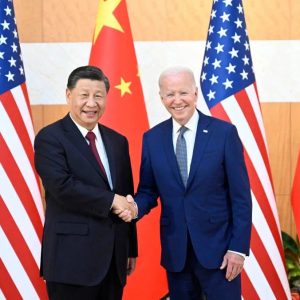 In a statement by the White House, Biden stressed the importance of working together with China to "address transnational challenges," and to "welcome ongoing efforts to address specific issues in U.S.-China bilateral relations, and encouraged further progress in these existing mechanisms, including through joint working groups."
The statement ended by saying that U.S. Secretary of State Anthony Blinken will visit China to follow up on their discussions. Almost a month later, Nikkei Asia reported that the visit is expected to occur in early 2023. 
Qin to support growth China-US relations
According to Bloomberg, Qin's tweets after his step down as China's ambassador to the U.S. reflected a warming relationship between the two superpowers.
In a tweet, Qin said:
What's past is prologue. Going forward, I will continue to care about and support the growth of China-US relations, encourage dialogue, mutual understanding and affinity between the two peoples, work for mutual respect, peaceful coexistence and win-win cooperation between our two countries, and make my due efforts for the wellbeing of the two peoples and for world peace, stability and development.
On Jan. 1, 2023, Qin conversed with Blinken through a phone call, and "expressed his hope to continue close working relations with Blinken for a better China-US relationship," the Ministry of Foreign Affairs of the People's Republic of China said in a statement.
In his own tweet, Blinken said that the two discussed "maintaining open lines of communication."
Spoke by phone this morning with incoming People's Republic of China Foreign Minister Qin Gang as he departs Washington for his new role. We discussed U.S.-PRC relationship and maintaining open lines of communication.

— Secretary Antony Blinken (@SecBlinken) January 1, 2023
Top Image via Kyodo News Stills/Getty Images
If you like what you read, follow us on Facebook, Instagram, Twitter and Telegram to get the latest updates.