Follow us on Telegram for the latest updates: https://t.me/mothershipsg
4.2 per cent.
That is GIC's annualised real rate of return over a 20-year period that ended March 31, 2022, after accounting for global inflation.
GIC, a sovereign wealth fund that manages Singapore's foreign reserves on behalf of the government, released its annual 2021/2022 report on Jul. 27.
Why over a 20-year period?
Instead of calculating its performance in yearly blocks, GIC does it over a 20-year period to measure returns over the long term.
This rolling 20-year real rate of return is its primary metric to evaluate its investment performance.
Here is a visual of how this average time-weighted portfolio return is calculated from year to year:

The rate of return is also considered to be "real" as it takes into account global inflation.
Increasingly uncertain investor landscape as returns dip marginally
A 4.2 per cent rate of return means that $100 invested with GIC in 2003 would have grown to $228 today, after taking inflation into account.
This graph shows how the annualised rolling 20-year real rate of return of GIC's portfolio has changed over the years: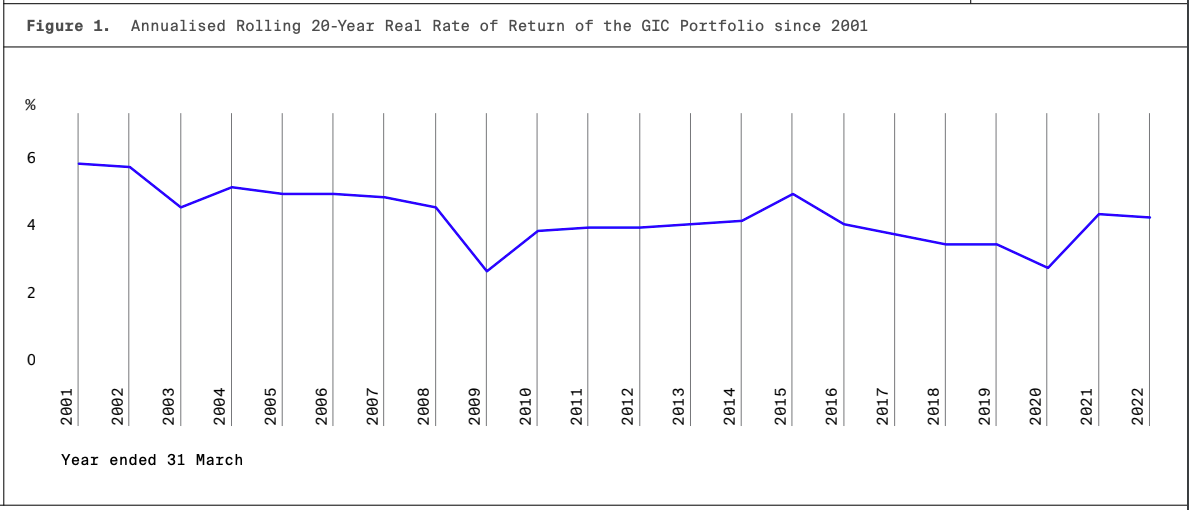 This year's 4.2 per cent value is a 0.1 per cent lower than last year's.
"With higher inflation, the role of generating real returns has become more critical and challenging," said GIC.
While GIC has managed to manage returns over and above the global inflation rate, investors are now facing "profound uncertainties", said Chief Executive Officer of GIC Lim Chow Kiat.
He attributes this to the rising geopolitical tensions and the current high-inflation regime, driven by supply chain disruptions, a rapid recovery in demand, and rising wages.
To manage these risks, GIC is increasing its investments in inflation-resilient assets.
However, Lim noted at a briefing with reporters on Jul. 26 that prospective returns going forward were "likely to be low", reported CNA.
"Unfortunately, until we have more of so-called restoration of value – whether it is bond yields, earnings yields or dividend yields – return prospects are still not great."
New sustainability office
GIC has set up a dedicated sustainability office which will work to integrate sustainability into all of its investment and corporate processes, with Lim noting that "sustainability tasks have become more urgent".
The new office has been set up last month and will be headed by Rachel Teo, GIC's head of sustainability, according to CNA.
"This reflects our commitment to support the global transition to net zero in the real economy, and is in addition to our rising investments in new technologies, and engagement with our portfolio companies to support their decarbonisation and transition efforts," said GIC.
One renewable energy platform that GIC is investing in is AC Energy (ACEN). GIC is helping to fund its renewable energy project development and potential acquisitions to accelerate its green impact.
GIC is also investing in Climeworks, a pioneer in direct air capture technologies. Its plant in Iceland, the world's largest carbon capture plant, pulls 4,000 tonnes of carbon dioxide from the atmosphere per year.
With GIC's support, Climeworks will be able to scale its plants to multi-million-tonne capacity.
Top image by GIC.
If you like what you read, follow us on Facebook, Instagram, Twitter and Telegram to get the latest updates.