Follow us on Telegram for the latest updates: https://t.me/mothershipsg
If you haven't already heard, the plant-based pork substitute Impossible Pork, is finally in Singapore.
It's by the same people who brought to life Impossible Beef.
Having heard plenty of good things, I squealed at the chance to sample Impossible Foods' newest offering when it was launched on Nov. 18.
Impossible pork is now on the menu of over 120 restaurants in Singapore, and I managed to lay my hands on some of these dishes.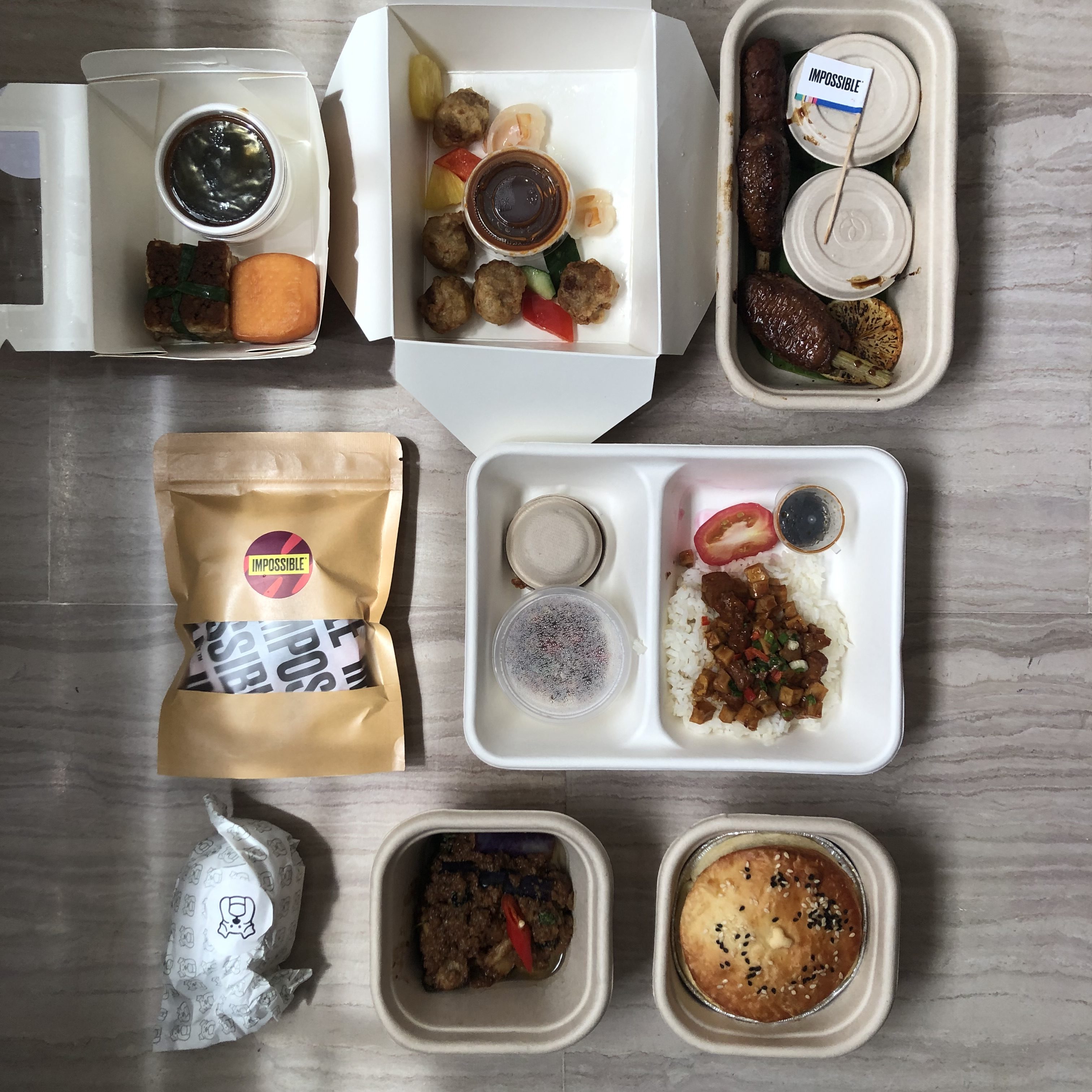 What is Impossible Pork?
Before getting into all the juicy details, what exactly is meat made from plants?
Here's the full breakdown:
Water, Soy Protein Concentrate, Coconut Oil, Sunflower Oil, Natural Flavors, 2% Or Less Of: Methylcellulose, Cultured Dextrose, Food Starch Modified, Salt, Soy Leghemoglobin, Mixed Tocopherols (Antioxidant), Soy Protein Isolate, Zinc Gluconate, Thiamine Hydrochloride (Vitamin B1), Niacin, Pyridoxine Hydrochloride (Vitamin B6), Riboflavin (Vitamin B2), Vitamin B12 Contains: Soy
Since these are all plant derivatives, how can the Impossible Pork taste like meat?
Well, it all boils down to a primary ingredient called heme, which Impossible Foods says is key to making meat taste like meat.
Heme is a protein found in every living organism like plants and animals, and animals have it in abundance in the form of haemoglobin and myoglobin.
Since Impossible Pork is made from plants, it contains leghemoglobin, a plant-based heme which Impossible Foods produces by fermenting genetically engineered yeast.
Fun fact: Leghemoglobin, like haemoglobin, is also red in colour.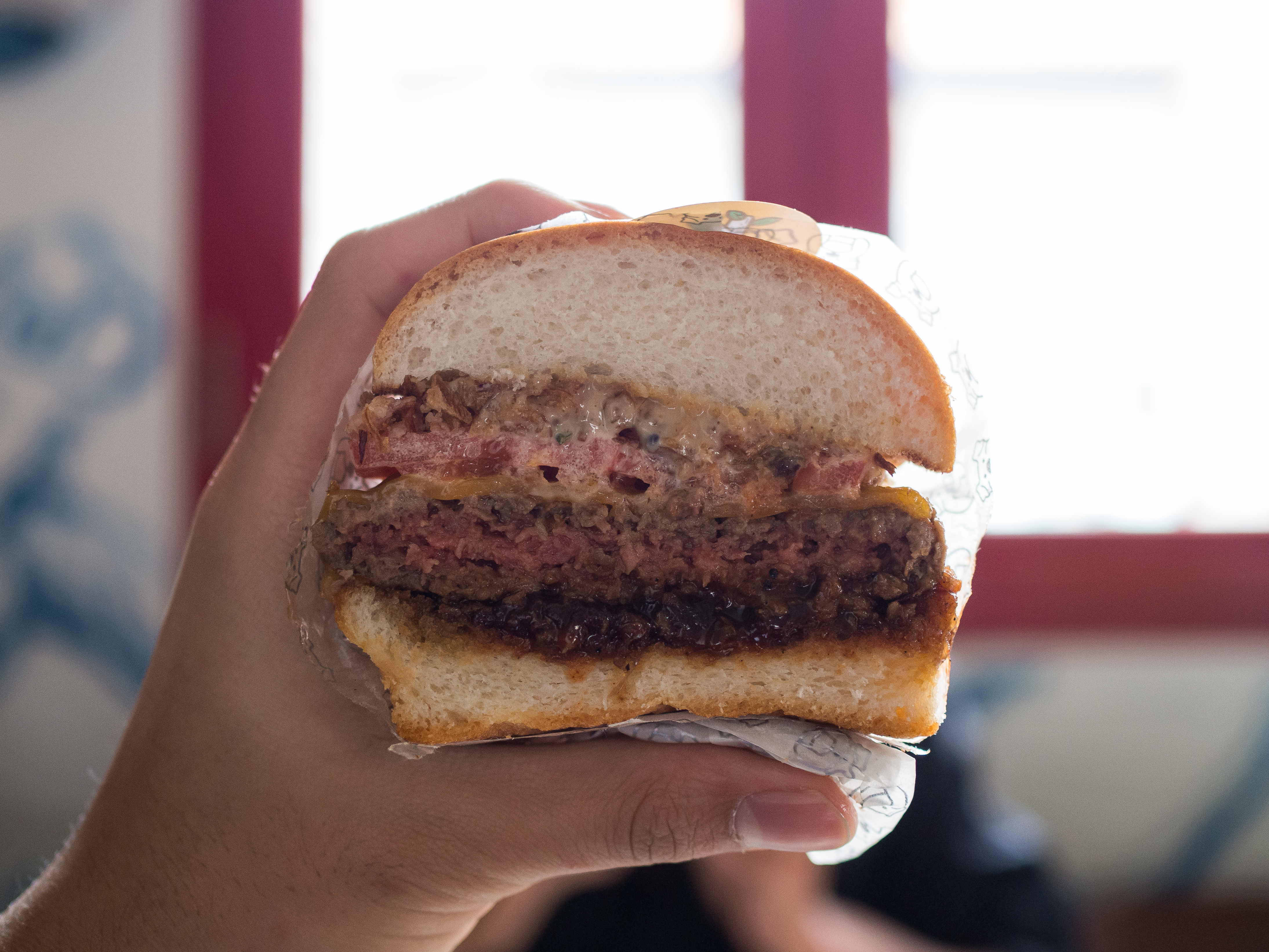 Ok, if it's all plants, is it halal?
Apart from the technicalities behind making a meat meatless, perhaps the next most intriguing thing is whether dishes containing Impossible Pork is halal, and can be consumed by Muslims.
The Islamic Religious Council of Singapore (MUIS) said that Islamic principles prohibit Muslims from consuming food containing unslaughtered meat, like pork and its derivatives, and drinks containing alcohol.
While Impossible Pork is meant to taste like pork and feel like pork, it has no pork.
That said, however, MUIS has advised the Muslim community to refrain from consuming Impossible Pork:
"In this case, it may cause confusion for the Muslim public from the use of the name of a clearly prohibited food item under Muslim law."
And if it helps clear the air, the Impossible Foods' website also states clearly that Impossible Pork, along with Impossible Chicken Nuggets and Impossible Meatballs, is neither halal nor kosher certified.
This came after some deliberation, an Impossible Foods spokesperson told Mothership, as the company decided to retain the word pork in their product.
"While Impossible Pork was originally designed for halal and kosher certification, we are not moving forward with those certifications as we wish to continue to use the term "Pork" in our product name."
How does it taste?
Now that that's out of the way, let's get down to the "meat" of the matter: What does Impossible Pork taste like?
After pigging out on eight different Impossible Pork dishes, each prepared in a distinct manner, here are three of my top picks in no particular order:
1) Braised beancurd with minced Impossible Pork in spicy sauce from TungLok Signatures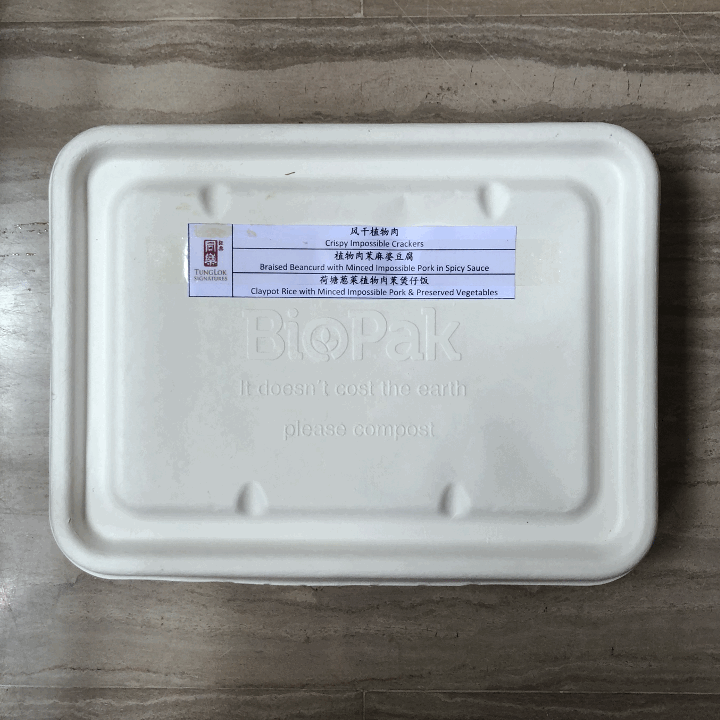 The minced Impossible Pork was served two ways – over white rice and braised beancurd – and I was immediately struck by the smokey/ wok hei flavour upon my first bite.
While the spice was barely there, unlike what the name suggests, the minced Impossible Pork was well seasoned, and made for a well-balanced flavourful bite when paired with the white rice and beancurd.
The braised homogenous brown mass made it hard to discern one ingredient from another, but I tasted some yam (I think) amidst the mix, which added some sweetness and nuttiness to the dish.
In what was perhaps the plant-based rendition of Spam fries, the crispy Impossible Pork cracker was a tad on the blander side, and not as savoury as its meaty counterpart.
On the whole, I really enjoyed the flavours in this dish as it evoked a sense of familiarity and comfort, reminiscent of something you would have at home.
2) Mediterranean Impossible Pork Pie from Da Paolo Gastronomia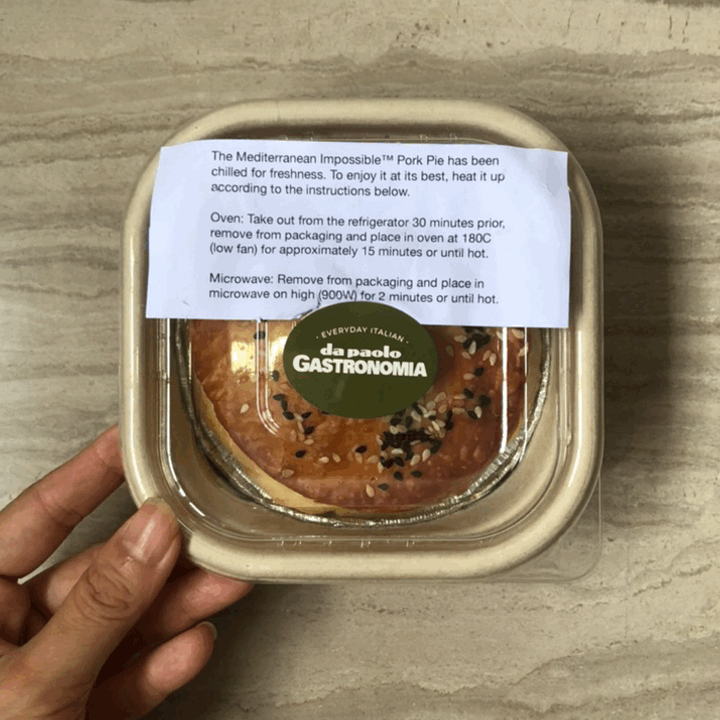 The Mediterranean Impossible Pork pie was filled with Impossible Pork, portobello mushrooms, potatoes, chickpeas, cheese, and an Italian tomato sauce, all of which are commonly used ingredients in Italian pasta sauce recipes.
This perhaps explains why it tastes so familiar, kind of like a toss up between a Bolognese sauce, or the ground meat filling in a shepherd's pie, but plant-based.
There is really no way to go wrong when those ingredients are put together, and it is no surprise that the dish was enjoyable, even though it was on the safer side.
Perhaps what surprised me most about this dish was how extremely close it tasted to the real thing.
In fact, I think that it could have passed off as a dish with actual pork in it, if not for the fact that I already knew that Impossible Pork was used in the dish.
3) Impossible Hog from Three Buns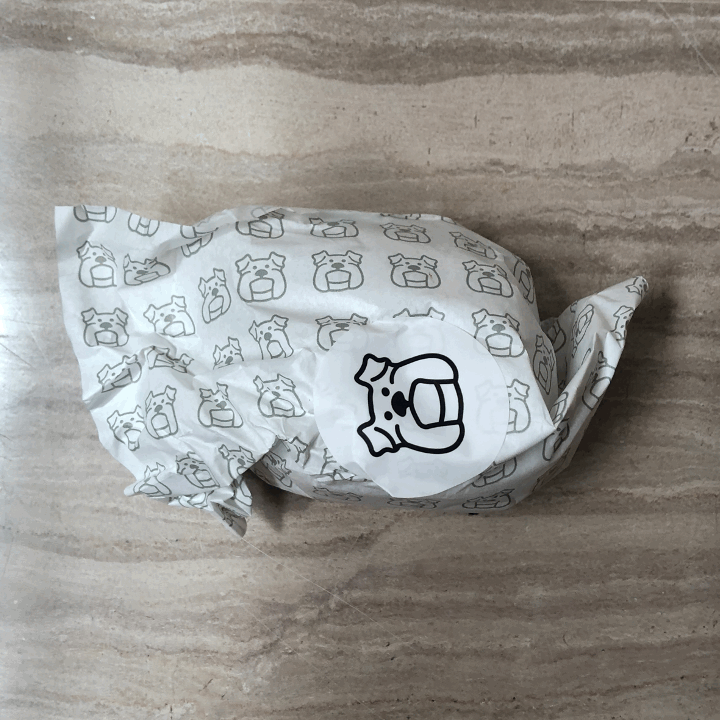 Consisting of an Impossible Pork patty that is slathered in XO mayonnaise, topped with red cabbage, pickled apple and Brie De Meaux cheese, and served betwixt two toasted burger buns, everything in the Impossible Hog burger served a purpose, and worked well as a whole.
The acidity from the pickled apple and red cabbage cut through the creaminess of the mayonnaise, and at the same time provided some textural variety and crunch to what would have otherwise been just a soft and mushy burger.
With that many things in the burger, I was expecting nothing short of a flavour bomb, but found that it fell slightly short of my expectations.
While the burger was tasty, it was just not as tasty as I'd like.
This could simply be a matter of preference, where I am just too used to a sloppy burger, doused and dripping with flavourful sauces, and messy, but jam-packed with flavour.
Other contenders
Here's a five-word review of the other worthy contenders:
Braised dong po Impossible Pork belly with golden mantou from Empress: Good effort, but not same.

Impossible Pork BBQ ribs from Privé: More Kicap Manis, less BBQ.

Sweet & sour Impossible Pork meat, lychee and pineapple from Madame Fan: Impeccable sauce with fried meatballs.

Makua yao stir fried eggplant with minced Impossible Pork from Little Elephant: Not an eggplant fan, sorry.

Impossible bak kwa from Fragrance: Flavour legit, but too soft.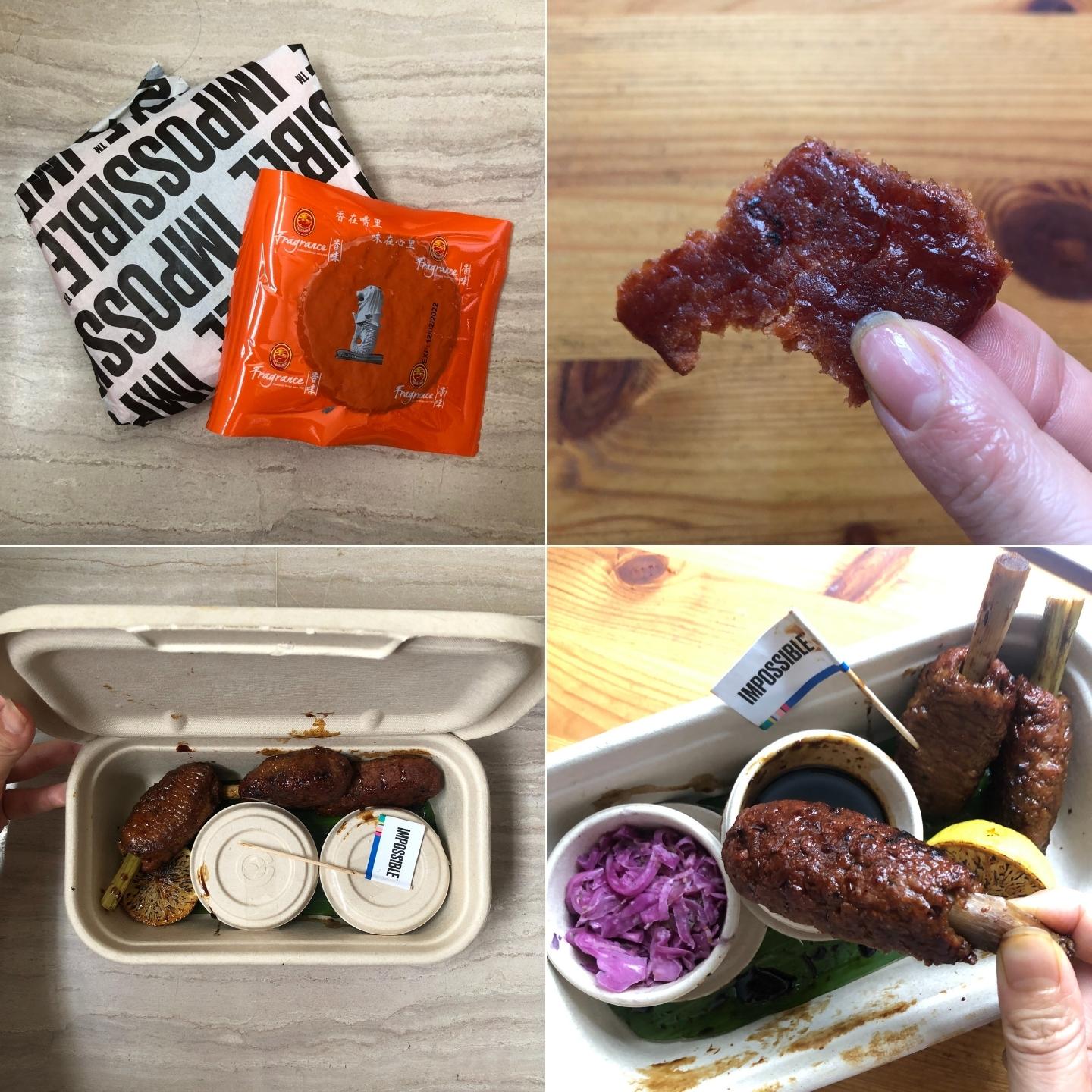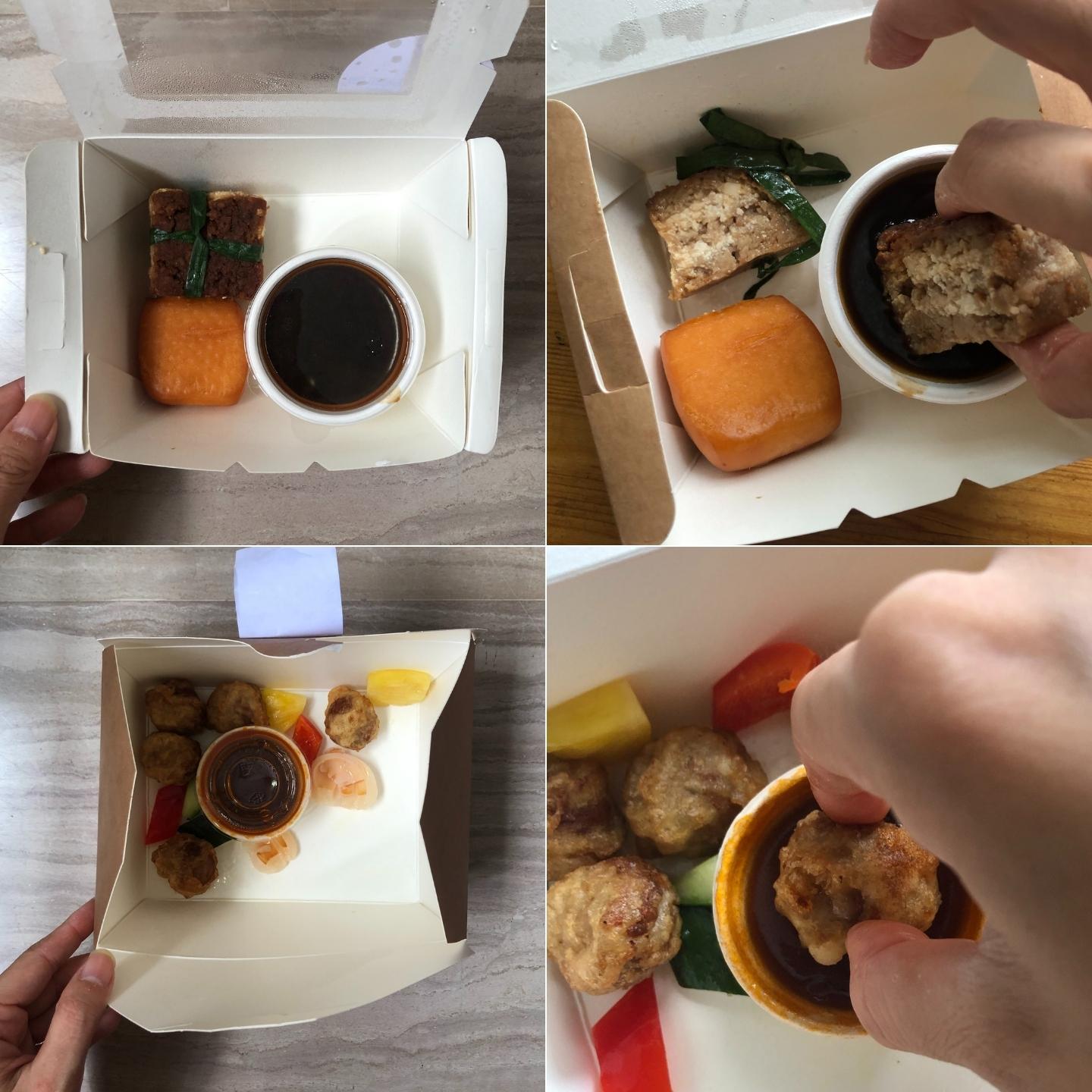 Overall verdict
Why am I using my hands? Maybe I am an animal, unlike the Impossible Pork in these dishes, I don't know, but that's not the point.
This is the point: Impossible Pork could pass off as pork, if not for its texture, but the sauces and marinade does the hard carry, and a lot of it.
Because the product is plant-based and ground up, it lacks the same mouth feel and fibrous bite as actual pork, a common theme that I noticed across all of the dishes that I tried.
This was noticeable for the pork ribs, bak kwa, and dong po pork belly dish.
Perhaps this was a coincidence, but in all of the dishes, the Impossible Pork was seasoned in some kind of sauce and/ or marinade. This is unlike the Impossible Burger, where the Impossible Beef can be tasted on its own.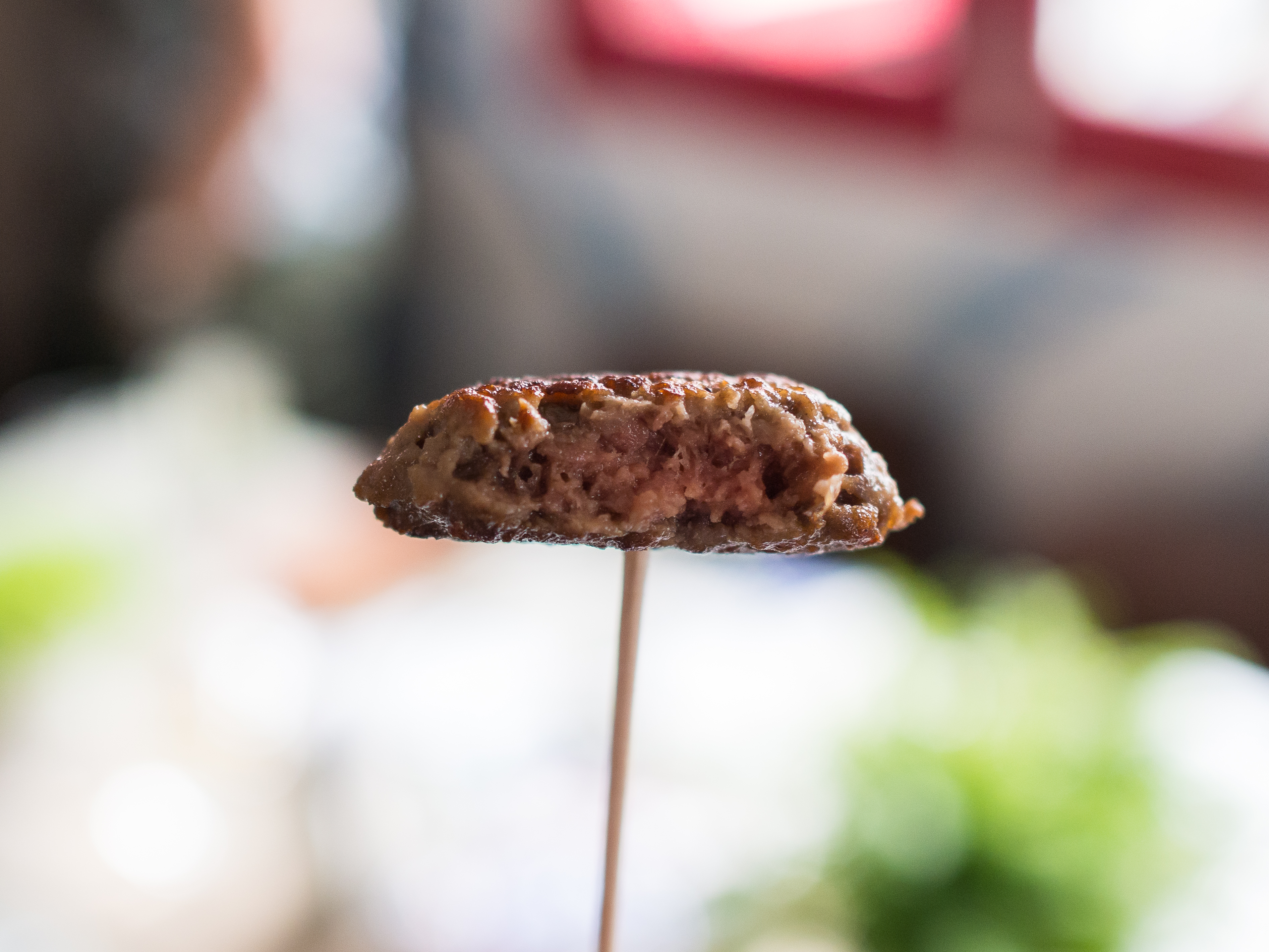 But I'm not complaining, because these seasonings, sauces, and marinades helped push the Impossible Pork dishes closer to their meatier counterparts.
If you're like me and don't mind the softer texture and love saucy food, I highly recommend the Impossible Pork as a pork substitute.
About Impossible Pork
I also recommend the Impossible Pork because it is "healthier" than its animal counterpart.
Comparing how the nutritional macros stack up, one serving of Impossible Pork (113g) has 59 per cent less total fat, 37 per cent fewer calories, and slightly more protein than actual pork.
For the health conscious folks, here's the full comparison of the nutrition information from Impossible Foods: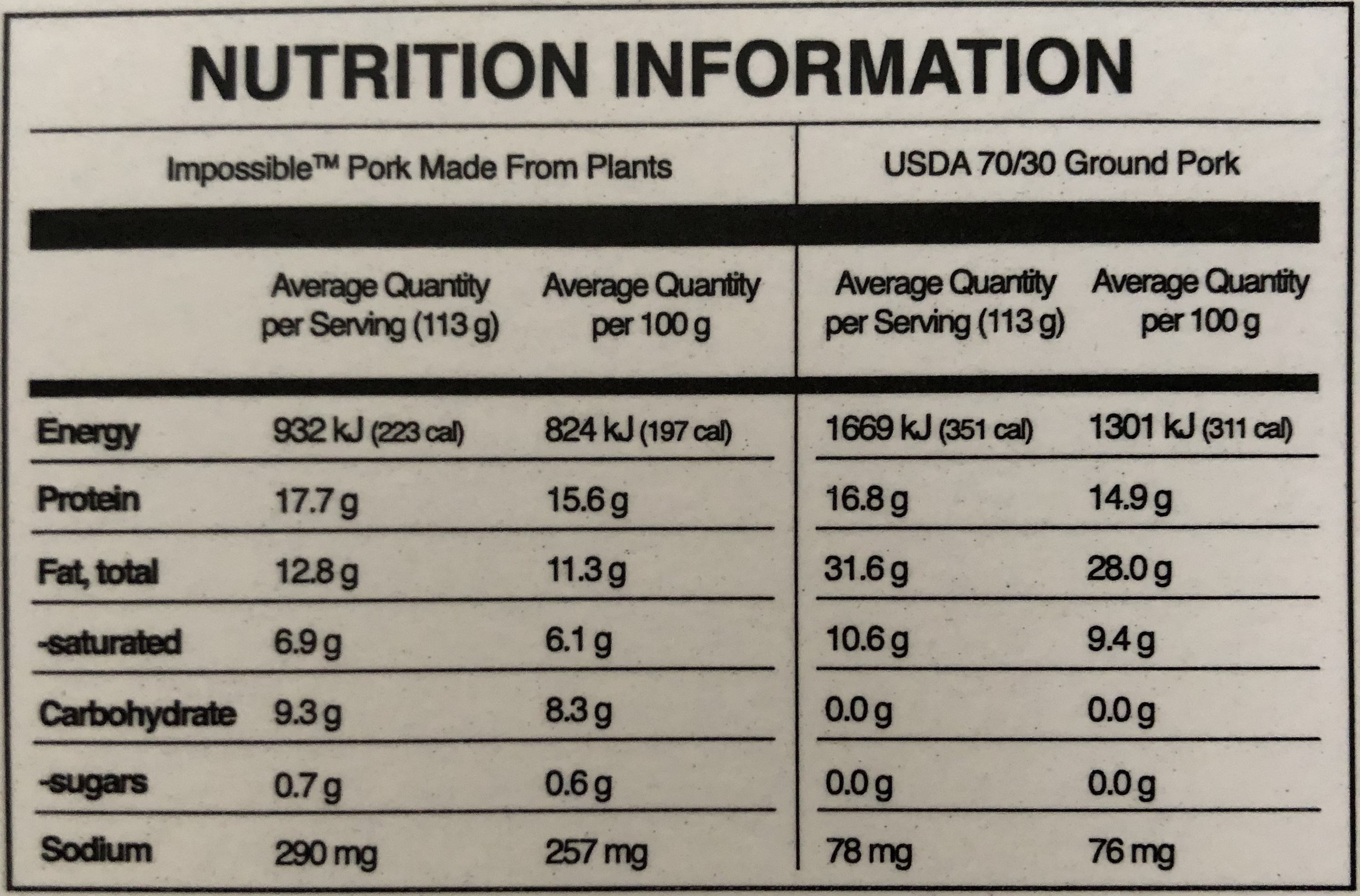 Another bonus is that Impossible Pork is more sustainable than its animal counterpart.
According to Impossible Foods' press release, the production of Impossible Pork uses 81 per cent less water, 66 per cent less land. and generates 77 per cent less greenhouse gas emissions, based on ISO conforming Life Cycle Assessment.
I'm not sure about you, but this is definitely a win in my book.
If you'd like to try Impossible Pork for yourself, the good news is that it is now available at over 120 restaurants in Singapore.
More Impossible Pork

All images by Fiona Tan unless otherwise stated
If you like what you read, follow us on Facebook, Instagram, Twitter and Telegram to get the latest updates.