Follow us on Telegram for the latest updates: https://t.me/mothershipsg
Taiwanese host Dee Hsu, known popularly as "Xiao S", is currently under fire in China for a comment in which she referred to Taiwanese sportspersons as "national athletes".
Sparking the entire furore was an Instagram post written on Aug. 1, where she cheered Taiwanese badminton player Tai Tzu Ying on, after she lost to Chinese player Chen Yufei and received a silver medal.
https://www.instagram.com/p/CSCXNrzprku/
Her caption read, "Honourable even in defeat~ but I nearly died (watching the match)!"
Chinese social media users then zoomed in onto an earlier post she made, where she praised Dai for being a remarkable athlete.
Posted right after Dai entered the finals, Hsu said it was so nerve-racking watching the match that her stomach hurt.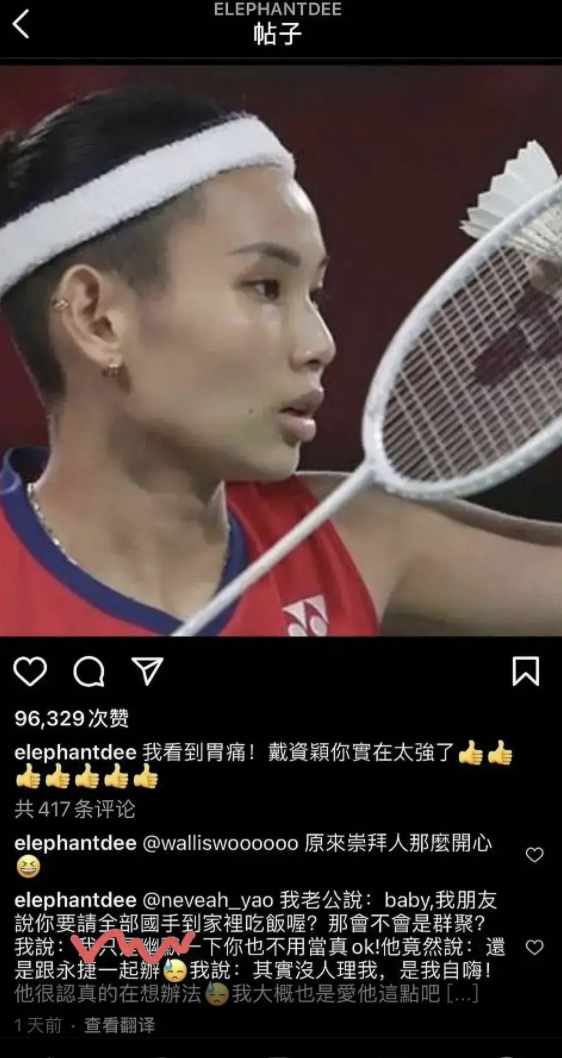 In a comment that she wrote underneath the post, she continued saying that her husband asked her if she planned to invite all "national athletes" to their home for a meal.
She had apparently replied that she was simply speaking in jest.
The post was one of many where Hsu openly displayed her support for Taiwanese athletes, including table tennis player Lin Yun-ju, as well as badminton duo Lee Yang and Wang Chi-lin, saying she wanted to treat them to a meal at her home.
Chinese netizens angered that Hsu showed her support for pro-Taiwan independence athletes
Netizens dug up social media posts that Tai and Lee had made previously as well -- one of which dates back as far as 2017 -- pointing out that these athletes are advocates for "Taiwanese independence".
For instance, they highlighted that Tai had referred to Taiwan as a "country" in the past, and that she had addressed the self-ruled island as "Taiwan" and China as "China" in the same line.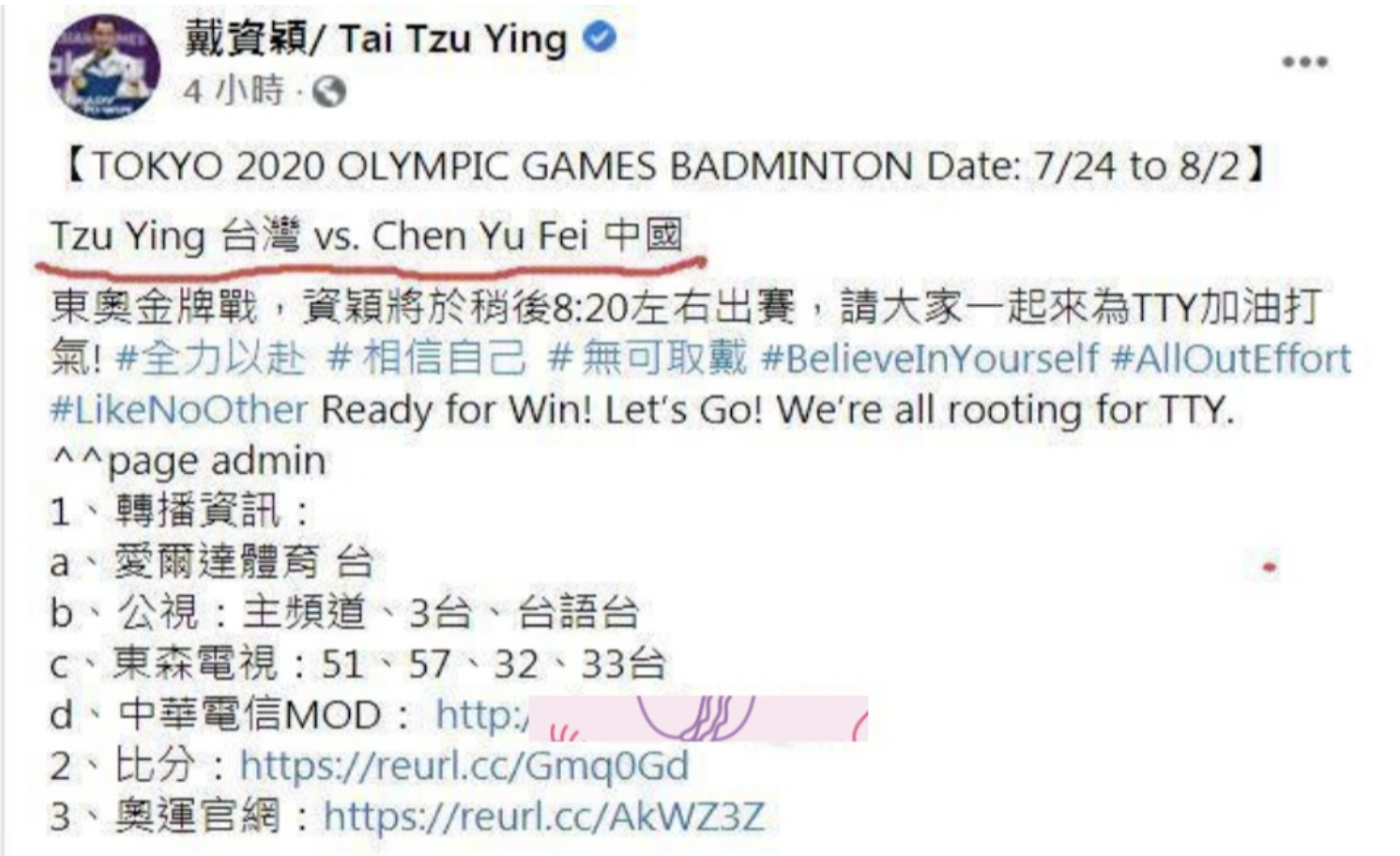 As for Lee, who had won the self-ruled island its first Olympic gold medal in badminton, he wrote in a Facebook post shortly after his victory that he comes from Taiwan and Kinmen -- an offshore island in Taiwan that's half an hour away from mainland China by ferry.
He added, "I present this highest honour on the Olympic stage to my country, Taiwan, and share this glory with all those who have supported us."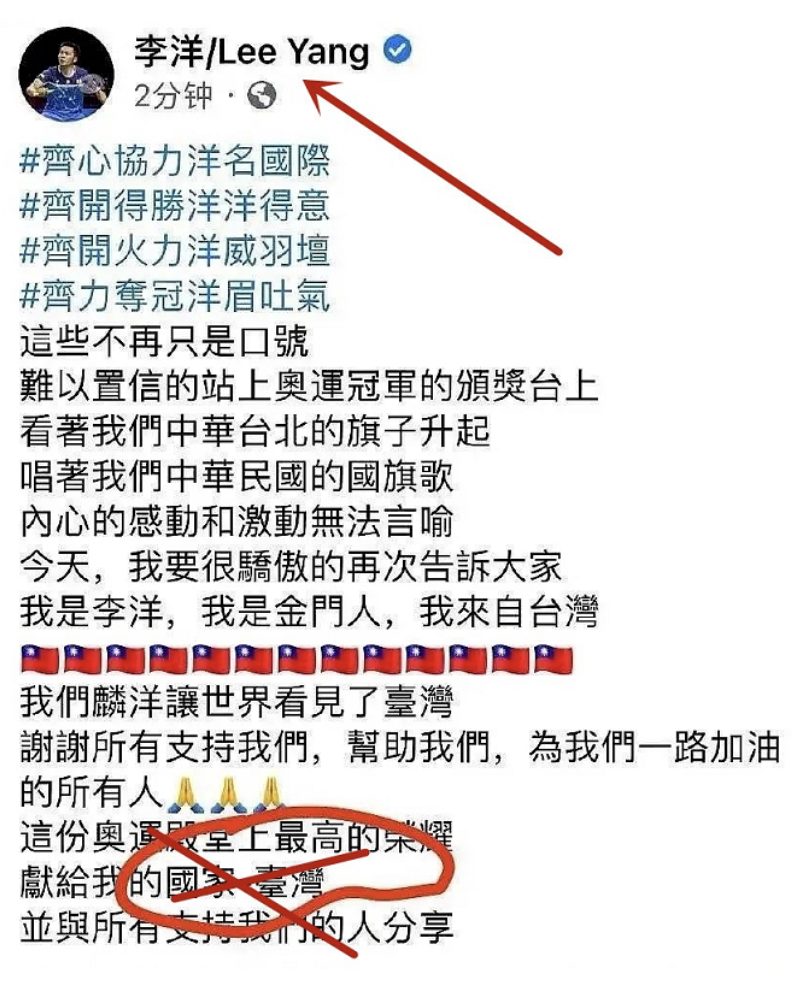 Slammed by Chinese netizens for being "hypocritical"
Hsu's comments, as well as the Taiwanese athletes' posts, have sparked the ire of Chinese netizens, who flooded Weibo -- where nationalistic voices tend to get amplified -- with criticism towards Hsu as they felt she was advocating for "Taiwanese independence".
They pointed out the past instances where Hsu had proudly said that her grandparents were from the eastern Chinese province of Shandong, claiming that she was being "hypocritical" for emphasising her Chinese lineage, yet advocating for Taiwanese independence on the sidelines.
Many netizens also expressed their sympathy for the brands that were working with her, especially adult sex toy company Darentang, for they had to drop her so soon after recently announcing their collaboration with her.

"Xiao S so obviously stands for Taiwanese independence, she should have been blacklisted way sooner."
---

"The country before idols, let her trend on social media, then blacklist her!"
---

"The words 'national athletes' are really pissing me off! Supporter of Taiwanese independence, get the hell out. I no longer like the Taiwanese people."
---

"(I'll) like to remind all Taiwanese stars to position themselves properly. Without the mainland's market, you can't even measure up to a fart."
---

"Don't invest too much emotions in Wan Wan (derogatory term for Taiwan) artistes, the outcome will turn out to be unfortunate."
---

"You and your national athletes may not be Chinese, but Taiwan still belongs to China! If not for your Chinese daddy giving you the chance, do you think you still have the right to compete in the Olympics? (You) did something shameful, and yet don't want others to criticise you. (You) even look pleased with yourself. Where on earth do you get this confidence from?"
---
Chinese social media users flocked to her Instagram page as well to make their displeasure known, despite the app being banned in China.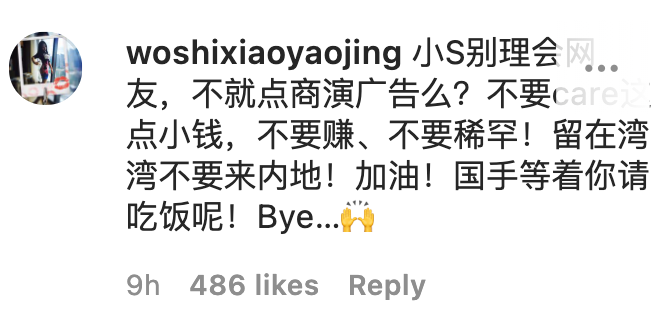 (Sarcastically) "Xiao S, Ignore these netizens, isn't it just some commercial ads? Let's not care about this bit of money, there's no need to earn such money, just don't care for it! Stay in Wan Wan and don't come to the mainland! All the best! The national athletes are waiting for you to treat them! Bye..."
At least one Chinese commenter, however, has professed his support for Hsu.

"As a mainlander, I don't think Hsu is wrong in cheering for the Chinese Taipei team. All athletes deserve respect!"
Endorsement deals lost estimated to be worth over S$1.5 million
At least four Chinese brands have publicly announced that they have cut all business ties with her.
For instance, food company Shouquanzhai said that they "prioritise "national interests above everything else", and they strictly stand by the "one China principle" -- a stance that is repeated multiple times by the Chinese government when it comes to the Taiwan issue.
Her daughter, Elly, was implicated in the controversy as well, with fashion brand Jorya announcing that they are ceasing their collaboration with the 14-year-old.
According to an estimation by SET News, Hsu has lost over TW$32 million (S$1.5 million) overnight.
Her mother says she has been "overly passionate"
According to DWnews, when approached by the media for comments, Hsu asked them to get off her back, saying "Can I have some peace and quiet to myself first?"
Her mother has spoken out in support of her as well, telling Taiwanese media that Hsu has been feeling down after getting a scolding from both her mother and her husband.
"Getting cut from her endorsement deals is something she hasn't expected," her mother said. "Both her husband and I think that she has been overly passionate and overzealous in her support for the Tokyo Olympics."
She added, "Xiao S thinks that every athlete is great, and every Olympic category is awesome, she is pleading with brands and netizens not to blacklist her, and hopes that the brands' sales won't be affected by this controversy."
Previously, Hsu's elder sister, Barbie Hsu ("Da S"), was also involved in a controversy which got tongues wagging on both sides of the Straits.
She has since voiced her dissatisfaction towards the Taiwanese government, saying that the Tsai administration is "massacring" the people, and appearing to stand with her husband's stance on the government's alleged inability to secure vaccines for the people.
Top image adapted via Weibo 
Follow and listen to our podcast here
If you like what you read, follow us on Facebook, Instagram, Twitter and Telegram to get the latest updates.