As Covid-19 cases in Taiwan surged about a month ago, the self-ruled island found itself under another onslaught of disinformation from China.
Fake news with dubious sources
Forms of disinformation include reports that claimed Taiwanese President Tsai Ing-wen has been infected with Covid-19, as well as fake Twitter accounts posing as left-leaning newspapers.
For instance, a tweet from a fake Liberty Times account claimed that Taipei and New Taipei have become "ghost towns", with "20,000 people going missing" and "mass burning of bodies from victims of the Wanhua pneumonia".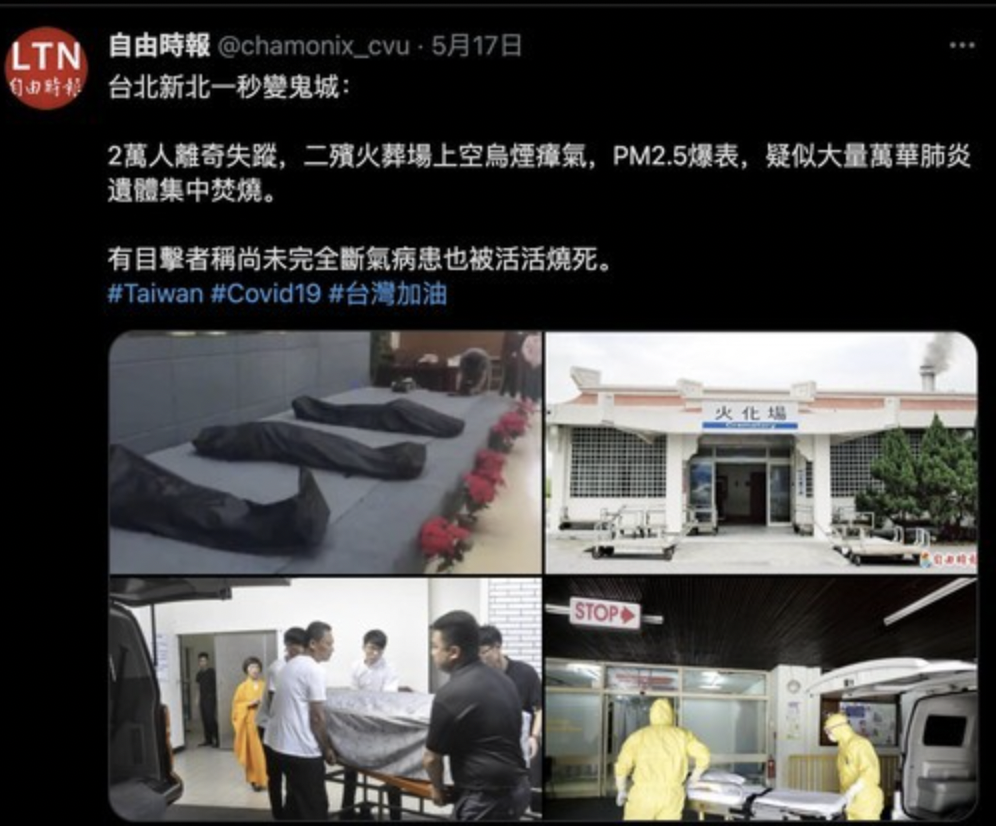 There was even a post claiming that Health Minister Chen Shih-chung is a 129-year-old Japanese, and has actually collaborated with the U.S. to manufacture the Covid-19 virus.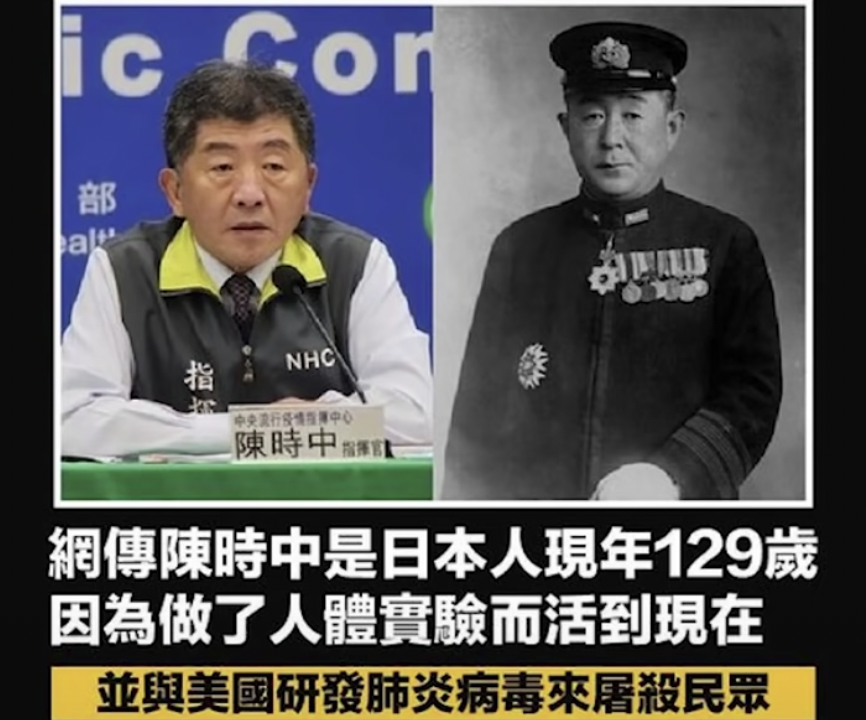 The fake news was later debunked by netizens, who pointed out that the man in the black and white photograph was a Japanese rear admiral born in 1892, Tamon Yamaguchi, Storm Media reported.
Despite the incredulity of the falsehood, a number of elderly Facebook users were taken in by the claims, with some of them sharing the post in their Facebook groups.
Rise in disinformation from Chinese sources detected
Puma Shen, the director of Taipei-based NGO DoubleThink Labs, told Al Jazeera that starting from May 12, which was the day after Taiwan reported community transmission, disinformation attempting to "trigger panic locally" became increasingly common.
These disinformation campaigns originated in China, Taiwan's Investigation Bureau chief said in March last year.
Yu Chih-hao of non-governmental organisation (NG) Information Operations Research Group told Financial Times (FT) that such disinformation eventually makes its way to mainstream Taiwanese media as users share them in private groups on messaging app Line or PTT, one of the largest web forums in Taiwan.
Local Taiwanese are also paid between 5,000 to 10,000 RMB (S$1,042 to S$2,085) a month to churn out social media posts that spread these misinformation, according to American cybersecurity firm Recorded Future, presenting a potentially insidious threat to Taiwanese society.
While Taiwan is no stranger to disinformation campaigns from China's propaganda machine, the latest campaign can have serious implications on public health, making it a cause of concern for Taipei.
The misinformation has already impacted Taiwanese society, with the local media's focus on deaths that occurred after AstraZeneca vaccine jabs contributing to a drop in vaccine take-up rates as the public grows increasingly sceptical of vaccines.
Disinformation targeting the Chinese as well
Disinformation from China is not only targeted at the Taiwanese.
A compilation of video clips from many individuals who claimed they are Taiwanese citizens, and would like to receive Chinese-made vaccines went viral on popular Chinese microblogging platform Weibo.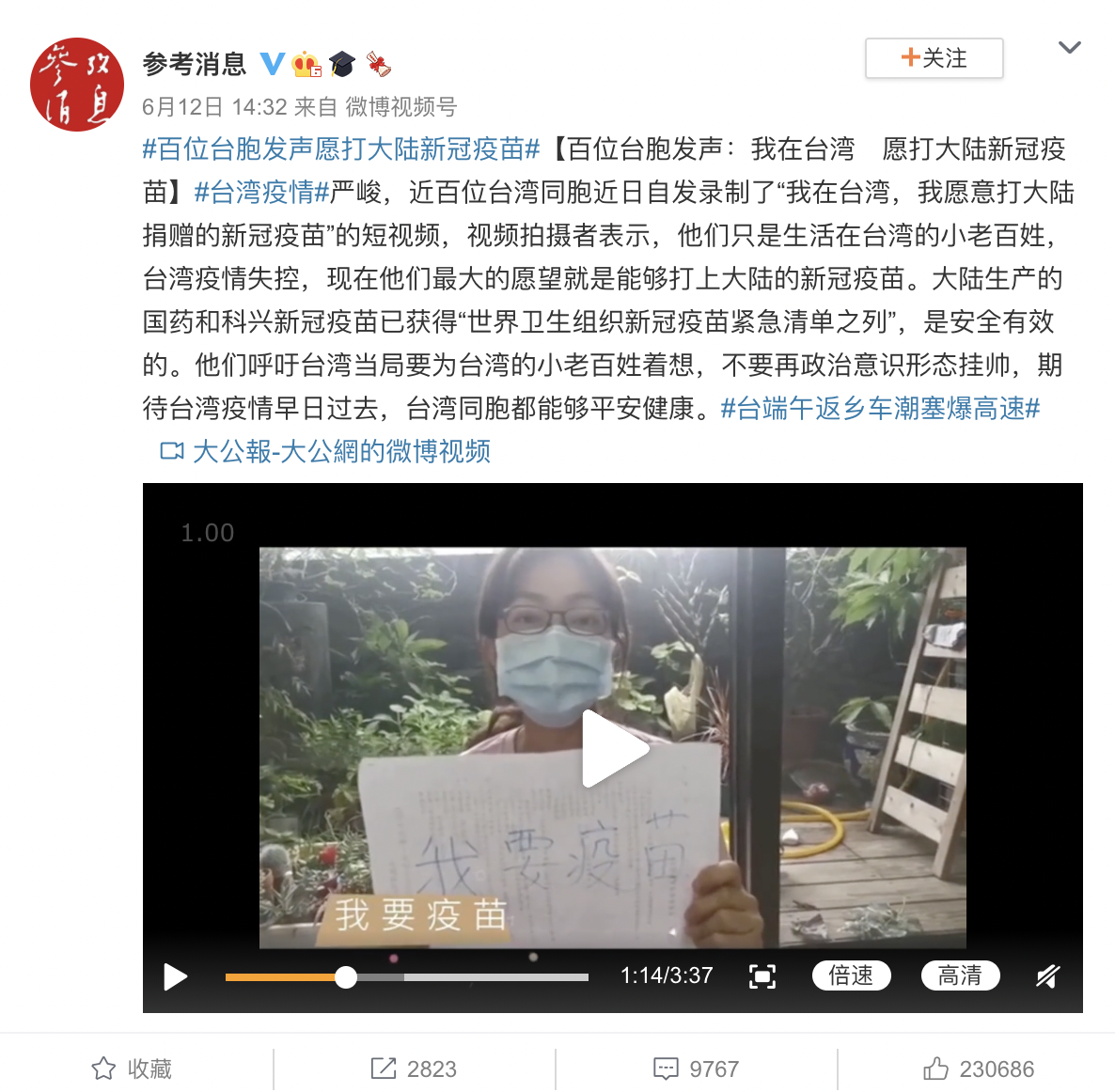 The lines they say don't vary much, and appear to follow a fixed format.
The clips presented to viewers a united response from the Taiwanese people regarding their desire to get jabbed with vaccines from China.
Despite the individuals speaking with a mainland Chinese accent, Weibo users believed that the persons in the videos were indeed Taiwanese.
Many mocked the "Taiwanese" for begging for Chinese-made vaccines, and said their appeals were not sincere enough as they did not say that they are Chinese nationals who are asking for help from their nation, China.
The account that posted the compilation of videos belonged to Reference News, a Chinese newspaper that is published by Xinhua News Agency, the official state-run media under the Chinese Communist Party (CCP).
A narrative favourable to China
The narrative that Taiwan is looking to China for help as it fails to contain its outbreak appears to be regularly pushed by Beijing.
For instance, spokesperson for China's Taiwan Affairs Office Ma Xiaoguang claimed that more than 80 per cent of Taiwanese people are willing to receive vaccines from China -- an allegation that was not substantiated by any Taiwanese sources.
In fact, a survey conducted by Taiwan-based National Chengchi University had revealed results that appeared to be incongruous with Beijing's claim, with more than 70 per cent of respondents saying they were unwilling to receive Chinese vaccines.
Lianhe Zaobao's China correspondent Yang Danxu opined in a commentary that "the pandemic has provided a chance for (China's) United Front to draw the Taiwanese closer to the mainland".
The narrative that Beijing "hopes to see the most" is one that demonstrates "the incapability of the Democratic Progressive Party (DPP)-led government in containing the outbreak", she said.
It should also show "how the U.S., which claims it backs Taiwan, never provided a vial of vaccine, and that it was Beijing who lent a helping hand instead".
In response to Beijing's offer of vaccines to help its "compatriots" in Taiwan, Taiwan's Mainland Affairs Council has hit back by saying "the Taiwanese society, as well as the international community, recognise the United Front's propaganda tactics employed by China whenever Taiwan's Covid-19 situation worsens", the BBC reported.
Taiwan speaks out against disinformation from China
Taiwan has also explicitly voiced out against what it says is a concerted effort from China to "deepen internal conflicts in Taiwan", and to destabilise the island's economy and stock market, according to Presidential Office Deputy Secretary-General Lee Chun Yi.
The island's security agencies also asserted that Beijing had ordered numerous disinformation attacks on Taiwan, Cabinet spokesperson Lo Ping-cheng said.
The false information he raised include a report that claimed the disinfectant used by the military was highly toxic, as well as a post shared in a Line chat group that alleged that a person linked to a cluster at a gaming arcade had attended a meeting in Miaoli.
The threat of disinformation for an entity like Taiwan
So how problematic are these disinformation campaigns for Taiwan?
Chen Ching-chang, an associate professor at Kyoto-based Ryukoku University who specialises in International Relations in East Asia, told Mothership that "the problem in Taiwan now is not a public health crisis but a political one".
This is because while the pandemic is "still under quite reasonable control", forces such as the pan-blues and "fifth columns" have been trying to create "a confidence crisis" in the government, he said.
While the former refers to a loose political coalition that includes the opposition party Kuomintang (KMT), which is perceived to be Beijing-friendly, the latter refers to an underground communist network that seeks to destabilise the government through various means, such as espionage, sabotage and disinformation, according to Taipei Times.
Chen added that this can be dangerous for "an abnormal country with China as its neighbour".
FT's Greater China correspondent Kathrin Hille expressed similar views as well.
She pointed out that while many Western democracies have had to deal with internal frictions during the pandemic, such as certain groups of Americans protesting against lockdowns and anti-vaxxers in Germany voicing out against vaccines, the issue might impact Taiwan in a different manner.
This is because for Taiwan, it is "a riskier path" for such ideas to take root in society as China "stands ready to seize on divisions".
Regarding the China Times journalist asking about the possibility of constructing "square hospitals" in Taiwan (despite the obvious fact that medical supply has stabilized, with 10,000+ spare beds), I suspect this is aimed at disinformation more than incompetence

— Brian Hioe 丘琦欣 (@brianhioe) July 7, 2021
How will such disinformation campaigns impact Taiwan?
However, Chen's views diverge from Hille's, who wrote that Taiwan's unity is cracking under the pressure of such disinformation campaigns, with the public losing trust in the government's handling of the pandemic as their fear grows due to rumour-mongering.
Chen opined that the Chinese government's attempt to "sow discord" in Taiwan would not have a lasting impact on the island.
"The CCP's tricks have been increasingly recognised by Taiwanese and outsiders alike," he said, adding that the disinformation campaign will become less effective in about a decade should the number of pan-blue supporters continue to dwindle.
In Taiwan's presidential election last year, the incumbent Tsai of the DPP secured 72 per cent of the vote among voters below the age of 40, according to Academia Sinica, a top government-backed research institute.
On the other hand, Han Kuo-yu, the presidential candidate for KMT, secured just 15 per cent of the vote from the same age group.
The KMT had also admitted that it had only 9,000 party members under 40 in 2019, although the number has increased with 3,545 new admissions last year, Taipei Times reported.
Will Taiwan's ruling party survive after the pandemic?
But confidence from the public towards Tsai's government might have suffered a blow recently, as new cases climbed and voices complaining of a lack of access to vaccines grew more vocal.
Her approval rating had fallen to a record low in 21 months, amid rising pressure to accept Chinese vaccines.
Even so, Chen opined that it's possible Tsai's government can "weather the storm this time", with support from like-minded democracies.
He cited the example of Japan and the U.S. "scrambling to donate vaccines to Taiwan", which he likened to the bank "putting cash mountains on the table to restore customers' confidence".
Japan recently announced on July 6 that it would send 1.13 million more doses of the AstraZeneca vaccine to Taiwan, after delivering 1.24 million doses last month.
The U.S. had also shipped over 2.5 million doses of the Moderna vaccine last month -- an act that China has objected to, with Chinese foreign ministry spokesperson Zhao Lijian urging Washington "not to seek political manipulation in the name of vaccine assistance".
The Covid-19 situation in Taiwan appears to be under control currently as the island sees a steady drop in Covid-19 cases, with 18 new local transmissions on July 8 -- the lowest number reported since May 13 .
Along with an increased supply of vaccines, and perhaps a heightened sense of vigilance among the general public towards such disinformation campaigns, the current administration would perhaps still survive and be well enough to carry on, even though it's unable to come out of the crisis unscathed.
Top image via Taiwan Wanderer/YouTube
If you like what you read, follow us on Facebook, Instagram, Twitter and Telegram to get the latest updates.