Follow us on Telegram for the latest updates: https://t.me/mothershipsg
An extermination of a bee swarm at Bukit Batok West Avenue 6 saw plenty of bee carcasses in the aftermath.
Dead bees scattered all over
The incident was brought to light by Xavier Tan, a local beekeeper at Nutrinest, in a Facebook post on July 18.
In his post, Tan documented the
"site of battlefield", where the
floor was "full of bee bodies" and some had been run over by passing vehicles.Tan observed dead bees lying in the drain and grass patch too.Speaking to
Mothership
, the beekeeper estimated that a typical bee swarm will have around 20,000 bees.
Tan said he was made aware of the bee swarm by a resident on July 16.
The bee swarm was observed to be on a tree between the blocks 130 and 131 at Bukit Batok West Avenue 6, Tan said.
Tan added that he did not see any wax on the tree where the bees were reported, nor was there any sign of a destroyed honey comb, when he dropped by the site the next day.
If the queen bee had escaped from the ordeal, it is possible for the colony to be reestablished over time, he shared.
Resident wanted to relocate bees, not kill them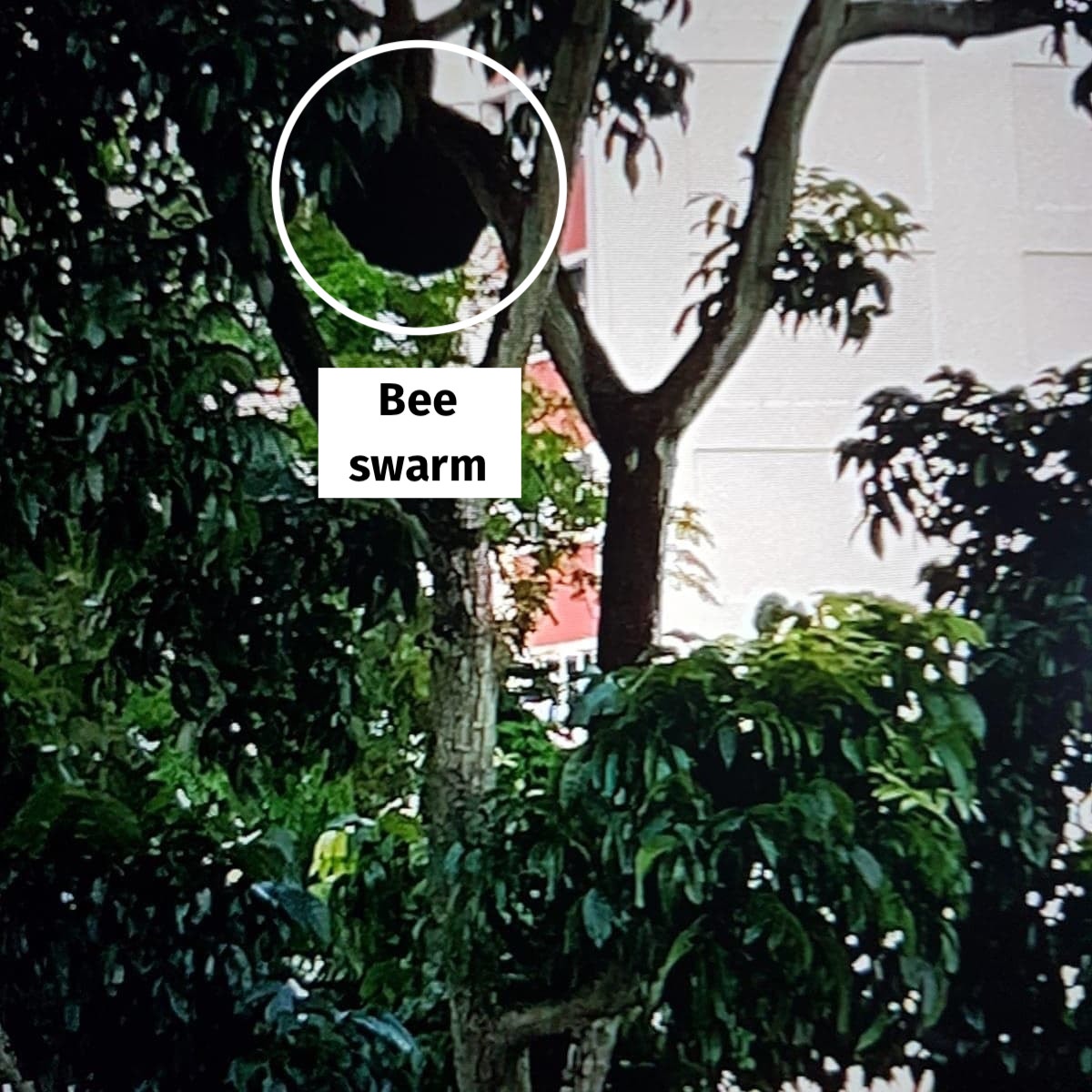 According to Tan, the resident had alerted the National Parks Board (NParks) at around 6pm on July 16 and the case was subsequently handed over to the Jurong Town Council (JRTC) as the bee swarm was situated within a residential estate which was not under NParks' jurisdiction.
The resident also reached out to Tan in hopes of removing the beehive humanely, instead of an extermination carried out by pest controllers, Tan said.
However, Tan said that he did not have the authority or approval from the town council to relocate the bees.
The bees were exterminated at around 10pm on the same day, and videos were captured by the resident which was sent to Tan.
While the extermination was being carried out, the resident was instructed to close all windows, Tan added.
Another bee swarm sighted at Bukit Batok exterminated
Another resident who lives at Bukit Batok West Avenue 8 alerted Mothership to another sighting of a bee swarm.
The resident said that bees were observed flying around her HDB corridor on July 16 and July 17 before she noticed a "beehive that is three or four times bigger than normal beehive" on July 18.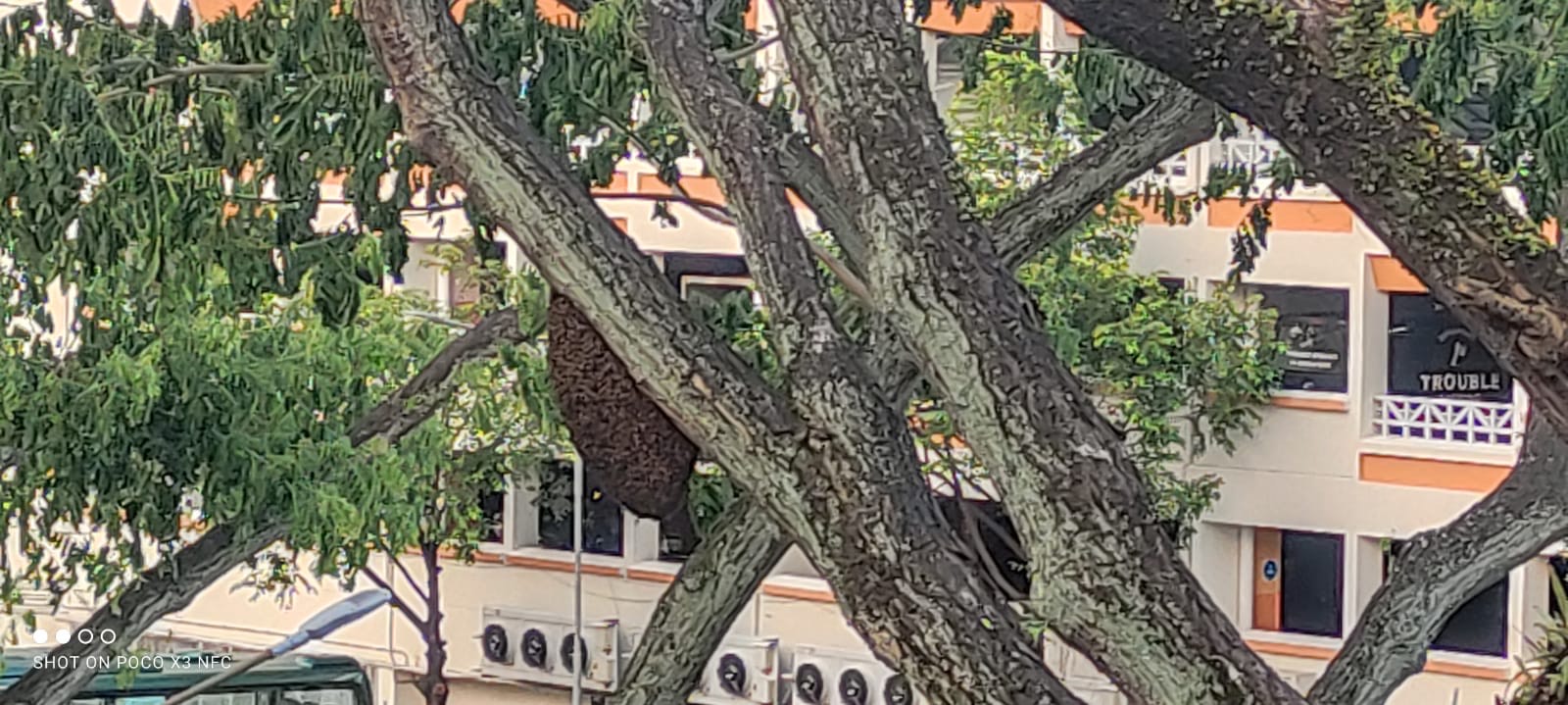 The bees were "super active" she described and so she alerted the town council about it.
At around 8pm, the area was cordoned off and workers were sighted holding up a long stick with a spray targetted at the bees.
The bees fled towards places with lights and a number of them swarmed towards her corridor and some went into her house.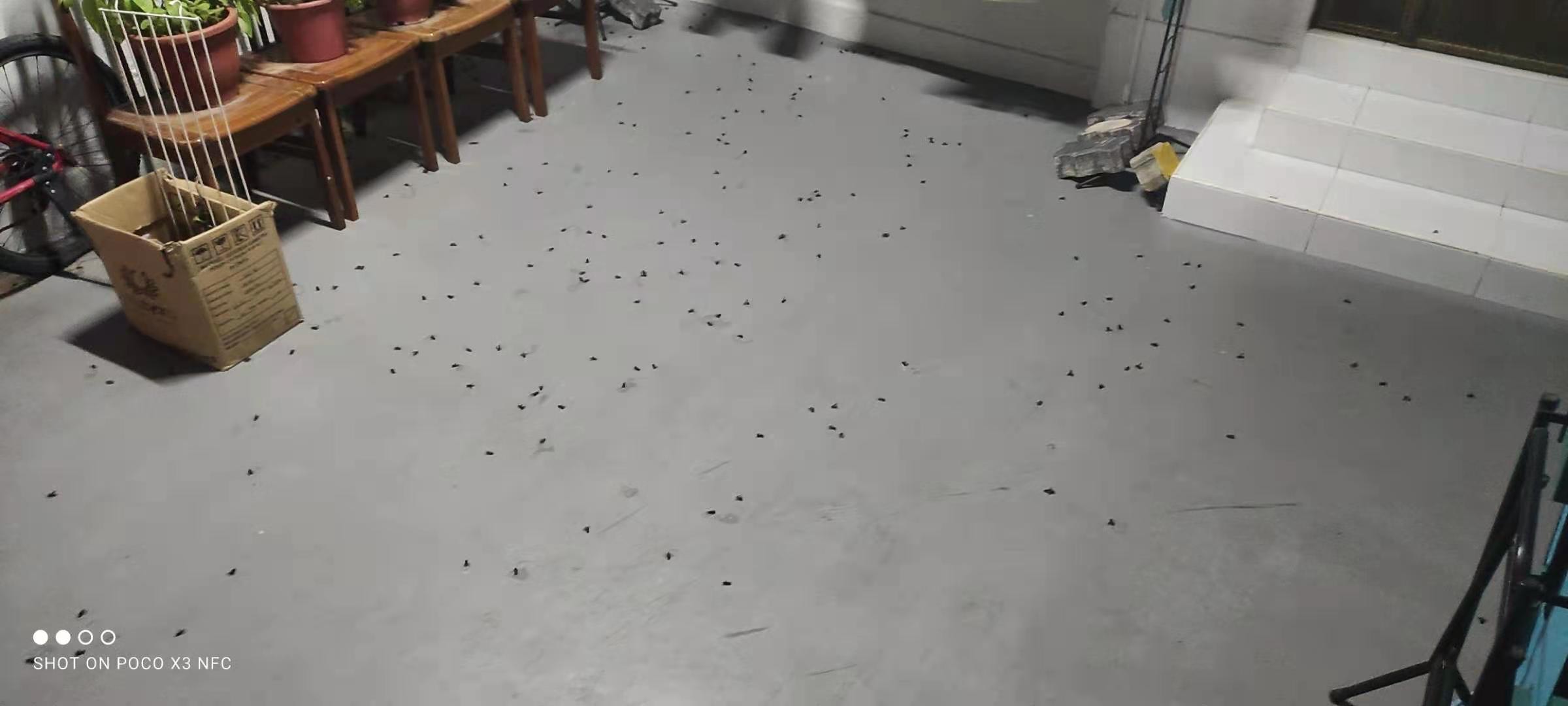 Mothership has reached out to JRTC on July 19 and August 3, and will update when they respond.
While it is uncertain where these bees came from, both Avenue 6 and Avenue 8 appeared to locate near Tengah forest and Bukit Batok Hillside Nature Park where housing projects are ongoing.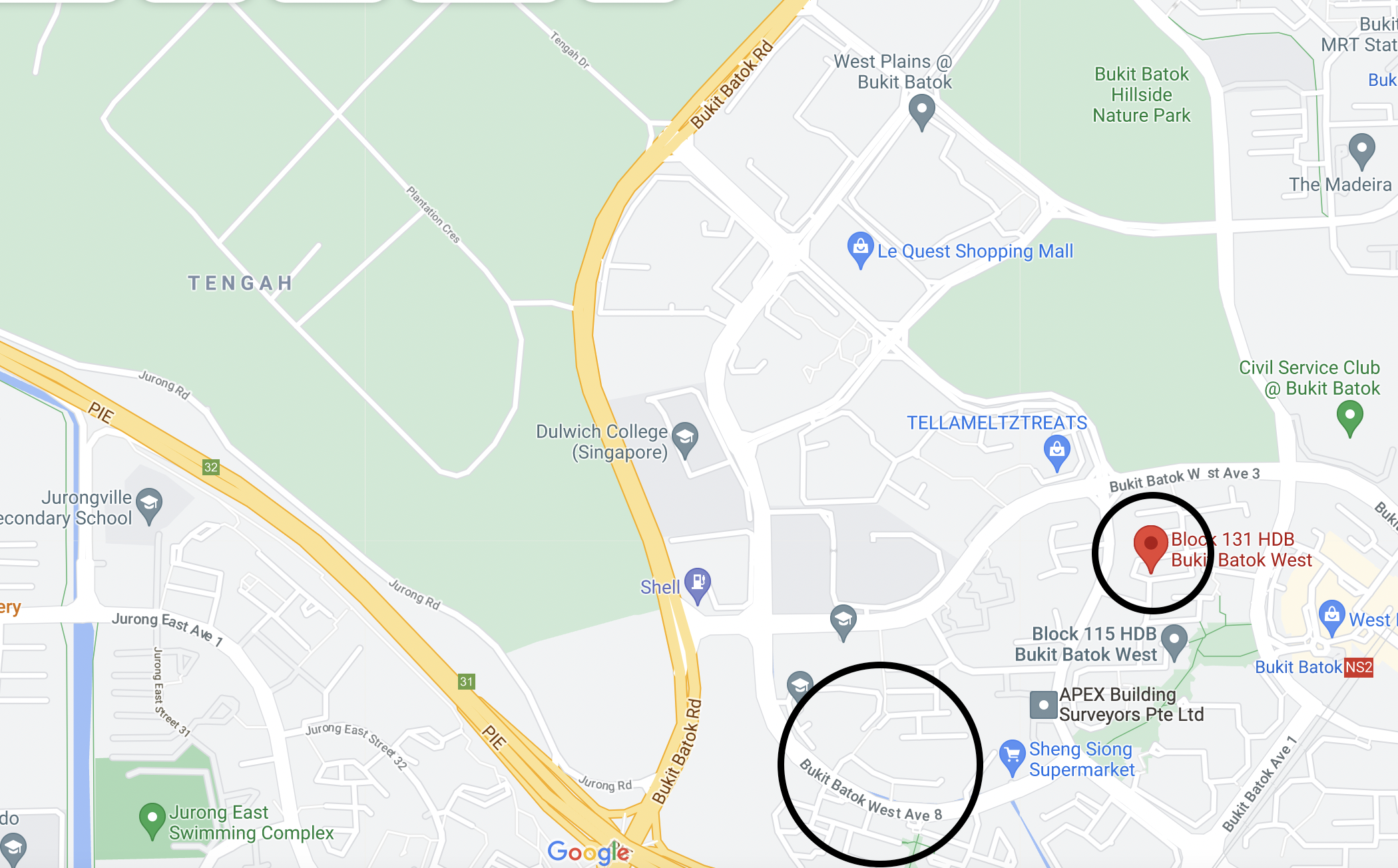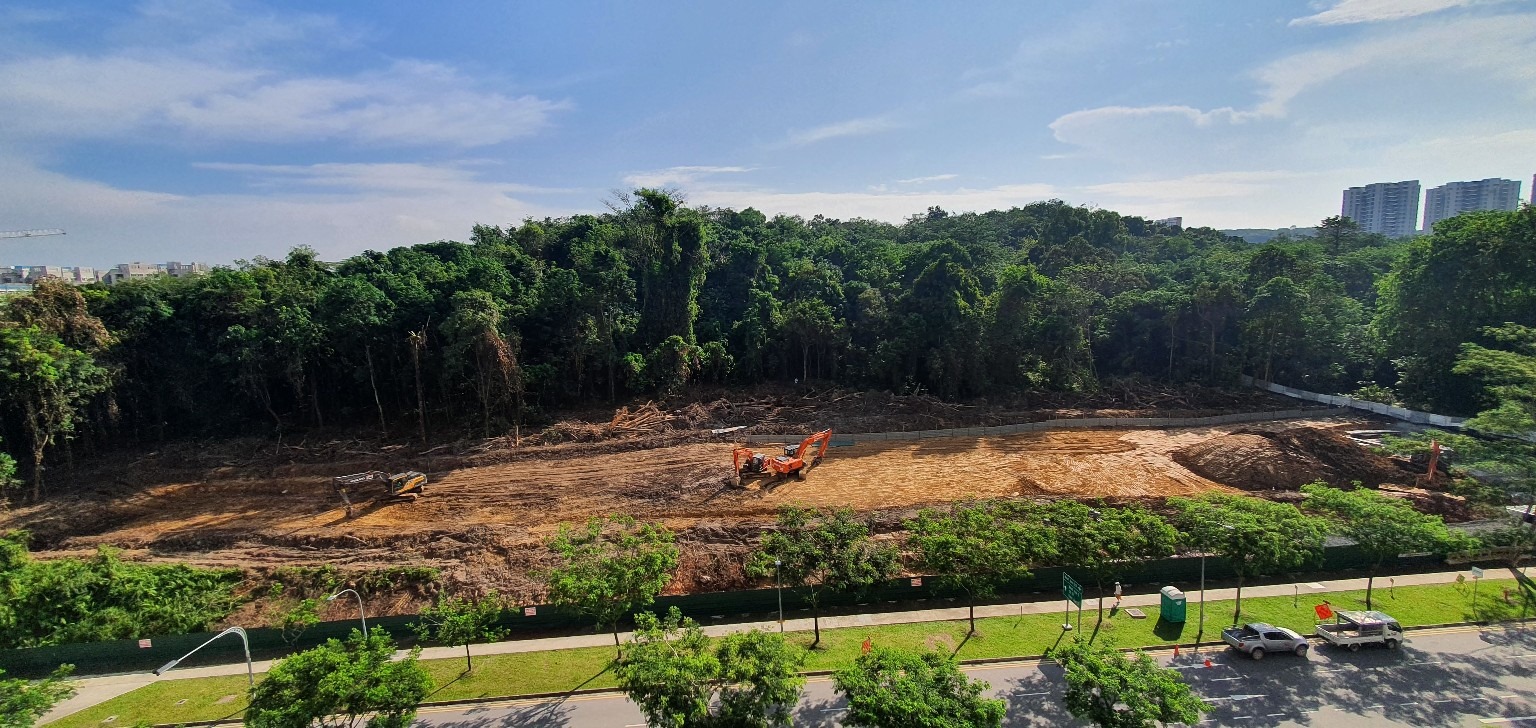 More about bees in Singapore
According to Tan, the bees exterminated were giant honey bees, Apis dorsata.
Also known as the Malayan honey bees, this is one of the four species of honey bees in Singapore.
These bees forage actively at night and are drawn to artificial light sources, which explains why some of them flocked towards HDB corridor or units when the extermination was being carried out.
Including the honey bees, there is a total of 132 species of bees in Singapore, according to a guidebook on Singapore's bees published by NParks in 2020.
Not all bees form colonies or pose public safety concerns like the honey bees. A majority of bees in Singapore are solitary bees which prefer to live in small groups and are comparatively docile.
These solitary bees nest in dead wood, twigs and in the soil, NParks said.
Also, not all bees that form colonies sting.
This is why when you encounter bee swarms, what is advised by NParks is to stay calm and leave them alone as they are in transit to a new nesting site and will eventually disperse on their own.
Bees are important pollinators to native plant species, including vegetables grown in community gardens.
Bees are most docile when they swarm, here's why:
According to NParks, giant honey bees are naturally nomadic.
This means that the bees often abandon their hive to search for a new nesting site within three to six months.
To do so, a large group of bees will leave their hive and scout for a new location that is suitable to establish their colony, forming a swarm.
Largely made up of female worker bees, some male drone bees, and one queen bee, swarms can range anywhere between several hundred to a few thousand.
These bees might occasionally cluster on a tree limb, swarm, or HDB window to catch a break and take a rest temporarily, as
In fact, bees are most docile when swarming as most of their energy is expended on relocating.
The cluster disperses, and the bee swarm departs as soon as a suitable location is found.
If really need help with relocation of bee swarms/hives:
Do not attempt to remove the colonies of bees yourself but you can engage some beekeepers in Singapore.
Acres, a wildlife rescue organisation, recommended enlisting beekeepers to remove the bees humanely. However, do note that Acres does not handle bees.
You can reach out to these three local beekeepers if you need help:
Xavier Tan from Nutrinests (9147 4065)

John Chong from BEE AMAZED Garden (9669 6370)

Clarence Chua from The Sundowner (9617 7164)
There is also a bee-friendly pest control company which has committed to relocating bees instead of exterminating them:
Origin Exterminators: 6280 5666
Origin Exterminator have been trained by Chong and the beehive relocation work is being led by a former co-founder of Pollen Nation where he used to conduct outreach on bees conservation.
Top image from Mothership reader and Xavier Tan/Facebook

If you like what you read, follow us on Facebook, Instagram, Twitter and Telegram to get the latest updates.