Singapore's state investment arm Temasek Holdings saw a much larger growth in the past year since the Covid-19 pandemic decimated businesses and economies.
Jump in net portfolio value
Temasek closed its financial year on Mar. 31 and announced the results of its annual review on July 13.
It reported that its net portfolio value this year was S$381 billion, a stark increase of S$75 billion from the previous year.
This is the highest net portfolio value achieved, surpassing the previous record of S$313 billion in 2019.
This also appears to be the highest ever yearly increase in net portfolio value.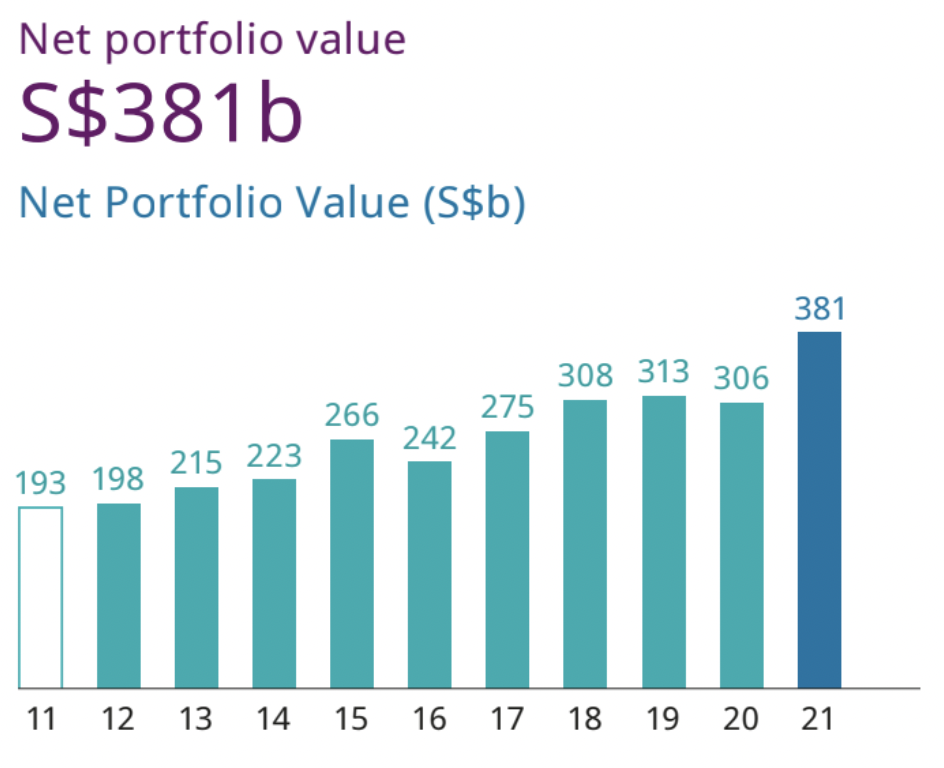 Temasek's one-year Total Shareholder Return (TRS) was 24.53 per cent, up from -2.28 per cent in 2020.
Its 10-year and 20-year TRS were seven per cent and eight per cent respectively.
This is a slight increase from five per cent and six per cent in 2020.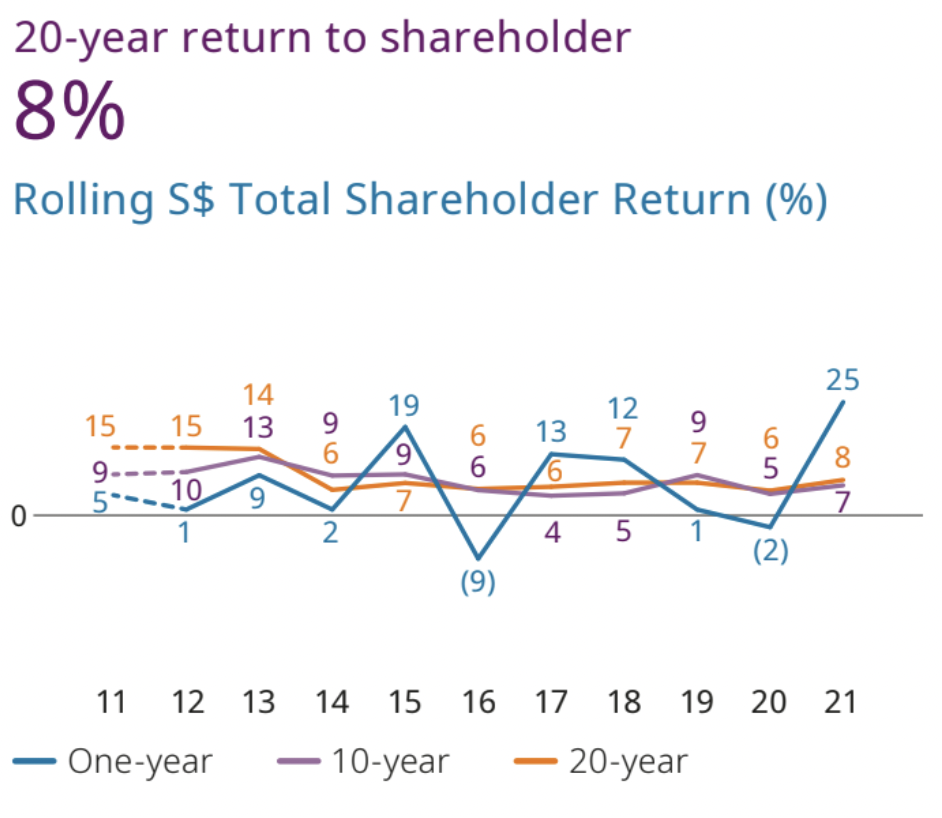 Record numbers of investments and divestments
Amid the tense climate of pandemic lockdowns and travel restrictions, Temasek said it invested during market dislocations based on its value tests. It did the same for its investments in portfolio companies, and maintained its "disciplined sale of investments".
This is key to stimulating innovation and growth, the investment company said, as it repositions its portfolio amidst a changing world.
In the past year, Temasek invested S$49 billion and divested S$39 billion, which are record numbers on both counts.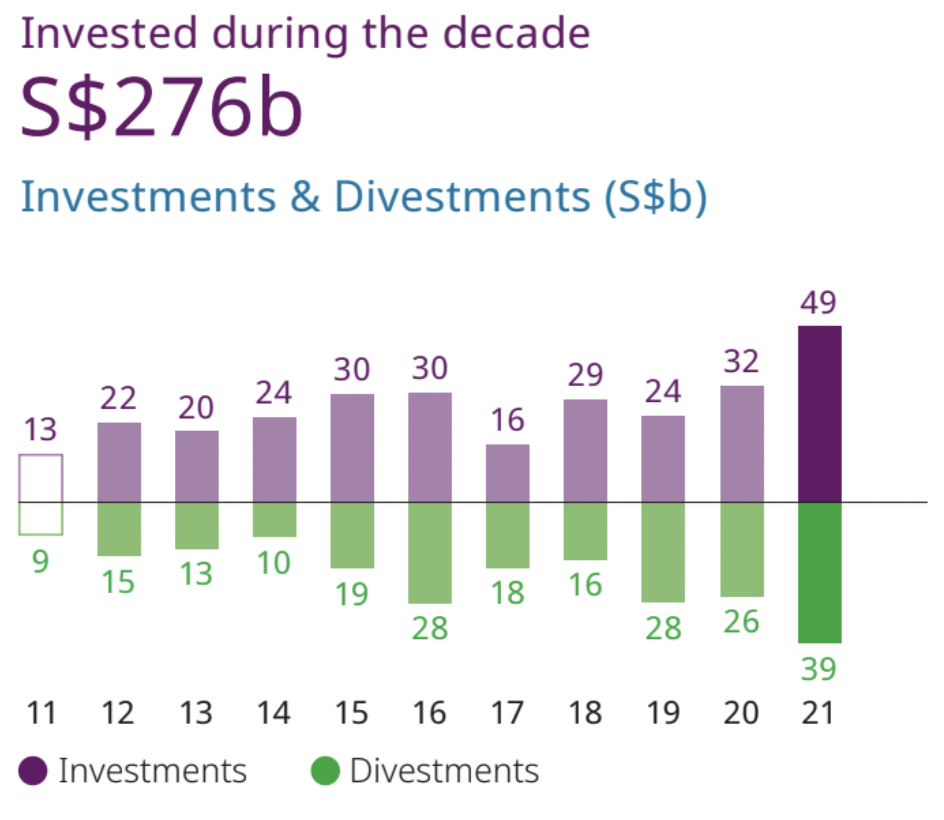 Based on its exposure to underlying assets, Temasek said it remains "anchored" in Asia.
China (27 per cent) and Singapore (24 per cent) remain two of its largest countries of exposure, while the Americas (20 per cent), Europe, Middle East and Africa (12 per cent) follow after.
The region with the largest share of new investments the past year was the Americas, followed by Singapore and China.
Four structural trends
In order to remain relevant, Temasek said it has reshaped its portfolio, taking a long view of the "threats and opportunities ahead".
It relooked at four structural trends:
Digitisation

Sustainable Living

Future of Consumption

Longer Lifespans
Temasek added that the pandemic has accelerated the long-term trends of digitisation and sustainable living that have been driving its investment focus.
It has also been investing in companies that are developing solutions which address global challenges or needs.
In particular, the financial services sector (24 per cent), as well as the telecommunications, media and technology sector (21 per cent) remain the top two largest sectors of its portfolio.
Under the financial services sector, its portfolio has since expanded from mainly banks to include fintech, insurance and payment services, while under the latter sector, its portfolio includes software, Internet and e-commerce companies.
Closer to home, Temasek has taken part in capital raising by Singapore Airlines, and has invested in Sembcorp Marine as part of its demerger from Sembcorp Industries.
Both companies are making their transition as sustainable solutions providers for the low-carbon economy, Temasek said.
Sustainability at its core
Putting forth sustainable living as one of the structural trends it is looking at, Temasek said it's committed to the environment.
Climate change is an existential and urgent threat, it said, and sustainability "remains at the core of all we do".
Temasek's aim is to reduce net carbon emissions of its portfolio to half of 2010 levels by 2030, with the bigger goal of reaching net zero carbon emissions by 2050.
To achieve this, Temasek has adopted a three-pronged approach — invest in climate-aligned opportunities, enable carbon negative solutions, and encourage decarbonisation efforts in businesses.
It has set an internal carbon price of US$42 per tCO2e (S$56.74 per tCO2e) to inform its investment decisions.
Temasek has plans to refine its carbon pricing strategies in the coming decade, likely by increasing internal carbon pricing.
Solutions that Temasek has invested in include those that help drive decarbonisation, develop negative emissions, or enable the generation and trading of high quality carbon credits.
"These efforts complement and supplement the decarbonisation efforts of our portfolio companies," Neo Gim Huay, Temasek's Managing Director for Climate Change Strategy, said.
One example is Temasek's joint venture with DBS, Standard Chartered and the Singapore Exchange to create Climate Impact X, a Singapore-based global carbon exchange and marketplace.
It has also partnered Mandai Park Holdings to co-sponsor Mandai Nature Fund, a non-profit that aims to advance efforts in conserving wildlife and developing nature-based climate change mitigation solutions.
More companies looking to commit to net zero carbon emission
Speaking to the media at a press conference on July 13, Neo further said that the "doubling down on climate action" is "one of the pleasant surprises has come out of Covid".
She explained that two-thirds of the global economies today are responsible for two-thirds of global emissions, and they are committing to a net zero carbon emission.
"We've seen a tripling of commitment by large corporates towards net zero targets as well, and there has been significant interest and attention to look at how capital can actually help support and accelerate this kind of transition," she added.
Nagi Hamiyeh, Temasek's Joint Head of Investment and Head of Portfolio Development, said, "Our aim is to build a forward looking and resilient portfolio – one that delivers sustainable economic growth, and at the same time, enables the transition to a low carbon economy."
Cautiously optimistic about recovery during pandemic
Named "Bounce Forward", Temasek's review this year focuses on its plans in a world that has to coexist with Covid-19.
Although Covid-19 continues to be a "destabilising threat", Temasek Chairman Lim Boon Heng said, especially with "the emergence of newer and more virulent virus strains", Temasek remains cautiously optimistic about the global economic recovery in the short to medium term.
Singapore's economy is currently in the midst of recovery, Temasek said, adding that it believes local manufacturing, financial and technological services sectors are likely to be resilient.
Looking forward, it is important for governments, businesses and people to band together to tackle global challenges, especially the climate emergency, Temasek said.
Lim added that in "the post-Covid era", it is not enough to bounce back to "business as usual".
"Governments, businesses and communities must pull together, and bounce forward into a climate friendly norm for better lives and more sustainable livelihoods," he said.
Related:
Top photo via Temasek 
If you like what you read, follow us on Facebook, Instagram, Twitter and Telegram to get the latest updates.