Temasek Review is the annual report press conference held by Temasek, one of Singapore's two state investment arms.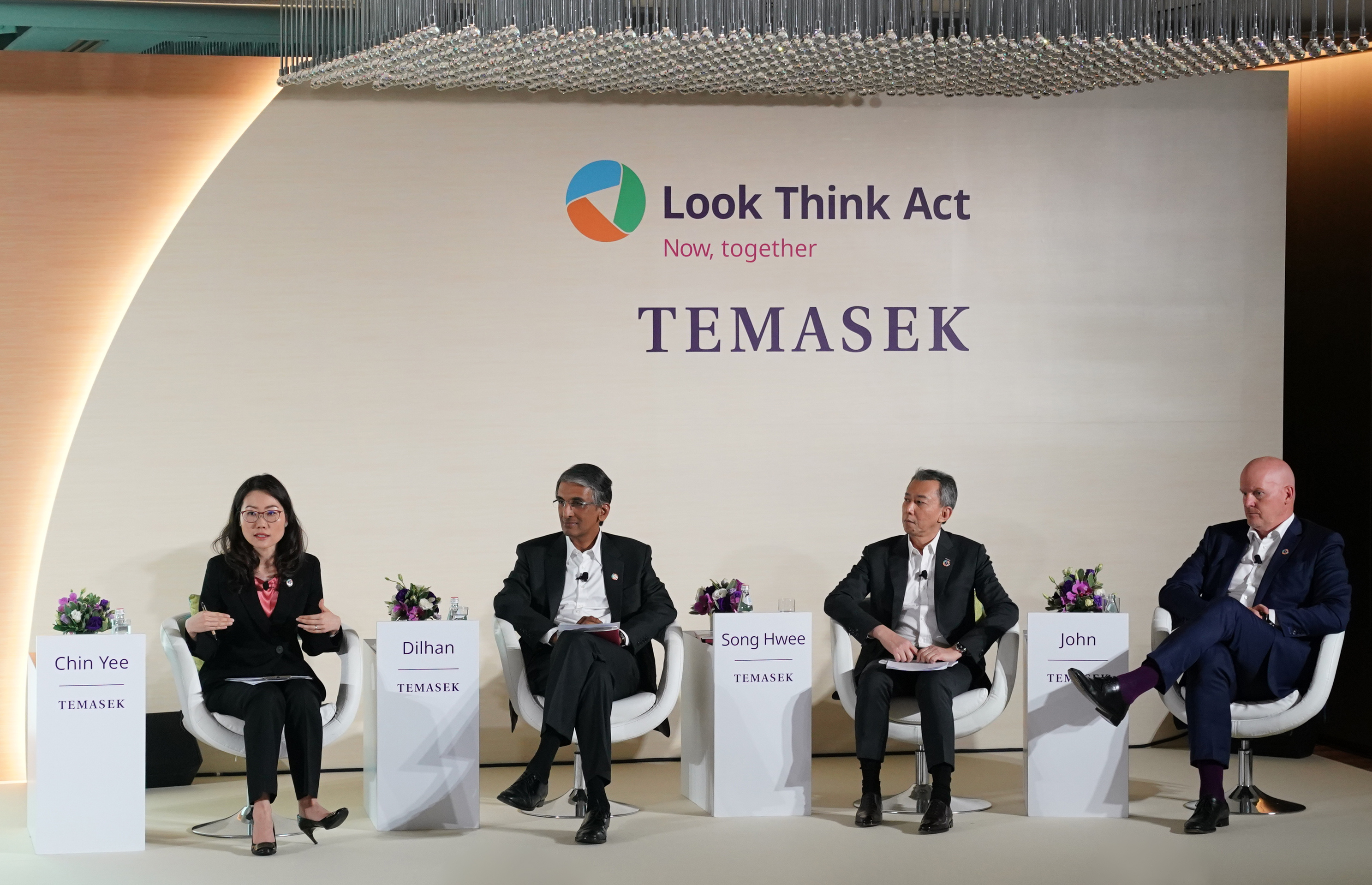 You probably expect the conference to be some serious number crunching and grilling session from a room of reporters.
And it was, to a certain extent, but it's probably hoping to make it not entirely so — especially if its media kit is anything to go by.
Two boxes of blueberries
For a conference like this, you (or at least we) would expect a plastic bottle of water and notebook, or the standard trendy reusable cutlery set as part of the goodie bag.
Instead, two boxes of organic blueberries were given to each attendee, alongside a customised mug with the design of the new Temasek Shophouse.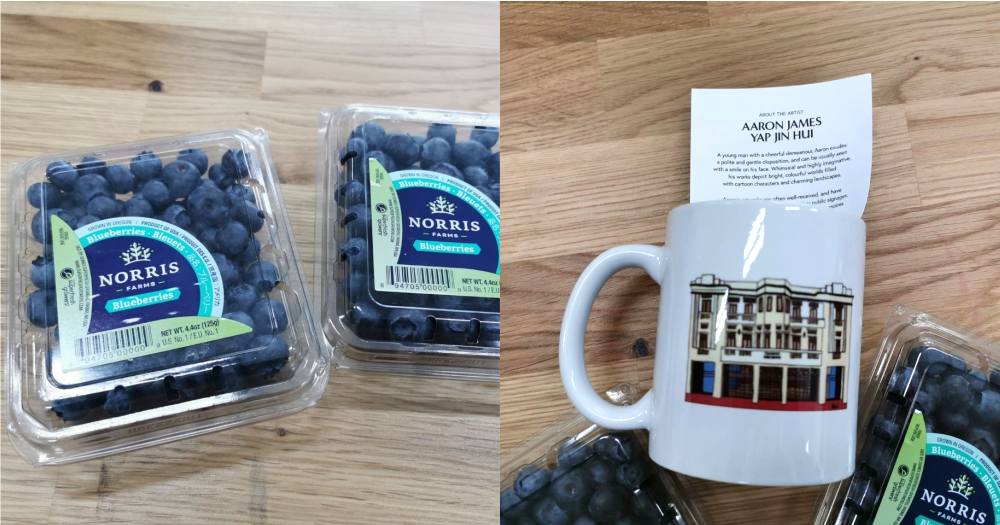 The cup reminds us of Temasek's latest non-profit philanthropic efforts in support of social and sustainability causes, echoing what they did last year, too — sharing a collection of locally-produced lemongrass products.
The blueberries? Our guess is those are their effort to show that this has all in all still been a pretty good year for them.
Highest-ever net portfolio value, but growth is slower with much smaller shareholder return
There are better and proper ways to measure how well Temasek performed as compared to what's included in the media kit.
Two ways to look at the portfolio investments are⁠ Net Portfolio Value and Total Shareholder Return.
Temasek rose to a highest-ever net portfolio value of S$313 billion by the year ended March 31, 2019.
That is a modest 1.6 per cent increase from last year's S$308 billion, which to be fair, was an exceptional jump from S$275 billion in FY2017.
Looking across the decade, this is an increase of S$183 billion.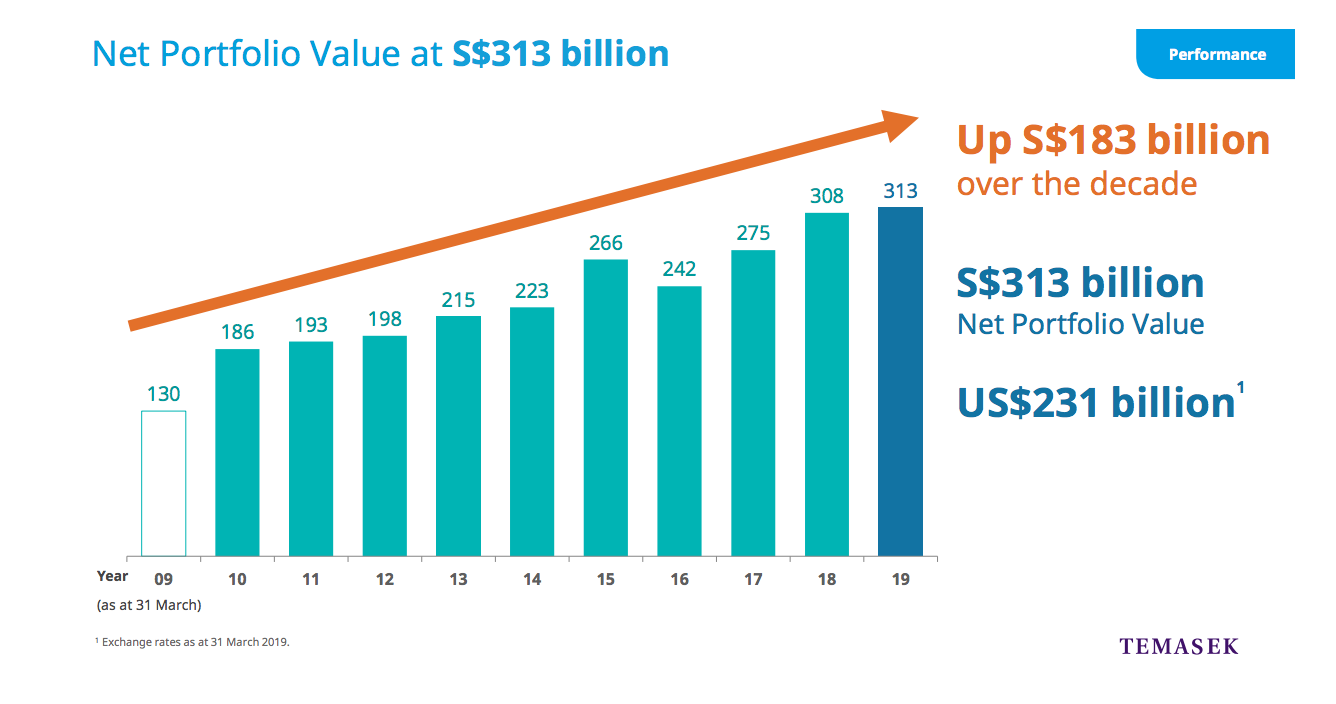 While Temasek's net portfolio value did not take a dip despite the global economic headwinds, despite the prediction of veteran economist Song Seng Wun, the growth rate has evidently slowed down from last year.
The total shareholder return (TSR) was 1.49 per cent this financial year, as compared to 12.2 per cent in FY2018.
That being said, the 10-year TSR is still quite healthy at 9 per cent, and the 20-year TSR is 7 per cent.
The TSR calculated as an average from when Temasek first started measuring it in 1974 remains at 15 per cent like last year.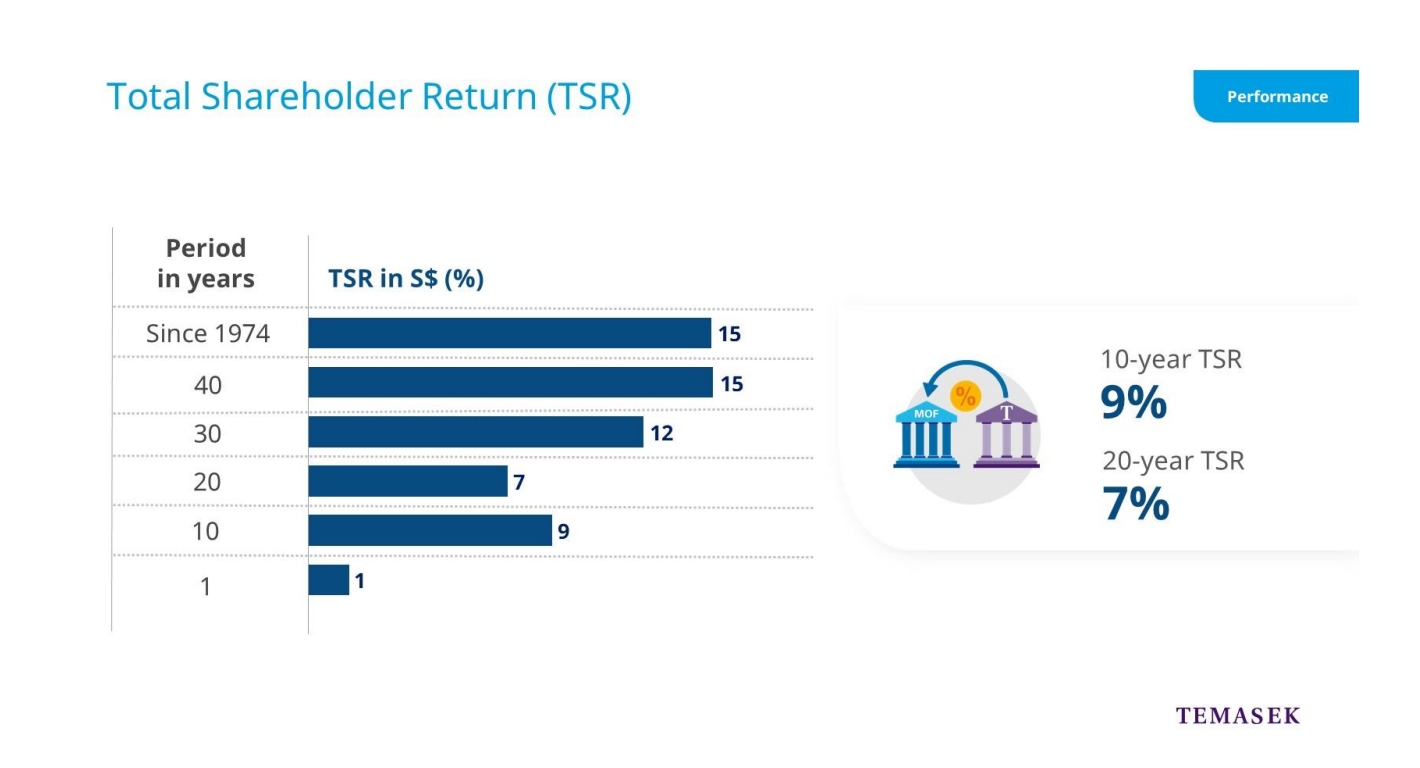 As a long-term investor, Temasek focuses more on long-term performance as compared to its year-on-year TSR, which can be affected by how they choose to hold or sell certain portfolios in the volatile market.
Divesting more than investing in a tricky geopolitical environment
Having said that, the investment firm, typically more adventurous in its investments compared to GIC, says it has moderated its investment pace and stepped up in divestment (i.e. the sale or reduction of the sizes of assets they are holding) to take a more cautious approach in navigating an environment that has since last July been "increasingly challenging".
They're doing this, of course, in view of international geopolitical developments such as the ongoing U.S.-China trade tensions and the further damage Brexit is almost certain to inflict on Europe.
However, Temasek maintains an optimistic outlook on Asia generally, which currently is where 66 per cent of its assets are invested in, its largest share.
And the two largest countries their investments are currently concentrated in are Singapore (26 per cent) and China (26 per cent).
Despite tensions with the U.S. in the fields of technology and trade, Chinese policymakers are likely to respond with fiscal support to cushion a slowdown in growth, according to senior managing director of Portfolio Strategy and Risk Group, Png Chin Yee.
Timely and targeted structural reform can continue to help drive domestic consumption in China, he added.
Due to these macroeconomic headwinds, Temasek said that in total, it has invested S$24 billion and divested S$28 billion for the year, as opposed to the previous financial year where its investments exceeded its divestments.
It also received dividend income of S$9 billion from its portfolio.
Focusing on 6 structural trends
However, that does not mean that Temasek is turning away from investing in the West. Indeed, the U.S. accounted for the largest share of Temasek's new investments in financial year 2019.
Temasek International's Chief Executive Officer Dilhan Pillay also mentioned that what matters most to Temasek in its strategy is to understand and be at the forefront of emerging trends, so it can "increasingly reshape its portfolio in line with these trends" to ensure resilient and sustainable long term returns.
Six structural trends were identified this year, and they will determine Temasek's investment direction:
Longer lifespans

Rising affluence

Sustainable living

Sharing economies

Smarter systems

A more connected world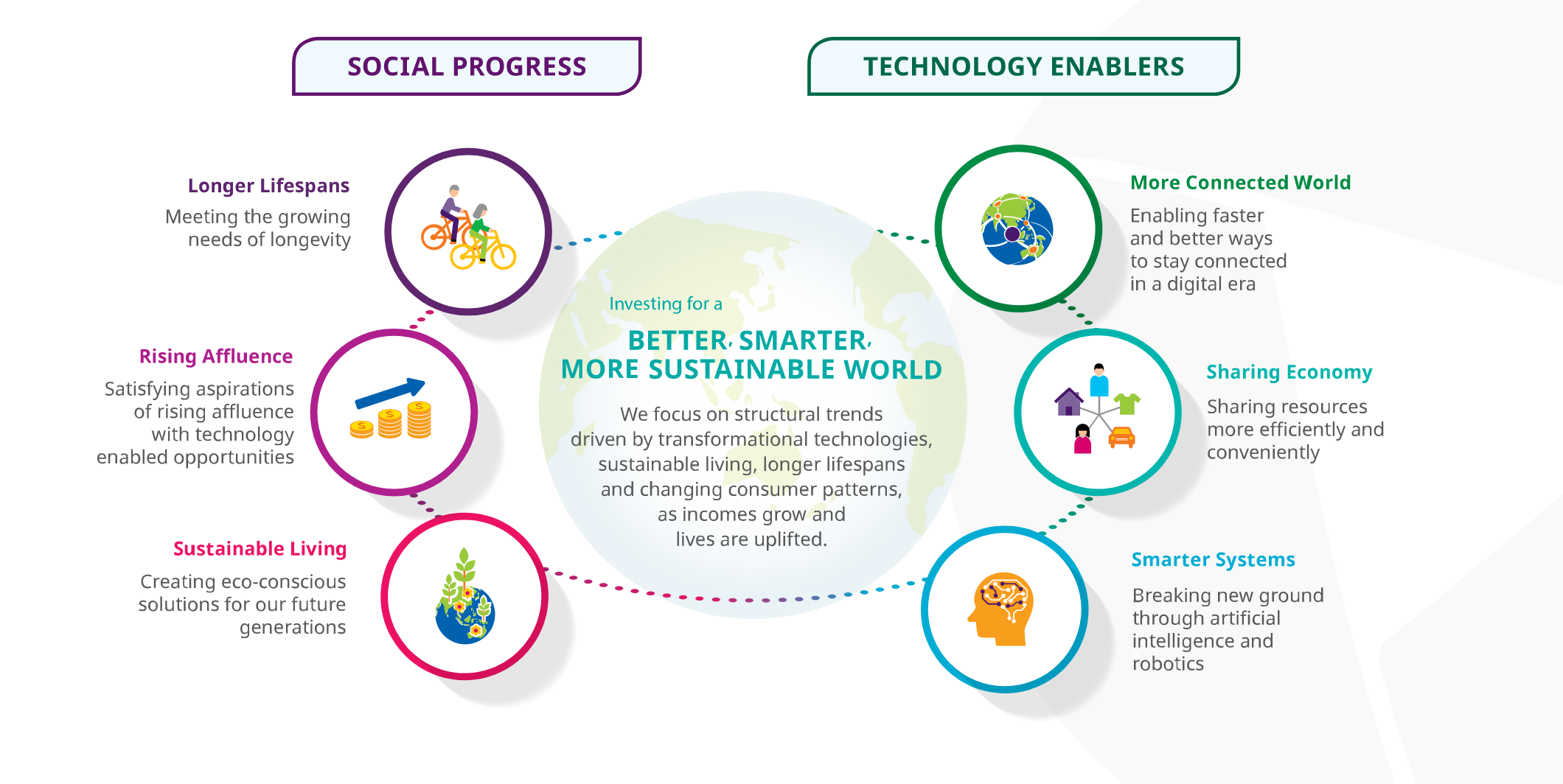 Some new companies joining the Temasek fold include an international solar, wind and energy storage company, indoor farm operators and a company that's developing therapies for neurodegenerative diseases.
They've also invested in some early-stage artificial intelligence companies to give themselves greater insights into technological breakthroughs with the potential to impact other investment portfolios, or bring future returns.
Perhaps the two boxes of blueberries, which come from Oregon in the U.S., really do helpfully sum up these trends.
They are, after all, healthier choices of snacks that have been made accessible to Singaporeans in this better-connected world, but which are likely to be affected by the ramifications of climate change in the future.
So deep.
Top image composite by Zheng Zhangxin and courtesy of Temasek
If you like what you read, follow us on Facebook, Instagram, Twitter and Telegram to get the latest updates.