Follow us on Telegram for the latest updates: https://t.me/mothershipsg
On June 24, Temasek Foundation announced that they will be giving each household in Singapore a free oximeter.
While a leaflet with a redemption tab will be sent to the letterbox of every household by Saturday, July 3, some households have already received it.
However, the nondescript appearance of the leaflet has misled some residents into carelessly discarding them without a second glance, unaware of the redemption tab that is hidden inside.
Two Mothership readers shared that they almost threw the leaflet away.
One of them said that she had seen the leaflets being discarded near the mailbox area and also observed some people going around to pick up the discarded leaflets in hopes of collecting more than one oximeter.
Facebook reminders
Temasek Foundation subsequently posted reminders on Facebook — on June 28 and June 29 — urging residents not to throw away the leaflets.
According to the posts, the leaflet is required for redemption at collection points.
The redemption counters will not accept photocopies, soft copies, or leaflets with torn barcodes.
Some netizens left comments on the posts, remarking how they almost threw their leaflets away.



Others lamented that they have already discarded their leaflet and wanted to know how they could collect the oximeter without it.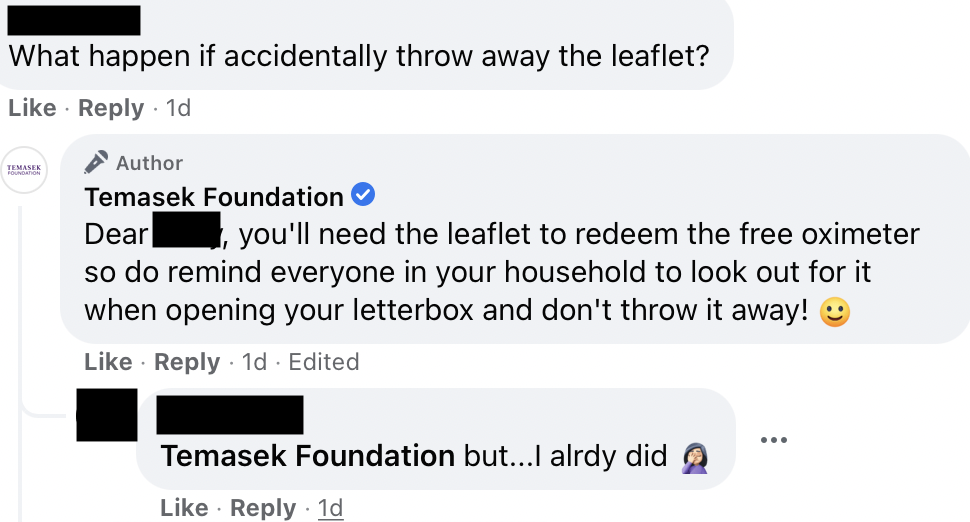 A netizen also commented on Temasek Foundation's Facebook page that she spotted some leaflets in the dustbin near her mailbox:

She said that older people may not be aware of this initiative and hoped that they can be allowed to redeem the oximeter using other ways or documentation, such as using their utilities bill.
She added that the notice board of her block did not have any reminders for residents to keep the leaflet for redemption.
In their replies to such comments, Temasek Foundation reiterated that they were "unable to give another leaflet". 
The foundation added that residents "may collect on behalf of . . . family members and friends as long as [they] have their leaflet (with redemption tab)" and that the NRIC is not required for the collection.
In response to a query from Mothership, Temasek Foundation said, "Residents are strongly encouraged to keep their leaflets safely, as collection is only via the leaflet with the redemption tab intact, at the collection points."
You can read the rest of their statement here:
WhatsApp reminder
In addition, a message has been circulating on WhatsApp, reminding residents not to throw the leaflet away.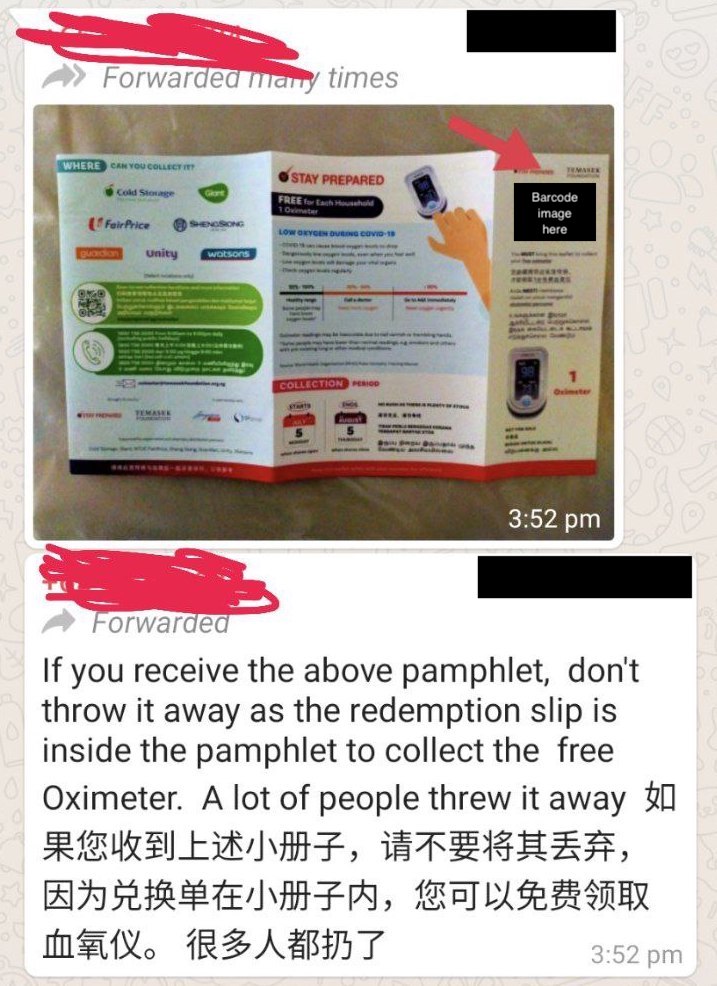 The leaflet
This is what the leaflet looks like: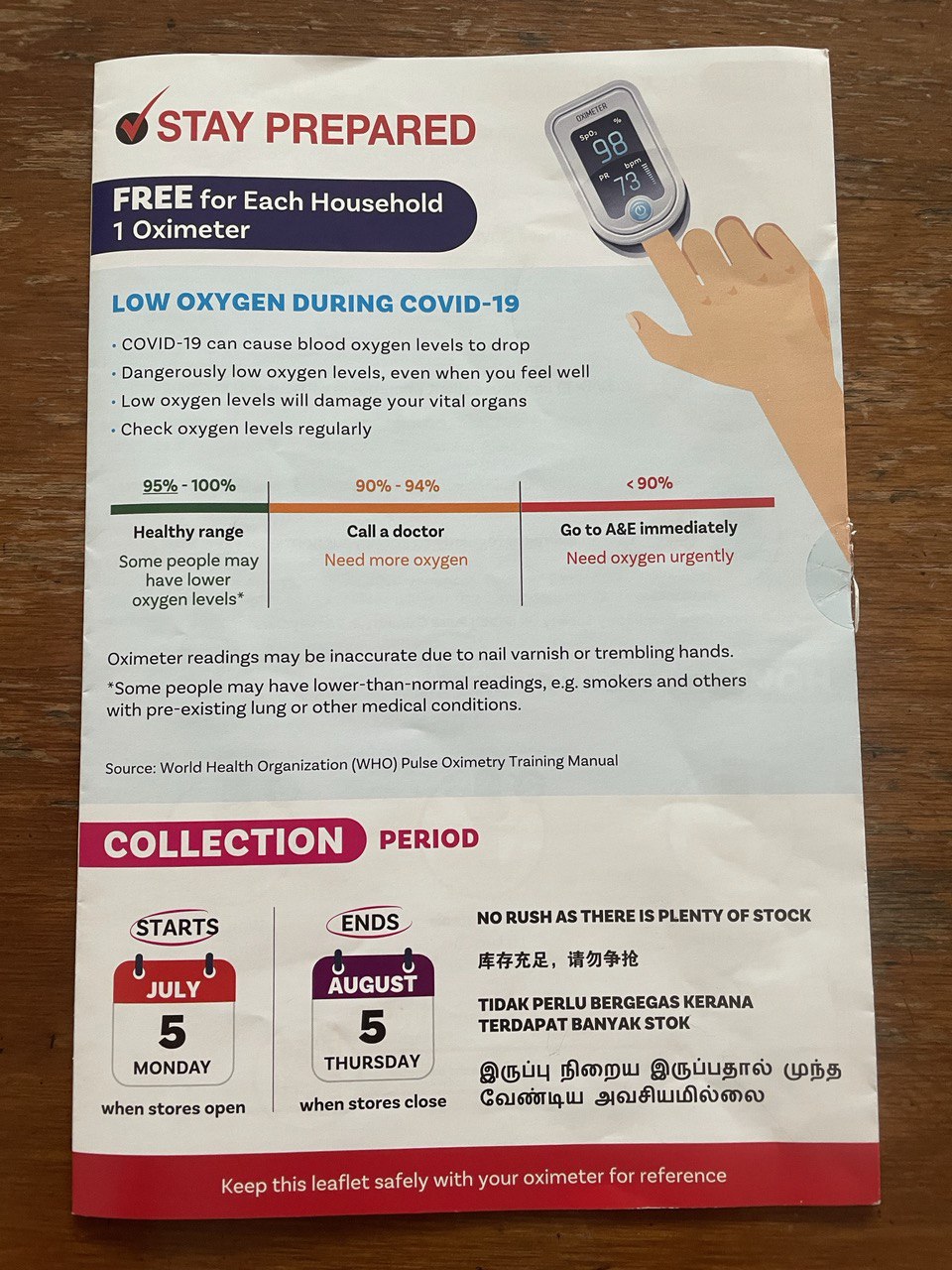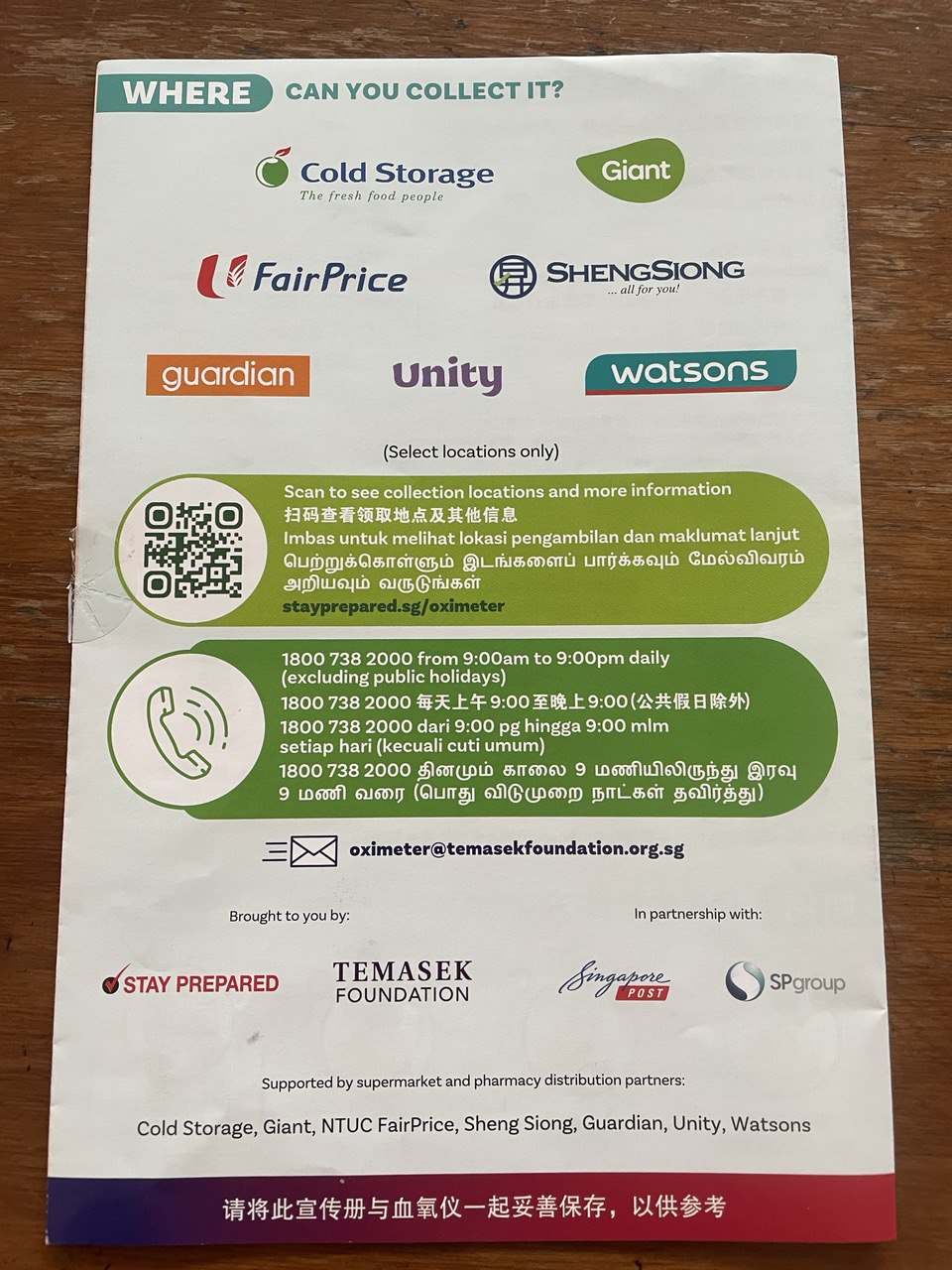 While there is a line at the bottom that reminds residents to "keep this leaflet safely with your oximeter for reference", there is no other indication that the redemption tab is enclosed in the leaflet.
Only upon opening the leaflet will you notice an inner flap that doubles as a redemption tab.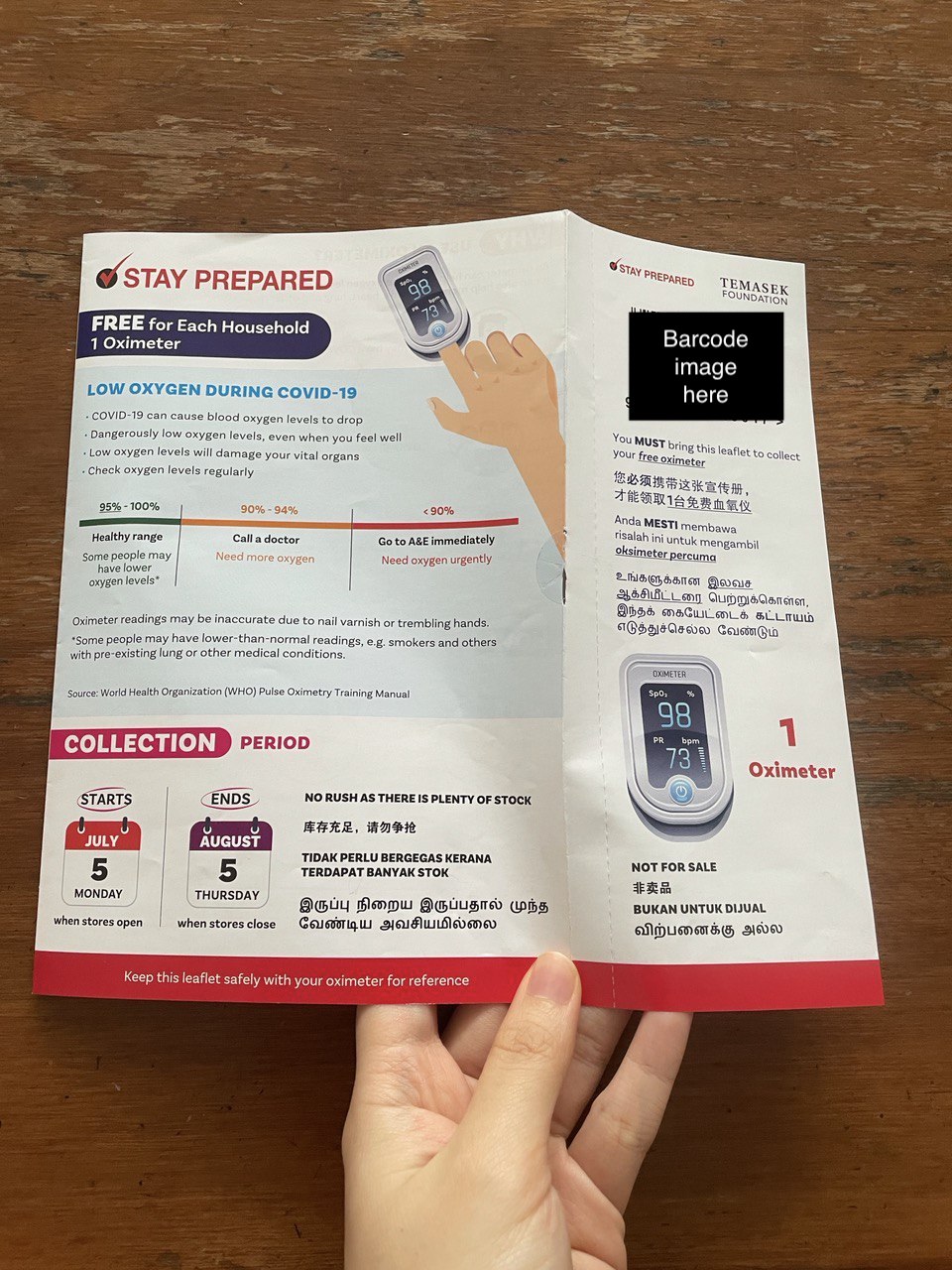 Oximeter redemption
From July 5 to August 5, residents can collect the free oximeter from 300 supermarkets and pharmacy outlets, including NTUC FairPrice, Sheng Siong, Giant, Cold Storage, Watsons, Unity and Guardian outlets.
According to Temasek Foundation's reply to a Facebook comment, three oximeter models will be distributed, all of which perform "the same key function of measuring blood oxygen levels and pulse rates".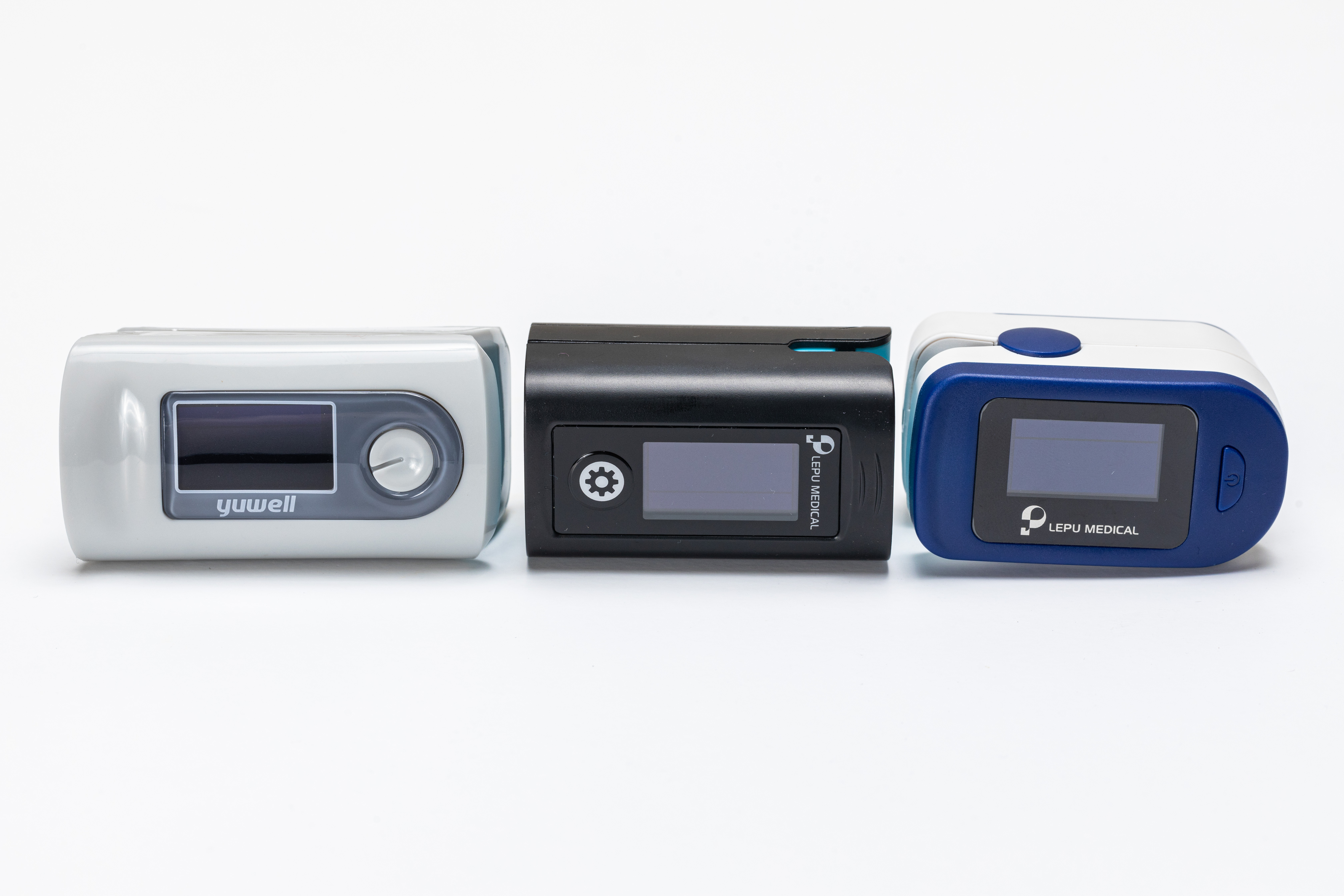 The oximeter giveaway is part of Temasek Foundation's Stay Prepared initiative to allow residents to monitor their blood oxygen levels regularly, with the emergence of new and more infectious Covid-19 variants.

Top images by Temasek Foundation and Karen Lui.
If you like what you read, follow us on Facebook, Instagram, Twitter and Telegram to get the latest updates.