Follow us on Telegram for the latest updates: https://t.me/mothershipsg
The Multi-Ministry Taskforce (MTF) has announced additional measures in view of the developing Covid-19 situation.
On July 16, the cases in the KTV cluster grew to 120.
There were a total of 53 locally-transmitted cases today, of which 32 belong to the KTV cluster.
Nine cases are unlinked.
With the update on Covid-19 measures, here's an overview of what you can or cannot do:
Can you still accept visitors at home?
Yes, you can. You can still host up to five unique household visitors a day.
However, do limit your social gatherings to two per day, whether it is at someone's house or in a public place.
This cap on visitors does not apply to grandchildren being cared for by grandparents.
Can you gather in groups of five?
Yes, if you are not dining in. (But do so only if necessary?)
Can you still dine-in at F&B outlets?
Yes, you can still dine-in but in some settings, it is limited to groups of two.
This two-person rule will strictly apply to hawker centres, food courts and coffee shops because these venues have a more porous setting and generally do not impose mandatory Safe-Entry check-in.
In some scenarios, you can still dine-in with four other people:
You will be allowed to dine in groups of five at F&B establishments that have put in place to check the eligibility of individuals.
People who fall under these categories can dine-in in groups of five:
A fully vaccinated person (two weeks after second dose of vaccine);

A person who has recovered from Covid-19 (within 270 days);

An unvaccinated person who has a valid negative Pre-Event Testing (PET) result for the duration of his/her dining-in; or

A child aged 12 years and below.
F&B establishments can decide when they will introduce this vaccination-differentiated group sizes.
Can you still watch movies at cinemas?
Yes, you can. There is no change to the number of people allowed in the cinemas.
Can you still go for staycation in groups of five?
Yes, you can. Groups of up to five persons per room for staycations are allowed.
Can you still go for hair cut and treatments, massage, facial and saunas?
Yes, you can. You can still go for these services but prevailing safe management measures should be observed.
Can you still visit libraries, museums, tours, cruises and attractions?
Yes, you can. No change to prevailing restriction.
Can you still exercise, go to gyms and fitness studios?
Yes, you can.
Outdoor activities and indoor mask-on activities can still continue with groups of no more than five persons, in classes of up to 50 people, regardless of vaccination or test status.
However, indoor mask-off activities at gyms/fitness studios will be kept to groups of two instead of groups of five.
However, in the event that all adults in the class are either fully vaccinated, have recovered from Covid-19 or have a negative PET result covering the duration of the class, the class can be conducted in groups of five.
Class size will generally be reduced to 30 pax, including the instructor.
Can you enjoy barbeque activities?
No, barbeque pits and campsites are still closed.
Can you celebrate birthdays or have social gatherings in office?
No, work from home is still default.
Social and recreational gatherings at workplace will be disallowed.
Any work-related events like product launches and town halls are not allowed to serve F&B at the events too.
An overview: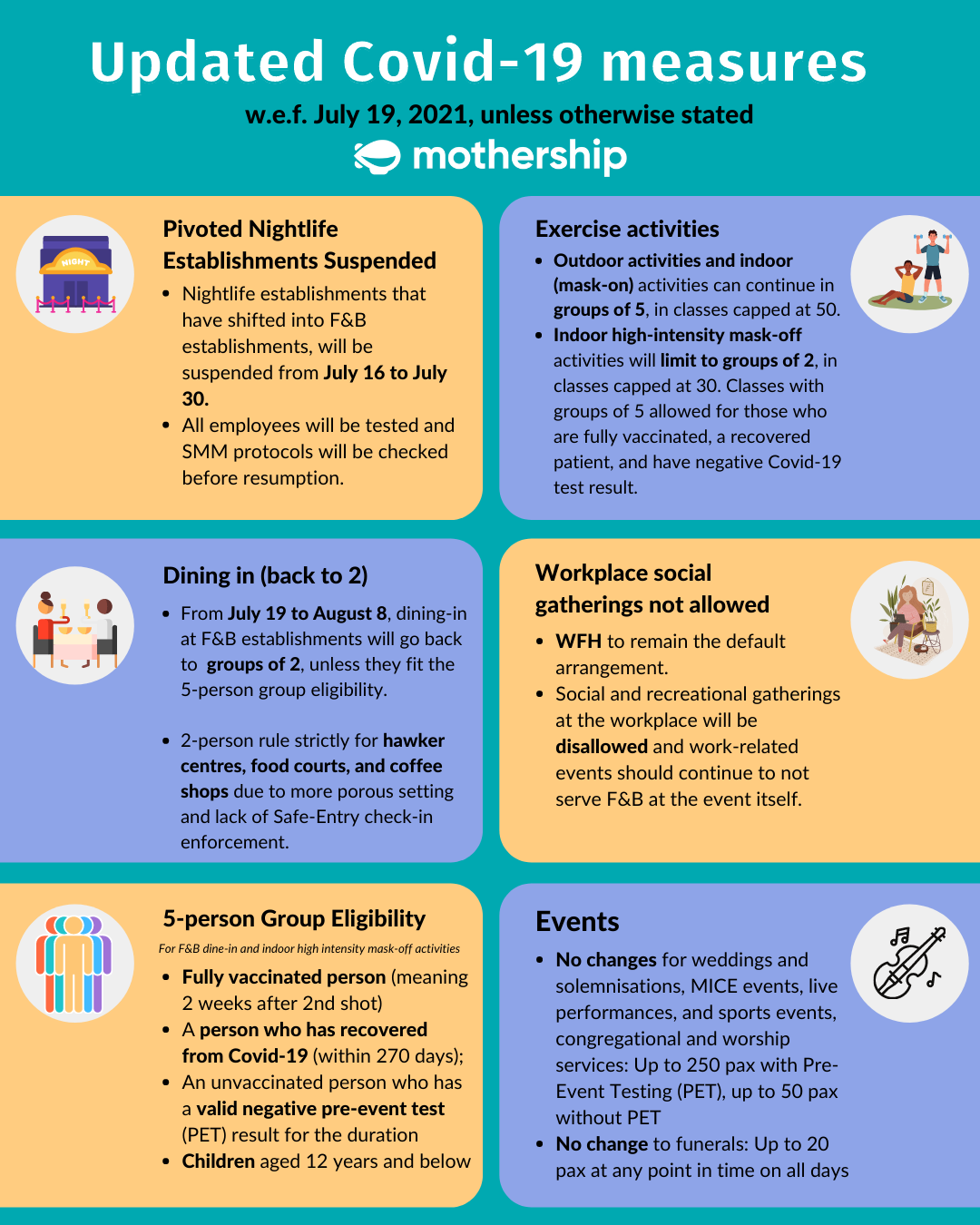 Related stories
Top image via Unsplash
If you like what you read, follow us on Facebook, Instagram, Twitter and Telegram to get the latest updates.