Follow us on Telegram for the latest updates: https://t.me/mothershipsg
In most businesses, sales operate on a first-come, first-serve basis. However, a woman in Singapore claimed that this was not the case for her when she tried to buy a waffle at a PrimaDeli outlet.
The woman, who is Malay, alleged that she was told that there were no more waffles. However, she said that a Chinese man who came after her was sold a waffle after he asked for one in Mandarin.
PrimaDeli has said that it is investigating the matter with their franchise outlet owner.
Was told there were no more waffles
On Saturday (Jun. 26), the woman took to Facebook to share about the alleged incident. The post has since been made private.
She claimed that she had gone to the PrimaDeli outlet at Bedok Mall that evening around 9pm. There were two female Chinese staff working, who told her that there were no more waffles available.
The woman told Mothership that after she was told there were no more waffles, she stayed at the outlet, to see if there was anything else that she could buy.
Next, another Malay woman also tried to order a waffle, and was similarly told that there were no more left.
The woman told Mothership that soon after, when she was about to leave, a Chinese man arrived and asked the staff in Mandarin whether they had any waffles left. The staff then allegedly replied to him in Mandarin that there was one more left.
"Yes I am Malay, but I understand every single word of their conversation in Mandarin," she wrote on Facebook.
She told Mothership that she was "shocked and angry" as she saw the entire incident unfold. She added that the man was indeed served the waffle, and that the photo in her Facebook post showed him waiting while the staff prepared it.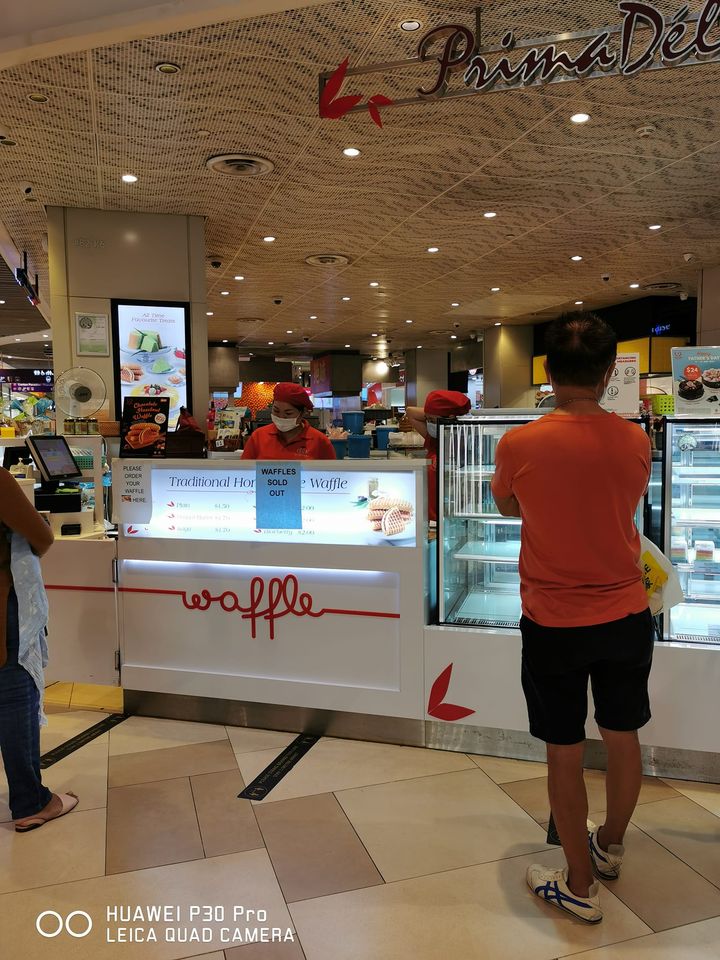 Raised concerns to PrimaDeli
The woman said that she approached the two staff members to ask them why they told her that there were no more waffles, but sold one to the man.
She told Mothership that one of the staff members told her that there was only one left in a high-pitched voice, while the other just stared at her.
"If really left one," she said, "I think they should serve to the one who ask first, which is me."
She attributed the incident to racism, and called for PrimaDeli to do something about the situation in her Facebook post:
"What kind of damn racism is this?? Just because the uncle is Chinese and talk in their language, they served him.

[...] Hope [you] take action against [your] racist staff. I feel so upset as I am a paying customer, I am not begging for free food."
She confirmed with Mothership that she also contacted PrimaDeli via email after the incident. She said that a representative replied to her asking for her contact number, and she is awaiting a call from them.
PrimaDeli is investigating
Responding to Mothership's queries, PrimaDeli said that they are aware of the incident.
The halal-certified bakery said that they "take a very serious view of the matter as we do not tolerate such disrespectful behaviour".
"We are investigating this matter with our franchise outlet owner to get to the root of the incident."
The bakery confirmed that they have reached out to the customer, so that they can keep her updated on the matter.
Back in 2016, PrimaDeli also found itself in hot water with regard to race, when a Malay cake decorator shared publicly about racially-disparaging about the Malay community made by a PrimaDeli employee during her job interview.
Top photo adapted from Facebook and photo by Instagram/ @365days2play
If you like what you read, follow us on Facebook, Instagram, Twitter and Telegram to get the latest updates.